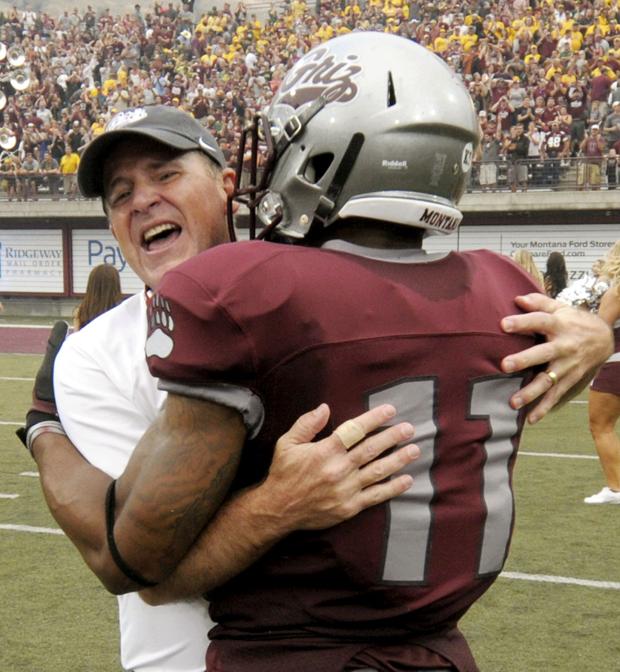 By David Coulson
Executive Editor
College Sports Journal
MISSOULA, MT. — Much like the national championship game less than eight months ago brilliantly showcased the Football Championship Subdivision brand, with North Dakota State coming from behind for a 29-27 victory over Illinois State, those who watched Saturday's exhibition between the four-time champion Bison and Montana were treated to another FCS masterpiece.
NDSU is the team normally known for its resiliency, but this time it was Montana that displayed that long-desired quality as Joey Counts blasted into the end zone with two seconds left to lift the Grizzlies to a 37-34 victory before a record crowd of 26,472 at Washington-Grizzly Stadium and an ESPN television audience on the opening game of the 2015 college football campaign.
Trailing for much of the game, Montana put together a 16-play, 80-yard drive in 99 seconds behind the cool hand of new quarterback Brady Gustafson to hand the Bison their first opening-season loss since 2009 and only their second regular-season defeat in the past 30 games.
Read more: Montana's Perfect Day Results In 38-35 Upset Of North Dakota State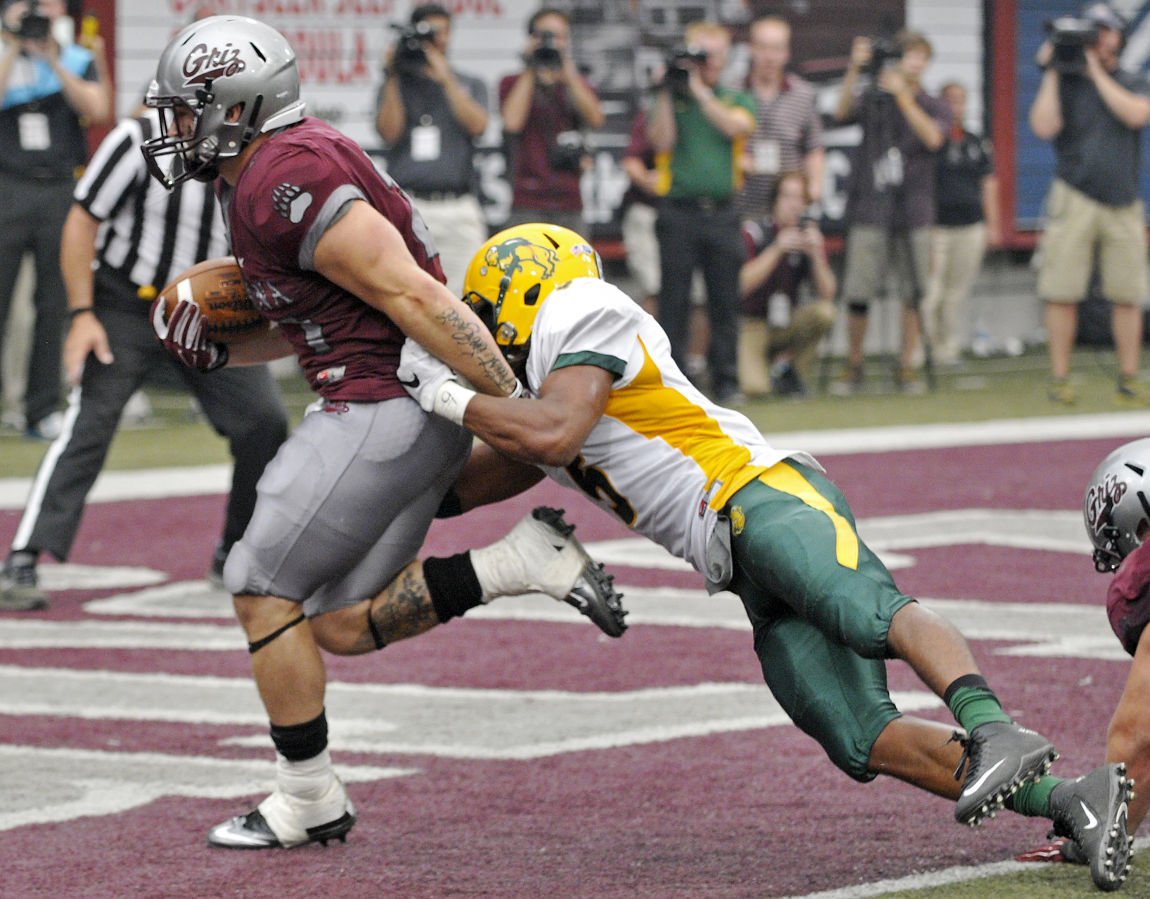 By AJ Mazzolini
Courtesy of the Missoulian
College Sports Journal
MISSOULA, MT — It takes a lot to leave Joey Counts speechless.
The climactic touchdown in one of the biggest events in Missoula sporting history sure did the trick though.
The beleaguered running back carried Montana into the end zone and past four-time defending FCS national champion and preseason No. 1 North Dakota State on Saturday, 38-35, igniting a record crowd at Washington-Grizzly Stadium to cap a perfect day for UM that was already ripe with storylines.
A new head coach. A mysterious and alluring offense. An ESPN-televised kickoff. The opponent to end all opponents. And a fourth-down, goal-line try with almost no time on the clock?
By David Coulson
Executive Editor
College Sports Journal
PHILADELPHIA, PA. — North Dakota State has become like one of those horror-film villains — think Freddie Kruger from Nightmare on Elm Street, Jason from Friday the 13th, or Michael Myers from Halloween.
Just when you think the Bison are dead, they come back to life and win another national championship.
They ran their Football-Championship-Subdivision-record winning streak to 33 games before being stopped by Northern Iowa, 20-3, 10 games into the 2014 regular season and they've won a record four national titles in a row.
Read more: Resilient Bison Aim For Fifth Consecutive FCS Title
Editor's Note: CSJ Classic takes a look back at a quarterback who may not have been around for long at the Football Championship Subdivision, but made a huge impact, Marshall's Chad Pennington.
By William Stanley
Special Correspondent
College Sports Journal
LEXINGTON, KY. — I nervously fixed my mint green tie, and straightened my Speech and Debate lapel pin that I've worn since high school. It was a dreary Monday afternoon in April.
It was soon to be the proudest dreary afternoon of my life.
Despite my nerves I had somehow managed to calm down enough to sit down in the living room the apartment I was renting at the time. Lord knows I wanted to jump up and down, unable to contain my excitement.
I was just minutes away from interviewing Chad Pennington, the athlete I grew up idolizing.
Read more: CSJ Classic: Marshall Great Chad Pennington, As Classy As They Come
By David Coulson
Executive Editor
College Sports Journal
BOONE, N.C. — Appalachian State will be celebrating two significant commemorations this year of the accomplishments of its football program — the 20th anniversary of its undefeated and untied regular season squad of 1995 and the 10th anniversary its first national championship team in 2005.
And as coach Scott Satterfield looks forward to those celebrations, he is hoping that the 2015 Mountaineer football team will add to that rich legacy.
"I'm liking the fives," said Satterfield, as the Mountaineers opened practice this week for the new season and kicked off things with a media day event on Thursday. "Maybe we can win our first Sun Belt championship and go to our first bowl game in 2015."
Read more: Appalachian State Hopes To Go Bowling During 2015 Football Season