By David Coulson
Executive Editor
College Sports Journal
BOONE, N.C. — There were no sightings of animals traveling in pairs during the persistent rain at Kidd Brewer Stadium on a homecoming Saturday afternoon, but there were enough big plays for Appalachian State to storm past Wyoming, 31-13, for it's third non-conference football victory of the season.
Spectators among the announced crowd of 19,345 were barely settled into their seats when Mountaineer junior tailback Marcus Cox broke loose for his 59-yard touchdown run on the first play from scrimmage. Cox finished with 15 carries for 178 yards rushing.
"We set the tone early," said Cox. "There was a cutback lane and they over-ran the play. I told myself, don't get caught."
It didn't take even four minutes for Appalachian (3-1) to score again when sophomore cornerback Latrell Gibbs took advantage of a miscommunication in the Wyoming passing game, intercepting Cameron Coffman's throw from the ASU 13 and racing 91 yards to make it 14-0.
Read more: Appalachian State Overcomes Heavy Rain, Fog And Wyoming For 31-13 Win
By David Coulson
Executive Editor
College Sports Journal
BOONE, N.C. — Of all of the football road trips that Appalachian State has made in the 23 seasons that this writer has been covering the Mountaineers, one excursion stands out for all of the wrong reasons.
The 2004 season-opening adventure to Laramie, Wyoming was one that Mountaineer coach Scott Satterfield would like to forget. When asked what he remembered, Satterfield said "A lot of bad things."
It was the first game of App State's transition from the Nebraska I Formation option offense to the spread and on the first play from scrimmage, a pass from quarterback Riche Williams to DaVon Fowlkes bounced off the All-American receiver and was intercepted.
Late it the first quarter, a huge thunderstorm engulfed 7,200-foot-elevation War Memorial Stadium, causing nearly an hour's delay in the game as lightning bolts struck around the area.
The Mountaineers committed five turnovers and fell behind 41-0 to the Joe Glenn-coached Cowboys at halftime, ultimately losing 53-7 in a contest that took some five hours to play from opening kickoff to final gun.
Read more: Appalachian State Looks For Redemption In Rematch With Wyoming
By David Coulson
Executive Editor
College Sports Journal
ELON, N.C. — The last time this writer had crossed paths with Towson quarterback Connor Frazier, it was in the aftermath of his one-yard touchdown sneak with 17 seconds left that lifted the Tigers into the 2013-14 national championship game with a 35-31 victory at Eastern Washington.
Frazier came off the bench that day to relieve injured starter Pete Athens and sparked Towson to two fourth-quarter, touchdown drives in the snow of Roos Field. The picture of Frazier slipping into the end zone will forever remain as my biggest memory of covering that game.
So when Towson found itself needing a similar comeback on Saturday afternoon as the Tigers opened Colonial Athletic Association play against a Phoenix squad that hadn't won one a league contest since its days as a Southern Conference team, like mosts of his coaches and teammates, I anticipated another comeback win.
"It's what we do at Towson," Tiger coach Rob Ambrose said. "We expect to win games like that."
But in the torrential rains of Rhodes Stadium, as 8,027 cold and wet fans watched on parent's weekend, even Frazier couldn't overcome one of the weirdest finishes any of us had ever witnessed.
The result was a stunning 17-13 victory for beleaguered Elon (2-2).
Read more: Towson Comeback Falls Short To Scrappy Elon In CAA Football Opener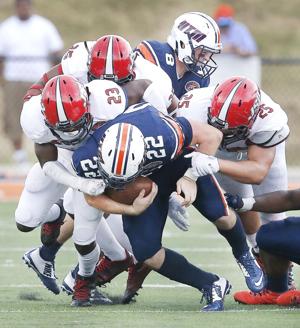 Special to College Sports Journal
MISSOULA, MT. — Jacksonville State retained its hold on first place and James Madison used its win over SMU to shoot into the top five as Any Given Saturday released its Football Championship Subdivision Top-25 poll on Monday.
The Gamecocks, who have been ranked No. 1 since the first week of the season, received 50 of 85 first-place votes after its tight, 48-41 victory over Tennessee-Martin to open Ohio Valley Conference play.
The rest of the top four in the poll remained the same.
Four-time defending national champion North Dakota State is No. 2 after a bye week and picked up six first-place votes. Coastal Carolina, which struggled at times in its 31-17 victory over Bryant, is third with 12 No. 1 votes.
South Dakota State thumped Robert Morris 34-10 to receive six first-place votes and is fourth.
James Madison displaced Northern Iowa at No. 5 after blowing a late lead, but coming from behind for its 48-45 victory on the road over Football Bowl Subdivision foe SMU. UNI was idle and dropped to sixth.
Read more: JSU Continues Stranglehold At No. 1, JMU Moves Up After Upset In AGS FCS Poll
Special to College Sports Journal
PHILADELPHIA, PA. — Alcorn State sits atop the BOXTOROW Coaches poll for the third straight week, while North Carolina A&T is No. 1 in the BOXTOROW media poll for the second-straight week and for the third time this year.
N.C. A&T was idle while Alcorn thumped Concordia-Selma 40-7 and stretched its lead by two points over the Aggies from last week. The Braves received 18-of-19 first place votes.
With Southern's loss to FBS and nationally ranked Georgia, Southern dropped out of the top five to No. 6, allowing for No. 5 Tennessee State to move up two spots after a 30-14 victory over Florida A&M and for Bethune-Cookman to climb to No. 4 after defeating Savannah State 41-14.
There were three new entrants into the media poll with No. 9 Grambling State debuting, and Bowie State and Virginia Union coming in tied at No. 10 also in the poll for the first time this season.
Read more: Alcorn State, NCAT Are No. 1 In Week Four HBCU Polls