By Chuck Burton
Publisher/Managing Editor
College Sports Journal

PHILADELPHIA, PA. — If there is one thing that the NCAA excels at, it's the ability for it to be the straw man as to what's wrong with intercollegiate athletics.
Schools and programs can misbehave, and it's the NCAA's fault. Athletes misbehave, and it's the NCAA's fault. TV contracts are too big, and it's the NCAA's fault.
When it comes to enforcement of their own rules, the NCAA can seem like the Keystone cops, especially lately. But when people fall into the trap of drinking the haterade about the NCAA, they can be blamed for everything - which is bad when it comes to framing the debates about collegiate athletics in our time.
It's important, because the problems plaguing college athletics will not go away until people stop focusing on the NCAA and instead talk about the people who really control the purse strings.
Read more: Misplaced Anger At Heart Of College Athletics Criticism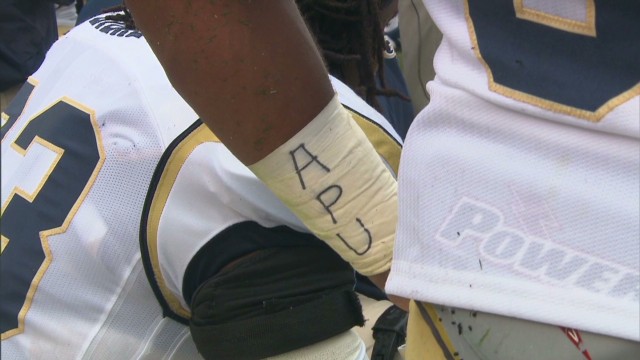 By Chuck Burton
Publisher/Managing Editor
College Sports Journal

PHILADELPHIA, PA. — There's been a lot of talk about the historic nature of the bid by Northwestern's football players to be allowed to form a union for collective bargaining purposes.
The first-ever attempt at a college football players' union passed the first, and easiest, bar at certification - the National Labor Relations Board in Illinois, or NLRB. The next step is to present their case in front of the national NLRB board, which is a five-person board currently comprised of three Democrats and two Republicans.
Despite the significant legal challenges that remain before an actual union is formed, popular opinion seems to indicate that many people feel that it is a decision that will transform college sports.
A simple data analysis, however, shows that this is highly unlikely to be the case - at least at the FBS level.
Read more: For Northwestern Unionization Movement Impacts, Look to FCS, Not FBS
By Bloomberg View Editorial Staff
Special Report
College Sports Journal
(Reprinted by special permission from Bloomberg View. The original article can be accessed here.)
NEW YORK, NY. — At many American colleges and universities, the relationship between athletics and academics needs to be rebalanced.
Over the weekend, as fans were watching their March Madness brackets explode, U.S. Secretary of Education Arne Duncan again offered a modest but useful proposal toward that end: Align compensation for coaches and athletic directors with their teams' academic performance.
Coaches care about winning. That's their job. Yet they also share some responsibility for the education of their players, many of whom would never have made it past the admissions office but for the coach's decision to extend a scholarship offer.
By Wayne Otto
College Basketball Columnist
College Sports Journal
KATY, TX - In 1836, former soldier Sam Houston defeated original Texas colonizer Stephen F. Austin to become the first president of the Republic of Texas by a substantial margin. Austin was considered the father of Texas and Sam Houston was considered the top statesman from early Texas.
With the Southland Conference's automatic bid to the NCAA basketball tournament on the line in 2014, that championship became a battle of Texas of a different sort.
Their two namesake universities battled for the Southland Conference championship, in front of a boisterous and rowdy crowd, and the big prize that comes with it, the elusive bid to the NCAA tournament.
This time Sam Houston did not win but Stephen F. Austin's namesake university won the championship 68-49.
Read more: Southland Conference's Battle of Texas Won By Stephen F. Austin, 68-49
By Wayne Otto
College Basketball Columnist
College Sports Journal
SIOUX FALLS, SD - Thundar, the North Dakota State University bison mascot, has had a busy year.
First, the Bison complete a perfect 15-0 football season capped off by its third straight NCAA FCS national championship game title in Frisco, Texas in January.
The championship football run started in August in Manhattan, Kansas with a win over defending Big XII champions Kansas State.
Thundar roamed the plains the rest of the football season - mostly around home, with a field trip to Frisco, Texas - then jumped to basketball, where Thundar's Bison now have a record that stands at 25-6 and an invite to the NCAA basketball championships, the 'Big Dance."
Read more: Summit Final: Thundar and the Bison Are Going Dancing