Special to College Sports Journal
Editor's note: This story is courtesy of The Citadel and Coastal Carolina athletics.
CONWAY, S.C. — The Citadel's Eric Goins kicked a 43-yard field goal as time expired to lift the Bulldogs past Coastal Carolina, 41-38, in the opening round of the 2015 NCAA Division I football playoffs Saturday at Brooks Stadium.
The winning kick came after Goins had missed one field goal early and had a fourth-quarter kick on the previous Citadel drive blocked.
The Bulldogs, coming off last week's 23-22 upset of FBS South Carolina, earned its first FCS playoff game since 1992 when it was the top seed in the Football Champiosnhip Subdivision playoffs.
The Citadel had three 100-yard rushers, led by sophomore quarterback Dominque Allen's career-high 174 with two touchdowns. Junior B-Back Tyler Renew registered his third straight 100-yard game with 129 yards and one touchdown, and sophomore A-Back Cam Jackson added 113 yards and one touchdown.
Defensively, the Bulldogs forced four turnovers. Sophomore Kailik Williams grabbed an interception and recovered a fumble, and fellow sophomore Shy Phillips grabbed an interception. Senior Mitchell Jeter recovered a fumble forced by Tevin Floyd on the final defensive play of the game for The Citadel.
Read more: Second-Chance FG By Goins Lifts The Citadel To 41-38 Triumph Over CCU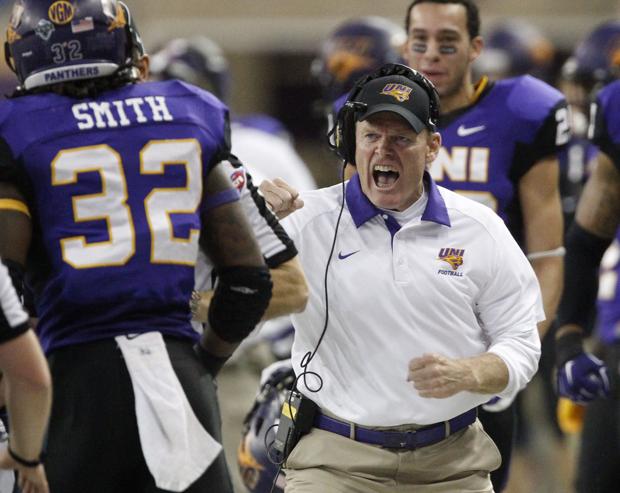 Special to College Sports Journal
Editor's note: This story is courtesy of Northern Iowa and Eastern Illinois athletics.
CEDAR FALLS, IA. — Northern Iowa exploded for 23 second-quarter points on the way to a 53-17 win over No. 24 Eastern Illinois Saturday, earning a spot in the second round of the FCS Playoffs.
Aaron Bailey finished the game with 162 yards through the air and a career-high three passing touchdowns for UNI (8-4).
Tyvis Smith rushed for 147 yards and a touchdown, his third consecutive game with 100 or more yards. Charles Brown and Daurice Fountain brought in three combined receiving touchdowns, with Fountain grabbing two catches for 73 yards and two touchdowns.
On the defensive side of the ball, UNI was led by Makinton Dorleant, who finished with six solo tackles, an interception and a key forced fumble. Isaac Ales and Jared Farley both chipped in six tackles each, with Brett McMakin adding five and a forced fumble.
Both teams started the game on their heels, each turning the ball over on their first offensive drive. UNI opened the game with a fumble on the first play of the game, but the Panthers answered with an interception from Dorleant in EIU's opening drive.
Read more: Second-Quarter Explosion Leads UNI To Postseason Victory Against EIU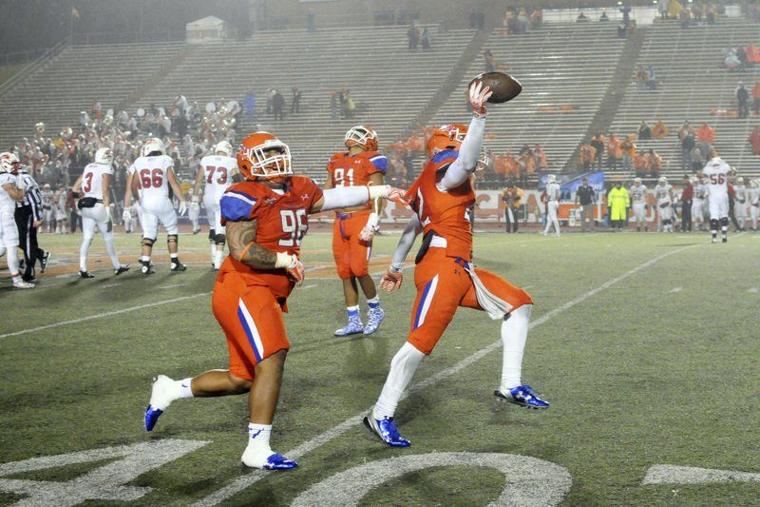 Special to College Sports Journal
Editor's note: This story is courtesy of Sam Houston State and Southern Utah athletics.
HUNTSVILLE, TX. — Quarterback Jeremiah Briscoe came off the bench to pass for 211 yards including a 55-yard scoring pass to Yedidiah Louis for the winning score with 3:44 to play as Sam Houston rallied for a 42-39 playoff victory over Southern Utah Saturday.
The win in the NCAA Division I Football Championship opening round Saturday advances No. 6 ranked Sam Houston to a second round showdown with No. 4 seed McNeese State in Lake Charles, La., next week.
The Cowboys, who defeated Sam Houston 27-10 in Lake Charles three weeks ago, drew a bye as a seed Saturday. McNeese won the 2015 Southland Conference championship and the Kats were the runners-up.
Briscoe entered the game for the last drive of the second quarter with Sam Houston trailing 32-26. He replaced starter Jared Johnson who had completed only three of his 17 passes to that point.
"All season long we've been talking about we had two quarterbacks we could win with," Sam Houston head coach K.C. Keeler. "Jeremiah gets a lot of snaps with the first unit every week just so he's ready to come in for a situation like today. He had a great early part of the year and battle through a couple of injuries. It was great to have him in there."
Sixth-year senior Ridgeway Frank posted a career high 137 rushing yards and 29 carries including touchdowns of one and two yards. Frank's second touchdown with 7 minutes left in the third quarter and a safety in the fourth period pulled the Kats to within four points 39-35.
Read more: Sam Houston State Outlasts Southern Utah For Crazy 42-39 Playoff Win
Special to College Sports Journal
Editor's note: This story is courtesy of William & Mary and Duquesne athletics.
WILLIAMSBURG, VA. — The No. 13 William & Mary football team advanced to the second round of the NCAA Playoffs with a 52-49 victory against Duquesne at Zable Stadium on Saturday evening.
Although DU (8-4) jumped out to an early 14-0 lead less than six minutes into the contest, W&M (9-3) responded with four unanswered touchdowns and never relinquished the lead.
Sophomore wide receiver DeVonte Dedmon led the Tribe offensively with three touchdown catches and 225 all-purpose yards, while junior running back Kendell Anderson rushed for 137 yards on 24 carries with two scores. Junior quarterback Steve Cluley finished the contest 11-of-15 for 251 yards with two touchdown passes.
Despite being outgained, 540-480, and committing four turnovers, W&M posted its highest point total since scoring 52 in a win against VMI in 2008 en route to improving to 6-0 at home this season.
DU quarterback Dillon Buechel provided much of the Devils' offense, as he completed 33-of-53 passes for 423 yards with six touchdowns. Wideout Chris King accounted for 12 catches for 221 yards with a score, while Wayne Capers totaled three touchdown receptions.
Read more: William & Mary Hangs On For Wild 52-49 Postseason Win Over Duquesne