Special Report
College Sports Journal
Editor's Note: This article is courtesy of the Casual Hoya Blog, reprinted here with permission. You can see the original story at the following link:
http://www.casualhoya.com/2012/11/27/3698576/big-east-tulane-east-carolina-big-ten-big-12-pac-10-acc-maryland-rutgers-ncaa-realignment
Pardon us as we take a break from our regularly scheduled delusion to provide a brief dose of reality. The news of the past week has perturbed me. Not because I am a Georgetown fan, Big East fan, or college basketball fan, but because something smells rotten in the state of amateur athletics. All this talk of TV contracts, TV markets, and TV valuations in the latest round of conference realignment has made me feel all, well, bubbly.
Read more: This Bubble Will Burst: How Greed Will Bring Down Modern Amateur Athletics
By Chuck Burton
Publisher/Managing Editor
College Sports Journal

PHILADELPHIA, PA. — If you've been following collegiate athletics like I have, you've undoubtedly seen the latest news flying around this week as colleges have been dumping long-standing conferences like, apparently, top military brass have been dumping husbands and wives.

Maryland abandons the ACC, a conference which they've called home for 50 years, to join the Big 10, for little other reason than cash money to bail out their near-bankrupt athletics department. Rutgers abandons the Big East, a conference which they've called home for more than 20 years, to join the Big 10, for little other reason than cash money to fund their struggling athletics department.

From there, all hell has broken loose, as Louisville has leapt to the ACC to replace Maryland, while the Big East seems convinced that East Carolina and Tulane are acceptable replacements for the Cardinals and Scarlet Knights, and the forgotten conferences of FBS, Conference USA and the Sun Belt, reshuffle their deck chairs to refill their conference with new members as the Big East poached Tulane and East Carolina.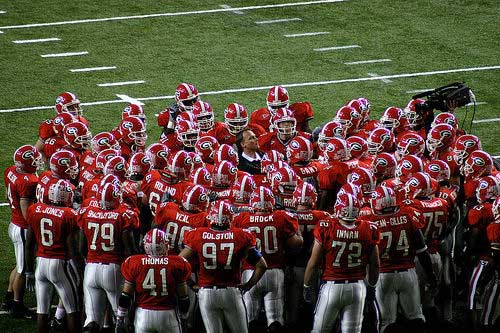 By Ryan Desort
Special Report
College Sports Journal
CHICAGO, IL - Georgia faces Alabama on Saturday for the SEC championship.
While any SEC game is a big game, there is much that is going to be decided with the outcome on Saturday.
Most fans believe that Alabama will easily win this game, that may not be a wise conclusion to make.
Here are some reasons why Georgia could and should win this game.
By Wayne Otto
FBS Columnist
College Sports Journal
DURHAM, N.C. — The times they are a'changin, is an old Bob Dylan tune which is now being played at Duke University these autumn days.
The Blue Devils football season came to a crescendo on Saturday night at historic Wallace Wade Stadium on the Duke campus as the 5-2 Duke squad prepared for the program's biggest football game in almost a quarter of a century.
The opponent was arch rival North Carolina, which also brought in a 5-2 record.
Duke has not had a winning season since 1994 and the last time Duke and North Carolina played a football game and both had winning records was also 1994, when UNC was coached by former Applachian State coach Mack Brown.
With Duke's 33-30 victory over the Tar Heels, the Blue Devils are bowl eligible for the first time since playing Wisconsin in the Hall of Fame Bowl in Tampa on January 2, 1995.