By David Coulson
Executive Editor
College Sports Journal
BOONE, N.C. — It was getting back to basics with a twist for Appalachian State in its dominating, 28-7 Sun Belt Conference football victory over Louisiana-Lafayette Saturday afternoon before 16,124 spectators on senior day at Kidd Brewer Stadium.
The Mountaineers (9-2 overall, 6-1 Sun Belt) kept hopes alive for a share of the league championship by bottling up the Ragin' Cajun offense and punishing ULL with the running game.
"Our big thing is to make teams one dimensional," said ASU junior linebacker John Law, who had six tackles and one of his team's season-high six sacks. "It was getting back to basics, doing the small things."
In one of its sharpest defensive performances of the season, the Mountaineers limited ULL running back Elijah McGuire to 43 yards on 16 carries and held the Ragin' Cajuns to 42 yards overall on the ground.
Louisiana-Lafayette (4-7, 3-4) failed to score until the final minute and was hampered by converting just six of 17 third-down opportunities as App State won for the 15th time in its past 17 outings.
Read more: Appalachian State Keeps Sun Belt Title Hopes Alive With Win Over ULL
By David Coulson
Executive Editor
College Sports Journal
BOONE, N.C. — Appalachian State may be preparing for a football visit from Louisiana-Lafayette on Saturday for a 2 p.m. game at Kidd Brewer Stadium, but it was the news of a visit by five-time national champion Miami (Fla.) next September that dominated conversation Tuesday at the Mountaineers' practice.
"The U is coming to the Rock," App State coach Scott Satterfield said.That's pretty awesome and exciting for our program and our fans. It'll be a cool deal."
In a deal that had been more than rumored for several weeks, Appalachian and Miami finalized details of a contract Tuesday that will bring the Hurricanes to Boone for a Sept. 17, 2016 game. The Mountaineers will make a return trip to Miami on Sept. 11, 2021.
"Nine months from today is going to be the biggest event that has ever happened in Boone," Appalachian athletic director Doug Gillen said. "We set down a few months ago and asked the question 'What's our philosophy on scheduling.' We decided we needed to find the best possible teams to come to Boone."
Read more: Appalachian State Inks Deal To Host Miami Next Season At Kidd Brewer Stadium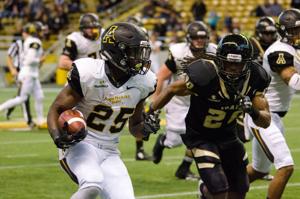 By David Coulson
Executive Editor
College Sports Journal
MOSOW, ID. — Appalachian State needed a spark of momentum Saturday afternoon against and the Mountaineers found it in freshman running back Jalen Moore.
Moore pounded the Vandal defense for a school-freshman-record 244 yards rushing on 27 carries as the Mountaineers ran for 411 yards and pulled away in the second half for a 47-20 victory at the Kibbie Dome.
The victory, coming off last week's 40-27 loss in its first-place battle with Arkansas State, kept ASU's hopes of at least a share of the Sun Belt Conference alive as the Mountaineers improved to 8-2 overall and 5-1 in league.
"The key for us is reestablishing the running game," Appalachian coach Scott Satterfield said before the game and the Mountaineers did that even with starting tailback Marcus Cox out of the lineup with what was described as "lower body injuries," by the ASU staff.
But without Cox, Moore stepped into the brink to break the freshman rushing record of 215 yards established two years ago by Cox, helping the Mountaineers pile up 23 of their 29 first downs on the ground on the way to 511 yards of total offense.
Read more: Jalen Moore's Rushing Day Helps Appalachian State Blow Out Idaho
By Jennifer Lawson
Special to College Sports Journal
Editor's note: This story is courtesy of Texas State athletics
SAN MARCOS, Texas – On Senior Day at Bobcat Stadium, the Texas State football team finished the home schedule on a high note with a 16-3 victory over UL Monroe Thursday evening.
The Bobcats recognized its 27 seniors before the opening kick en route to their third victory of the season.
How It Happened: Texas State got on the board first on its opening drive after forcing UL Monroe to have a quick three-and-out on its first possession. Building up to Kaba's 23-yard field goal, Texas State put together a pair of 20+ yard plays including a season-long 23-yard reception by Lawrence White.
The stop on the Warhawks opening drive marks the first game since South Alabama that the 'Cats forced its opponent to punt to begin the game.
ULM tied up the contest with 1:31 left in the first on a 28-yard field goal, the only score of the contest for it.
Throughout the second quarter, the teams proceeded to exchange punts until Texas State's final drive of the half.
By David Coulson
Executive Editor
College Sports Journal
MOSCOW, ID. — Confidence is a quirky thing for a college football team, it can be there one moment and gone the next.
Appalachian State had won 13 of its previous 14 games before last week's Sun Belt Conference, first-place showdown with Arkansas State.
But after that Thursday-night, 40-27 home loss to the Red Wolves and coming off a harrowing, 44-41 triple-overtime victory the week before against Troy, the Mountaineers appeared to lose some of their swagger.
Appalachian (7-2 overall, 5-1 in conference) will try to get some of that invincibility back on Saturday when its faces struggling Idaho (3-6, 2-4) at 5 p.m. at the Kibbie Dome in Moscow, Idaho. Being 2,560 miles away from home, it will mark the furthest west — or any other direction — the Mountaineers have ever traveled for a game.
ASU coach Scott Satterfield is hoping he has a refreshed football team with him on the trip.
Read more: Appalachian State Looking To Regain Momentum At Idaho