Special to College Sports Journal
ATLANTA, GA. — As part of an ongoing series throughout the fall, The National Football Foundation & College Hall of Fame posts This Week in College Football History, which takes a look back at some of college football's landmark moments over the last 147 years.
FCS MOMENT
Jan. 1, 1916
Washington State defeated Brown, 14-0
Rose Bowl – Pasadena, California
College Football Hall of Famer and Brown halfback Fritz Pollard became the first African-American to play in the Rose Bowl, gaining just 47 yards in the rain-soaked game. After a scoreless first half, Washington State got on the board on a three-yard run by Ralph Boone, followed by an Arthur Durham extra point. The Cougars extended their lead to 14-0 on a short run by Carl Dietz in the fourth quarter. Dietz was named the MVP of the game. Washington State, coached by Hall of Famer William "Lone Star" Dietz, finished with a 7-0 record, the last perfect season in program history. Brown, under Hall of Fame coach Edward Robinson, ended the season with a 5-4-1 record. Wallace Wade, who would have a Hall of Fame coaching career at Alabama and Duke, played on the line for Brown.
Read more: This Week in College Football History: New Year's Memories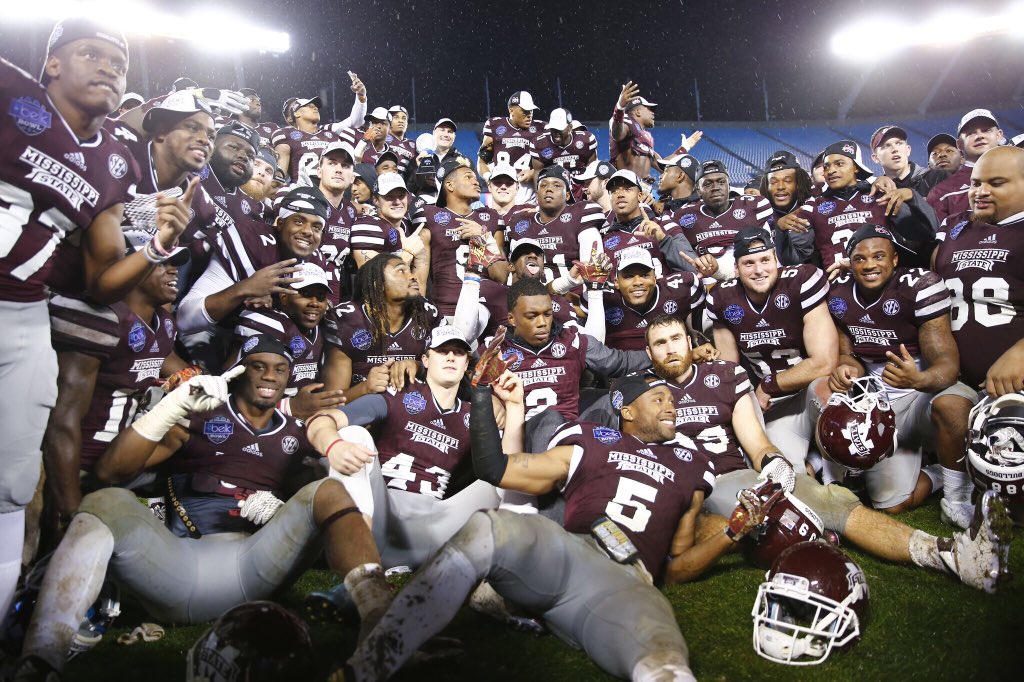 By David Coulson
Executive Editor
College Sports Journal
CHARLOTTE, N.C. — It took only one play from scrimmage for Mississippi State to make its opening statement Friday afternoon against North Carolina State in the 14th annual Belk Bowl.
And the Bulldogs continued their proclamations for the next three-and-a-half hours in thrashing the Wolfpack, 51-28, in the heave rain and mud at Bank of America Stadium.
Middle linebacker Gerri Green intercepted a short, Jacoby Brissett pass on NC State's first offensive play as Brissett was pressured by defensive end Johnathan Calvin and MSU was off and rolling towards a 21-0 lead that the Wolfpack never could overcome.
"He made a good play on the ball," Brissett said of Green. "I just have to do a better job of taking care of the ball and understanding the situation. We can't do that to start the game off."
The Bulldogs' program-elevating quarterback Dak Prescott (25-of-42 for 380 yards passing, 12 carries for 47 yards rushing) needed just five snaps to fire the first of four touchdown tosses — a 14-yard missile to Fred Ross — and MSU (9-4) was soaring towards victory.
Read more: Mississippi State Dominates North Carolina State For 51-28 Belk Bowl Victory
By David Coulson
Executive Editor
College Sports Journal
Editor's note: David Coulson is bringing fans an insider's look on Appalachian State's first bowl-game experience. This is the last of five chapters on the experience.
BOONE, N.C. — Sleep, precious sleep. After a jam-packed three days of activities at the Raycom Media Camellia Bowl, the one thing I craved more than any other was some horizontal meditation.
When the Camellia Bowl ended with Appalachian State's dramatic 31-29 victory, the party was just beginning on Saturday night. Fans of the Mountaineers were ready to paint Montgomery black and gold and the celebration went far into Sunday morning before the tuckered-out supporters turned in for a little sleep before heading home.
I spent much of the evening just hanging out with friends at the Appalachian team hotel, the Renaissance, occasionally wondering around the area to get a feel for this victory party.
There was plenty of time for the fans to dissect the wild game we had just witnessed and lots of talk about where the Mountaineers go from here. But mostly, this ASU throng basked in the fact that their favorite team had just become the first school ever to win a bowl game and the first to be victorious in a bowl in its first season of eligibility.
The Mountaineers also became the only Sun Belt Conference squad to ever pile up 11 W's in one season.
Lofty reasons to celebrate, indeed.
Read more: The Final Postscript From Montgomery And The Camellia Bowl For App State
Special to College Sports Journal
Editor's note: This story is courtesy of Georgia Southern athletics.
MOBILE, AL. — Quarterback Favian Upshaw ran for a career-high 199 yards and four touchdowns, and Georgia Southern scored 35 unanswered points and rushed for 452 yards to power past Bowling Green, 58-27, in the GoDaddy Bowl Wednesday night in Ladd-Peebles Stadium.
It was the first bowl game in program history for Georgia Southern (9-4), which is in its second season playing FBS football and was selected for a bowl game in its first season of eligibility.
Upshaw averaged 16.5 yards on 11 carries and completed a pass for 17 yards to earn the game's overall MVP honors.
Wesley Fields rushed nine times for 75 yards and a score, and Kevin Ellison ran for 70 yards and threw for 65 yards and a touchdown. Matt Breida ran for 68 yards and a touchdown, and L.A. Ramsby gained 44 yards and scored a touchdown.
"This meant a lot to us," said Upshaw. "We just wanted to band together and do what we did the whole season and just play for each other."
Much was made prior to the contest that the Georgia Southern defense would be overmatched against Bowling Green, and that turned out not to be the case.
Read more: Big Second Half From Upshaw Sparks Georgia Southern To Bowl Victory
By David Coulson
Executive Editor
College Sports Journal
Editor's note: David Coulson is bringing fans an insider's look throughout the weekend on Appalachian State's first bowl-game experience, check often for updates and also follow his posts on Twitter @DavidCoulsonFCS.
MONTGOMERY, AL. — It was Saturday morning — still nine hours before the Raycom Media Camellia Bowl was set for its afternoon kickoff — when I discovered the cold snap from the night before had taken its toll on my car battery.
I cranked up my Toyota Prius and heard nothing but silence. Fortunately, with everything regarding the game between Appalachian State and Ohio University in close proximity, this is a problem that can be left for another day — as in Sunday, when the bowl activities come to an end.
I walked several blocks to the hotel, the DoubleTree by Hilton, which was hosting the media events for the bowl game, to pick up my credentials, which were suppose to be available at 8 a.m.
Unfortunately, no one in the hotel had any idea what room was suppose to be available for receiving credentials. Numerous phone calls are made and a line of other media starts forming in the lobby.
It didn't matter if you are from ESPN, the High Country Press, or the Appalachian student newspaper, we were all stuck waiting. An hour later, someone finally tracks down the Camellia Bowl media director, who came stumbling out of his bedroom with a handful of envelopes.
Fortunately, I took a little nap in the lobby during the delay. Precious sleep on a weekend where rest was at a premium.
Read more: More Postcards From Montgomery: Tailgating Time For Mountaineers