By David Coulson
Executive Editor
College Sports Journal
ATLANTA, GA. — In the past two seasons, Liberty University has claimed two victories over Sun Belt Conference football opponents, the most recent coming Saturday with a 41-33 win at Georgia State.
It was the fourth time in school history that the Flames had toppled a Football Bowl Subdivision opponent.
Much like it did in last season's homecoming-ruining, 55-48 overtime win at Appalachian State, Liberty executed a series of key plays late to dispatch an opponent competing with 22 more scholarships.
There was John Lunsford — perhaps college football's best kicker — nailing a career-long 56-yard field goal to provide the Flames with some needed breathing room.
Chris Turner contributed the game-clinching interception off talented Panther quarterback Nick Arbuckle, one play after Juwan Wells had sacked the Sun Belt's leading passer for a 16-yard loss on the previous play.
Liberty's senior leader Josh Woodrum, one of the most experienced QBs in the Football Championship Subdivision, was steady, completing 25-of-32 passes for 239 yards, while exploiting the GSU defense with six rushes for 44 yards, hitting All-American receiver Darrin Peterson nine times for 89 yards.
Read more: Liberty Keeps Looking To The Future With FBS Win Over Georgia State
By Todd Wetmore
Special to College Sports Journal
Editor's Note: This article is courtesy of Liberty.edu
http://www.liberty.edu/flames/index.cfm?PID=10869&newsID=15345&TeamID=9
ATLANTA, GA. — A 56-yard field goal by John Lunsford and a Chris Turner interception halted a back-and-forth battle, allowing No. 18/18 Liberty to claim a 41-33 win over Georgia State, Saturday afternoon, at the Georgia Dome.
The win ups Liberty's record to 3-2 on the season and marks the Flames' second-straight victory over a Sun Belt Conference school. The loss drops Georgia State to 1-3.
Liberty has now defeated a FBS opponent for the second-consecutive year and the fourth time in program history.
Liberty finished the game with 502 total offensive yards and the Flames kept Georgia State's quick-hitting offense off the field by dominating the time of possession battle (43:33 to 16:27).
Read more: Big Plays Lead Liberty Past Georgia State For FBS Victory
By Josh Tolentino
Courtesy of Vidette Online
College Sports Journal
NORMAL, Ill. —From the opening drive, it was a game of musical chairs for the Illinois State University offense under center.
After a hand injury sustained during practice on Wednesday limited starting quarterback Tre Roberson, coach Brock Spack gave redshirt freshman Jake Kolbe the start and constantly switched the pair in and out of the game.
The game plan paid dividends as No. 4 ISU (3-1, 1-0 MVFC) defeated No. 6 Northern Iowa (2-2, 0-1) on a windy, overacast Saturday afternoon, in front of a second-straight sold out crowd (13,391) at Hancock Stadium
"It made a huge difference," UNI coach Mark Farley said. "We had to re-do our entire game plan. It was designed to take his [Roberson] part of the run away."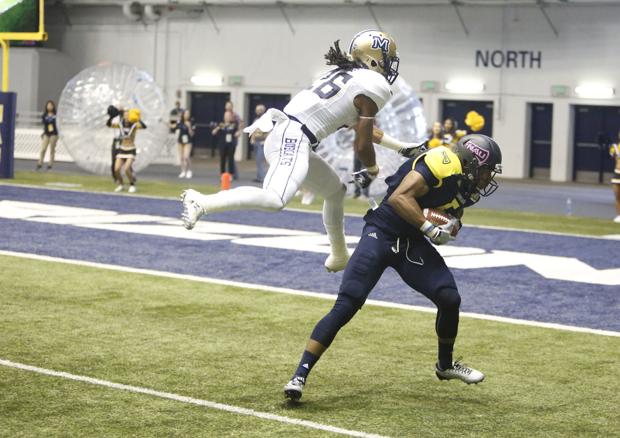 By Cody Bashore
Courtesy of the Arizona Daily Sun
College Sports Journal
FLAGSTAFF, Ariz. — It took less than two minutes for the scoring to begin Saturday in the Walkup Skydome, as Northern Arizona took its opening possession 75 yards for a score.
The drive was just a sign of the offensive output that would follow, with the Lumberjacks (3-2, 1-1 Big Sky) beating the No. 11 Montana State Bobcats (2-2, 1-1) Saturday, 49-41, behind an offensive rebound from a week ago.
"That experience last week in Washington-Grizzly Stadium was tough on the young pups we were playing in that setting," said Lumberjacks head coach Jerome Souers, in reference to the eight sacks and just 266 yards of offense last week at Montana. "Today was more like what we are capable of doing with protection and run blocking."
By Eric Peterson
Courtesy of INFORUM
College Sports Journal
BROOKINGS, South Dakota. —North Dakota State capped Saturday night with a familiar scene in the recent history of its rivalry with South Dakota State. The Bison rumbling to the corner of the stadium to grab the 75-pound Dakota Marker trophy.
The No. 2-ranked Bison used a dominant first half to fuel a 28-7 victory against the No. 7-ranked Jackrabbits in the Missouri Valley Football Conference opener before a record crowd of 17,348 fans at Coughlin-Alumni Stadium.
"I definitely think it means extra," said Bison senior C.J. Smith of retaining the Dakota Marker. "It means a lot to us seniors."