By David Coulson
Executive Editor
College Sports Journal
PHILADELPHIA, PA. — On my first trip to historic Franklin Field, on the campus of the University of Pennsylvania, I made a bit of a pilgrimage.
I walked inside of the 10-yard line to the area of the field where Chuck Bednarik had made the final-play tackle on Green Bay Packers fullback Jim Taylor at the nine-yard line, lifting the Philadelphia Eagles to the 1960 NFL Championship.
I lingered there for several minutes, soaking in the history of a moment that the Eagles still haven't repeated in the 54 NFL seasons since then.
Bednarik, one of the toughest players ever to strap on a helmet and pads, passed away Saturday morning at the age of 89 after several years of failing health, family sources said.
He died of natural causes at an assisted living facility in Richland, Pa., where he had been admitted on Friday.
Even into his 80s, Bednarik was a no-holds-barred, unapologetic, larger-than-life personality.
Read more: Football Community Mourns The Larger-Than-Life Personality Of Bednarik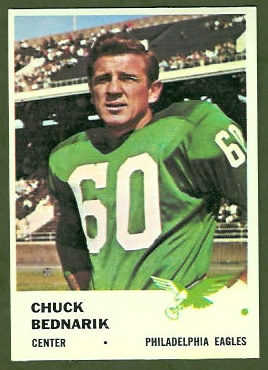 Editor's note: This piece originally appeared on The Sports Network website on Jan. 20, 2010 in David Coulson's regular, nationally-syndicated column on the Football Championship Subdivision and is reprinted in honor of Chuck Bednarik, the legendary Philadelphia Eagles and Penn Quakers football star, who passed away March 21, 1915 at the age of 89.
By David Coulson
Executive Editor
College Sports Journal
PHILADELPHIA, PA. — When Chuck Bednarik was a kid, growing up in a working-class neighborhood in Bethlehem, PA., he and his friends would sneak into Taylor Stadium at nearby Lehigh University for the chance to play football on a real grass field.
"There was this guy that used to always run us off the field," Bednarik said during a recent book-signing appearance at the Philadelphia Athletics Historical Society in downtown Hatboro, PA.
Showing the skill and agility that would serve him so well in an All-American football career at Penn and during his 12-year, NFL Hall of Fame career with the Philadelphia Eagles, Bednarik and his friends would escape unscathed, surviving to play another day.
Though he played in a period that far pre-dated the Football Championship Subdivision, the NFL's last two-way performer has some serious FCS roots and competed with the heart and hunger we have come to expect from players who now slug it out at this level.
Read more: CSJ Classic: Chuck Bednarik Served As An FCS Role Model
By David Coulson
Executive Editor
College Sports Journal
VILLANOVA, Pa. — When you coach 30 seasons at the same school, win a national championship and spend 35 years overall as a head coach, panic doesn't easily set in.
The multitude of experiences logged by Andy Talley and his veteran staff translated into a sense of calm and determination Saturday evening at Villanova Stadium when the Villanova Wildcats found themselves trailing Liberty 13-0 in the second quarter and 22-14 after three periods.
And it ultimately proved the confidence that resulted in a 29-22 victory that vaulted fifth-ranked Villanova into the quarterfinals of the NCAA Division I Football Championship Subdivision playoffs.
Playing through a steady rain that made conditions miserable throughout the game, the Wildcats struck for two fourth-quarter touchdowns and overcame four turnovers to overcome the talented Flames, who were playing just their second playoff game ever.
Read more: Villanova Doesn't Panic In Playoff Win Over Liberty
By David Coulson
Executive Editor
College Sports Journal
VILLANOVA, PA. — Playing without its emotional leader, John Robertson, when the junior quarterback and likely Walter Payton Award winner suffered a reoccurrence of concussion symptoms on Saturday morning, Villanova might have considered itself fortunate to be one final drive away from winning, or at least sending its quarterfinal-round game with Sam Houston State into overtime Saturday afternoon in the NCAA Division I Football Championships.
But the last place Villanova wanted to find itself was facing a 51-yard field goal attempt to extend its season.
Those fears came to bear when beleaguered place kicker Chris Gough missed that kick barely wide left with 30 seconds to play in a 34-31 loss that matched Villanova coach Andy Talley against former Delaware coach and longtime rival K.C. Keeler, in his first year at Sam Houston State.
Jalen Overstreet's one-yard touchdown smash with 4:03 remaining lifted the Bearkats into the lead after Villanova had taken a 31-27 lead on backup quarterback Chris Polony's one-yard TD sweep midway through the fourth quarter.
"We just needed one more stop," said Talley. "And we couldn't get it."
Read more: Without Robertson, Villanova Comes Up One Kick Short Against SHSU
By David Coulson
Executive Editor
College Sports Journal
BOONE, N.C. — Appalachian State concocted the the perfect home remedy for what was ailing its football team with a 66-0 victory over Campbell before 25,861 fans Saturday night at Kidd Brewer Stadium.
Coming off a 52-14 loss last weekend at Michigan, the Mountaineers (1-1) got well in a hurry with a 45-point, first-half explosion on the way to the home-opening win.
It was the most first-half points for App State in a game since the Mountaineers scored 45 points on the way to a 79-35 victory over Western Carolina on Nov. 10, 2007, the largest margin of victory since a 67-0 win against Arkansas-Monticello in 1941 and the most points scored in a game since the 70-24 Halloween night win over Wofford in 2008.
Read more: Campbell Draws Blanks In Its Trip To Appalachian State