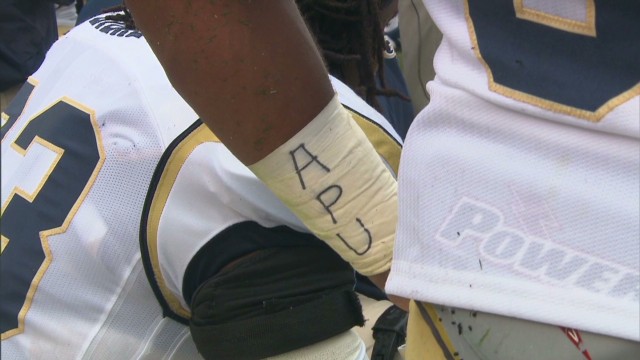 By Chuck Burton
Publisher/Managing Editor
College Sports Journal

PHILADELPHIA, PA. — There's been a lot of talk about the historic nature of the bid by Northwestern's football players to be allowed to form a union for collective bargaining purposes.
The first-ever attempt at a college football players' union passed the first, and easiest, bar at certification - the National Labor Relations Board in Illinois, or NLRB. The next step is to present their case in front of the national NLRB board, which is a five-person board currently comprised of three Democrats and two Republicans.
Despite the significant legal challenges that remain before an actual union is formed, popular opinion seems to indicate that many people feel that it is a decision that will transform college sports.
A simple data analysis, however, shows that this is highly unlikely to be the case - at least at the FBS level.
Read more: For Northwestern Unionization Movement Impacts, Look to FCS, Not FBS
By David Coulson
Executive Editor
College Sports Journal
PHILADELPHIA, PA. — Have you ever wondered what a Football Championship Subdivision team would look like if you took the best 63 players and put them together on one squad?
That's what College Sports Journal has done again this year as it honored the top performers from the 2013 season on its FCS All-America team, a unit that is headed up by offensive player of the year Terrance West, the record-smashing, junior running back from Towson.
Joining West with special honors on this outstanding team are senior defensive tackle Caraun Reid of Princeton as the defensive player of the year, senior offensive tackle Billy Turner of North Dakota State as the lineman of the year and sophomore returnman Xavier Roberson of Southeastern Louisiana as the special teams player of the year.
The winningest quarterback in FCS history, senior Brock Jensen of North Dakota State was selected as the playoff most valuable player after leading the Bison to a record-tying third-consecutive national championship.
And if you need a coach to direct this talented group, you couldn't do better than Joe Moorhead, who has turned around the fortunes of the Fordham Rams in just two years. Moorhead was picked as the coach of the year.
Wide receiver Cooper Kupp was announced last week as the freshman of the year after a record-setting first season at Eastern Washington.
Read more: Towson's Terrance West Heads Up 2013 CSJ FCS All-America Squad
By David Coulson
Executive Editor
College Sports Journal
PHILADELPHIA, PA. — Just as he raced past defenders in opposing team secondaries all season, Eastern Washington wide receiver Cooper Kupp stayed far ahead of the field during the 2013 Football Championship Subdivision season.
Kupp was chosen on Thursday as the winner of the third-annual College Sports Journal FCS All-Freshman team player of the year. He joins running back Terrance West of Towson (2011) and the duo of Villanova quarterback John Robertson (2012) and Appalachian State wide receiver Sean Price (2012) as winners of CSJ's top freshman award.
Read more: Eastern Washington's Cooper Kupp Headlines CSJ's 2013 All-Freshman Team
By David Coulson
Executive Editor
College Sports Journal
PHILADELPHIA, PA. — One a cold, snowy Saturday afternoon, trying to stay warm in the cozy confines of my home office, a simple quote from a member of the Football Championship Subdivision alumni club sparked some thinking.
The article I read on the Sports Illustrated website on Saturday was a couple of days old and the story about Brandon Jacobs ripping into Jim Harbaugh was just six paragraphs long, but it crystalized some thoughts I've had for awhile on winning and losing.
What was amazing was to see that two of the more successful people to come out of the FCS ranks, former Southern Illinois running back Jacobs and ex-University of San Diego coach Jim Harbaugh — the son of legendary Western Kentucky coach Jack Harbaugh — are aligned on opposite sides.
But here were Jacobs' words:
"He is a b—-, and that's why he's never won anything …"
Read more: The Brandon Jacobs Saga: What Really Defines Winners And Losers?
By David Coulson
Executive Editor
College Sports Journal
FRISCO, TX. — Though the Football Championship Subdivision settles its winner on the field, it isn't every year that the best two teams end up playing in the NCAA Division I Football Championship game.
We are fortunate that North Dakota State and Towson have proven themselves far and away as the best of the best as those two teams line up on Saturday at 2 p.m. Eastern Standard Time to play for a Football Championship Subdivision crown at Toyota Stadium.
But having the best two teams on hand isn't a given, even with the format of a 16, 20, or now 24-team playoff system.
A BLAST FROM THE PAST
When North Dakota State needed to come up with big plays to hold off Wofford in the quarterfinals and Georgia Southern in the semifinals at home to just reach the title contest last year, it is an easy leap to say that one of those teams could have provided better competition for a championship game than Sam Houston State did in a crushing 39-13 loss.
Read more: NDSU, Towson Have Established Themselves As The Best Of The Best