#16 North Carolina Central vs. #16 North Dakota State (South Region)
When: Wednesday, March 19, 6:40 PM
Where: UD Arena, Dayton, Ohio
TV/Streaming: truTV, March Madness Live
North Carolina Central Eagles (18-15, 10-6)
Durham, North Carolina
Mid-Eastern Athletic Conference
Head Coach: LeVelle Moton (Ninth season, 175–128 @ NCCU & overall)
Enrollment: 6,355
Sagarin Rating: 296
Scouting Report: NCCU is playing in its third straight NCAA tournament but ironically now all three have included playing in the First Four. The Eagles are also looking for their first win in the NCAA tournament having been ousted in Dayton by UC Davis and Texas Southern. NCCU also made it the tournament in 2014 but avoided the First Four that season as a #14 seed but lost to Iowa State. Coach LeVelle Moton, who took over in 2009 when the Eagles were just in their third season as a Division I program, has overseen each of the Eagles' NCAA bids.
This year, the Eagles finished third in the MEAC standings but found fire in that conference tournament. NCCU took down the top two seeded teams — Norfolk State and North Carolina A&T in the final two games by a combined five points to again earn the MEAC automatic bid.
The Eagles on the season have averaged 72.2 points per game while shooting 45.6 percent from the field and 31.7 from three-point range during regular season play. NCCU played two teams that landed in this year's NCAA tournament–a 22-point loss at Cincinnati and a nine-point defeat at Saint Louis. The best out-of-conference win likely was a neutral site win over the SWAC's Southern (who finished with nine wins on the season).
This will be second meeting between these two schools. NCCU visited NDSU in 2007 when both were transitioning from Division II to Division I. NDSU won the earlier meeting rather easily at 104-51.
NORTH CAROLINA CENTRAL PROJECTED STARTERS
No. Player Pos Cl. Ht. Wt. PPG RPG APG Notes
1 Zacarry Douglas F Sr. 6-8 215 8.7 7.8 1.0
4 Jordan Perkins PG So. 6-1 190 3.7 2.4 4.1
32 Raasean Davis C Sr. 6-9 240 14.6 8.9 0.5 1st Team All-MEAC
0 Larry McKnight, Jr. G/F Sr. 6-4 235 9.4 3.4 1.0
11 Randy Miller, Jr. G Jr. 6-2 190 13.0 2.3 1.9
Key Player: Junior G Randy Miller, Jr. is one of three starters who transferred from other colleges over the course of their career. This game will be the first NCAA tournament experience for Miller. He has come up big this year as the second leading tea scorer after he sat out last season following his transfer from Mount St. Mary's. Miller averaged 13.2 points and is the team's top 3-point threat, sinking 63 treys at a 37.1 percent clip.
Fantasy Player: Senior C Raasean Davis is averaging team highs of 14.6 points and 8.9 rebounds while shooting 64.5 percent and is a key low key threat. Last year, he had 19 points and 11 boards as team highs in the First Four game loss to Texas Southern and should put up similar numbers in this one.
North Dakota State Bison (18-15, 9-7)
Fargo, North Dakota
Summit League
Head Coach: David Richman (Fifth Season, 95-66 @ NDSU & overall)
Enrollment: 13,796
FCS Sagarin Rating: 193
Scouting Report: This year's Bison team was young with no seniors on the roster and as expected, they struggled to start the season and were just 2-7 after the first nine games. The Bison did improve as the season went on and won nine of its last 12 games and finished tied for third in the conference but were placed fourth in the seeding for the league's tournament.
The Bison were helped in the Summit League tournament when regular season champion and rival South Dakota State went down in the quarterfinal round. NDSU would defeat the team that upset SDSU in Western Illinois after they took care of Oral Roberts in the first round and then took down Nebraska-Omaha in the conference championship. NDSU now has won four Summit League Tournament crowns in 11 seasons as a full member of the league — 2009, 2014, 2015 and 2019 with two under Richman.
The Bison have averaged 72.7 points per game while shooting 45.1 percent from the field and 35.5 from three-point range. In fact, 10 players on the team have made at least 10 threes on the season. The key to the Bison most of the season has been the use of almost all of its bench where no player plays much more than half the game.
The Bison are a bit more battle tested than NCCU as NDSU played eight non-conference opponents this season who finished in the top three of their league standings, including four regular season champions (New Mexico State, Gonzaga, Drake & Montana). The only win and best out-of-conference win, however, in this group came against Eastern Washington at home.
NORTH DAKOTA STATE PROJECTED STARTERS
No. Player Pos Cl. Ht. Wt. PPG RPG APG Notes
0 Vinnie Shahid G Jr. 5-11 190 12.8 3.0 2.7 SL Newcomer of the Year
5 Sam Griesel G/F Fr. 6-6 210 6.0 3.7 1.6
11 Jared Samuelson G Jr. 6-3 185 7.2 2.3 1.2
24 Tyson Ward G Jr. 6-6 190 12.3 6.3 2.7
34 Rocky Kreuser F So. 6-10 245 9.0 3.7 0.7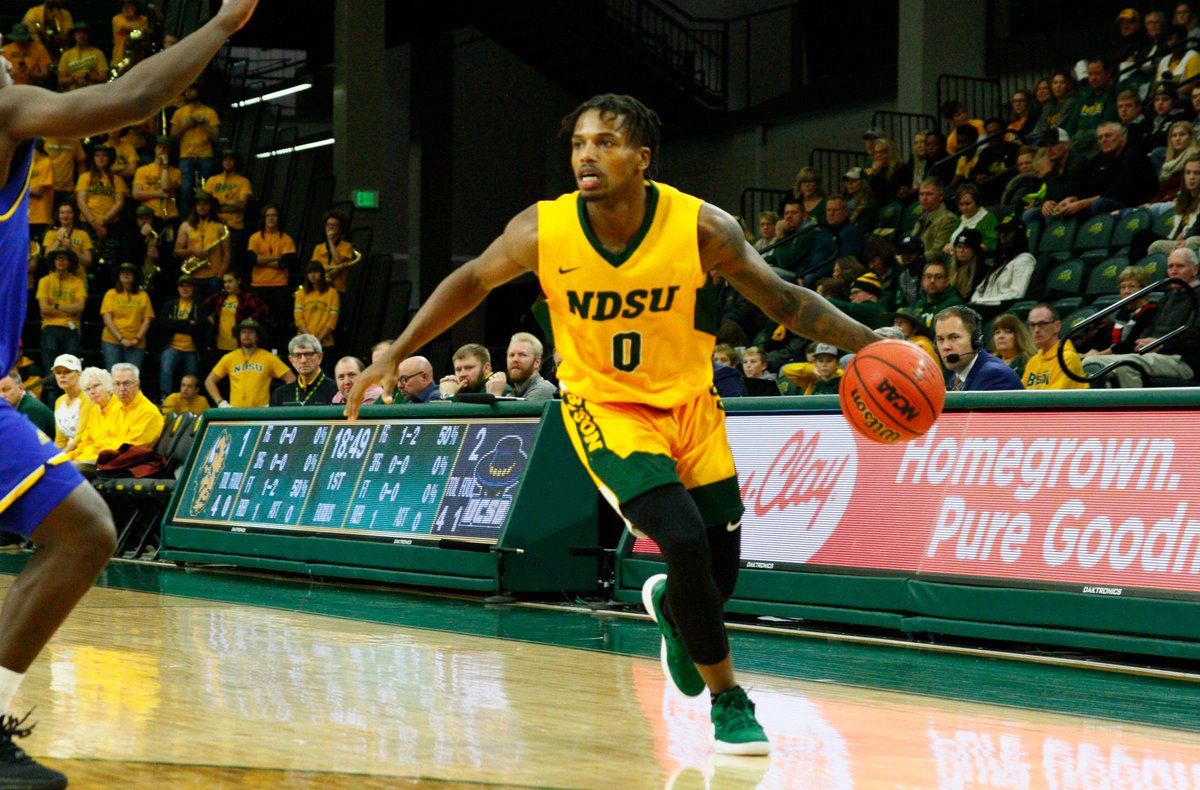 Key Player: Junior G Vinnie Shahid has been the consistent star on a team that seemed to have a different star each game night. Shahid was the Summit League Newcomer of the Year after transferring in from Western Nebraska CC. He was NDSU's leading scorer (12.8 ppg). He seemed to turn around the Bison fortunes in the regular season finale versus Purdue-Fort Wayne with a last second shot to get the team out of a three game losing streak and his leadership carried over especially in the championship game against Omaha where he scored 22 points with 20 of those points coming in the final 15 minutes. He was named the MVP of the Summit League Tournament for his efforts.
Key Fantasy Player: Junior G Tyson Ward has been an up and down player this year after being named to the preseason All-Summit team. But when he puts his best effort into a game he can carry a team. He was second on the team with 12.3 ppg and was a key re-bounder. In fact, he was just one of two Summit League performer 6-foot-8 or under who averaged at least 7 rebounds per game in league play. Ward should come up big in this game and be a good fantasy play.
Fearless Prediction: The Bison do have one NCAA Tournament victory to their credit, upsetting Oklahoma in the first round in 2014. They were a No. 15 seed in their most recent appearance the following year, losing to Gonzaga by 10. The Eagles do not have the same kind of history and do not have the same kind of bench or being battle tested as much this year as the Bison. While NCCU will keep this game much closer than the two team's other meeting but a strong bench play for the Bison will help them prevail in this game to then get their chance at Top Overall Seeded Duke on Friday night. North Dakota State 74 North Carolina Central 66
Originally from LaMoure, North Dakota, Kent is a 1996 graduate of North Dakota State University. His prior writing experience is over 15 years having previously worked with D2football.com, I-AA.org, and College Sporting News before coming to College Sports Journal in 2016. His main focus is college football is the Missouri Valley Football Conference within the Division I FCS. And in 2017, he began also to look at the FBS Group of Five conferences of the American Athletic, Conference USA, Mid-American, Mountain West, and Sun Belt.
Reach him at this email or click below: