It was a fantastic feeling having a somewhat normal Week 0 of FCS football this past weekend. Three games involving FCS teams were contested without a hitch and yielded some great action as well. We got together a roundtable to take a look back at Week 0 and a look ahead at Week 1.
Last week's FCS results are listed here, and if you click on the links you can find video highlights of each game.
CSJ: What was the best game of the week last week?
Ray Maloney: The game between Indiana State and Eastern Illinois might have been the game of the week and given football fans an indication as to what to expect in 2021 as college football embarks on a return to normalcy. And the lesson taught in that game was that the new season, like every other season, will hold plenty of surprises.
Indiana State opted out of the 2021 spring season and was rusty in its return to action. Eastern Illinois, meanwhile, has been struggling in recent seasons, but to play a team, any team, close, as the Panthers did, has to give coach Adam Cushing some hope that his program is heading in the right direction.
Only time will tell and that's what makes college football the great game that it is.
Kent Schmidt: My best game was Indiana State defeating Eastern Illinois after the Sycamores had not played a game in 21 months. The Sycamores actually picked up their third straight victory, dating back to the fall of 2019, with Saturday night's 26-21 win over the Panthers.
Ben Schleiger: NCCU upsetting Alcorn by far. Alcorn QB Felix Harper is a true stud, but NCCU was too much to handle. There still may be some fight left in the ruins of the MEAC.
Rob Butler: North Carolina Central stunned Alcorn State 23-14 – they came in the game as a 14-point underdog and left with a big win. The atmosphere was great, and I especially enjoyed Robert Griffin III as an ESPN commentator.
Chuck Burton: The MEAC/SWAC Challenge between North Carolina Central and Alcorn State was a terrific way to start the year! After the Braves went up 14-13, to the stunned silence of Alcorn fans, NCCU dominated the game, scoring the next 10 points and shutting them down on defense. DB Brandon Codrington's 77 yard punt return to basically clinch the game was electric!
Jamie Williams: North Carolina Central used ten fourth quarter points to beat a heavily favored Alcorn State. Looking forward, is NC Central better than we think? Is Alcorn worse than we think? Or is this just one of those things that happens?
CSJ: Team of the Week?
Jamie and Rob: North Carolina Central, easy. They were huge underdogs and beat a team favored to win the SWAC. They could also make some noise in the MEAC this year.
Kent: I will say North Carolina Central in the MEAC-SWAC Challenge game. NCCU was the underdog to Alcorn State and came back in the game to pick up the victory for the MEAC.
Chuck: I'll give it to Indiana State for their 26-21 win over Eastern Illinois. Great play down the stretch to seal the win.
Ray: With so few games to chose from picking one team that stood out is difficult. So, I will have to go with two teams that took a giant step in right direction in Indiana State and UTEP.
The Sycamores, like mentioned earlier, has been absent from the playing field since the end of the 2019 season, but to see them come out, shake off the cobwebs against Eastern Illinois can only construed as a good thing in Terre Haute. UTEP, meanwhile, came out and thrashed an out-manned New Mexico State team. And while the competition may not have been the best, it's long been said that a win is a win is a win. The Miners will take it.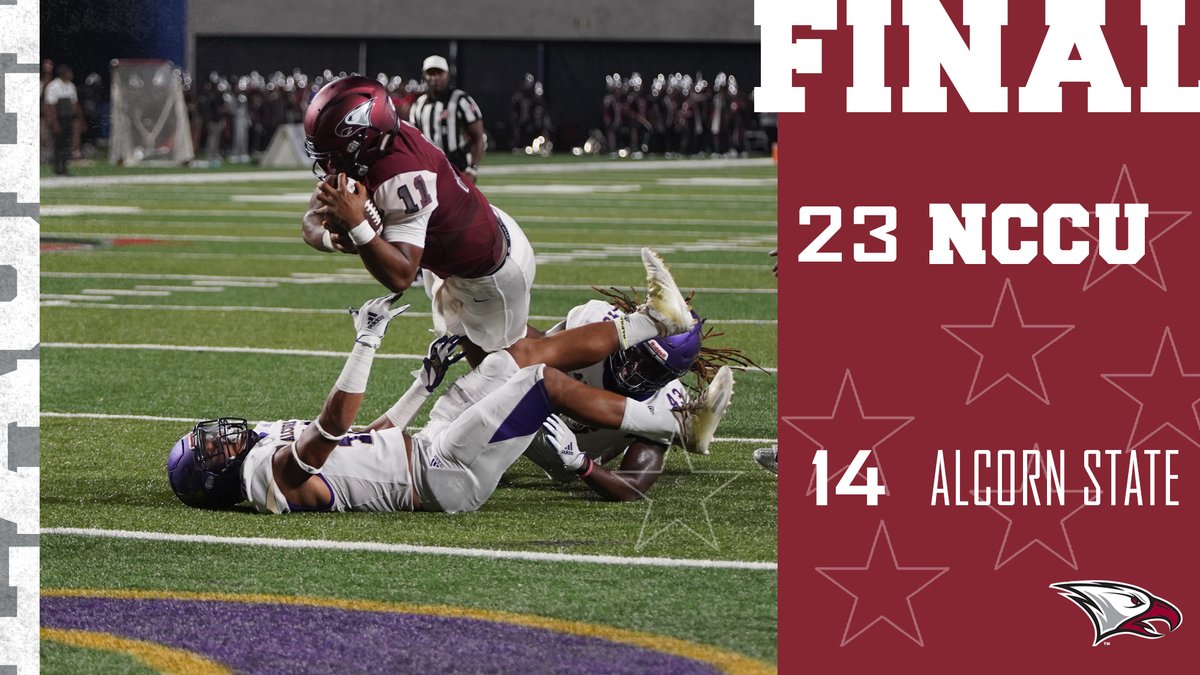 CSJ: Top performer on offense?
Chuck: NCCU QB Davius Richard finished the game completing 16 of 25 passes for 184 yards. On the ground, he posted 64 yards on nine attempts and two scores. For his effort, he was named offensive MVP.
Jamie: RB Stadford Anderson of Alcorn State had 11 carries for 128 yards, albeit in a losing effort.
Kent: Indiana State RB Peterson Kerlegrand had 73 yards and a score on 19 carries in helping the Sycamores to their first win in 21 months.
Rob: My top performer on offense isn't from the FCS – it's San Jose State QB Nick Starkel. He threw for 394 yards and had five touchdowns (4 passing, 1 rushing). With Southern Utah headed to the WAC next year, I had an interest in this game – even though the T-Birds got manhandled….which is to be expected against an FBS opponent.
CSJ: Top performer on defense?
Kent: ISU DB Michael Thomas' had two picks and one for the 75-yard TD. He also added a game-high 10 tackles for the Sycamores.
Chuck: Indiana State DB Michael Thomas' oopsie-75 yard pick six won the game for the Sycamores.
Jamie: Hard to go against Thomas (ISU) with the pick six and ten tackles and two additional pass break ups.
Ray: It's had to imagine a better play than that of Indiana State DB Michael Thomas whose 75-yard pick six won the game for the Sycamores. I was also impressed by the special teams of Illinois and the way they pinned Nebraska deep in its own territory a number of times in what turned out to likely be the beginning of the end for Scott Frost as coach of the Huskers. I figure he will be replaced not long after starting the season 1-7.
CSJ: What's your game of the week, and fearless prediction this weekend of 9/1/2021?
Chuck: Austin Peay at Chattanooga are title contenders in the OVC and SoCon respectively, and the outcome of this game should tell us a lot about the relative strength of both conferences. Both teams have gobs of talent, and the question is which talent gels together better soonest. I think that's the Govs. APSU 27, Chattanooga 24
Jamie: Since Chuck took the APSU/UTC Game (Mocs win that one by the way), I will go in another direction. Southern Illinois vs Southeast Missouri State looks to be a good game. SIU wants to prove they are a top 10 team. SEMO thinks they can win the OVC. I think SIU named the wrong starting quarterback and Nic Baker better make it through the season. But I do think the Salukis have enough firepower to get by SEMO. SIU 30, SEMO 20
Kent: Southern Illinois at Southeast Missouri State — The War of the Wheel game between these two nearby non-conference rivals was the two teams lone fall game of 2020. SIU won the game on a last-minute field goal 20-17 in Carbondale. SIU used that game to springboard it to a spring playoff spot, while SEMO missed out on the playoffs. This game could do the same for the winner in this contest. The Salukis though look like the stronger team coming into this one and think they will win the game this year by a slightly larger margin in Cape Girardeau. Southern Illinois 27 Southeast Missouri State 17
Ray: I am intrigued by the matchup between Tennessee Tech and Samford in a battle of former conference foes. Samford was tabbed to finish second in the Southern Conference and returns plenty of talent on both sides of the ball. Tech, meanwhile, posted a deceiving 2-5 record during spring, including dropping several games in the late going. The Golden Eagles also return several talented playmakers at the skill positions. Records be damned. Samford 24, Tennessee Tech 22.
Rob: Tarleton State vs Stephen F. Austin. SFA has a stout defensive line made up of FBS transfers. and Trae Self is a good quarterback. These Jacks' could surprise some people this year. SFA 28 Tarleton 24
Ben: Montana State at Wyoming. This will be a great measuring stick for the Big Sky to see who is playoff ready and who is not. If MSU and EWU both take FBS wins then the rest of the conference will be put on notice to step up their game even farther.
CSJ: Finally, who has the best shot at getting an FBS upset this week?
Jamie: Eastern Washington over UNLV. There are a few that have a great shot but Eastern has the offense to run past a very bad FBS team. EWU 31, UNLV 30
Ray: Eastern Washington should pick up the win over UNLV, but it will be much closer than the Eagle faithful want. EWU 27, UNLV 23.
Chuck: South Dakota State won't sneak up on Colorado State, but it won't matter. The Jacks are simply a better team. SDSU 37, Colorado State 28
Kent: I will agree that South Dakota State has likely the best chance this week over Colorado State but since it was already selected, I will go with Eastern Washington over UNLV. The Eagles like the Jackrabbits are the better team and think EWU will give a second FCS win over a FBS squad. Eastern Washington 41 UNLV 31
Ben: EWU at UNLV since the two teams matchup very well stylistically so EWU can prepare for an FBS version of their offense to take care of. If EWU doesn't finish within 10 points, win or loss, I would be very surprised.