After two weeks, the Missouri Valley Football Conference has again showed why it is the top league in Division I FCS. MVFC squads are are 12-10 against non-league play after the first two weeks of the season. Notably, though, the MVFC is an FCS-best 10-1 against peer FCS conferences. Here are the top five leagues in just FCS vs. FCS games:
| | |
| --- | --- |
| Missouri Valley Football | 10-1 |
| Colonial Athletic Association | 9-2 |
| Big Sky | 7-4 |
| Southern | 6-4 |
| SWAC | 4-3 |
Below are the full results from last week (MVFC went 5-6 in all non-conference match-ups but five of the losses were to FBS squads).
Friday, Sept. 10
North Dakota at Utah State USU, 48-24
Saturday, Sept. 11
Youngstown State at Michigan State MSU, 42-14
Indiana State at Northwestern NU, 24-6
Northern Arizona at South Dakota USD, 34-7
Valparaiso at North Dakota State NDSU, 64-0
Illinois State at Western Michigan WMU, 28-0
Lindenwood at South Dakota State SDSU, 52-7
Southern Illinois at Kansas State KSU, 31-23
Central Arkansas at Missouri State MSU, 43-34
Western Illinois at Montana UM, 42-7
UNI at Sacramento State UNI, 34-16
The biggest win possibly for the league was Missouri State picking that win at home over Central Arkansas. The Bears played UCA twice last fall and fell in both games to those Bears. Montrae Braswell's 96-yard kickoff return for a touchdown in the game matched the seventh-longest kick return in Missouri State history and was a big reason why they won. It also made Braswell one of just three players in program history — along with Cornelius Perry (3) and Steven Rush (2) — to have multiple TD returns of 96 yards or more in their Bears career. Below are some overall highlights including Braswell's return:
Big Sky-MVFC Challenge Series
Following games of Sept. 11, the MVFC has secured no worse than a tie in this year's Big Sky-MVFC Challenge Series–a series of non-conference games between these two west most conferences in FCS. The MVFC leads this year's series, 3-1, with two games remaining this weekend (Sept. 18). The 2021 season is the fifth year of the Big Sky-MVFC Challenge Series. Last year's series had no regular-season games, but the MVFC did win the two playoff meetings this past spring. The previous three seasons (2017-19) featured 26 total regular-season matchups. Including the three contest from last week, MVFC schools have a 19-11 overall edge in games played and have won the series each season (5-3 in 2017, 5-3 in 2018, 6-4 in 2019).
Sept. 4 — North Dakota at Idaho State UND, 35-14
Sept. 11 — Northern Arizona at South Dakota USD, 34-7
Sept. 11 — Western Illinois at #4 Montana UM, 42-7
Sept. 11 — UNI at Sacramento State UNI, 34-16
Sept. 18 — Eastern Washington at Western Illinois
Sept. 18 — South Dakota at Cal Poly
Week 3 Games & Previews (Games all Sat., Sept. 18)
Eastern Washington at Western Illinois, 3 p.m. CT (ESPN+)
The Leathernecks have had a couple of tough road games to start their season with a narrow loss at FBS Ball State and then a blowout loss to the Big Sky's Montana last week. WIU gets their home opener against a Eastern Washington team that has a FBS win on its resume (UNLV). Sorry to say Leatherneck fans but your team's start will be at 0-3 coming into conference play. Eastern Washington 31 Western Illinois 14
St. Thomas at Northern Iowa, 4 p.m. CT (PSN/ESPN3)
The Panthers are another team that will have its home opener this weekend and should see an easier game than WIU. St. Thomas from the Pioneer League gets their first true DI match-up in this one. The Tommies had a win in their first game as a DI team (first school ever to move directly from DIII to DI) last week on the road last week against DII Michigan Tech. UNI will show the Tommies how real DI football is played with an easy win. Northern Iowa 49 St. Thomas 10
Drake at North Dakota, 4 p.m. CT (Midco/ESPN+)
Yet another MVFC team has their home opener this weekend with the Fighting Hawks also playing a Pioneer League team in Drake. UND defeated Idaho State in their opener and were leading FBS Utah State into the second quarter before falling in the second half. Drake had a season opening win over DII West Virginia Wesleyan but were steamrolled at the Big Sky's Montana State last week. The Fighting Hawks have a bad taste in their mouth after last weekend's loss and will take it out on the Bulldogs this week. North Dakota 42 Drake 10
North Dakota State at Towson, 5 p.m. CT (FloSports)
The Bison started their season with two easy home victories over Albany and Valparaiso and now get their first road test against another CAA team in Towson. The Tigers are a somewhat familiar opponent for NDSU as they met last in the FCS National Title game in 2013 (a 35-7 victory for the Bison). The two teams also met when both were at the DII level in 1983 DII playoff quarterfinals–also a NDSU win (24-17) in a season NDSU would end as the DII national titlists. The big issue for NDSU fans this week is the television coverage as their normal state-wide coverage will be interrupted and the only option for fans to watch the game is through the CAA partner FloSports. It won't matter too much though while it will be a closer game than the Bison have had so far, they will win handedly. North Dakota State 38 Towson 17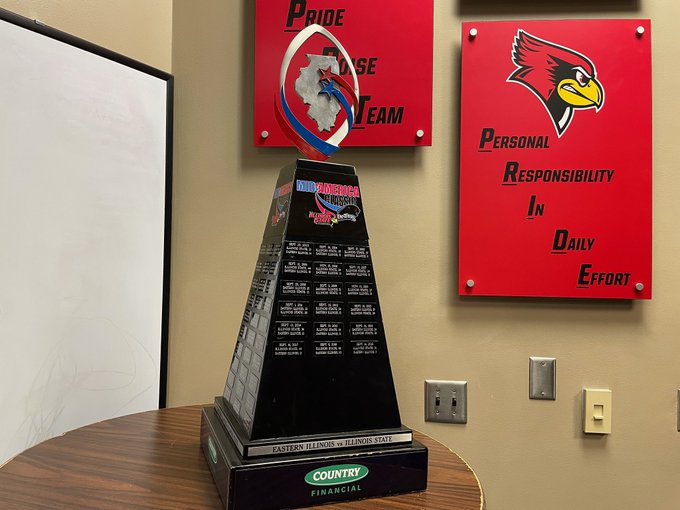 Illinois State at Eastern Illinois, 6 p.m. CT (ESPN+)
After missing their annual rivalry game last year due to the pandemic, Illinois State and Eastern Illinois will renew one of the longest rivalries in the FCS this weekend in Charleston with the playing of the 109th Mid-America Classic. The two teams last met during the 2019 non-conference slate, with the Redbirds winning 21-3 in Charleston. The win was the third-straight for the Redbirds in the series. The Redbirds make in four in a row with another comfortable win. Illinois State 31 Eastern Illinois 14
Dayton at Southern Illinois, 6 p.m. CT (ESPN+)
Another Pioneer League match-up for the MVFC (third of the week) has the Salukis hosting the Flyers. SIU gave Big 12 Kansas State all they could handle before falling in the end last week. Dayton won its season opener last week against Eastern Illinois. But this Illinois school is not the same as EIU. The Salukis will win this one easily. Southern Illinois 41 Dayton 10
Indiana State at Eastern Kentucky, 6 p.m. CT (ESPN+)
The Sycamores had a nice showing in their loss to the Big 10's Northwestern last week. This was after winning their season opener over Eastern Illinois. Indiana State will put up a fight in this one in what might be the closest game involving a MVFC squad this weekend but in the end EKU is too strong and will get the win. Eastern Kentucky 31 Indiana State 24
South Dakota at Cal Poly, 7 p.m. CT (ESPN+)
The Coyotes won a nice match-up at home last week over the Big Sky's Northern Arizona. USD gets another Big Sky test this week but on the road. Cal Poly won its opener against San Diego but fell at FBS Fresno State last week. The Mustangs have not been a great team over the past few years but we have not seen how well this team will really be against like competion. The Coyotes have shown they can compete with a Big 12 team in Kansas in that narrow loss along with last week's NAU win. USD has more of an upside to me and will take them on the road. South Dakota 28 Cal Poly 17
Idle: Missouri State, South Dakota State, Youngstown State
Originally from LaMoure, North Dakota, Kent is a 1996 graduate of North Dakota State University. His prior writing experience is over 15 years having previously worked with D2football.com, I-AA.org, and College Sporting News before coming to College Sports Journal in 2016. His main focus is college football is the Missouri Valley Football Conference within the Division I FCS. And in 2017, he began also to look at the FBS Group of Five conferences of the American Athletic, Conference USA, Mid-American, Mountain West, and Sun Belt.
Reach him at this email or click below: