OPINION: Great FCS Rivalries Like Montana/Montana State and Lehigh/Lafayette Seem To Thrive And Survive No Matter What Is Happening
BETHLEHEM, PA – For most of this year, I've been in a pretty bad mood about college athletics and college football in particular.
And if you are Extremely Online like I am, and check Twitter Extremely Often like I do, you might understand why.
For several years running, there's been headline after headline about change in college football scrolling down my Twitter feed. Like many others, I doomscroll at night, only I doomscroll about college football.
First there was COVID, dividing the world into teams who were playing, and those who were not. Huge philosophical battles raged, in public and in private, on whether to play games, or "go into protocols".
Then there was the spectre of Name, Image, Likeness rights, or NIL, which looked for a while like it was going to tear every college locker room apart and drive a wedge in between every athlete and their school. While the concept of kids getting compensated for their name, image and likeness can be a positive thing – like an athlete getting proceeds from the book they have written – what the Supreme Court, sports agents and clueless tweeters didn't seem to realize was that the three most deep-pocketed and most interested parties wanting to pay athletes are the three industries that need to be kept away from college athletics the most: gambling, cryptocurrency, and porn.
With NIL came the next depressing step: more realignment that made no sense, except in the minds of a TV executive incorrectly valuing what makes college football great. TV executives might be happy to make some extra quarterly revenue to market USC to Japan as part of their Big Ten Merchandising bubble, even if it means destroying multiple fifty year old bus ride rivalries to do it.
Through all of this sits the true heart and soul of college football: the real Rivalries, which seem to find a way to not only survive, but thrive through all the turmoil. For a long, long time – especially this year – I thought that college football might be dying, especially at the FCS level. But this week, especially, I am starting to realize that isn't the case. The great Rivalries survive, because that's what they do.
Rivalries Are My Thing
Rivalries are my Thing. Rivalries are what college football is all about. Without passionate Rivalries, college football is just a minor league of paid mercenaries wishing they were playing in the NFL. Without Rivalries, there really isn't much reason to be here.
Most people intrinsically understand Rivalries, even if corporations, media entities, and even some executives don't.
ESPN College Gameday, for all their faults, get it. They chose a true regional Rivalry this week – Montana/Montana State, Cat-Griz, The Brawl of the Wild – as the site of their iconic pregame show and party this week.
The choice was helped along by weeks of lobbying on Twitter by Tom Wistrcill, and is also helped along that there is loads at stake – seed positioning for 9-1 Montana State, and 7-3 Montana might actually need to win to make it in the field.
But that's only a sideshow for the real main event – Montana State and Montana, for many Montanans, is the only game that matters all year. The hate and the passion is real, even if it was 1-9 Montana State playing 3-7 Montana instead. The pregame party, tailgates, and attendance would happen anyway, no matter how cold it gets. That's what makes it a Rivalry.
It's also a great choice for ESPN College Gameday, too, giving them a chance to highlight one of the most beautiful states in the country. At the University of Montana, Washington-Grizzly stadium is one of the iconic venues of college football, or at least it should be. Montana State is not only where PK Jan Stenerud started his career – the Bobcats have been a tremendous program in the late 2010s and early 2020s, making the semifinals in 2019 and the finals in 2021. (The Bobcats chose not to compete in the spring of 2021.)
The fans, too, take their football extremely seriously, as any FCS fan worth their salt will tell you. (Griz fans haven't always liked me, let's just put it that way.) A Griz win in their Rivalry game means a year of bragging rights over their Bobcat neighbors. It's part of the DNA of the community.
It's this community basis that makes these Rivalries great, and these Rivalries that prop up college football and allow it to continue thriving even when surrounded by money, grifters, and incompetence running the show. There's plenty of weeks in the year to groan about conference realignment and NIL action, but there's only one Rivalry week. Most schools would kill to have a rival to hate like Montana and Montana hate each other.
Lehigh/Lafayette
I am one of the lucky ones. I got a chance for a team I root for to be bitter Rivals of another.
I started my college football fandom when I chose to attend Lehigh University, and learned quickly, once on campus, that they and Lafayette College had played against each other more than any two college football schools in history.
From the time I was a college freshman, I learned what a Rivalry was, and what it can do for a team, a school, and a community. My first sellout game was a cold Lehigh/Lafayette game in Easton, won by the Leopards, and after the game the students rushed the field, ripping down the wooden goalposts and making off with any football memorabilia we could find – for example, end zone markers. Some fists flew, and some people got hurt. But I was hooked. It wasn't always wholesome or pretty, but it was real, and it was important.
There's something about a Rivalry that has stretched more than 100 years. This Saturday, 2-8 Lehigh will travel to nearby Easton to play 3-7 Lafayette at the site of Fisher Field, which is rapidly approaching its 100th anniversary as a space to host Lafayette football games. The stands are no longer the cold, hard, concrete blocks they were, but the hallowed field where halfback Frank Kirkleski helped the national champion Leopards go undefeated is still there. It might now be turf instead of grass, but it's there.
All offseason, though, I was fretting about the Lafayette/Lehigh Rivalry this season. How is it going? Is it as healthy as ever, or is it dying?
"Is the Rivalry dying?" has been dominating my thoughts for several months.
Like many others, I had been Extremely Online too much. I read too much about how college football was going to die because USC decided to join the Big 10, how foolish boosters funneling millions to some quarterback that didn't even pan out was going to destroy college athletics, how fewer people were tuning in to college football games that didn't involve Georgia or Ohio State.
These thoughts accelerated after seeing in October that neither the Leopards or the Mountain Hawks would be likely be worrying about FCS Playoff positioning on November 19th. How many people were going to see a 2-8 FCS team play another 3-7 FCS team at the end of the year?
The answer, of course, is plenty.
For me to feel that way, even for a few months – how unforgivable is that? It's not like I had just discovered college football yesterday. I have been following Lehigh football since I was an undergrad, never really stopping. When the tech came to be to allow me to essentially write about and cover Lehigh football online, I claimed my Nation status, and did it. Decades later, I'm still doing it.
I've spent years chronicling Lehigh football exploits, interviewing Lehigh football players, and gotten to know so many people in the Bethlehem and broader national Lehigh communities. How did I not know that Rivalries survive this stuff?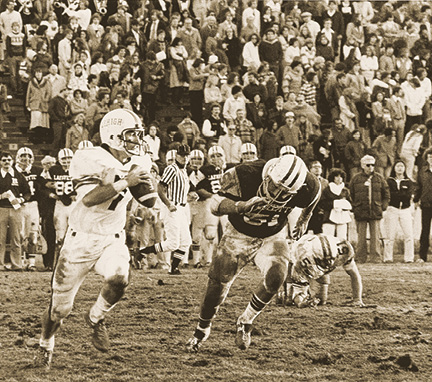 1932 and 1933
Lehigh/Lafayette has been around so long that there is pretty much historic precedent for most things that can happen. So I looked back to the last time a 2 win Lehigh team faced off against Lafayette in their big Rivalry game.
You have to go all the way to 1968 to find the last time a 2 win Lehigh team entered the Rivalry. It was a strange game where Fred Dunlap's team upset 7-2 Lafayette 21-6. Emblazoned with special jerseys that only said "Beat Lehigh" on them, the Engineers spoiled Lafayette's bid to win the Lambert Cup that year, which is awarded to the best small college football program in the East.
1962 saw another more equivalent type of matchup, similar to this weekend, where a 2-6 Lehigh team faced off against a 3-5 Lafayette team, almost exactly 50 years ago to the day of the game that will be played this weekend. The game, won 13-6 by Lehigh, had as its MVP QB Walt King, whose stat line read 2-of-7 passing for 25 yards and 1 touchdown.
But I want to go back to 1932 to demonstrate how things haven't changed that much since today – a year when a 2-5 Lehigh team faced off against another 2-5 team in Lafayette.
If you look back to the Lehigh student newspapers of 1932, you'll see a lot of familiar themes as today.
You'll see how a disgruntled bunch of alumni bought out a political party's newspaper – The Analyst, a propaganda organ of the New Liberal party – and filled it with "fake news" about Lehigh head coach Austin Tate in an effort to get him fired. "It is well understood," The Brown and White's editorial page says, "that alumni financed the ill-fated first issue of The Analyst, and it is evident that they had one purpose in doing this. They were not taking a life and death interest in the new Liberal party at Lehigh; they were taking advantage of an unusual situation to bring pressure to bear upon the issue of Austin Tate's removal."
You'll see how Lehigh students – yes, the students themselves – rejected the will of the alumni, and the noise of national College Football, to declare how they felt about paying players. "There are two types of athletics — pure and impure," The Brown And White said in the same article on November 15th, 1932. "There can be no happy medium be tween these two extremes – either a university recognizes the right of football players to remuneration through scholarships and through direct financial aid, or else it refuses to consider the sport of sufficient importance to warrant the payment of any type of reward, direct or indirect."
The editorial writer then goes on to say that the student-run senate "is in favor of a change in scheduling which will eliminate games against impossible odds. With the exception of games with natural rivals such as Princeton and Lafayette, no contests should be scheduled in which Lehigh has not at least a fair chance of winning. Lehigh no longer desires to be cannon-fodder for Harvard, Penn, Columbia, and similar teams."
It's literally all there – alumni trying to meddle in what the students' affairs (with fake news no less), an internal debate on paying college athletes, realigning the schedule to only play Rivals and stop playing teams they used to play – with the exception of TV broadcast rights, which didn't exist in 1932, it's as if nothing's changed.
And the battle between the 2-5 Engineers and the 2-5 Leopards would end up being memorable in that 10,000 hearty souls came out in a gale at Fisher Field to watch Lafayette win 25-6.
"A driving rain lasting for the greater part of the preceding fifteen hours certainly does not add to the anticipation of a football game, even if that game is as old a tradition as the one played in the stadium on Saturday," The Lafayette's editorial section said. "It was, therefore, an inspiring sight to see the large numbers of students and alumni that turned out under the existing conditions to support the teams and witness the classic. It should be a substantial blow to the case of those who insist that the spirit of the present day student body is on the wane."
I read something like this, and it reminds me yet again that being Very Online is a recipe, sometimes, for being out of touch.
Through history, old people have consistently worried that a 2 win Lehigh team and a 2 win Lafayette team would not engage the students, the communities, and the attention of the world, and consistently the old people have been proven wrong.
10,000 people don't just show up in a hurricane to watch two teams they don't care about. They care. They consistently do, despite what the NCAA, conferences, other teams, the Supreme Court, or even what Mother Nature throws at them. It's hard to know exactly why, but it should be the conclusion that Rivalries transcend their times and survive. As long as there are two schools with the will and desire to develop it and continue it, the people will come. It's when the schools start to make bad decisions is when Rivalries are threatened.
The Lehigh students of 1932 wanted to downgrade the football team's schedule. But they didn't want to downgrade the Lafayette game. That says it all.
Rivalries Are Alive And Well
Rivalries are special. Not every school has them. And Lehigh University and Lafayette College are better because they have it.
Their Rivalry is unique – South Bethlehem and Lehigh are separated by only 18 miles, and no two schools have played each other more, and thus no two schools have been able to continually develop such a large, deep well of hard feelings. (Lehigh fans will always have RB Jonathan Hurt's hail-Mary catch to haunt their dreams; Lafayette fans will always see QB Nick Shafnisky tossing aside a Lafayette defender like a rag doll on his way to another win over the Leopards.)
The Cat-Griz Rivalry is unique, too, in a different way. The state of Montana has just over 1 million people, and Missoula (73,000) and Bozeman (53,000) are similarly sized towns, and the two biggest college towns in the state, separated by a very doable 3 hour drive. Like the Lehigh/Lafayette Rivlary, it is ancient, dating from 1897, only seven years after the Treasure State was admitted to the Union.
There's no risk of the Brawl of the Wild going away anytime soon.
The Big Sky Conference appears to be thriving in the FCS as "power conference" in the subdivision, and the Bobcats, the Grizzlies, and the Big Sky leadership seem to know what the true value of that Rivalry is. They all know that the hate of that Rivalry is a strong ionic bond that will keep Montana and Montana State in the same league and on the schedule every year. And the Big Sky feeds it and takes care of it, publicizing the Cat-Griz Rivalry nationally.
And despite what I was worried about earlier in the year, I don't think there's a risk of Lehigh/Lafayette going away soon, either.
The media, the alumni, and the broader national scene will keep talking, but the students and fans from the local community will keep the party going as long as the schools want it to happen. It's been the case before, whether the teams are 2-8 or 8-2.