Alcorn State vs. North Carolina A&T
When: Saturday, December 21st, 2019 at 12 pm. ET
Where: Mercadez-Benz Stadium in Atlanta, Georgia
How to Follow: ABC (TV), WSJS Sports Hub Radio (NCAT), 91.7 FM WPRL The Gold (Alcorn)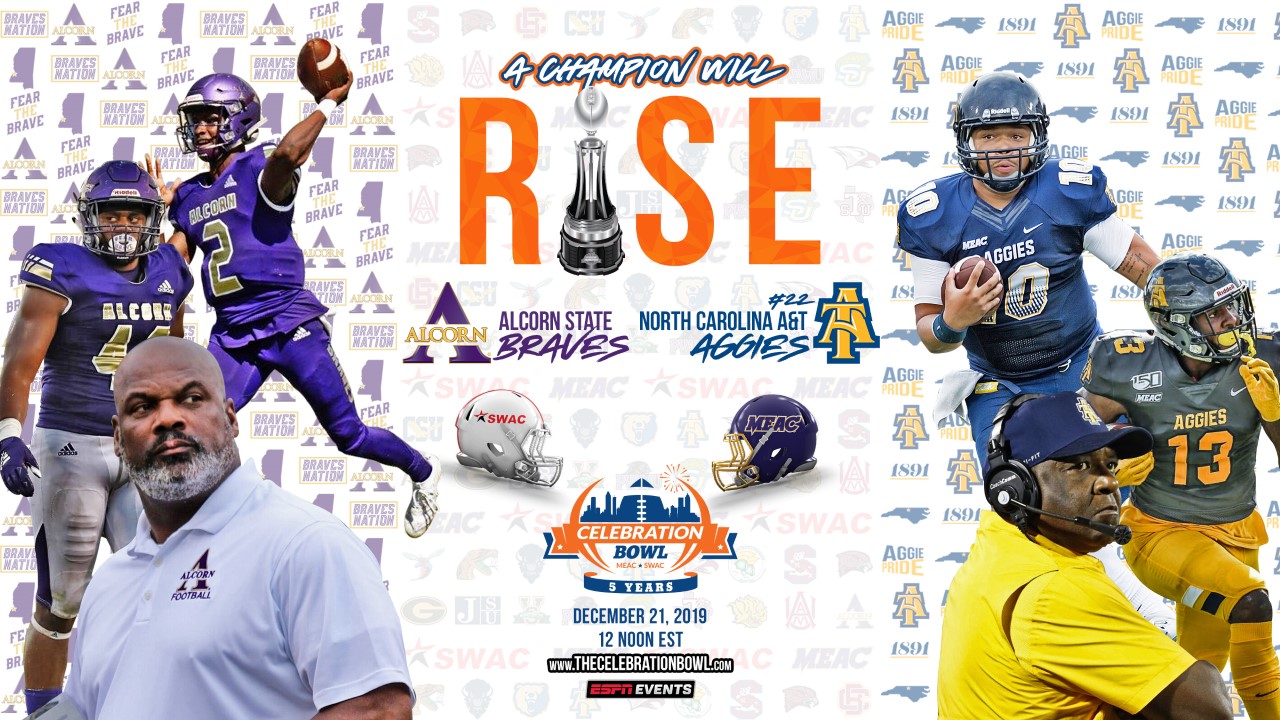 The Celebration Bowl has been around for 5 years, but what it represents has been around since the modern age of college football. Predecessors to the Celebration Bowl included the Pelican Bowl and the Heritage Bowl. Originally, the SWAC and MEAC felt excluded and disrespected so the Pelican Bowl arose as a place for them to showcase their talents on their own stage. The Heritage Bowl was the second revival of the game to create interest in the possibility of it becoming the HBCU National Championship game. Financially it was not set up for success and folded similar to the Pelican Bowl. Then came along the Celebration Bowl that was structured well, takes place on national TV, and averages at least 10,000 more fans than the FCS National Championship.
The SWAC and MEAC conferences have long been rivals and friends at the same time. Rivalries in the HBCU landscape are some of the hottest, most intense, and collaborative events in the college football world. When the teams are on the field or when the bands are playing both sides will vigorously fight for the win, but before and after the games the comradery and hospitality are among the best you will find in college sports, period. This matchup would feature Florida A&M vs. Alcorn State, but FAMU is on probation for NCAA violations for this postseason. Alcorn State and North Carolina A&T are no strangers to this bowl nor each other. North Carolina A&T holds a 3-0 record with two of those wins against Alcorn State (41-34 over Alcorn in 2015, 21-14 over Grambling in 2017, and 24-22 over Alcorn in 2018). The Braves are hoping to get in the win column in Atlanta, while the Aggies eye a record fourth Celebration Bowl victory.
*Disclaimer: While the Celebration Bowl is seen as the HBCU National Championship Game of the FCS and does count towards the official ballot for who is the overall Black College Football National Champion there are also HBCU focused sports news outlets that vote on this as well such as BOXTOROW and Dr. Cavil's Classic Cuts, for example.
Alcorn State Braves 9-3 (6-1 SWAC)
The Braves finished their season as the SWAC Champions. It was obvious from mid-season that the Braves would be a special team late into the year. There was no doubt who deserved to be champion as Alcorn beat Southern twice this year, once in regular-season play 27-13 and then again in the SWAC Championship 39-24. Alcron won by decent margins in most matchups and only had a few losses, but none were terrible defeats other than the loss to Southern Mississippi 38-10. The two other losses would be 17-14 to McNeese and a 19-16 overtime decision to Grambling. Overall, the Braves played solid from start to finish of their season and look to continue the momentum into the Celebration Bowl.
Key Wins: 45-41 over PVAM, 27-13 and 39-24 over Southern, 35-7 over Alabama State
Bad Losses: 38-10 to Southern Mississippi (FBS)
Impact Players
Offense: Felix Harper, QB got his chance to lead Alcorn State this year and is proving to be a success. In his first year as starting quarterback Harper has thrown 2,613 yards, 30 touchdowns, only 8 interceptions, and hitting a 60 percent completion rate. For only his first year at starting quarterback Harper has made the most of it by winning a SWAC Championship and now has his team ideally poised for an HBCU National Championship. If Harper keeps up the 3:1 touchdown to interception ratio and uses the running backs appropriately the Braves could have a legitimate shot at winning on Saturday.
Defense: Solomon Muhamad, LB is a senior linebacker on a mission to beat NC A&T. Muhamad has 81 tackles, 9.5 tackles for a loss, 2 sacks, 2 interceptions, 2 forced fumbles, and 2 fumble recoveries. Whatever it takes to get to the ball carrier and possibly force a turnover Muhamad is willing to do just that. While 2018 HBCU All-American player and 1st Team SWAC player honors are nice it would really put the icing on the cake to finally come home with an HBCU National Championship.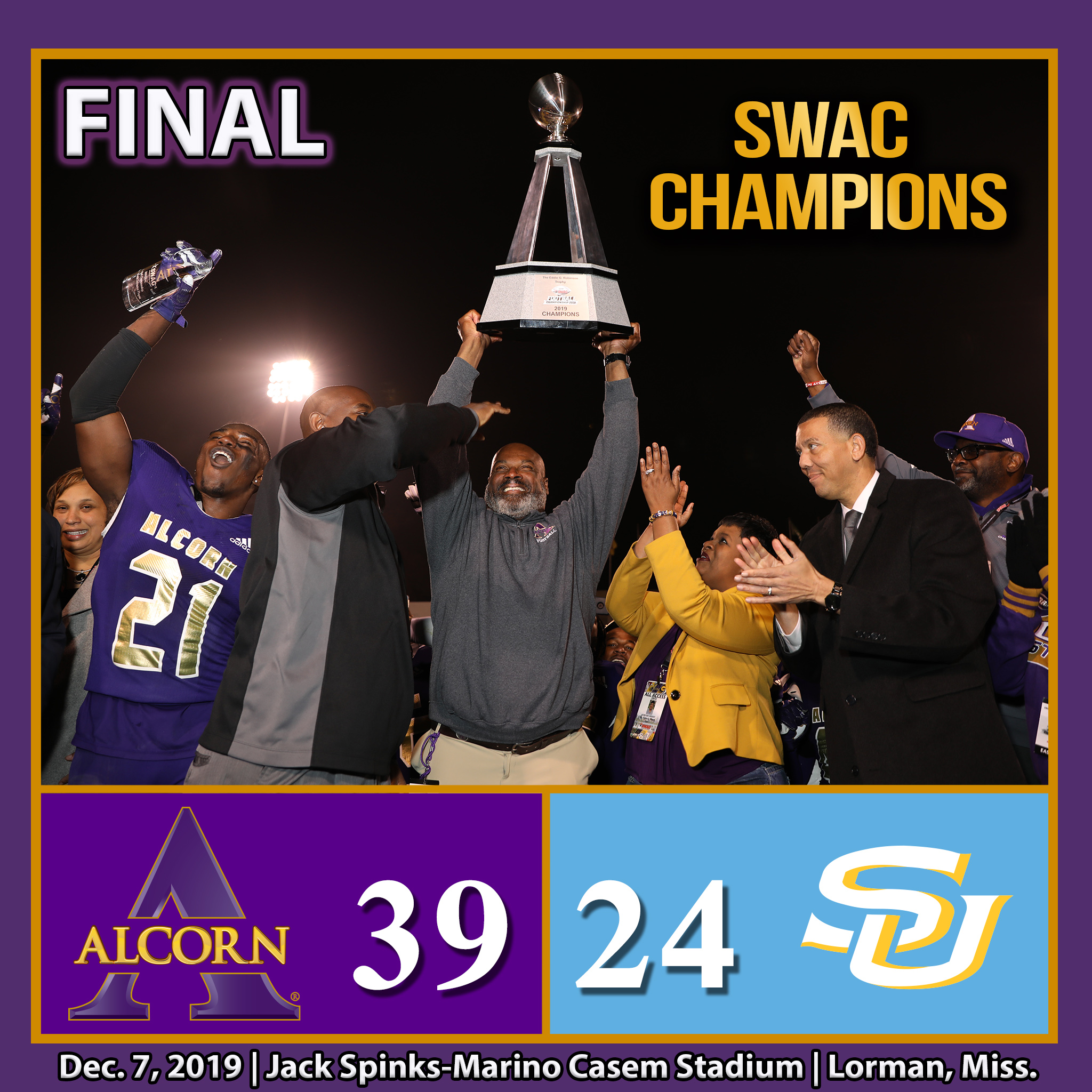 North Carolina A&T Aggies 8-3 (6-2 MEAC)
The MEAC was messy with drama and a tiebreaker from a head-to-head matchup to solve who went to the Celebration Bowl. By merit, Florida A&M should be going to the Celebration Bowl, but their NCAA violations prevented postseason play for the Rattlers. By default, North Carolina A&T and South Carolina State share the MEAC title, but the Aggies go to the Celebration Bowl due to beating SC State 22-20 in the regular season. FAMU and NC A&T did play during the regular season and the Rattlers took the overtime win 34-31 with a walk-off touchdown from FAMU's backup quarterback. Two other hard losses were a 45-13 lecture from Duke and a 22-16 upset from Morgan State. The Duke loss was expected, but the margin was a discouraging start to the season for the Aggies. Unlike the Duke game, fans expected a grudge match against Morgan State from the 2018 upset. The grudge match was had, but Morgan State still have the Aggies number and walked away with a six-point win. The rest of the season the Aggies seemed to run away with any game they came in contact with. The Aggies score 35.7 points a game on average and the margin of victory is usually astonishing like 37-0 over Delaware State, 64-6 over Howard, and 54-0 over NCCU.
Key Wins: 24-21 over Elon, 22-20 over SC State, 47-17 over Bethune Cookman
Bad Losses: 45-13 to Duke, 22-16 to Morgan State
Impact Players
Offense: Jah-Maine Martin, RB has led the Aggie offense diligently with determined running. On 171 rushes Martin has 1,336 yards and 21 touchdowns with a 7.8 yards per rush average. Martin is fourth in the FCS in rushing touchdowns, sixth in the FCS for rushing yards, and first in the FCS for rush yards per carry. Martin is easily a top-five running back in the entire FCS and Alcorn State better prepare for him to have a huge game. Not only is Martin quick, but he is also powerful with a thick 5'10" 214 lbs frame.
Defense: Joseph Stuckey LB/DB is one of the many underclassmen on the Aggie defense to make an immediate impact. A true team player in the sense he has been asked to play flex positions and has excelled at the task. Stuckey has 65 tackles, 5 tackles for a loss, 2.5 sacks, 2 interceptions, 4 pass deflections, 1 forced fumble, and 1 blocked kick. If there is someone worthy of being called an ironman on the defense Stuckey should get first dibs since he plays a high snap count in flex positions and is the number two tackler on the team. Running backs, receivers, and quarterbacks should all fear where the defensive coordinator places Stuckey on that play since it is likely he will be there to disrupt it.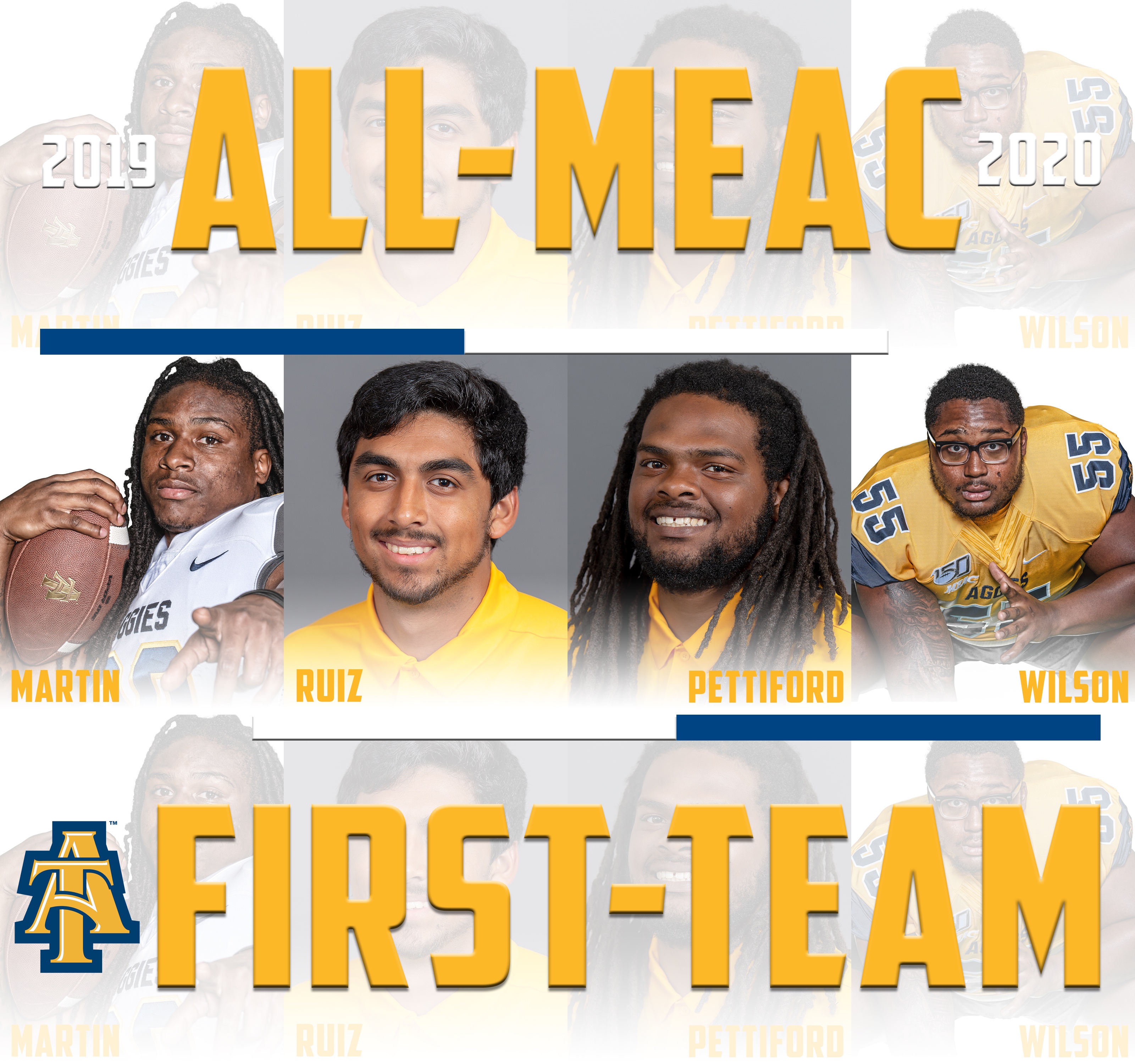 Fearless Prediction
North Carolina A&T and Alcorn State will duke it out for the third time in Celebration Bowl history. Last year was the closest a team had ever come to defeating the Aggies with a 24-22 final score. I wholeheartedly expect another showdown just like that one to take place this Saturday. In some categories, NC A&T is even better than last year with a few slight regressions, while Alcorn State seems upgraded on all fronts. Both teams had great regular seasons, but while NC A&T either blew out or lost by a smidge to opponents Alcorn State showed more stability and played closer games all year long. So do you go with the All-Star Aggies who trip up every so often, or do you go with Alcorn State who is a consistent team with fewer headliners, but is a legitimate choice for a Cinderella-style upset? Realistically, there are so many factors that can go right or wrong from the start to severely alter a team's chances of winning that is why we have the saying, "Any given Saturday, anyone can win". Statistically, I am sold on the Aggies working their way to a fourth overall and third consecutive HBCU National Championship. Alcorn State is a scary opponent especially due to their consistency and lack of a truly awful loss on their resume, but the statistical categories that the Aggies lead in are undeniably a huge factor. The Aggies have one of the top five overall defenses in the FCS, one of the top five running backs in the FCS, and one of the top five kickers in percentage and possibly distance too in the FCS. Alcorn State can allege that NC A&T is a "paper tiger" all day long, but until that is proven on the field the Aggies are one of the best teams in the entire FCS, statistically.
North Carolina A&T 34, Alcorn State 27
My name is Ben Schleiger and I'm your representative for the Big Sky Conference. I have done work for multiple newspapers and sports blogs including The Johnstown Breeze, The University of Northern Colorado Mirror, and Mile High Maniac. I am a proud alumnus of the University of Northern Colorado with a degree in Psychology and a minor in Political Science. In my free time, I like watching sports, playing video games, and trying new foods.