This week in the FCS Semifinals, the third seeded James Madison Dukes will travel to Hunstville, Texas to match up with the second seeded Sam Houston Bearkats. With a matchup between two of the top teams in the FCS over the last decade, College Sports Journal went to its two writers who have covered these two teams closely all season. For James Madison and the CAA, Jamie Williams will provide perspective. For Sam Houston out of the Southland, we look to Rob Butler. These teams have played each other once before in the 2016 FCS Quarterfinals. In that game, James Madison dominated cover to cover in a 65-7 romp in Harrisonburg, VA.
TV: ABC (Check Local Listings)
Streaming:ESPN3 (subscription req'd) | In Spanish
Radio: 101.7 KSAM (Huntsville), JMU Glo Fiber Broadcast Network
No. 1 in STATS FCS /No. 3 seed James Madison Dukes (7-0 overall, 3-0 in Colonial Athletic Association)
How they got here: 34-21 win over North Dakota
James Madison got out to a 10-0 early lead last week and never looked back in their quarterfinal matchup. The Dukes keyed the offense with their strong run game that was backed up by Cole Johnson's best game as the starting quarterback. The ground game ran for 217 yards on 53 carries, led by Senior Percy Agyei-Obese's 128 yards and 2 touchdowns. Cole Johnson was 14-17 for 251 yards and two touchdowns. He was nearly perfect as the offense picked its spots and showed the balance that you expect from a James Madison offense. Johnson's most trusted target was again true Freshman Antwane Wells who had seven catches for 143 yards and two touchdowns.
On defense, the Dukes played strong as well. Outside of a 45-yard run from Otis Weah, the run game allowed just 3 yards per carry on the other 25 carriers from the Hawks. The Dukes held Tommy Schuster to 16 of 26 passing for 213 yards and two interceptions. Kelvin Azanama was all over the field for the JMU defense recording nine tackles, half a sack and an interception on the opening possession of the game. Safety M.J. Hampton led the Dukes with 10 tackles and Wesley McCormick added an interception in the win.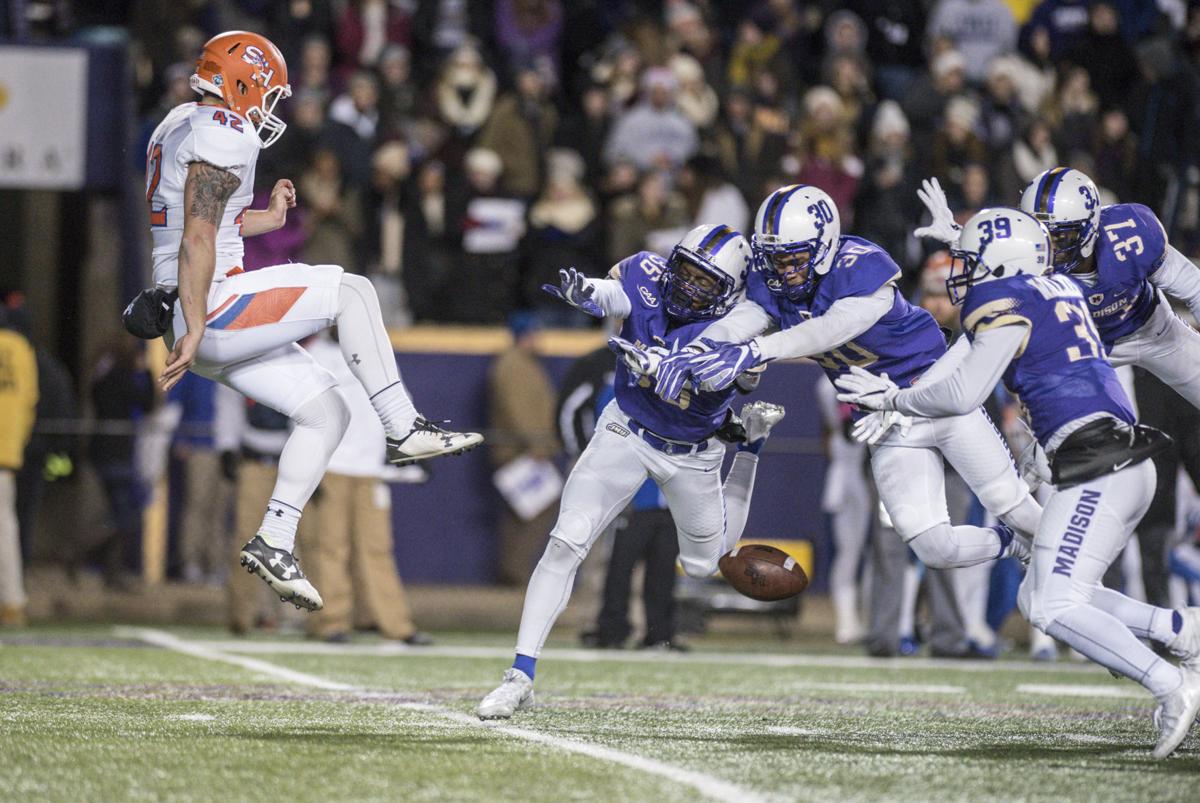 Looking forward to Sam Houston
One thing James Madison fans should not do this week is look back at the 2016 game against Sam Houston. It's a completely different Bearkats team, especially on defense. As good as JMU is against the run, Sam Houston is almost as good. The Dukes will have to find the same balance they did against North Dakota on offense to keep the Bearkats off balance. JMU has done a great job varying their formations and adding little wrinkles to give the opponent a look they have not seen. The difference between last week's game for Sam Houston and this week is that the Dukes have a pass game. Sam Houston was able to stack the box and load up against the run since North Dakota State struggled all season passing the ball. The balance of the Dukes can keep the defense guessing.
On defense look for the Dukes to remain aggressive to force Sam Houston into uncomfortable situations. Mike Greene lines up at all spots on the defensive line and is able to give opposing offensive lines fits. Getting into the backfield to make Eric Schmid uncomfortable will be big for the JMU front seven. With Wesley McCormick day to day, there may be additional pressure on the JMU secondary. They will need to understand their assignments on every play and not give up the big plays. The Dukes have been susceptible to the trick play over the last couple of years. Reading and recognizing a wrinkle quickly will allow them to remain aggressive, but stop the trick play.
No. 4 in STATS FCS /No. 2 seed Sam Houston Bearkats (8-0 overall, 6-0 in Southland)
Leftovers from a 24-20 win over North Dakota State
Sam Houston allowed a 15-point lead to slip out of its grasp in the second half, but a late scoring drive and a last-minute stop allowed the Bearkats to secure a 24-20 win over defending national champion North Dakota State in the FCS quarterfinals. The victory moved Sam Houston head coach K.C. Keeler into a tie for second all-time in playoff wins at 22 with former Appalachian State head coach Jerry Moore. K.C. Keeler is 29-0 in his career in home playoff games. His Bearkat squads are 8-0 at Bowers Stadium in five playoff appearances.
Eric Schmid completed 25-of-37 passes (68%) in the victory over NDSU, racking up 227 yards and one touchdown through the air, while adding a team-high 36 yards and another score on the ground. Sophomore Noah Smith was Schmid's primary target, hauling in a game-high 10 receptions for 103 yards and a touchdown. Defensively, the Bearkats stifled a North Dakota State offense that ran for 422 yards in its playoff opener against Eastern Washington. The Bison compiled just 139 rushing yards as a team on 43 carries, as Sam Houston extended its streak to 19 games in a row without allowing a 100-yard rusher. The Bearkats also won the turnover battle 3-0, with defensive backs Isaiah Downes and Tristin McCollum each pulling down interceptions and linebacker Markel Perry recovering a fumble that he forced.
FCS Playoff experience
There are six players on the Bearkat roster with FCS Playoff experience entering this season, with redshirt senior kicker/punter Cameron Hearn being the lone holdover from the 2016 squad that lost in the FCS quarterfinals at JMU – although he did not play in the playoffs that season. The players on the Kats' roster with playoff experience entering the year are Zyon McCollum, Tristin McCollum, Jaylen Thomas, Kyran Jackson and Colby Thomas who were all true freshmen in 2017. Additionally, Ramon Jefferson played in three games as a redshirt freshman for Maine in the 2018 playoffs when the Black Bears advanced to the national semifinals. Jefferson was key in Maine's run to the FCS semifinals in 2018 and started off in similar fashion in the Kats first-round win over Monmouth. The Bronx native rushed nine times for 95 yards and a pair of scores vs Monmouth, including a 56-yarder that upped the score to 14-0 in the second quarter. Now with five career playoff games between Maine and Sam Houston, Jefferson has 74 carries for 460 yards and six touchdowns (6.2 yards per carry; 92.0 yards per game). His biggest game came in Maine's 2018 playoff opener vs No. 8 Jacksonville State when he went for 186 yards on 26 carries and a pair of touchdowns.
Fearless predictions
Jamie on why James Madison will win
James Madison is playing its best football of the season at the right time. The offense has had games three straight weeks and the defense is rounding into form. The performance by Cole Johnson should give the Dukes and their fans confidence that they can go on the road and pick up a win. The key for the Dukes will be to protect the ball, as usual. If they can win the turnover battle the defense will be able to limit the Bearkats opportunities. JMU's pass offense is much better than what Sam Houston saw last week. In a tight game, special teams become a key. Sam Houston did not have a good game on special teams last week, allowing a punt and kick return for touchdown. The special teams advantage this week will be JMU kicker Ethan Ratke who has not missed a field goal or extra point all season. The Dukes get back to Frisco on his right foot.
James Madison 27, Sam Houston 24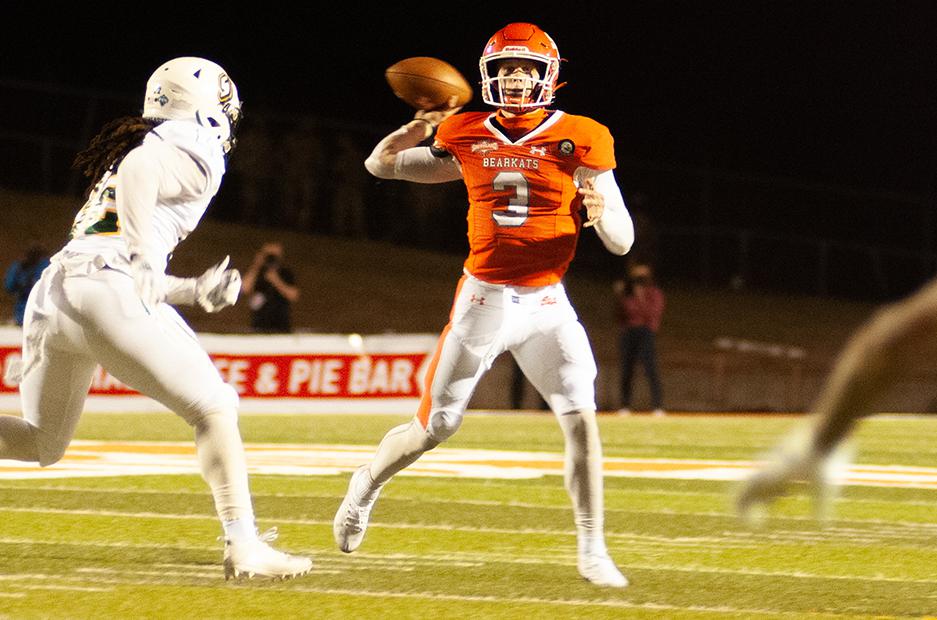 Rob on why Sam Houston will win
The Bearkats might be known for their vertical passing game and the playmaking ability of quarterback Eric Schmid, but the defense allows just 69 rushing yards per game. The Bearkat defense stuffed North Dakota State outside of two decent runs, and it has the pass rushing ability to put pressure in the JMU backfield all game long. In the end, Sam Houston will do just enough offensively to win and advance to the national title game.
Sam Houston 27 James Madison 23
The Rest of the CSJ Staff's Predictions:
Kent: This is not the old Sam Houston State team that had all offense and little defense. The Bearkat win last week over North Dakota State showed it can control the line of scrimmage and dominate against a similar type of team that they will see this week in James Madison. James Madison though will have a stronger quarterback play and will likely be able to mix the pass and run game better than NDSU did last week. Special teams was the reason last week the game was as close as it was in giving up two touchdowns and a safety to the Bison. That part of the game has to be stronger this week for Sam Houston. For JMU, they will need to keep Eric Schmid from using his feet and in the pocket, where NDSU showed that he is not as comfortable. I expect a close game like SHSU has had in its two prior playoff match-ups. But traveling on a short week will take it out of the Duke and the Bearkats advance to the title game in a tight, higher scoring game.
Sam Houston 38 James Madison 35
Chuck: I find myself in the strange spot of not really totally being sold on either team. Sam has thoroughly benefited from home field advantage in my mind, but that's not to discount that this is the best Sam team that has ever been in the FCS Playoffs. JMU is, well, JMU, but they have hardly been the dominant force they've been through the years, and this is their first trip outside the region this spring. These are two teams with chips on their shoulders (Sam because of playoff blowouts, JMU because of their seeding). But if NDSU couldn't beat Sam at home, hard to picture a less-than-perfect JMU team doing it.
Sam Houston 21, James Madison 18
Ben: JMU has been "Mr. Reliable" in the playoffs so far with 31-24 and 34-21 wins. While there has been several key mistakes to keep the opposing team in the game JMU finds a way to win in the low thirties. Sam Houston is a better balanced team, but also provides a lot more fluctuation in their wins and margins. Betting on Sam Houston is more risky since they are so fluid, but if JMU's gameplan is ruined early on the Bearcats should be able to pull in front and stay there.
Sam Houston 38, James Madison 34
Jamie is a proud 2002 graduate of James Madison University. He's witnessed the growth of the program from no one in the stands in 1998, to the hiring of Mickey Matthews, to the 2004 National Championship, to the 2008 team, to the struggles in the early 2010s, and finally the rebuild under Mike Houston. He also allegedly really enjoys Washington, DC-based Stanley Cup winners.
Reach him at: