Five players including QB Nic Baker from Southern Illinois, QB Eric Schmid from Sam Houston State, RB Brian Snead from Austin Peay, LB Connor Riddle from VMI, and PK James Baird from Dixie State have been selected as the College Sports Journal FCS All-Stars for the week ending February 21st, 2021.
Nic Baker, Southern Illinois, QB, So., Rochester, IL
Baker, making his first-career start, completed 17-of-23 passes for 254 yards, 1 TD and no interceptions. Baker guided a Saluki offense that generated five touchdowns and 443 yards of offense against the No. 1 ranked Bison. The Salukis were 11-of-16 in 3rd down conversions and had a 41:26 to 18:34 advantage in Time of Possession. The SIU win ended NDSU's 39-game winning streak, the longest in FCS history and third-longest in Division I history.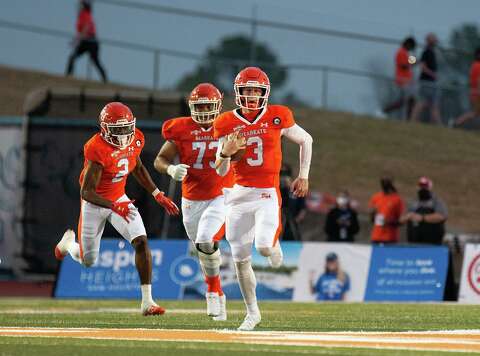 Eric Schmid, Sam Houston State, QB, R-Jr, The Woodlands, TX
Schmid opened the game with a 55-yard run on the first play from scrimmage and went on to rack up 517 yards of total offense in a win over the Lions. He completed 25 of his 40 passes for 428 yards and a pair of touchdowns, without an interception or a sack, while also rushing nine times for 89 yards. In all, he helped the Kats to 672 yards of total offense and put up his third career 400-yard passing game in only six career starts.

After SLU pulled within two at 40-38, Schmid connected with Chandler Harvin on a 46-yard pass on the first play of the ensuing drive. He also rushed four times for 17 yards to get the Bearkats into the red zone and set up a field-goal that eventually put the game out of reach.
Brian Snead, Austin Peay, RB, R-So, Tampa, FL
In a four-minute span of the first quarter, Snead ran for touchdowns of 75, 67 and 44 yards, helping the Govs ease past Tennessee State 27-20. Snead broke an FCS record for most rushing yards in a single quarter, finishing the first with 204 yards on six carries. That broke the previous FCS record of 194 yards by Nevada's Otto Kelly on Nov. 12, 1983. Snead ended the day with 227 yards on 23 carries – 17 yards shy of the program record set in 1981.
Connor Riddle, VMI, R-Sr., LB, Stafford, VA
VMI linebacker Connor Riddle had a career defensive day to lead the Keydets past No. 10 Furman, 14-13. The redshirt senior from Stafford, Virginia, had 13 tackles on the afternoon, with 4.5 of them going for 13 lost yards. Included in that total were 2.0 sacks for 8 yards, both of which came on Furman's final drive as it was moving toward field-goal range. Riddle also broke up a third-down pass in the third quarter that forced a punt, helping set up VMI's game-winning touchdown on the ensuing drive. Riddle's tackle, TFL and sack numbers were all career highs.
James Baird, Dixie State, PK, Sr, Trenton, NJ
Baird connected on two out of three field goals – including a 48 yarder – as Dixie State beat Tarleton state 26-14 in their first win as a Division I football program. His first gave the Trailblazers a 10-0 lead in the second quarter, while his 48 yarder early in the fourth quarter gave Dixie State the official margin of victory. The 48 yarder was the longest FG converted in Baird's Dixie State career – at Snow College he connected on a 49 yarder.