The CAA is looking at three playoff bids this season most likely. The rest of the conference is beating itself up. They do have eight teams with at least a .500 record at this point.
Delaware got back in the win column, but not very impressively in a 17-10 win against Dixie State. Dejoun Lee ran for 100 yards.
Maine and Rhode Island are heading in different directions. Maine picked up its third straight win and handed Rhode Island its third straight loss 45-24.
Richmond got Joe Mancuso back from injury and got back in the win column with a 35-21 win. Mancuso had 291 yards and three touchdowns in his return.
William & Mary pulled one of the biggest upsets of the season with their 31-18 win over Villanova. The Tribe picked off Daniel Smith four times in the game.
Towson kept their slim playoff hopes alive with a 38-24 win over Albany. The Great Danes remain winless.
James Madison got 274 yards and five touchdown passes in the first half before the rains came in a 45-21 win over Elon.
All teams play this week, and only two of them have non conference matchups.
Last Week: 4-2, Season: 52-12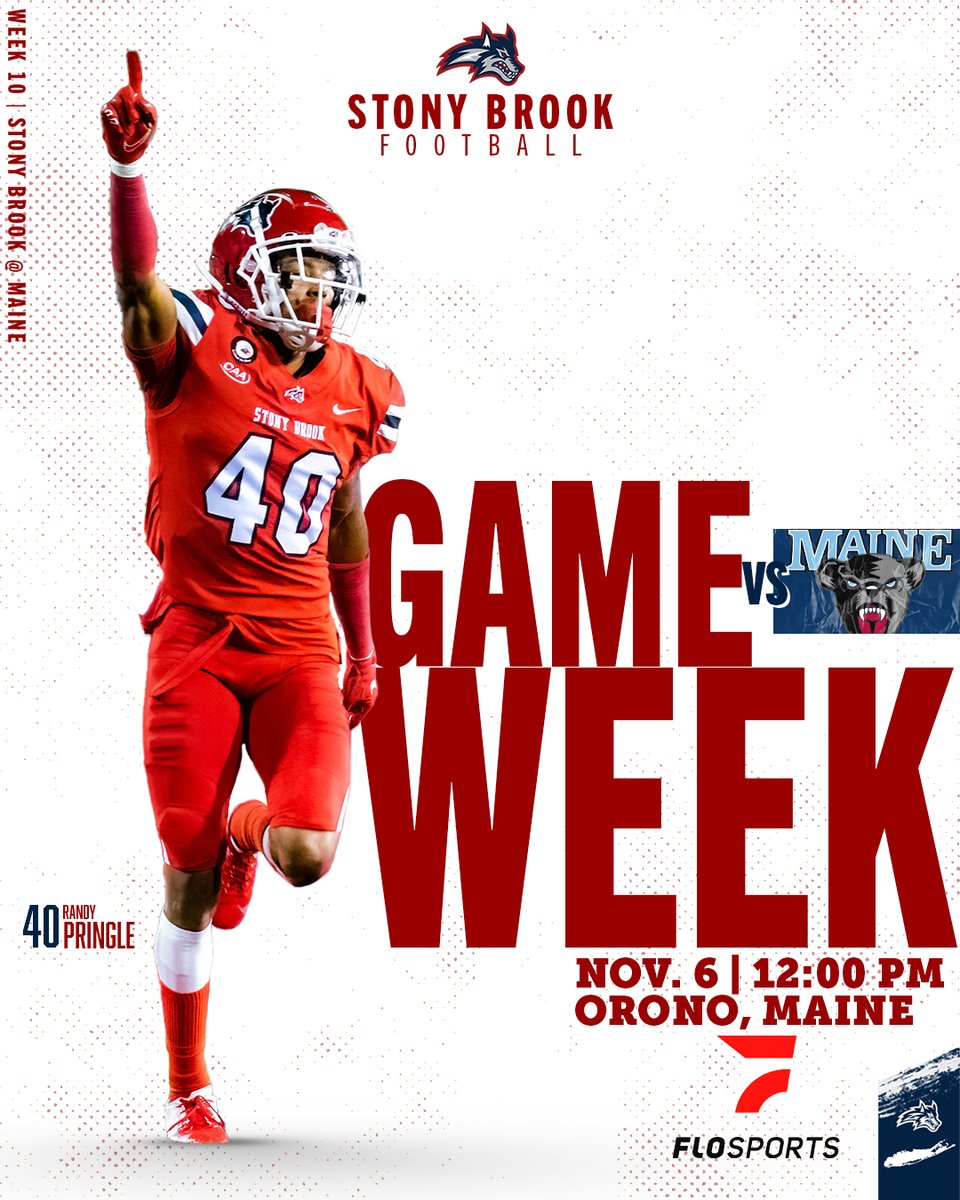 Stony Brook at Maine Saturday November 6, 12:00 pm, FloSports
Stony Brook enters the weekend on a two game win streak and coming off a bye. Theyre finally getting on the right side of the scores after losing their first three conference games by less than one score. The Seawolves have been led offensively by running back Ty Son Lawson. He averages just under 100 yards per game and has scored eight touchdowns. The passing game for Stony Brook is not very good. Tyquel Fields has shown sparks of talent but he is not accurate enough and turns the ball over too much. Stony Brook continues to play solid defense. They hold opponents to just 37% on third down. They have also recovered 10 fumbles.
Maine has reentered the back side of the bubble on the heels of three straight wins, including one wins over William & Mary and Rhode Island. The Black Bears have a real shot to win out, including an FBS game against doormat UMass. If they do that, they will at least give the committee something to thing about. Derek Robertson continues to improve week after week. Last week he threw for 264 yards and four touchdowns. The breakout last week player was Freshman running back Freddie Brock. He had 123 yards and a touchdown and has scored in three straight games.
Both teams are on a win steak. Maine is a little more consistent on both sides of the ball.
Fearless Prediction: Maine 21, Stony Brook 17
New Hampshire at Albany Saturday November 6, 1:00 pm, FloSports
New Hampshire has completely fallen off with five straight losses after winning their first three games. After playing a close game against James Madison, the Wildcats lost three straight games by at least 14 points. Offensively, the team is scuffling, scoring just 19 points per game, and gaining a paltry 287 yards. The defense, which is supposed to be the strength and identity of the team has really struggled, allowing 431 yards per game.
Albany is playing out the string in a lost season. They have played a few teams close, but have not been able to close the deal to this point. 17 points per game will not cut it to pick up wins. This is an offense that we expected a lot from entering the season, but Jeff Undercuffler is nowhere near his 2019 level. The regression is stark for a quarterback who was runner up for the Jerry Rice Award. Outside of Jared Verse who has 6.5 sacks, no one else on the defense is getting to the quarterback. The rest of the defense only has 5.5 sacks.
One of these teams is going to end a big losing streak this week. New Hampshire has shown more ability to score, so take them.
Fearless Prediction: New Hampshire 18, Albany 12
#20 William & Mary at Delaware Saturday November 6, 1:00 pm, FloSports
William & Mary pulled the upset of the CAA season to this point when they defeated Villanova last week 38-18. The game wasn't that close. The Tribe led 31-3 before Villanova got two late touchdowns. Daniel Smith was picked off four times in the game, giving William & Mary ten in their last two games. The Tribe boasts the top rushing offense in the CAA at 214 yards per game. They have four players averaging at least 47 yards per game on the ground: Darius Wilson, Bronson Yoder, Donavyn Lester and Malachi Imoh. Defensively, the Tribe have been ball hawks with 13 interceptions and six fumble recoveries. Nate Lynn also causes havoc on the defensive line. He has 10.5 sacks on the season.
Delaware has fallen off after Nolan Henderson was injured. The Blue Hens have struggled to move the ball, even with their strong running back, Dejoun Lee. They were able to break their three game losing streak last week beating a Dixie State team who still doesn't have a win on the season. Zach Gwynn has not played great in relief of Nolan Henderson. He has shown small flashes, but he is overall inconsistent. He has more interceptions than touchdowns. A usually aggressive Blue Hen defense has only 13 sacks on the season.
One team is on the rise, one team is falling. Don't overthink this one.
Fearless Prediction: William & Mary 31, Delaware 13
#10 Villanova at Elon Saturday November 6, 2:00 pm, FloSports
Villanova had their worst outing of the season last weekend against William & Mary. Daniel Smith was intercepted four times – he had only thrown four interceptions all season before last week. In the run game, the Wildcats usually run for 171 yards and allow 97, but that flipped as they ran for just 39 and allowed 258. They will look to bounce back on the road against Elon. The Wildcats should easily allow less than 50 yards rushing. But can they contain Davis Cheek. After their big win against James Madison, they have been less that stellar the last two weeks.
Elon is still sitting on the edge of the playoff bubble. But their margin for error is now zero. Even winning out wont guarantee the Phoenix a bid, but losing even one game guarantees they are home for the playoffs. Last week they traded touchdowns with James Madison early, but then allowed the Dukes to score 31 straight points. Elon doesn't run the ball all that well so the offense rests on the capable shoulders of Davis Cheek. Cheek has thrown for 2245 yards and should eclipse the 3000 yard mark. He has also thrown for 15 touchdowns and just 4 interceptions despite opponents knowing they are going to throw the ball.
After two straight performances, its tempting to pick against Villanova this weekend. While it may be close for a while, expect the Wildcats to come away with the victory.
Fearless Prediction: Villanova 31, Elon 20
Towson at Richmond Saturday November 6, 2:00 pm, FloSports
Towson bounced back from a poor performance against William & Mary with a 38-24 win over Albany. The Tigers ran for 259 yards and four touchdowns. Jerry Howard had 145 yards and a touchdown. Devin Matthews ran for two touchdowns. The big difference between the two games is ball security. Against William & Mary, Towson turned the ball over six times. This week, they did not turn the ball over once. The Tigers only gain 317 yards per game. The offense has not been able to find a rhythm especially a passing game that has thrown only ten touchdowns and has thrown ten interceptions.
Richmond got Joe Mancuso back from injury last week and he immediately made a difference. Had he not been hurt, the Spiders would most likely be challenging for a playoff berth. In the win at New Hampshire, Mancuso threw for 291 and three touchdowns. In the four games Mancuso played, the Spiders scored 38, 31, 27 and 35 points. With him out of the lineup they scored 10, 7, 3 and 14 points. In the FCS quarterback play matters and Mancuso is exhibit number one. The aggressive Spider defense can also get back to playing their game because they should be fresher with more rest. They still have 55 tackles for loss on the season.
Quarterback play will decide this game. Mancuso is clearly the better choice over Ferguson.
Fearless Prediction: Richmond 34, Towson 16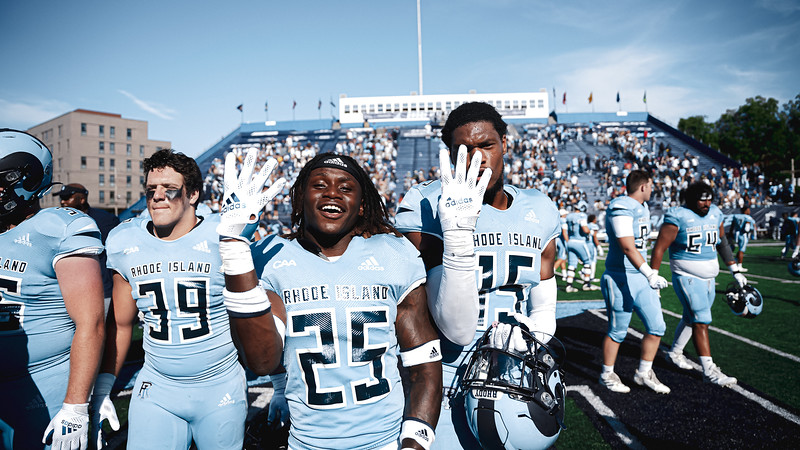 Rhode Island at FBS Massachusetts (Independent) Saturday November 6, 3:30 pm, FloSports/NESN
After a 5-0 start, Rhode Island has lost three straight games. The offense has not clicked during the losing streak. Before last week, the other two losses had the Rams throwing for less than 100 yards in each game. Kasim Hill did throw three touchdowns in the loss to Maine last week, but the defense has also regressed during the losing streak. TO start the year, the Rams played a much easier schedule. Now that they hit the meat of their CAA play, they are falling to the middle of the pack. They have a big opportunity to help their resume if they are able to beat a bad FBS program this weekend. Allowing 180 yards per game on the ground will not be sustainable for Rhode Island
UMass is one of the worst programs in the FBS. Their only win to this point on the season is against and equally bad UConn team. On average they are outscored 46-15 and out gained 509-285. They play two CAA teams over the next two weeks. UMass is the 1998 FCS National champion. At the time they played in the Atlantic 10 which is the FCS precursor to the CAA
This is an opportunity for an FCS team to pick up a win against an FBS program. Itll be close, but I don't think it happens
Fearless Prediction: UMass 23, Rhode Island 20
Campbell at #3 James Madison Saturday October 6, 3:30 pm, FloSports/NBCSW
Campbell enters its non conference matchup with James Madison at 3-5. Coach Mike Minter is excited for his team to see what a national title contender looks like and what it takes at that level. Unfortunately for the Camels, they don't have their starting quarterback, Hajj-Malik Williams. He is lost for the season to injury. Wiley Hartley has played ok in Williams' place throwing for 1602 yards (267 per game) and 14 touchdowns.
James Madison is close to announcing a move to the SunBelt conference. But before they go, they would like to win another FCS National title. Last week they defeated Elon with Cole Johnson throwing for 309 yards and six touchdowns. He only attempted three passes the entire second half. As always, the Dukes sit at or near the top of many of the defensive categories in the FCS. They allow just 15 points per game and 230 yards (60 rushing, 170 passing). The Dukes have 26 sacks and 69 tackles for loss. Offensively, the Dukes average over 400 yards per game. Recently the offensive line has been a bit of a patchwork and they have issues running between the tackles. Liam FOrnadel returned from injury last week so the Dukes will look to follow his block in the run game. In the pass game, the Dukes continue to lean on their dynamic receiving duo of Kris Thornton and Antwane Wells. They have combined for 87 catches, 1242 yards and 12 touchdowns.
This is a clear mismatch game. The Dukes will roll.
Fearless Prediction: James Madison 51, Campbell 7
Jamie is a proud 2002 graduate of James Madison University. He's witnessed the growth of the program from no one in the stands in 1998, to the hiring of Mickey Matthews, to the 2004 National Championship, to the 2008 team, to the struggles in the early 2010s, and finally the rebuild under Mike Houston. He also allegedly really enjoys Washington, DC-based Stanley Cup winners.
Reach him at: