College Sports Journal: All Hail Jacksonville State!
Chuck Burton: I cannot get over how that game played out – and how a sort-of cagey boxing match of the game ended up with such a spectacular knockout blow at the end. Recovering after that targeting call to cut the deficit to 17-14, then the amazing final play – Utterly incredible!
Ben Schleiger: Fantastic! They went from not being able to score against UAB to being in the national spotlight for a program defining win. Cooper played a smart game and should be taken seriously as a threat.
Rob Butler: Zerrick Cooper's last second heave gave the Gamecocks their first victory over a Power 5 school since a 49-48 win at Ole Miss in 2010. For the Seminoles it was the first loss to an FCS school in program history.
Jamie Williams: They kept fighting back. After getting completely wiped off the field against UAB, the Gamecocks showed a lot of heart. I have always likened Zerrick Cooper to Jameis Winston. All the talent in the world but so many mistakes that it keeps him from that elite tier. He showed what Jameis did on that same field with a walkoff. But they have to be careful – they have to avoid the trap against North Alabama this week.
Kent Schmidt: Dramatic. The Gamecocks winning on a 'Hail Mary' play was a fitting way to beat the Power Five's Florida State for their first ever loss to an FCS opponent. This was after JSU lost handedly on a netural field against another FBS squad in UAB in their opener.
Ray Maloney: Sports has long been filled with plenty of age-old adages, including "a win is a win." I will tip my cap to JSU for hanging around long enough to stun the 'Noles. But the nod also comes with a caveat. Legendary wrestling coach Bob Siddens, the high school coach of Dan Gable, once uttered: "win with dignity, loss with grace… just don't lose." The planting of the JSU flag was light years away from being graceful and has no room in sports.
CSJ: Shall We Play Jacksonville State's Alma Mater? Yes, We Will!
CSJ: Aside from Jacksonville State, was the best game of the week last week?
Jamie: The only game featuring two ranked teams lived up to its billing. Missouri State slipped past Central Arkansas, scoring the go ahead touchdown with 37 seconds left on the clock. Petrino has this team playing and believing.
Rob: Missouri State barely lost to Oklahoma State a week ago, and now they've beat a good Central Arkansas team at home 43-34. Bobby Petrino is doing great things at Missouri State.
Also, Alcorn State beating Northwestern State 13-10. I predicted Alcorn State to win 28-24 – turns out I wasn't that far off. Braves QB Felix Harper scored on a 1-yard run to cap a 10-play, 92-yard fourth-quarter drive – the Braves' game-winning drive included a 50-yard completion on third-and-10 from Harper to Manny Jones to the Northwestern State 4-yard line.
Kent: Northern Iowa going to the West coast and beating Sacramento State was my game of the week. UNI nearly pulled off the Power Five win against Iowa State the week before and took that frustration out again on the road to handedly beat the Hornets–the 2019 co-champions of the Big Sky and Top 5 seed that season in the playoffs. The Panthers dominated the third quarter, outscoring the Hornets 27-0 to lead to the eventual 34-16 victory.
Ray: Northern Iowa. The Panthers took some time to figure things out against Sacramento State but in the end had a relatively easy time in getting the win. UNI's Mark Farley is a good coach and it's time his team starts getting the recognition it deserves.
Ben: A game of significance was Merrimack beating Holy Cross after HC beat UConn just a week prior. This does not mean they have arrived as a serious FCS team, but a win at Maine next week could put them on people's radar indefinitely.
Chuck: Duquesne is a pretty good team out of the NEC – certainly a team I had my eye on in their conference race. However, bagging the NEC's first ever FBS over FCS win… that I did not see coming, especially since they were on second-string QB Darius Perrantes after QB Joe MIschler was hurt. That one went down to the wire, too, with CB Tim Lowery batting down the potential game-tying 2 point conversion with seconds left!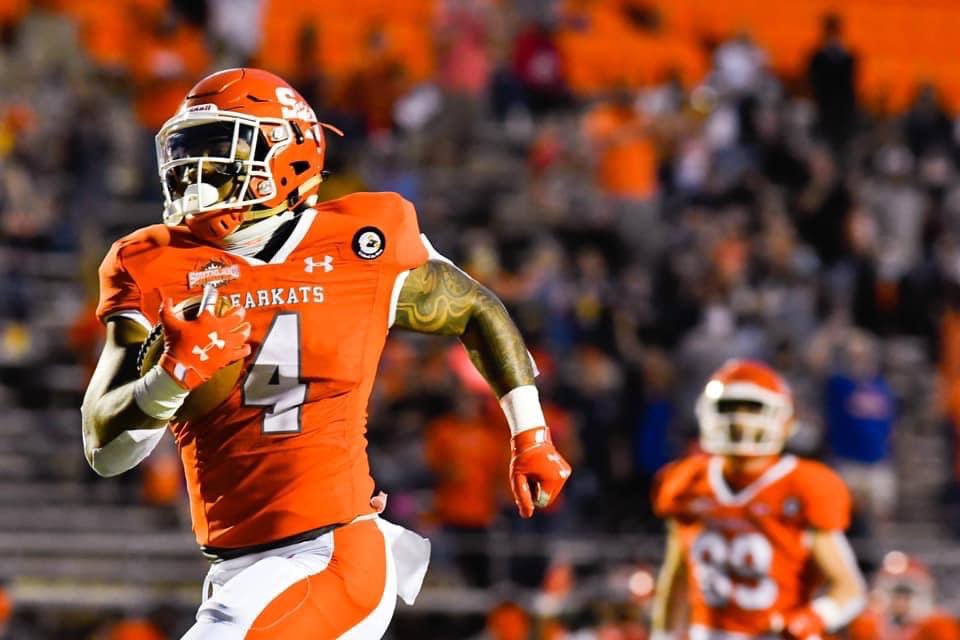 CSJ's Top Performers on Offense. Defense, Special Teams (As determined by the staff)
Offense: Sam Houston running back Ramon Jefferson ran the ball 11 times for 153 yards and 2 TDs in the Bearkats' 52-14 romp over Southeast Missouri State.
Offense Honorable Mention: Offense: QB Shedeur Sanders, Jackson State; QB Cole Kelley, Southeastern Louisiana; Hunter Rodrigues, QB, UC Davis;
Defense: Spencer Cuvelier, Northern Iowa, MLB. He recovered first- and third-quarter fumbles in Sac State territory (he forced one of them) to set up the Panthers for touchdown drives. He also recorded a game-high 15 tackles to help the Panthers to the easy road victory,
Defense Honorable Mention: DB Justin Terry, Monmouth, DL David Hoage, Nothern Colorado, LB James Houston, Jackson State
Special teams: KR Montrae Braswell of Missouri State, whose 96 yard kickoff return for touchdown against Central Arkansas was an enormous momentum swing in the Bears'
Special Teams Honorable Mention: PK Ethan Radke, James Madison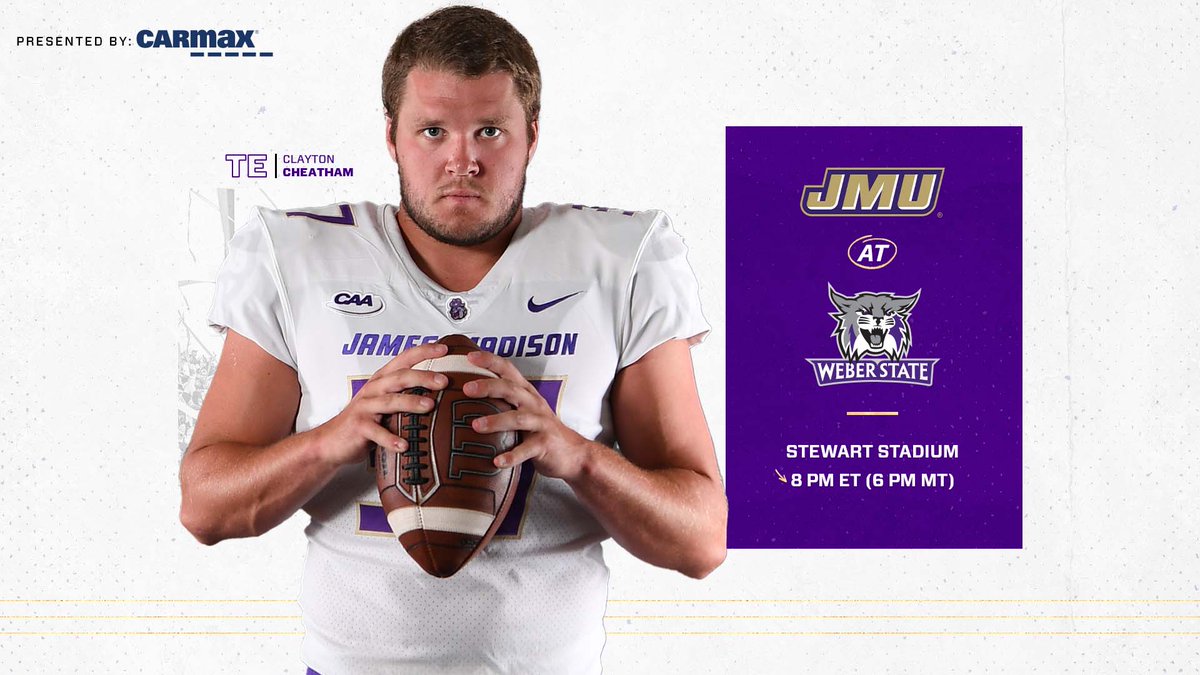 CSJ: What's your game of the week this week, and fearless prediction?
Jamie: Game of the week is easy to call out this week. You have a matchup between #3 James Madison travelling to #9 Weber. JMU has been susceptible to the deep ball early in this season, which means they have to find an answer for Rashid Shaheed. WIth Josh Davis hobbling and a freshman quarterback, though, the JMU defensive line looks to be in store for a big game. THey rotate 9 or 10 guys so the elevation wont be a problem. On offense? The Dukes are humming there. Weber always brings an aggressive defense , so theyll look to attack early. But the talent level and depth of JMU is going to be way too much for Weber to handle. I don't want to be disrespectful to Weber, but I dont think this game is extremely close. James Madison 45, Weber State 17
Chuck: Weber State won't get pushed around by JMU. They will give the Dukes a game – and win. Weber State 32, James Madison 29
Ben: It should be a good game overall, but JMU's offense is in a gear too fast for the Wildcats to keep up. James Madison 45, Weber 38.
Rob: I'll go with Richmond at Villanova – Nova' wins 35-27.
Ray: There are actually two games I am looking forward to this weekend. First is the Weber State game at home against JMU. The outcome will show which of the two teams is the most over-rated. The other is the NDSU at Towson game. The Bison have looked good to start the season and Saturday's game on the road will be a good test.
Kent: Outside of the two games between ranked opponents of James Madison at Weber State and Richmond at Villanova, I don't see a lot of great match-ups. I will give my picks for these two games. Weber State 31 James Madison 28; Villanova 38, Richmond 28
CSJ: The floor is yours. Anything you want to add?
Kent: While Jacksonville State got all the love for their FBS win, there was another FCS win over an FBS by Duquesne. The Dukes knocked off Ohio (who while covering the Group of Five are usually a bowl contending team). It was the first ever FBS win for the Northeast Conference as the Dukes won 28-26.
Jamie: Keep your eye on a big CAA matchup where Richmond travels to Villanova. Both of these teams look like playoff teams early. It'll be the stout defense of Richmond vs the high octane Villanova offense. But don't forget how good Villanova is on defense. this has the makings of a knock down drag out low scoring affair. Ill have my eye on this one.
Rob: Jackson State is at Louisiana-Monroe. Louisiana -Monroe has been a Sun Belt bottom feeder in recent years but I believe Terry Bowden will get it going eventually. Jackson State looks like the team to beat in the SWAC, so I believe it'll be a close game.
Ben: U-N-C BEARS! *cue fight song*. Finally, the Bears have a legitimate win outside of NAU, Southern Utah, or a D2 team in a few years.
CSJ: Okay. To celebrate UNC's great win, here's the Bears' fight song.
CSJ Highlights Of the Week
Jacksonville State 20, Florida State 17
2. Missouri State 43, Central Arkansas 34
3. Duquesne 28, Ohio 26
4. UNI 34, Sacramento State 16
5. Merrimack 35, Holy Cross 21