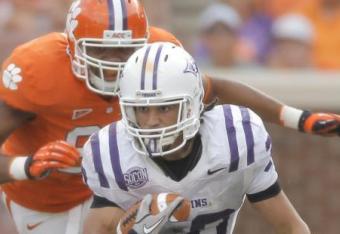 By Rudy Jones
Special Report
College Sports Journal
Editor's Note: This piece originally ran at FurmanPaladins.com was written by Rudy Jones, who wrote about hundreds of Furman University sporting events during his almost 40-year-career with The Greenville News and Greenville Piedmont. His coverage of the Paladins' 1988 football national championship earned him a first place writing award from the South Carolina Press Association. The Travelers Rest native has a blog about college baseball in South Carolina: palmettostatebaseball.blogspot.com.
GREENVILLE, S.C. — The 2012 season hasn't started like Jerodis Williams and his Furman University teammates wanted. Close losses to Samford and Coastal Carolina knocked the Paladins below the Football Championship Series national radar quicker than Lee Corso could say "No so fast, my friend" on ESPN's College Game Day.
But as the Paladins play Western Carolina Saturday to open a stretch of seven Southern Conference games to complete the regular season, Furman's major goals – a SoCon championship, a spot in the FCS playoffs and a chance to play for the FCS title – remain within reach.
"It's probably pretty clichéd," Williams said recently. "We just want to win the next game; win them all and win a conference championship. My individual goals? That is my individual goal: to win a conference championship … win some kind of championship; national, SoCon or, preferably, both."
Furman lost its conference opener at Samford on a late field goal. The Coastal Carolina loss came in three overtimes and featured a breakout performance by freshman quarterback Reese Hannon after he was thrust into the game by an injury to starter Dakota Derrick.
In that eight-day span, Williams suffered more losses than he did in three seasons on the varsity at Prattville (Ala.) High School. The Lions went 43-1 and won three state championships.
Williams said the Paladins must not let their early struggles carry over deep into the season.
"You try not to let it linger," said the 5-foot-11, 208-pound senior. "The worst you can do is let a loss hinder you in the next week. You can't let that loss beat you the next week or the week after. Win, lose or draw, most of us put it behind us; forget about it."
"We definitely have to finish strong," Williams said. "With the rest of our conference schedule left it's kind of a mixed blessing. It's going to be a rough because it's definitely a hard conference. But we also have a new opportunity each week to show that we are worthy of winning the conference if we can do it."
For inspiration, the Paladins need only look 220 miles southeast to Charleston. The Citadel went 4-7 last season and suffered five losses of 10 points or less en route to a 2-6 SoCon record.
The Bulldogs have opened conference play this year with wins over traditional FCS powers Georgia Southern and Appalachian State.
"In a strong conference you can never count anyone out," Williams said. "The Citadel wasn't bad at all last year. Last year they played everybody super close, kind of like we did the first two games (this season). They'd play everybody down to the wire and just couldn't quite pull it out. Apparently they're finally putting it all together. They're definitely coming out to be a strong team and will be something to deal with at the end of the year."
Despite being part of a successful high school program, recruiters for major college football programs were not beating down the door seeking his services.
"I didn't get any big interest (from FBS schools)," he said."I had people wanting me to come to camps and stuff, but no offers from FBS schools."
Furman was one of the suitors, though, and Williams liked what he saw. Furman's size was one of its major selling points to Williams.
"I definitely like it," he said. "Everyone is so close together. I don't get overwhelmed by the campus. I do like the small community area. The town I came from was pretty small. That might be the reason I like it."
He found no crip courses at Furman designed to let an athlete coast to a degree. "An 'easy' course at Furman consists of one, maybe two, all-nighters," he said.
An information technology major, Williams admits he once surprised a computer programmer on a plane trip by being able to talk shop.
Williams rushed for 1,055 yards last season. That's the eighth-best single-season total in school history. He gained a career-high 175 yards in the 47-21 victory at Western Carolina.
He began the year No. 13 on Furman's career rushing yards list. He's already moved into the top 10. Becoming the sixth Furman running back to top 2,000 yards for a career and finishing in the school's all-time top five is a possibility.
Williams certainly didn't arrive on campus intent on etching his name on any all-time lists.
"I didn't know anything about the record book here," Williams said. "All I knew was that (school career rushing leader) Louis Ivory was the best running back to come through here. I didn't know I had a chance to make any rushing lists. That's pretty cool. I was just hoping to get on campus, play football and graduate."
Williams said fans pay more attention to statistical records than players do. "I can't ever remember a player who got near a record saying 'Man, I'm so close to getting this record. I just want to get this.' I don't remember any player every doing that. I've never done it. I think Chris Forcier set a couple of records last year. Never in a game did he mention 'I'm getting close to records.'"
Williams said any individual accomplishments he does register wouldn't be possible without his teammates, particularly the offensive linemen.
"I think there be a little parentheses beside it … Jerodis Williams; parentheses (offensive linemen Dakota) Dozier, (Eric) Thoni and everybody (beside the record-holder). That would probably be a more accurate way of putting it."
Williams may be part of a small minority – an Alabama native who takes neither side in the Auburn-Alabama rivalry.
"I'm a big underdog fan," he said; "I just like to watch football, then root for the underdog."
But, growing up in the South, Williams realizes the importance fans place on the college football experience.
"College game day in the South is definitely a different kind of experience," Williams said. "It's almost like a religion; I've heard that reference before, football being a religion in the South. Like going to church on Sunday, on Saturday you go tailgate."
While he was eager to leave Alabama to attend college, he has made three trips back during his career. Most recently was the season-opener against Samford in Birmingham, about 90 minutes from where he grew up.
"I had a lot of family come," he said. "My grandparents came up and some friends and their families came up for the game. It was fun to play in front of all of them."
Williams has played five games against FBS schools. He's acquitted himself particularly well in his last two instances. He rushed for 133 yards and two touchdowns – one on a 77-yarder- at Florida last season and rushed for 87 yards in a 41-7 loss at then-No. 11 Clemson earlier this season.
Williams said football is football, regardless of the opponent.
"The only difference is they're bigger; some might be faster, too," Williams said. "No one can hit any harder. Typically it's just the linemen who are bigger."
The approach to playing in front of 80,000-plus fans varies by players, he said.
"I think some guys (get excited and) some guys don't," Williams said. "It depends on your personality. I think the majority of us approach it like any other week. Really, the only thing you have to prepare for differently is the noise level. I think the majority prepare like it's another game – not that it's monotonous. It's just another game you have to play; it's 11-on-11 and you have to be ready for them."
Playing in the ACC and SEC venues hasn't given Williams reason to second-guess what it would have been like to have played his career at the FBS level.
"I'm sure that crosses everyone's mind: 'what would have happened if I had gone to this place.' But, for me, I made the right choice," Williams said "I love the people I've met here, the coaches I've had, the friends I've made and will probably have the rest of my life. And, the degree and education I've gotten here are pretty much unrivaled by anybody we've played so far, for sure."
The prospect of getting an athletic scholarship to attend college was a motivation for Williams during countless workouts in and out of football season.
"That was the plan," Williams said. "I didn't know if it would work out or not. I didn't know how I would pay for (college) without some scholarship."
Williams said all the time he spent doing conditioning work and other offseason development while non-football playing friends were going to the lake or engaging in other recreational activities is being rewarded.
"All that extra work and time I put in, it's for my degree," Williams said. "Sometimes it gets hard and you kind of want to quit. I'd think 'Well, this will get me through college.' It's definitely worth it.
"The time I've spent on the field with some of the friends I've made here, it's definitely worth it. I have a lot of good friends who go out to the lake and hang out at other places as well, but the football team you hang out with, live with, eat with and see them every day — it's a different kind of bond. You don't really forget about being able to go to the lake or hang out and do other stuff, but this is just as much fun, I think."
Williams said he and his fellow seniors can play a leadership role for younger teammates.
"Just be an example. Period," Williams said. "(You show) how to live on and off the field; how to practice; how to prepare; just knowing how the coaching staff likes to prepare; showing (younger players) when to be attentive. There is a time to joke; when to play, when not to play. (You show) how to handle yourself in the classroom. Basically, just being a good role model."
Saturday's game puts Furman over the halfway mark in a stretch of playing nine straight weeks before getting a Saturday off.
The concept of a bye week was foreign to Williams until he got to college.
With Prattville regularly making a deep run into the Alabama playoffs, Williams was accustomed to a long season with no breaks.
"In high school we never had bye weeks. In Prattville we won a lot of championships. We'd play 15 weeks straight. It never even occurred to me that you'd get a day off," Williams said. "When I came to college you hear about bye weeks and by the time you get there you're like 'Whew. Yeah, I could use this.'"
"It definitely saves a little wear on your body," Williams said. "You don't forget about (football), but you kind of let your mind rest a little bit and it's helpful."
Being on a pace to carry the ball more than 500 times during his career, any break will come in handy.