Howard Draws Blanks In 49-0 Opening-Day Loss To Appalachian State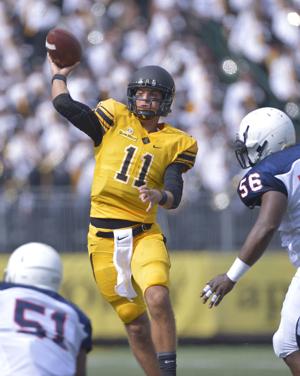 By David Coulson
Executive Editor
College Sports Journal
BOONE, N.C. — On a festive afternoon where Appalachian State honored some of its greatest players and its most prominent former coach, it was only appropriate that the Mountaineers showed the same enthusiasm on the field in a 49-0 season-opening football victory over Howard before 24,314 fans at Kidd Brewer Stadium.
App State sophomore quarterback Taylor Lamb passed 226 yards and a career-high four touchdowns and junior running back Marcus Cox led an impressive rushing attack with 11 carries for 105 yards and a 68-yard score as the Mountaineers rolled to its impressive win.
The ASU defense also got into the act with its first opening-game shutout since a 7-0 victory over Emory & Henry in 1960.
"I'm real proud of the way our guys came out and played," said Appalachian coach Scott Satterfield. "We've got four games until the Sun Belt (schedule starts) and we want to get better."
After Appalachian (1-0) took a 7-0 lead on its first drive, capped by Lamb's five-yard scoring pass to tight end Barrett Burns to end a 14-play, 76-yard drive that took nearly six minutes, the Mountaineers broke the game open with 21 points in the second period.
Cox opened the second-quarter barrage with his 68-yard scoring scamper and Lamb (17-of-22 for 224 yards passing, four carries for 41 yards rushing) added TD strikes of 50 yards to Shaedon Meadors and 17 yards to Simms McElfresh to give App State its 28-0 halftime advantage.
After Lamb added a 20-yard touchdown aerial to McElfresh (five catches for 68 yards) just less than four minutes into the second half, ASU backup quarterback J.P. Caruso made his debut and led the Mountaineers to two more second-half scores.
Jalin Moore finished off one drive with his seven-yard TD run midway through the third period and Ike Lewis hauled in a pass of 37 yards from Caruso near the end of that period to complete the Mountaineers' scoring.
On defense, linebacker Eric Boggs led the way with nine tackles, while linebacker John Law added eight stops and a sack. Cornerback Latrell Gibbs picked off a pass in the third stanza to set up one of Appalachian's scoring drives.
The Mountaineers won their seventh straight game, dating back to last season, to move into fourth place nationally with the longest current winning streak in the Football Bowl Subdivision.
Appalachian finished with 359 yards on the ground and 304 through the air for 663 yards of total offense.
"Right now, we're not showing we are a tough team, we got out-willed in the running game," Howard coach Gary Harrell said. "It's a process. We are a very young team."
The Mountaineer defense limited the Football Championship Subdivision opponent to 172 yards and just two trips to ASU's side of the field during the game.
Kalen Johnson, a redshirt freshman who replaced record-setting quarterback Greg McGhee for the Bison, showed some promise with 119 yards of passing as he completed 12-of-20 passes for 119 yards and one interception, including a 43-yard strike to Jalen Avery to set up Howard's best scoring threat.
But the Bison rushing game struggled with only 61 yards on 30 carries.
"We did some things well," said Johnson. "We just need to string some things together."
One big highlight for Howard (0-1) was the punting of All-MEAC performer John Fleck. The senior punted eight times for a 45.5 average, including a school-record 83-yard boot in the second quarter. He also excelled at situational punting during the game.
Jacob Bennett and Jalen Day were among five Howard players in double figures for tackles with 13 apiece. Day also forced the only Appalachian turnover of the day with a fumble-forcing hit on ASU running back Josh Boyd that Ghafona Iduwe recovered in the second quarter.
"They just out-executed us," said Bennett, a senior free safety. "These (two) games (at the beginning of the season) are our toughest games of the year. I still believe we will win the MEAC."
During the game, Appalachian honored five inductees into its athletic hall of fame, College Hall of Fame coach Jerry Moore, two-time Walter Payton Award-winning quarterback Armanti Edwards, former NFL tight end Daniel Wilcox and one of its all-time leading rushers, Chip Hooks, to huge applause. Cross country and track legend Leigh Cooper Wallace was also honored.
There were also remembrances of several historic Mountaineer football teams, with many former players in attendance, including the 1995 squad that went undefeated in the regular season on the way to a 12-0 start and a 12-1 finish and the 2005 unit that won the first of the school's three consecutive FCS national championships.
Both schools face tough opponents next Saturday. The Mountaineers travel to nationally-ranked Clemson, while Howard is on the road at Boston College.