Jacksonville State Remains On Top Of Poll As Four Of Top-Five Teams Fall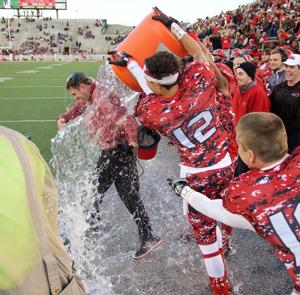 Special to College Sports Journal
MISSOULA, MT. — It was a Saturday of chaos in the Football Championship Subdivision ranks, with four of the top five teams and five top-10 teams altogether in the Any Given Saturday FCS Top-25 losing.
The only team in the top five to win was No. 1-ranked Jacksonville State (8-1 overall, 6-0 in league), which remained in the top spot after a 24-3 victory at Eastern Illinois in Ohio Valley Conference play.
The Gamecocks received 83 out of 84 first-places, with undefeated McNeese State picking up the other top ballot.
McNeese State (9-0, 8-0) became the first team to clinch an automatic bid to the 24-team FCS playoffs this season with its come-from-behind, 27-10 victory at home over Sam Houston State (6-3, 5-2).
The win clinched at least a share of the Southland Conference title for the Cowboys, who moved from seventh to No. 3.
Sam Houston State dropped from 12th to 18th with the defeat.
Illinois State (7-2, 5-1) lost at South Dakota State (7-2, 4-2), 25-20, in Missouri Valley Football Conference action to fall from No. 2 to fifth. SDSU rose from ninth to No. 4 with the win.
Portland State (7-2, 4-2) lost in the final seconds at resurgent Northern Colorado, 35-32, in a key Big Sky Conference matchup to drop from No. 3 to ninth.
Chattanooga (7-2, 5-1) took a tumble from fourth to No. 12 with its 17-14 Southern Conference loss to Mercer.
Richmond (7-2, 5-1) continued to struggle in its matchup with New Hampshire (5-4, 3-3), falling 30-25 on the road in Colonial Athletic Association play and skidded from fifth to eighth.
UNH kept its slim hopes alive of keeping the longest consecutive streak of playoff appearances alive with the triumph.
And Eastern Washington (6-3, 5-1) was pummeled at home by Northern Arizona (6-3, 4-2), 52-30, in another Big Sky showdown.
The Eagles fell from No. 8 to 16th, while the Lumberjacks broke into the poll at No. 20.
Two other top-25 teams also lost.
Eastern Kentucky (5-4, 4-2) dropped from No. 19 completely out of the poll with its home OVC defeat to Tennessee-Martin, 42-35.
Indiana State (4-5, 2-4) also plummeted from 22nd out of the poll with a 59-13 humbling in MVFC action at Northern Iowa (5-4, 3-3). UNI from 17th to 14th in the new poll.
Taking advantage of all of those losses were North Dakota State, William & Mary, Coastal Carolina and Charleston Southern among the top 10.
North Dakota State (7-2, 5-1) jumped from sixth to No. 2 after beating up on Western Illinois, 59-7, at home in the MVFC.
William & Mary (7-2, 5-1) also constructed an easy win, scoring early and often for its 34-13 CAA triumph at Elon. The Tribe vaulted from 10th to sixth.
Coastal Carolina (8-1, 3-1) pulled back into the top 10 with a 46-0 blanking at home of Gardner-Webb in Big South Conference play. The Chanticleers jumped from 11th to No. 7.
Charleston Southern, which beat CCU a week earlier, continued to surge with its 28-14 Big South road win over FCS newcomer Kennesaw State (6-3, 2-2).
The fan-based and moderated AGS poll has been widely recognized as the most accurate in FCS since its debut as a fan-based voting service over a decade ago.
Readers can read more about the poll and other FCS topics at www.anygivensaturday.com.
AGS Poll Results – WEEK 10 – 2015
Results for 11/09/2015 AGS Poll:
| | | | | |
| --- | --- | --- | --- | --- |
| Rank | Team: | Total Points | First Place Votes | Previous Wk. |
| 1 | Jacksonville State Gamecocks | 2099 | 83 | 1 |
| 2 | North Dakota State Bison | 1959 | | 6 |
| 3 | McNeese State Cowboys | 1860 | 1 | 7 |
| 4 | South Dakota State Jackrabbits | 1834 | | 9 |
| 5 | Illinois State Redbirds | 1736 | | 2 |
| 6 | William & Mary Tribe | 1651 | | 10 |
| 7 | Coastal Carolina Chanticleers | 1321 | | 11 |
| 8 | Richmond Spiders | 1316 | | 5 |
| 9 | Portland State Vikings | 1285 | | 3 |
| 10 | Charleston Southern Buccaneers | 1282 | | 14 |
| 11 | Southern Utah Thunderbirds | 1241 | | 15 |
| 12 | Chattanooga Mocs | 1218 | | 4 |
| 13 | James Madison Dukes | 1179 | | 13 |
| 14 | Northern Iowa Panthers | 947 | | 17 |
| 15 | The Citadel Bulldogs | 902 | | 18 |
| 16 | Eastern Washington Eagles | 843 | | 8 |
| 17 | Harvard Crimson | 817 | | 16 |
| 18 | Sam Houston State Bearkats | 674 | | 12 |
| 19 | Fordham Rams | 478 | | 20 |
| 20 | Northern Arizona Lumberjacks | 413 | | 30 |
| 21 | Youngstown State Penguins | 411 | | 21 |
| 22 | North Carolina A&T Aggies | 352 | | 23 |
| 23 | Dartmouth Big Green | 231 | | 24 |
| 24 | Towson Tigers | 212 | | 28 |
| 25 | Central Arkansas Bears | 203 | | 29 |
| | | | | |
| | | | | |
| | Most Significant Win: | | | |
| | South Dakota State Jackrabbits | | | |
| | | | | |
| | Most Significant Loss: | | | |
| | Portland State Vikings | | | |
| | | | | |
| | ORV: | | | |
| 26 | Dayton Flyers | 172 | | 26 |
| 27 | Tennessee-Martin Skyhawks | 152 | | 33 |
| 28 | Montana Grizzlies | 85 | | 31 |
| 29 | South Dakota Coyotes | 67 | | 36 |
| 30 | Western Carolina Catamounts | 63 | | 37 |
| 31 | Eastern Kentucky Colonels | 62 | | 19 |
| 32 | Bethune-Cookman Wildcats | 61 | | 32 |
| 33 | Western Illinois Leathernecks | 34 | | 25 |
| 34 | New Hampshire Wildcats | 31 | | NR |
| 35 | North Dakota | 29 | | 35 |
| 36 | Eastern Illinois Panthers | 28 | | 27 |
| 37 | Villanova Wildcats | 13 | | NR |
| 38T | Grambling State Tigers | 8 | | NR |
| 38T | Liberty Flames | 8 | | 38 |
| 40 | Colgate Raiders | 7 | | NR |
| | | | | |
| | | | | |
| | | | | |
| | Fell Out Of Poll: | | | |
| | | | | |
| | Indiana State Sycamores | | | 22 |
| | Southern Illinois Salukis | | | 34 |