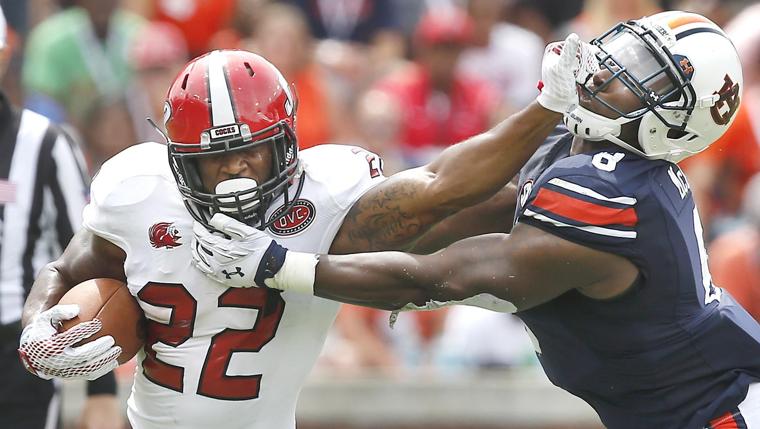 Special to College Sports Journal
MISSOULA, MT. — Jaacksonville State continued to roll in the votes as the top-ranked team Monday in the third week of the Any Given Saturday Football Championship Subdivision Top-25 poll.
The Gamecocks captured 59 of 78 first-place votes in the poll that is widely recognized as the most accurate in FCS since its debut as a fan-based voting service over a decade ago.
JSU handed Tennessee State a 48-13 loss on Saturday, a week after nearly upsetting Auburn before losing in overtime to the No. 6-ranked Associated Press Football Bowl Subdivision team.
North Dakota State, Coastal Carolina, South Dakota State, Illinois State and Villanova were the other FCS teams to pick up first-place votes this week.
Readers can read more about the poll and other FCS topics at www.anygivensaturday.com.
Results for 09/21/2015 AGS Poll:
Previous Wk.

Rank

Team:

Total Points

First Place Votes

1

1

Jacksonville State Gamecocks

1912

59

3

2

North Dakota State Bison

1774

5

2

3

Coastal Carolina Chanticleers

1772

10

6

4

South Dakota State Jackrabbits

1687

2

10

5

Northern Iowa Panthers

1526

5

6

Illinois State Redbirds

1501

1

7

7

Villanova Wildcats

1497

11

8

James Madison Dukes

1344

17

9

Liberty Flames

1231

14

10

Eastern Washington Eagles

1188

16

11

Chattanooga Mocs

1171

15

12

Portland State Vikings

1038

1

8

13

Montana Grizzlies

758

19

14

Fordham Rams

756

9

15

Cal Poly Mustangs

745

20

16

Youngstown State Penguins

672

4

17

Sam Houston State Bearkats

654

12

18

Montana State Bobcats

624

22

19

William & Mary Tribe

496

18

20

Southeastern Louisiana Lions

388

24

21

Indiana State Sycamores

357

40

22

Stony Brook Seawolves

319

23

23

Eastern Kentucky Colonels

294

28

24

McNeese State Cowboys

270

27

25

Harvard Crimson

211

Most Significant Win:

Liberty Flames

Most Significant Loss:

Sam Houston State Bearkats

ORV:

21

26

Samford Bulldogs

197

13

27

New Hampshire Wildcats

172

30

28

Richmond Spiders

152

29

Lamar Cardinals

137

30

Furman Paladins

100

29

31

Western Illinois Leathernecks

77

25

32

Northern Arizona Lumberjacks

68

32

33

Towson Tigers

61

34

Bryant Bulldogs

36

35T

Dartmouth Big Green

29

26

35T

North Dakota

29

35

37

Jacksonville Dolphins

28

34

38

Wofford Terriers

19

39

South Dakota Coyotes

10

40

Southern Jaguars

8

Fell Out Of Poll:

39

Duquesne Dukes

36

Holy Cross Crusaders

33

Idaho State Bengals

37

Sacred Heart Pioneers

38

Tennessee State Tigers

31

The Citadel Bulldogs