JSU Continues Stranglehold At No. 1, JMU Moves Up After Upset In AGS FCS Poll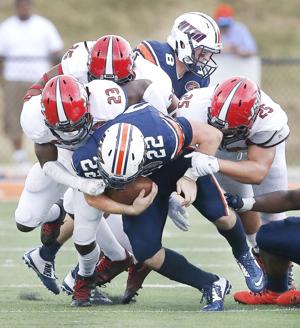 Special to College Sports Journal
MISSOULA, MT. — Jacksonville State retained its hold on first place and James Madison used its win over SMU to shoot into the top five as Any Given Saturday released its Football Championship Subdivision Top-25 poll on Monday.
The Gamecocks, who have been ranked No. 1 since the first week of the season, received 50 of 85 first-place votes after its tight, 48-41 victory over Tennessee-Martin to open Ohio Valley Conference play.
The rest of the top four in the poll remained the same.
Four-time defending national champion North Dakota State is No. 2 after a bye week and picked up six first-place votes. Coastal Carolina, which struggled at times in its 31-17 victory over Bryant, is third with 12 No. 1 votes.
South Dakota State thumped Robert Morris 34-10 to receive six first-place votes and is fourth.
James Madison displaced Northern Iowa at No. 5 after blowing a late lead, but coming from behind for its 48-45 victory on the road over Football Bowl Subdivision foe SMU. UNI was idle and dropped to sixth.
No. 6 Illinois State earned one first-place vote, but fell one spot to No. 7 in an off week, while Portland State received the other first-place vote and moved from 12th to 10th after dispatching Division II Western Oregon, 31-0.
No. 8 Chattanooga, a 21-0 winner over Presbyterian, and No. 10 Eastern Washington, which earned an important, come-from-behind Big Sky victory at Sacramento State, completed the top 10.
The AGS poll has been widely recognized as the most accurate in FCS since its debut as a fan-based voting service over a decade ago.
Readers can read more about the poll and other FCS topics at www.anygivensaturday.com.
Results for 09/28/2015 AGS Poll:
Previous Week

Rank

Team

Total Points

First Place Votes

1

1

Jacksonville State Gamecocks

2064

50

2

2

North Dakota State Bison

1926

6

3

3

Coastal Carolina Chanticleers

1895

12

4

4

South Dakota State Jackrabbits

1871

6

8

5

James Madison Dukes

1821

9

5

6

Northern Iowa Panthers

1681

6

7

Illinois State Redbirds

1667

1

11

8

Chattanooga Mocs

1419

10

9

Eastern Washington Eagles

1338

12

10

Portland State Vikings

1272

1

18

11

Montana State Bobcats

1090

13

12

Montana Grizzlies

1004

19

13

William & Mary Tribe

1001

14

14

Fordham Rams

964

16

15

Youngstown State Penguins

888

9

16

Liberty Flames

695

17

17

Sam Houston State Bearkats

671

7

18

Villanova Wildcats

515

20

19

Southeastern Louisiana Lions

490

21

20

Indiana State Sycamores

470

24

21

McNeese State Cowboys

469

23

22

Eastern Kentucky Colonels

448

25

23

Harvard Crimson

356

28

24

Richmond Spiders

224

27

25

New Hampshire Wildcats

195

Most Significant Win:

James Madison Dukes

Most Significant Loss:

Villanova Wildcats

ORV:

15

26

Cal Poly Mustangs

187

29

27

Lamar Cardinals

148

30

28

Furman Paladins

147

NR

29

Southern Illinois Salukis

119

22

30

Stony Brook Seawolves

114

26

31

Samford Bulldogs

97

31

32

Western Illinois Leathernecks

77

35T

33

Dartmouth Big Green

62

35T

34

North Dakota

54

37

35

Jacksonville Dolphins

34

38

36

Wofford Terriers

34

NR

37

Princeton Tigers

28

39

38

South Dakota Coyotes

25

NR

39

Weber State Wildcats

18

NR

40

Yale Bulldogs

14

Fell Out Of Poll:

34

Bryant Bulldogs

32

Northern Arizona Lumberjacks

40

Southern Jaguars

33

Towson Tigers