CORAL SPRINGS, Fla. – It's a long-held belief that many will not dispute, but moms really do know what's best.
And when it came time for Billy Kilmer to decide on where to go to college and continue his athletic career, his mother proved that prevailing thought to be true.
Born in Topeka, Kan., Kilmer later moved with his family to southern California and starred in football, basketball and baseball at Citrus Union High School in Azusa, Calif., located in the San Gabriel Mountains just 20 miles east of downtown Los Angeles.
After graduating from high school in 1957 and ending his prep career Kilmer was already known as a standout all-around athlete. He earned all-conference honors in baseball and was a third-team all-conference selection in football. But, as a high school all-American in basketball and with more than 1,500 points to his credit, it appeared Kilmer's future would be on the hardwood.
Kilmer and his father both had their sights set on the young star attending UCLA and playing football and basketball at the school following his graduation from Citrus High School in 1957.
Enter Mrs. Kilmer.
"Freshmen were not eligible to compete on the varsity at the time," Kilmer explained, "and my mom insisted that I go to junior college first and get my grades up before anything else. It turned out the be a blessing in disguise."
COLLEGE CAREER
As it turned out, Kilmer's choice of a junior college took him a very short stroll from his high school stomping grounds.
Citrus Junior College, which is now known as Citrus College, was right next door to Kilmer's former high school.
Kilmer played one season at CJC and scored six touchdowns and threw for 15 more before a broken foot limited his playing time in 1957. After one year at the schoo, and with academics in order, the time was right to take the next step and fulfill his goal of playing at UCLA.
Kilmer, who worked on campus during the summer before beginning his Bruin career, would meet with then-coach Red Sanders each morning during the summer leading up to the start of fall camp. The two would never be able to put their plans in action.
Sanders, who had guided UCLA to the national championship in 1954, died on Aug. 14, 1958 just over a month before the season opener against Pittsburgh at the Coliseum in Los Angeles with George Dickerson at the helm of the Bruins, which fell to the Panthers 27-6.
Dickerson would coach UCLA to a 1-2 record before being replaced by Bill Barnes for the remainder of the season.
A sophomore, Kilmer was a tailback in the single-wing offense that the Bruins favored at the time under Sanders' leadership. He finished the season with 195 yards rushing on 50 carries (3.9 ypc) and scored one touchdown on the season.
The Bruins ended the season with a 15-15 tie against arch-rival USC to end the tumultuous season with a 3-6-1 record.
It was then time for Kilmer to turn his attention to basketball and playing for a young coach. John Wooden, who had yet to win a national championship in his 11 seasons with the Bruins but was laying the foundation to a coaching career that will likely never be duplicated.
"(Wooden) was incredibly disciplined and organized in all facets of the game and in life," said Kilmer, with an air of reverence in his voice when talking of his former mentor. "He had very simple philosophies and certainly had rules he lived by and by which he expected his players to live by."
Kilmer saw limited action as a sophomore on Wooden's team during the 1959-60 season. He appeared in just six games and scored just eight points in his short stint on the famed hardwood in Westwood.
That would prove to be the end of Kilmer's basketball career.
What was basketball's loss was football's gain.
Kilmer would step in as the starting quarterback over the next two seasons under Barnes, who installed a T-formation on offense. Despite a knee injury during fall camp, Kilmer completed 41 of 101 passes for 702 yards and seven touchdowns as a junior and added 388 yards rushing on 94 carries (4.1 ypc) and three more touchdowns for the Bruins, who ended the year 5-4-1.
His final season was the top season of his collegiate career. He passed for 1,086 yards after completing 64 of 129 pass attempts and ran for 803 yards on 163 carries (4.9 ypc) and eight additional touchdowns.
An All-American as a senior, Kilmer won the 1960 W.J. Voit Memorial Trophy as the outstanding football player on the Pacific Coast, and finished fifth in voting for the Heisman Trophy
Kilmer finished his collegiate career with 109 completions, 255 attempts and 1,881 passing yards while throwing for 15 touchdowns. He 1,386 yards on the ground on 307 carries (4.5 ypc) and 12 touchdowns. He was in the top five in school history in passing yards, rushing yards and total offense at the time of his graduation, and was inducted into the College Football Hall of Fame in 1999.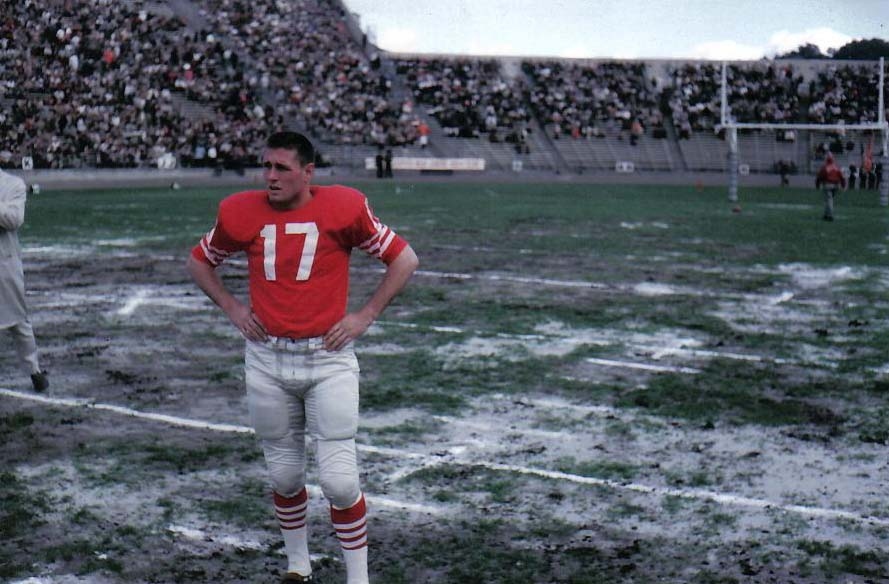 NFL CAREER
Kilmer, just weeks after ending his collegiate career, was selected in the first round (11th overall) in the 1960 NFL Draft by the San Francisco 49ers and was a fifth-round (39th overall) pick by the San Diego Chargers in the young American Football League.
The six-foot, 204-pound Kilmer opted to sign with the 49ers and was used as a running quarterback by San Francisco coach Red Hickey. The third-team quarterback behind John Brodie, who had been acquired in a trade with the New York Giants for Y.A. Tittle, and Bob Waters. Kilmer ran for 509 yards and 10 touchdowns as a rookie in 1961 as the 49ers finished 7-5 in their 11th season in the league.
His best performance that season came in a 38-24 win over at Minnesota. Kilmer rushed 20 times for 115 yards and four touchdowns against the Vikings. He scored on runs of 1, 2, 5 and 20 yards in the game.
His 1962 season came to an end early when he was involved in a car accident when the car he was driving plunged into the San Francisco Bay and suffering a broken leg.
He spent three months in the hospital and was forced to miss the entire 1963 season while recovering before resuming his career in 1964 and setting the stage for one of the most memorable plays in NFL history, something that seems to be a constant in Kilmer's career.
On Oct. 25, 1964 Kilmer caught a pass from George Mira before fumbling. Minnesota's Jim Marshall recovered the ball for the Vikings and returned it 66 yards the wrong way for a safety. The Vikings still won the game 27-22.
Kilmer saw no action in 1965 with the 49ers and a contract dispute during the 1966 training camp brought his time by the bay to an end. He was placed into the 1967 NFL Expansion Draft and was selected by the New Orleans Saints.
After he saw no action in 1965 and was involved in a training camp contract dispute the next season, Kilmer was placed in the 1967 NFL Expansion Draft. He won the starting job in the Saints' first season in the league and was under center in the first game in franchise history, a 27-13 loss at home against the Los Angeles Rams.
The 1969 season saw Kilmer turn in his best career outing when his threw for 345 and six touchdowns in a 51-42 over St. Louis.
Just over a year later Kilmer, a member of the franchise's hall of fame, would notch his final victory as a starter for the Saints. He had completed 16 of 28 passes in the game for 141 yards, but thanks to another historical moment with Kilmer being involved, the Saints managed to win against the Detroit Lions.
The former UCLA Bruin led the Saints on a late drive that brought them to the Lion-44 with just seconds left in the game. J.D. Roberts, who had taken over as coach following the firing of Tom Fears, declined a Hail Mary pass and instead put the outcome on the toe of kicker Tom Dempsey. The kick was good from 63-yards (goal posts were on the goal line at the time and not the end line as of today).
Dempsey's kick broke the existing record by seven yards. The new record stood for 28 years and was shared for 15 more seasons with three other players until 2013 when Denver's Matt Prater kicked a 64-yarder in a 51-28 win over Tennessee.
"When (Dempsey) kicked that ball, I knew he had made it" said Kilmer in a television interview several years later. "It was like Babe Ruth hitting a 500-foot home run. He really nailed it. And that was at sea level."
Kilmer spent four seasons with the Saints (1967-70) and was made expendable in the plans for the Saints with the arrival of heralded Archie Manning as the future of the New Orleans franchise.
"There was plenty of reasons to understand that (Manning) was going to be the direction the Saints were going to go," Kilmer said. "He was a tremendous athlete … and a much better overall athlete than his sons turned out to be."
Kilmer would be traded to Washington prior to the start of the 1971 season to make way for Manning.
"It got me out of purgatory," said Kilmer of his exit from the Big Easy. The Saints managed just a 14-40-1 record in Kilmer's four seasons with the team.
It didn't take long for Kilmer to establish himself as the leader of the Redskins. He started 13 of the team's 14 games that season as former starter Sonny Jurgensen was nearing the end of his own standout career in the NFL.
Behind Kilmer the Redskins finished 9-4-1 during the regular season before finished the year with a 24-20 loss at San Francisco. Washington would post an 11-3 regular season record the following year and advancing to the Super Bowl for the first time in franchise history by knocking off Green Bay (16-3) and Dallas (26-3).
Super Bowl
Kilmer returned to his collegiate home field at the Los Angeles Memorial Coliseum to take on Miami for the NFL title to bring the 1972 season to a close.
It turned out to be a disaster for Kilmer and the Redskins.
Miami, which had scored touchdowns in each of the first two quarters to gain the early advantage. Howard Twilley caught a pass from quarterback Bob Griese and turned it into a 28-yard touchdown to give the Dolphins the lead after Garo Yepremian's successful PAT.
They would add to that lead on a one-yard run by Jim Kiick to take a 14-0 lead halftime lead after another successful PAT from Yepremian.
Yepremian would later etch his own name in NFL lore when his blunder, much like Jim Marshall's error nearly a decade earlier, led to the only points Washington would score on the day.
Washington drove 79 yards from its own 11-yard line to Miami's 10 in 12 plays. On second down, Kilmer's pass to tight end Jerry Smith, who was wide open in the end zone, hit the crossbar of the goal post and fell incomplete. On the next play Jake Scott intercepted a Kilmer pass and returned it 55 yards to thwart the Washington drive and keep the Redskins off the scoreboard.
The Miami drive stalled and Yepremian lined up for a 42-yard field goal attempt. The kick was low and was blocked by Washington's Bill Brundige. Yepremian recovered the ball, but instead of falling on it, he instead tried to pass the ball to Larry Csonka. It slipped out of Yepremian's hand for a fumble that was recovered in the air by Mike Bass and returned 49 yards with 2:07 left in the game for what turned out to be the only points on the day for the Redskins who lost the game 14-7.
It capped a perfect season for Miami which became the first team, and to date, only team, in modern NFL history to finish a season undefeated.
"Our defense played good enough to win in that game," said Kilmer in reflecting on his time on the game's biggest stage. "(Miami) certainly had a great team … and to hold them to 14 points was a solid effort by our defense."
The Miami defense also played well in the game and allowed Kilmer to complete just 14 of 28 passes for 104 yards and intercepting him three times.
Kilmer appeared in 12 games (10 starts) during the memorable 1972 season. He completed 120 of 225 passes for 1,648 yards and 19 touchdowns (11 interceptions) on the season. His 19 TDs led the league in that department, as did his 84.8 passer rating. He was named to the Pro Bowl for the first time in his career at the end of the season.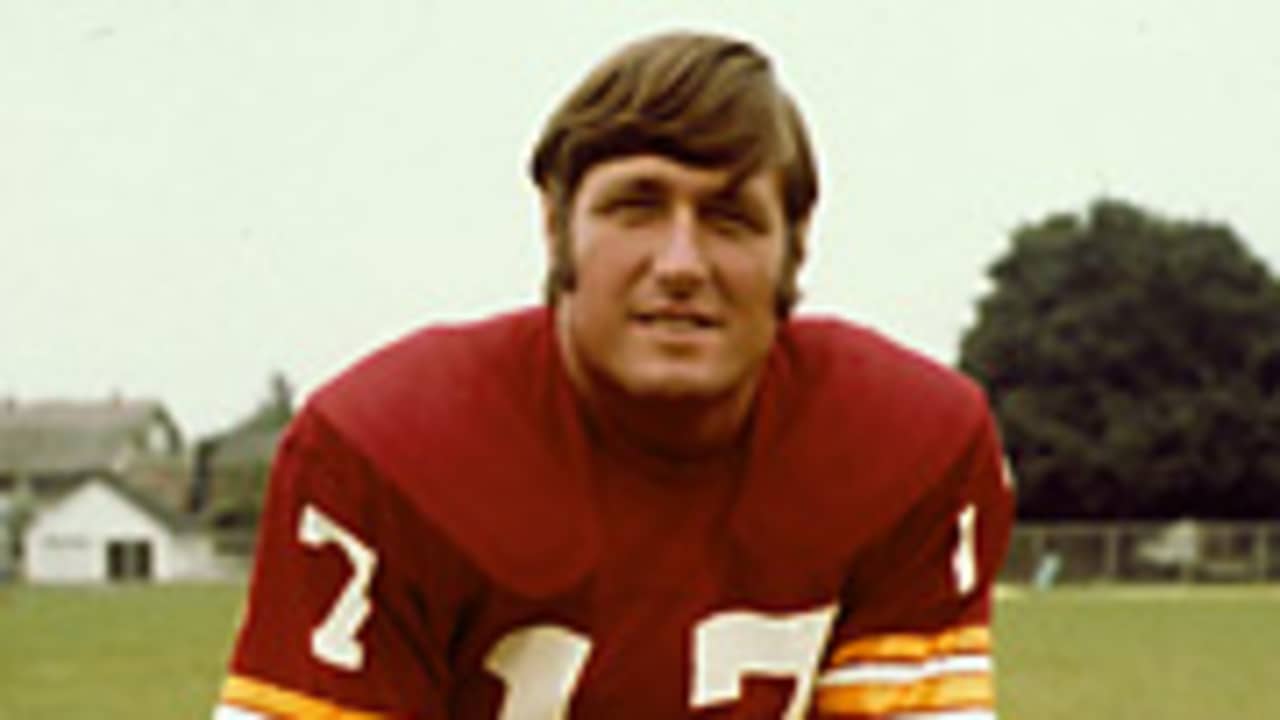 CAREER COMES TO A CLOSE
Six years after leading Washington to the Super Bowl it was Kilmer's time to be replaced as a starter. Joe Theismann had joined the Redskins in time for the 1974 season after spending the first three years of his pro career with Toronto of the Canadian Football League. The former Notre Dame standout spent four seasons (1974-77) as a backup to Kilmer, who was named All-Pro for the second time in his career in 1975, and started just 11 games during that span. He took over as the No. 1 signal caller in 1978 and Kilmer knew his time in the nation's capital was nearing an end.
"I lobbied for a two-year guaranteed contract during (1978) training camp," said Kilmer, who was earning just $225,000 per year at the time.
With Theismann now the starter at quarterback with first-year coach Jack Pardee at the helm after previous coach George Allen departed to the Los Angeles Rams, Kilmer appeared in just two games during the 1978 season and retired shortly after the season ended. Allen had taken over as coach of the Redskins in 1971 and was instrumental in bringing Kilmer to Washington in his first big move since becoming coach.
NFL STATISTICS
Kilmer, who was voted one of the 70 greatest Redskins and a member of their Ring of Honor, completed his NFL career with 1,585 completions on 2,984 attempts (.531) for 20,495 yards and 152 touchdowns. He was intercepted 146 times during his time in the league. The former collegiate running back also rushed for 1,509 yards and 21 touchdowns during his time in the NFL and added 288 receiving yards and one touchdown. He also dabbled as a punter at times and completed his pro career with an average of 37.4 yards on 16 punts.
LIFE AFTER FOOTBALL
Kilmer, who recently celebrated his 82nd birthday, coached the Shreveport Steams of the American Football Association in 1979 and served as the league's commissioner in 1980. The now-defunct AFA, a precursor to the more successful USFL, was a professional league that competed in the summer, but disbanded in 1983.
"I spent a long time in the NFL and I think I did some good things," Kilmer said in reflecting on his career. "I made two Pro Bowls and started a Super Bowl … I would like to have won it, though."
He still offers advice to young players.
"If you have a desire and a dream, work hard and stay with it," he says,
A native of Bismarck, N.D., Ray is a graduate of North Dakota State University where he began studying athletic training and served as a student trainer for several Bison teams including swimming, wrestling and baseball and was a trainer at the 1979 NCAA national track and field championship meet at the University of Illinois. Ray later worked in the sports information office at NDSU. Following his graduation from NDSU he spent five years in the sports information office at Missouri Western State University and one year in the sports information at Georgia Tech. He has nearly 40 years of writing experience as a sports editor at several newspapers and has received numerous awards for his writing over the years. A noted sports historian, Ray is currently an assistant editor at Amateur Wrestling News.