Liberty Strikes Early And Late To Stun Montana, 31-21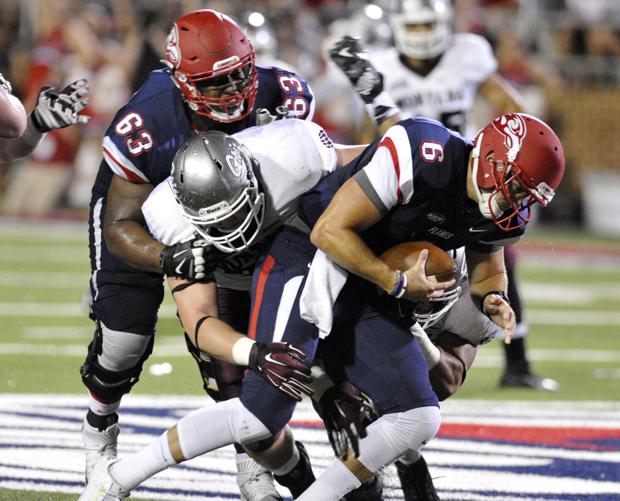 By David Coulson
Executive Editor
College Sports Journal
LYNCHBURG, VA. — The atmosphere at Arthur Williams Stadium — complete with a record crowd of 22,551 fans in its overflowing stands — was electric on Saturday and Liberty University used that excitement to help generate a frenetic start in its showcase Football Championship Subdivision game with Montana.
Striking for 14 first-quarter points and adding a field goal in the second period, the Flames soared in front 17-0 and never looked back in their surprising 31-21 victory over the Grizzlies — the win further establishing Liberty (2-1) as one of the up-and-coming programs among the elite of FCS.
There were some nervous moments for the Flames the rest of the way, but that sizzling start was something that a flawed Montana squad was unable to upend.
With No. 7 Montana facing off with No. 14 Liberty, it marked the first time that top-15 teams had met at Williams Stadium.
"It was a great win over Montana, because we know we can compete with the best," said Liberty receiver Zac Parker, who responded with six catches for 101 yards.
After senior quarterback Josh Woodrum (16-of-30, 260 yards passing) tossed TD passes of four yards to Desmond Rice and 72 yards to Dante Shells on Liberty's first two drives and led the Flames to another score, Montana responded with 12 points of its own to cut the lead to 17-12 by the end of the first half.
But the Grizzlies (1-2) potentially left 11 more points on the field and watched the Flames pull away in the second half.
"Every time we got close, we shot ourselves in the foot," Montana coach Bob Stitt said. "We don't do this at Montana, we've got to find a way to change it."
Daniel Sullivan missed wide left on a 33-yard field goal near the end of the first quarter, finally got the Grizzlies on the board with his kick from 22 yards out with 5:13 remaining in the half and then sent an extra point wide left after Montana converted Chad Chalich's 70-yard touchdown strike to Jamaal Jones at the 3:30 mark.
Even more disastrous for Montana was Joey Counts' fumble at the Liberty one after the two teams had traded touchdowns in the third period to make it a 24-19 game.
Following a Chalich-to-Jones connection for 46 yards, Nolan Spicer's hit on Counts after a two-yard gain was recovered by defensive end Erwin Dessources at the one with the Grizzlies threatening to take the lead with 5:12 left in the third period.
Liberty had expanded its advantage to 24-12 on a trick play to end the opening drive of the second half as receiver Damien King turned a reverse into a nifty 32-yard TD toss to Shells (three catches for 11 yards and two scores).
Chalich responded by leading Montana 81 yards in 11 plays before plowing in from the one for the touchdown that cut the Flame lead to five points.
It stayed close until what looked like a simple isolation, off-tackle play for Liberty's D.J. Abner turned into a 40-yard touchdown scamper in the first minute of the fourth quarter.
"When you have the opportunity, you have to seal the deal," said Abner. "When you have your foot on their throat, you don't want to let it off. I think we made a huge statement."
Ahead 31-19, the Flames used consistent pass pressure and time-consuming offense to keep Montana at bay the rest of the way.
"They run off of big plays," said Flame cornerback Tyrin Holloway, who matched Alpha Jalloh and Nick Newman with a team-high five tackles. "We kept them from doing that. The game is all about momentum."
Defensive end Chima Uzowihe had two of Liberty's seven sacks to become the Big South Conference's all-time leader with 22.5 for his career.
"Pressure was the biggest thing that helped our defense," said Newman.
It was more than the second-consecutive loss for Montana, which dropped a 20-19 decision at home to Cal Poly — just one week after shocking four-time FCS champion North Dakota State in its season opener.
"We played a very undisciplined game and they played their butts off," said Montana's senior leader Jones.
The Grizzlies came away with serious injuries to starting quarterback Brady Gustafson, defensive end Derek Crittenden and cornerback Nate Harris. Gustafson was 7-of-13 for 54 yards in the first period before leaving with an undisclosed leg injury.
Chalich had some nice moments, completing 14-of-28 passes for 228 yards and a touchdown, but found himself on the run for much of the night.
"The feeling was great to get back out there, but I've got to learn from my mistakes," Chalich said.
Liberty, meanwhile, is learning from a winning perspective.
"We're getting better and our guys are responding to top-notch opponents," said Flame coach Turner Gill, whose squad won for the fifth time in its last seven games against a ranked opponent. "This win tells everybody across the country we're a team to be reckoned with."