Overtime Thriller Goes To Jacksonville State In Victory Over UTC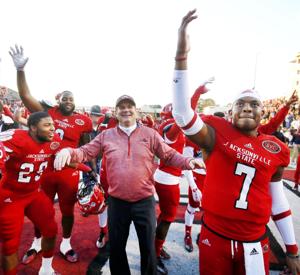 Special to College Sports Journal
Editor's note: This story is courtesy of Jacksonville State and UTC athletics.
JACKSONVILLE, AL. — Brandon Bender came up with the biggest defensive play of Jacksonville State's season, Eli Jenkins capitalized on No. 7 Chattanooga's only turnover and the top-ranked Gamecocks are going to the FCS quarterfinals for the second time in three years.
Jenkins sprinted 14 yards for the game-winning touchdown in the first overtime as Jacksonville State (11-1) upended Southern Conference champion Chattanooga 41-35 before a Burgess-Snow Field crowd of 21,452 in Saturday's second-round playoff matchup.
Jacksonville State will host No. 8 Charleston Southern in next week's quarterfinals. The JSU-Charleston Southern matchup will be played at 8 p.m. EST on Friday night.
"That was just a classic game," said Jacksonville State head coach John Grass. "These were two great teams, two really good programs. I take my hat off to our guys for finding a way to win down the stretch when our backs were against the wall."
Chattanooga ended its season at 9-4. The Gamecocks, who beat the Mocs 23-20 in the season opener, lost their only game to Auburn in double overtime, after the Tigers scored a game-tying touchdown in the final seconds of regulation.
"Give Jacksonville State credit," UTC coach Russ Huesman said. "They beat us fair-and-square. They played fantastic. We fought, (our guys) are down, but we fought."
Troymaine Pope rushed for 234 yards – the second-highest single-game total in school history – and three touchdowns while Jenkins added 195 yards on the ground. Jenkins also contributed 208 through the air, accounting for 403 scrimmage yards, third-most in a game in JSU history.
"(Jenkins) is a good player," Keionta Davis said. "We put ourselves in a few bad situations rushing, and when you have a good player like that, you can't make those mistakes."
But it was an interception by Bender, a senior safety from McCalla, which kept the Gamecocks' championship dreams intact.
Jacksonville State won the coin toss in overtime and elected to start on defense.
Runs by Huesman and Craine netted a first down at the 14. Huesman then looked for the junior running back with a pass into the end zone. Brandon Bender cut in front of Craine and made the interception.
Bender leaped and picked off a pass in the end zone, giving the Gamecocks possession at the 25 for their first series.
"Earlier in the game, they got us with a throwback to the tight end, and that really triggered in my mind because I knew something like that coming again, it was too wide-open (the first time), Grass said. "The play as set up way too nice, so we just talked about it on the sideline that we knew it was coming again in the red zone."
Jenkins finished off the Mocs quickly.
The junior quarterback rushed for 11 yards on first down, then eluded a couple of would-be tacklers and sprinted left to the end zone, setting off a raucous celebration in the stands and on the Jacksonville State sideline.
Things looked bleak for the hosts after Chattanooga scored 28 points in a 22-minute span, taking a 35-28 lead with 8:35 left in regulation on a 39-yard pass from backup quarterback Alejandro Bennifield to Huesman.
It was the first time Jacksonville State had trailed since falling behind 3-0 at Eastern Illinois on Nov. 7.
Jacksonville State, however, struck quickly to pull even at 35-35 when Pope broke free for his longest career run, a 75-yarder burst to cap a three-play drive. Connor Rouleau's extra point tied it with 4:40 remaining.
The Gamecocks trailed 7-0 after Huesman ran in from the 1 with 35 seconds left in the first quarter to cap a 91-yard UTC drive.
Jacksonville State responded with three second-quarter touchdowns for a 21-7 advantage.
Jenkins had touchdowns run of 5 and 10 yards sandwiched around Pope's first touchdown, a 5-yarder.
Jacksonville State's 640 total yards were the fourth-highest offensive output in history, and marked the third time this season the Gamecocks had gone over 600 yards. JSU amassed 432 on the ground.
It was an offensive explosion as the two teams combined for 1,084 yards.
Jacob Huesman and Derrick Craine led the way for the Mocs with 97 and 95 yards rushing, respectively. They each broke Eldra Buckley's single-season rushing record of 1,233 yards in 2005. Craine ended with 1,251, while Huesman had 1,244.
Huesman also passed for 161 yards completing 11 of 18 with two scores and one interception. He accounted for five touchdowns on the day, ending up with 108 career touchdowns and ranking third in FCS history with 4,051 rushing yards by a quarterback.
"I think the biggest part of it is how our guys fought," Jacob Huesman said. "We put ourselves in some tough situations, but we gutted it out (and gave ourselves a chance). We've got a bunch of competitors over there, and it's those people who had us in that game."
Troymaine Pope had 234 yards on 17 carries and three touchdowns, while quarterback Eli Jenkins added 195 and another three scores. Jenkins threw for 208, completing 13 of 26 with one interception.
The top-seeded Gamecocks led 21-7 in the second quarter on Eli Jenkins' 10-yard run with 1:23 to go in the half. With JSU opening the second half with the ball, the Mocs needed a big play.
It happened quickly. Jacob Huesman hit James Stovall for a 20-yard gain. On the next play, he darted down the right sideline 45 yards for the score and a 21-14 deficit at the break.
Troymaine Pope's 49-yard run to start the third quarter looked to put the hosts in firm control. A Mocs three-and-out was followed by another deep drive from the Gamecocks. JSU seemed to go up 35-14, but the completion in the back of the endzone was overturned on replay.
Connor Rouleau lined up for a 39-yard field goal attempt which flew wide left. That open the door for the Mocs who took advantage.
Huesman had back-to-back scoring passes to Stovall (seven yards) and Alphonso Stewart (15). The second tied the game at 28-28 less than minute into the fourth quarter.
JSU drove deep into Chattanooga territory on its ensuing possession. Jenkins looked into the end zone, but C.J. Fritz was on the scene, intercepting the offering.
The Mocs next drive was kept alive when Huesman found Stovall across the middle for 27 yards to the JSU 39. The next play featured a little razzle dazzle. Huesman threw a backwards pass to Alejandro Bennifield on the right sideline. He looked deep to a receiver running a post, then tossed it back to Huesman who followed his blockers down the left sideline into the end zone for the 35-28 lead with 8:35 to go.
The squads exchanged punts but Pope made a game-changing play. On second and 10 at his own 25, he burst down the left sideline for 75 yards, knotting the game at 35-all. Both teams drove to midfield on their final possessions, but the contest went to overtime.
The Mocs started with the ball. Runs by Huesman and Craine netted a first down at the 14. Huesman then looked for the junior running back with a pass into the end zone. Brandon Bender cut in front of Craine and made the interception.
Jenkins took over as JSU took its possession at the 25. He ran 11 yards to the 14 and then capped the win with a 14-yard scamper to his left.
Keionta Davis had two sacks for a school-record 13.5 for the season. Cedric Nettles had a career-high 14 tackles, while A.J. Hampton added eight stops.
Bender was the star of the Gamecocks defense. He made 11 tackles, including 1.5 for loss, adding the interception. The JSU defense accounted for nine total tackles for loss.
The 2015 UTC senior class tied the 1980 class for the most wins by a group of seniors with 33.