SILVER SPRINGS, Maryland – In the end, even the wind was no match for Renaldo Nehemiah.
Nearly 100 years after Memorial Stadium opened on the University of Illinois campus two moments arguably stand out as among the greatest in sports history.
The first took place on Oct. 18, 1924 when Illinois' Red Grange ran for four touchdowns in the first 12 minutes of the game to set the tone as Illinois dedicated the new stadium by routing Michigan 39-14. Grange, who went on to become a charter member of the College Football Hall of Fame (1951) and the Pro Football Hall of Fame (1963), ran for a fifth touchdown and threw for a sixth later in the game.
While it took Grange 12 minutes to secure his name in the history of the stadium it took a slender speedster from the University of Maryland less than 13 seconds to make sure his name will forever be linked with Grange whenever looking back to historical moments at the famed stadium.
More than 55 years after Grange scorched the Wolverines, all Renaldo Nehemiah did was pick 'em and put 'em down like no one else and silenced the large crowd on hand on a sunny June afternoon in America's Heartland.
Grantland Rice, one of the legendary sportswriters of all time, tabbed Grange as "The Galloping Ghost." He is also credited with arriving at the moniker, "The Four Horsemen," is reference to a stable of outstanding football players for Knute Rockne's Notre Dame football team of 1924.
If only Rice had seen Nehemiah.
"Ladies and gentleman, you have just witnessed the fastest hurdles race in the history of track and field," the Memorial Stadium announcer told the hushed crowd who knew they had just seen something special that afternoon in Champaign.
The silence that had come over the crowd as Nehemiah crossed the finish line well ahead of the rest of the field quickly turned to cheers when it was announced Nehemiah's time of 12.91 seconds made him the first person in history to run the 110-meter hurdles in under 13 seconds.
Unfortunately for Nehemiah, and all track fans, his effort was not recognized as a world record. The tail wind at the time was recorded at 3.5 meters per second, above the 2.0 meters per second threshold for record purposes.
"I was frustrated in not getting credit for the record," Nehemiah said nearly 42 years after his performance in Champaign, "but it is still a sweet moment in my career."
Nehemiah's win in the event allowed Maryland to total 22 points to tie LSU for eighth place in the final team standings.
UTEP won the team championship with 64 points and finished 16 points ahead of second place Villanova, which tallied 48 points. UCLA (36), Auburn (30) and Oregon (28) round out the top five teams. Washington and Southern Cal also finished ahead of the Terrapins with 26 and 25 ½ points, respectively, in Champaign.
CHILDHOOD
Born in Scotch Plains, N.J., not far from New York City, Nehemiah earned the nickname "Skeets" at an early age, in reference to clay pigeons used in sharp-shooting that fly through the air as a target.
"I crawled around on the floor really fast … like skeets," he recalled.
The name has stuck through the years.
"It seems it's people my age or older who still use the nickname," said Nehemiah, who just turned 62 years old.
Like many other youngsters of a seemingly bygone era, Nehemiah spent much of his days outdoors with friends.
"There was nothing formalized about our running," he explained. "We simply had street races of all sorts of distances."
What Nehemiah had that many of his childhood friends did not have was a split-rail fence in the family yard that quickly became a makeshift hurdle that Nehemiah cleared countless times as he honed his craft.
It wasn't until his freshman year at Scotch Plains-Fanwood High School that he began to make a name for himself in the hurdles.
"We didn't have a hurdler on the team and coach was looking for volunteers," Nehemiah recalled.
Nehemiah took to the hurdles like pretzels and mustard.
"(Hurdling) is like an art form," Nehemiah says. "It's like running in the air.
"It's like you become one with the hurdle … and you have to make it all as effortless as possible," he added.
Nehemiah was so much faster than his competitors that his coach often had him train going over 42-inch hurdles, which is the height used in college. Nehemiah, who graduated from high school in 1977, was the clear choice as the high school athlete of the year as selected by Track and Field News, the leading publication of the time.
COLLEGE GREAT
Nehemiah was sought after by virtually every collegiate track program in the nation following his high school career.
His visits resulted in a variety of thoughts when returning home and contemplating where to eventually enroll.
He visited the University of Southern California. But that campus, in Los Angeles, was 3,000 miles away from home and he was uncertain how often he could return home to see family and friends.
A visit to the University of Tennessee seemed to provide everything he was looking for in a school. Except for one thing.
"(Tennessee) was awesome," he said. "They had impeccable facilities. They had a separate track stadium, a great football stadium … everything was there. I was sold.
"If they had offered me a scholarship I would have accepted," he added.
The offer was not forthcoming.
"(Then-Tennessee coach Stan Huntsman) told me later that he thought I would not have accepted the scholarship, so he offered it to someone else," Nehemiah recalled.
In hindsight it might have been a blessing.
At least it was for the University of Maryland, which has been the dominant program in the Atlantic Coast Conference for more than two decades prior to Nehemiah's arrival in College Park.
"I was able to make a connection almost right away," he said. "It seemed like the people at Maryland were just regular people who treated me like just another one of the guys."
That fit into the quiet personality of Nehemiah.
"I was always shy and withdrawn," he explained. "But (at Maryland) I was able to truly express myself over time in the classroom and on the track and within the team."
BREAKOUT SEASON
At the prestigious Penn Relays earlier in the 1979 season he anchored Maryland's shuttle hurdle relay team, the 4×400-meter relay team and the 4×200-meter relay squad.
Nehemiah recorded an unofficial split of 19.4 seconds in the 4×200 relay and 44.3 seconds in the 4×400 relay. He was voted the MVP of the meet.
It would be the last time in his career Nehemiah would run a 400 in competition.
"I just ran harder and harder as the noise (of the crowd) got louder," Nehemiah said of the race. "Before I knew it, I could see Tim Dale (Villanova) and the finish line about 20 meters in front of me. As I was really starting to be overwhelmed by the pain, I dug one more time with all I had."
Despite the pain Nehemiah and his teammates won the event.
"I told myself I would never feel that type of pain again in my life," he added.
If Nehemiah's name was not already widely recognized at the start of the NCAA meet in 1979 it certainly was by the time the weekend ended.
The college community put on a carnival-like atmosphere with plenty of activities for the fans. One sporting goods store near campus displayed a pair of high jump standards that had been set up to signify the existing world record mark in the men's and women's division.
Inside the stadium it was like a melting pot of some of the greatest names in track and field history.
Henry Rono (Washington State), the world record holder in the steeplechase, was on hand to defend his title in that event. Other prominent names to appear inside Memorial Stadium over the weekend were Harvey Glance (Auburn), Jerome Deal (UTEP) and Villanova teammates Sydney Maree and Don Paige.
Rono easily won for a second straight year when he ran a stadium record 8:17.92, while Deal won the 100-meter dash in a time of 10.19, also a stadium record. Glance finished third in 10.22.
Page was a double winner. He won the 800 in 1:46.18 and topped the field in the 1,500 in 3:39.20.
Nehemiah and UCLA's Greg Foster, the defending national champion in the 110 hurdles, had advanced to the finals with relative ease. Foster turned in the fastest time in the prelims with a 13.28 while Nehemiah was clocked in 13.43 setting up what figured to be a showcase for the national title in the event between the two standouts from opposite coasts.
Nehemiah was on a tear on the track in the weeks leading up to the national meet. He had eclipsed the existing world record twice in a span of three weeks. He won a meet in San Jose on April 14 by running a 13.16 and bettered that mark at a meet at UCLA on May 6 when he was clocked in 13.00 seconds.
The anticipated marquee race didn't quite pan out the way many expected.
Despite a clean start that saw each of the finalists clear the first several flights of hurdles, Foster clipped a hurdle midway through the race and was never able to recover. He failed to finish the race.
That left Skeets to breeze to the title by defeating runner-up Dan Oliver (Ohio State) who was timed in 13.55.
Foster did manage to successfully defend his 200-meter title by winning the 1979 crown in a stadium-record time of 20.33. He would also come back in 1980 to win the
The best was yet to come for Nehemiah after the NCAA meet in Champaign.
OLYMPIC BOYCOTT
Nehemiah, like many other American athletes, was unable to showcase his athletic talents on the world's grandest stage when then-U.S. president Jimmy Carter, citing Russia's recent invasion of Afghanistan, announced the United States would not compete at the Olympic Games in 1980 schedule for Moscow.
The Maryland standout was later awarded one of 461 Congressional Gold Medals awarded to all U.S. Olympic Team members that year who were spurned by the 64-nation boycott.
Nehemiah was the odds-on-favorite to capture Olympic gold at the Games.
With the chance for Olympic stardom no longer a possibility Nehemiah was left to simply do what he did best: run the hurdles faster than anyone else.
At the 1981 Weltklasse meet in Zurich, Switzerland, the American legend became a world legend by finally getting the record that had escaped him in Champaign two years earlier. He was clocked in 12.93 to become the first person in history to officially run the race in under 13 seconds.
"I was way out of control over the first hurdle," Nehemiah recalled in an interview a short time later about the history-making race. "Then I floated over the second hurdle and (Foster) caught me going into the third hurdle.
"From there I just ran as fast as I could," he added. "It just one of those things where I was determined to win. I knew if I could stay out in front, I could make him make a mistake."
Nehemiah's ability to pull away from Foster that day proved his long belief about running.
"It's a different race when you're chasing someone than when you're being chased," the world great added about the race in Switzerland that made history.
So talented was Nehemiah that legendary coach Pat Connolly, who coached Evelyn Ashford, believed the sky was the limit for the former Terrapin.
"If he had concentrated on athletics, he could have won the 100-meter dash and 110-meter hurdles," the legendary coach said. "He could have run under 9.9 in the 100."
Connolly once said Nehemiah would still be the world record holder in the 400-meter hurdles if he had given that event a serious try.
Nehemiah broke the world record 13 times during his career to easily establish himself as one of the greatest runners of all-time.
"All of it stands out," Nehemiah said of the records he broke on the track. "But, what I think is equally rewarding is knowing how much pleasure that was brought to the fans watching me do what I loved doing."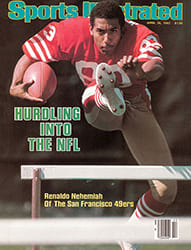 SUPERSTARS & THE NFL
Nehemiah's athleticism was undeniable. It caught the eye of television executives who invited the speedy youngster to compete in The Superstars, a made-for-television decathlon-style competition that aired for several years by ABC Sports and during the late 1980s by NBC Sports. Nehemiah is the only person to ever win four Superstars titles. He won three straight titles (1981-83) and came back in 1986 to win his fourth crown.
During the filming of The Superstars competition in 1982 hosts Dwight Clark and Chris Collinsworth, both standouts in the NFL at the time, were struck by Nehehiah and his versatility and often suggested he try his hand at playing football in the NFL.
A short time after the completion of Superstars in 1982 he received a telephone call from someone claiming to be Bill Walsh, the coach of the San Francisco 49ers.
"I thought it was Clark or Collinsworth playing a joke on me," said Nehemiah, who hung up on the caller. He received a second call later that day and he told the person claiming to be Walsh that if he wanted to talk to anyone, to call his agent.
Several hours later Nehemiah's agent called and asked if he had hung up on Bill Walsh.
Nehemiah would eventually have tryouts with seven teams, including Pittsburgh, Washington, Dallas, along with New England and the New York Giants, before signing to play with Walsh's 49ers.
"There was no professional track back then and I needed a job," Nehemiah said to explain his decision to sign with the 49ers.
He was used sparingly in his three seasons (1982-84) in the NFL and finished his career with 43 passes for 754 yards and four touchdowns. He averaged 17.5 yards per reception during his time with the 49ers, but became expendable when the team selected a tall receiver from Mississippi Valley State, Jerry Rice, in the 1985 draft.
TODAY
After spending two years (1994-96) as an assistant coach at George Mason, Nehemiah began a sports management and marketing agency, Athletics Managers, that he is still actively involved with and has represented many of the best athletes in the world.
He counsels them all the same way by drawing upon his own successes and failures over the years.
"I try to empower them about their sport," Nehemiah said. "The important thing in track, and in life, is to not allow one race or one setback define who you are. Just as in real life, success is the accumulation of many small victories."
A native of Bismarck, N.D., Ray is a graduate of North Dakota State University where he began studying athletic training and served as a student trainer for several Bison teams including swimming, wrestling and baseball and was a trainer at the 1979 NCAA national track and field championship meet at the University of Illinois. Ray later worked in the sports information office at NDSU. Following his graduation from NDSU he spent five years in the sports information office at Missouri Western State University and one year in the sports information at Georgia Tech. He has nearly 40 years of writing experience as a sports editor at several newspapers and has received numerous awards for his writing over the years. A noted sports historian, Ray is currently an assistant editor at Amateur Wrestling News.