South Carolina State's Hargrave Heads Up HBCU Honors Squad Again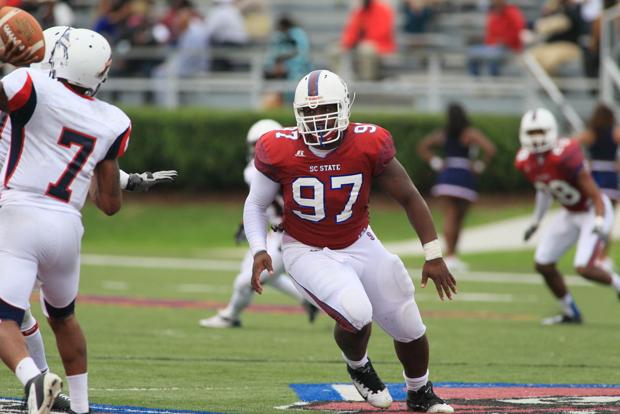 By Donal Ware
Special to College Sports Journal
PHILADLPHIA — The honors keep rolling in for Javon Hargrave.
South Carolina State's star defensive tackle was the choice for the Willie Davis BOXTOROW Defensive Player of the Year Award for the second-straight year.
Grambling quarterback Johnathan Williams was chosen as the BOXTOROW Offensive Player of the Year in a close vote over North Carolina A&T running back Tarik Cohen.
Grambling Tigers head coach Broderick Fobbs was honored as coach of the year, leading the Tigers to the SWAC championship game and a 9-3 record.
North Carolina Central running back Dorrel McClain and Virginia Union running back Hakeem Holland were voted BOXTOROW Co-Rookies of the Year. Southern return specialist Willie Quinn was named special teams player of the year.
Alcorn State quarterback Lenorris Footman was awarded the first-ever BOXTOROW Impact Player Award.
The 6-2, 295-pound Hargrave had another dominate season despite double and triple teams. His 13.5 sacks led the MEAC and are second in FCS. He also registered 22 tackles for loss and 59 tackles (46 solo).
Hargrave was named MEAC Defensive Player of the Year and to the first team STATS All-America Team.
Williams led the SWAC in passing yards (2,910) and total offense (296.8). He leads FCS with 39 touchdown passes and 264 points responsible for.
Williams completed 57 percent of his passes and rushed for 355 yards and four touchdowns.
McClain was named MEAC Rookie of the Year and was second in the MEAC in rushing (958) and rushing yards per game (87.1) while rushing for eight tochdowns. He had five games of 100 or more yards rushing including a
career high 167 against N.C. A&T.
Holland was named CIAA Offensive Rookie of the Year and carried the ball 175 times for 1,040 yards and 10
touchdowns.
Quinn returned four kickoffs for touchdowns and led the SWAC and is sixth in FCS in kickoff return average (28.8). He also returned a punt for a touchdown.
Footman has played for injured starter John Gibbs, Jr. and in the last six games has rushed for 888 yards and 11 touchdowns, while throwing for 741 yards, 10 touchdowns and just two interceptions.
Footman helped lead the Braves to the SWAC championship and a berth in the first-ever SWAC/MEAC championship game, the Celebration Bowl. The Celebration Bowl will feature MEAC tri-champion North Carolina A&T against Alcorn State on Saturday at noon in Orlando, Florida.
OFFENSIVE PLAYERS OF THE YEAR
2015 Johnathan Williams, Grambling State
2014 John Gibbs, Jr., Alcorn State
2013 Dray Joseph, Southern
2012 Kameron Smith, Winston-Salem State
2011 Casey Therriault, Jackson State
2010 Frank Warren, Grambling State
2009 Will Ford, South Carolina State
2008 Will Ford, South Carolina State
2007 Jacary Atkinson, Tuskegee
DEFENSIVE PLAYERS OF THE YEAR
2015 Javon Hargrave, South Carolina State
2014 Javon Hargrave, South Carolina State
2013 Darnell Evans, Shaw
2012 Brandon Thurmond, Arkansas-Pine Bluff
2011 Adrian Hamilton, Prairie View A&M
2010 Kenrick Ellis, Hampton
2009 Christian Anthony, Grambling
2008 Marcellus Speaks, Jackson State
2007 Zach East, Prairie View A&M
COACHES OF THE YEAR
2015 Broderick Fobbs, Grambling State
2014 Jay Hopson, Alcorn State
2013 Rod Reed, Tennessee State
2012 Connell Maynor, Winston-Salem State
2011 Connell Maynor, Winston-Salem State
2010 Brian Jenkins, Bethune-Cookman
2009 Henry Frazier, Prairie View A&M
2008 Rod Broadway, Grambling State
2007 Al Lavan, Delaware State
ROOKIE/NEWCOMER OF THE YEAR
2015 Dorrel McClain, North Carolina Central/Hakeem Holland, Virginia Union
2014 Austin Howard, Southern
2013 Tarik Cohen, North Carolina A&T
2012 Damon Gresham Chisholm, Howard
2011 Greg McGhee, Howard
2010 Casey Therriault, Jackson State
2009 Ari Johnson, Grambling State
2008 Greg Dillon, Grambling State
2007 Frank Warren, Grambling State
SPECIAL TEAMS PLAYER OF THE YEAR
2015 Willie Quinn, Southern
IMPACT AWARD
2015 Lenorris Footman, Alcorn State