SALT LAKE CITY, Utah – While it is often said that home is where the heart is, in the world of college women's gymnastics home is seemingly wherever the University of Utah closes its season.
This year is no different.
For the 45th year in a row Utah finds itself in a position to challenge for a national championship as the Utes prepare for this year's meet. The meet will be held April 16-17 at Dickies Arena in Fort Worth, Texas.
Utah, which won the first five national championships since the NCAA took over control of the sport from the AIAW in 1982, has a total of nine NCAA titles to its credit. The Red Rocks also finished atop the team standings in 1990, 1992 and won back-to-back crowns in 1994-95. Utah won the AIAW title in 1981 and has a total 10 national championship trophies on display.
This will be the 39th national championship meet in NCAA history.
Georgia leads all schools with 10 NCAA national championships. Oklahoma, which has four national titles to its credit, is the defending national champion after winning in 2019 before last year's championship meet was cancelled.
UCLA (7), Alabama (6) and Florida (3) are the only other schools to win an NCAA team championship in women's gymnastics.
Alabama, Florida and Oklahoma will also be a part of this year's field. LSU, Minnesota, Michigan and California round out the eight teams vying for a national championship this season.
The first semifinal round field will consist of California, Florida, Michigan and Minnesota. The other quartet of teams will be Alabama, LSU, Oklahoma and Utah.
The top two teams from each semifinal field will advance to Day Two with hopes of a national championship still in sight.
SALT LAKE REGIONAL HIGHLIGHTS: Utah secured another trip to the national meet by scoring 197.925 points to narrowly claim the regional championship over runner-up LSU. The Tigers, who also advanced to the national meet, finished with 197.750 points. Arizona State and Kentucky finished with identical 197.600s to round out the field.
Utah scored a season-high 49.475 on the uneven bars to begin the competition and finished the first rotation tied with LSU for the team lead.
"From the first athlete that went on bars, we knew that they came here to compete," Utah coach Tom Farden said of his team's performance in the regional meet.
Alani Sabado tied her career-high 9.875 in the event while teammates Maile O'Keefe and Emilie LeBlanc matched their own career-bests with a 9.95 and 9.90, respectively, to spearhead the impressive start for the Red Rocks.
For O'Keefe, who shared the title in the event, it was the first of three 9.95s on the night. She also scored a 9.95 on beam and floor. Her 39.700 was good enough for second place in the all-around.
Kentucky's Raenia Worley won the all-around after scoring a 39.750. Worley also tied for first on bars, beams and floor.
LSU's Haleigh Bryant posted a perfect 10.000 to top the field on the vault while her Tiger teammate Sami Durante was one of six athletes to tie for the top spot on the beam with a 9.95. Josie Angeny (Kentucky) joined her teammate, Worley, atop the podium along with Utah's Cristal Isa, Abby Paulson and O'Keefe also scored 9.95s in the event.
Regional Champions
Bars: Cairo Leonard-Baker, Arizona State; Maile O'Keefe, Utah; Reania Worley, Kentucky (9.950).
Beam: Josie Angeny, Kentucky; Sami Durante, LSU; Cristal Isa, Utah; Maile O'Keefe, Utah; Abby Paulson, Utah; Raenia Worley, Kentucky (9.95)
Floor: Kiya Johnson, LSU; Maile O'Keefe, Utah; Sydney Soloski, Utah; Raenia Worley, Kentucky (9.95).
Vault: Haleigh Bryant, LSU (10.000).
All-Around: Raenia Worley, Kentucky (39.750).
UTAH UTES: Utah is riding a wave of optimism as the Red Rocks prepare for the final weekend of the 2021 season with a national title on the line.
The 197.925, a season-high, posted by Utah at the regional meet was the third best score of the four regional meets. It was also the best score in program history at an NCAA Regional and surpassed the previous best of 197.675 set in 2009.
The Red Rocks also hold a 1-1 mark against other teams in this year's national meet field. Utah lost to Oklahoma in the second meet of the season before getting past LSU in the Regional Final.
Sydney Soloski has recorded 11 consecutive scores of 9.90 or better on floor this season. Maile O'Keefe has notched 9.95 on beam four straight times heading into this weekend's action and has scored a 9.90 or better in 11 of 12 meets on beam on the year. She has hit all 46 of her routines this season and has 27 event titles to her credit in 2021.
The dominance has continued with Abby Paulson and Cristal Isa. Paulson has scored six straight 9.90-plus on beam and has reached that plateau in nine of 12 competitions this season for the Utes. Isa, meanwhile, has a streak of six 9.90 or better on beam.
That quartet of standouts were recently honored as All-Americans by the WCGA and were joined on that conglomeration of stars by teammate Alexia Burch. Cammy Hall and Jaedyn Rucker earned all-conference recognition.
LSU TIGERS: LSU, naturally, has one of the nation's most dynamic gymnasts on its roster. And how Haleigh Bryant goes so go the Tigers.
Bryant was recently voted the Region 1 co-gymnast of the year by the Women's Collegiate Gymnastics Association (WCGA). She shared the honor with Alabama standout Luisa Blanco, who will also be competing in the national championship meet.
Bryant was also honored as the SEC freshman of the year and has proven to be one of the top all-around gymnasts in the nation in her initial collegiate season. She has already scored two perfect 10s on the season in vault competition, including her perfect mark in the regional meet. She has also notched high scores of 9.975 (floor), 9.90 (bars) and 39.625 (all-around) this season for the Tigers. She also earned a share of the vault title at the SEC championship earlier this season
Bryant is the third Tiger to be named the league's freshman of the year.
Kiya Johnson made her postseason debut a memorable one when she scored a perfect 10 of her own at the SEC meet with a brilliant performance the floor exercise. She became the 10th gymnast in conference history to post a 10.0 on floor at the conference meet.
Bryant and Johnson, along with Sami Durante (bars) and Alyona Shchernnikova (vault) all earned WCGA All-America honors at the end of the regular season. Elena Arenas, who claimed the vault title at the conference meet this season, is also expected to be a key factor in LSU's success in Fort Worth.
If LSU has any chance of winning the national title for the first time in school history they can ill-afford to start slow like the Tigers did at the regional meet before rallying in the last two rotations to earn a trip to the national meet.
"We can't put ourselves in those pressure spots and then have to climb out of it," LSU coach Jay Clark said. "I think they all know the pressures of an elimination meet … we gotta be dialed in."
The LSU coach also believes his Tigers, and each of the other seven teams, have a chance to win the team title.
"I do think every team has a shot," he said. "It's all going to come down to handstands and sticking the landings that will make the difference.
"It's all going to be great for television," the Tiger coach added, "but it's bad for your cardiac health if you out there doing it."
Salt Lake City Region Individual Qualifiers: Bailey Bunn, Kentucky (beam), Malia Hargrove, Arizona (floor), Cairo Leonard-Baker, Arizona State (bars), Hannah Scharf, Arizona State (all-around), Raena Worley, Kentucky (vault).
TUSCALOOOSA REGIONAL HIGHLIGHTS: Behind the performances of Anastasia Webb and Olivia Trautman Oklahoma advanced to the NCAA championship meet for the 17th straight season.
And what a performance it was from Trautman.
The talented junior posted a perfect score on vault and Webb captured a pair of individual titles to lead the Sooners to the team title with a 198.175 while Alabama placed second with a 197.575. Arkansas, which continues to establish itself as a rising program, placed third with 196.700 followed by Missouri's 196.550.
It was the 11th consecutive regional championships for the Sooners with coach K.K. Kindler at the helm.
Trautman's vault title gave her the fourth perfect score in her collegiate career and was the third time she posted a 10 on the vault. She also became the first Sooner in history to achieve a perfect score on vault in regional competition.
Webb was the only double winner at the regional meet. She scored a 9.975 as the final Sooner on beam to help her squad take the top team honor on the event. Her score also helped propel her to the top of the all-around with a 39.700.
Regional Champions
Bars: Shania Adama, Alabama (9.975).
Beam: Anastasia Webb, Oklahoma (9.975).
Floor: Luisa Blanco, Alabama (9.950).
Vault: Oliva Trautman, Oklahoma (10.000).
All-Around: Anastasia Webb, Oklahoma (39.700).
OKLAHOMA SOONERS: While Olivia Trautman and Anastasia Webb seem to garner most of the attention given to Oklahoma this season don't make the mistake thinking they are alone in leading the Sooners.
OU just might have the deepest squad in the nation in the country.
Case in point is the 49.750 the Sooners posted as a squad on vault at the regional meet. It was the second highest vault score in the storied history of gymnastics at the school. Evy Schoepfer posted a 9.975 on the event to finish behind her teammate, Webb, who posted a perfect 10 to claim the top spot.
Webb and Schoepfer enter the national meet sharing the No.1 national ranking in the event. Webb has posted two perfect scores in the event this season while Schoepfer has added one 10 of her own.
"Starting on vault and coming out strong and finally getting that perfect 10 it was amazing," Trautman said. "We went straight to bars and nailed bars. We were hitting our casts, hitting our dismounts. The whole bar squad did their job. One beam (Webb) came in and hit a great routine. We nailed floor as the last event and it was a great feeling."
"I think we performed really great," senior Carly Woodard said after the team topped the field at the regional meet. "From top to bottom we were hitting every single event and every single routine."
If Oklahoma can continue "nailing" things the way the Sooners did at the regional meet a fourth national title in five years is within the realm of possibilities.
Karrie Thomas, whose career-matching best of 9.95 on bars at the regional meet helped propel the Sooners to the title, is another veteran who will be counted on heavily this weekend, as will Ragan Smith who posted a 9.925 on bars last time out.
Draper, Schoepfer, Emma LaPinta and Bell Johnson all posted at least 9.9 on floor before Webb closed the event with a 9.925 to help the Sooners nail down the regional title.
"It feels really great knowing we're going back to Fort Worth," Woodard said. "I think this team is really using last year as fuel to take back what we lost last year."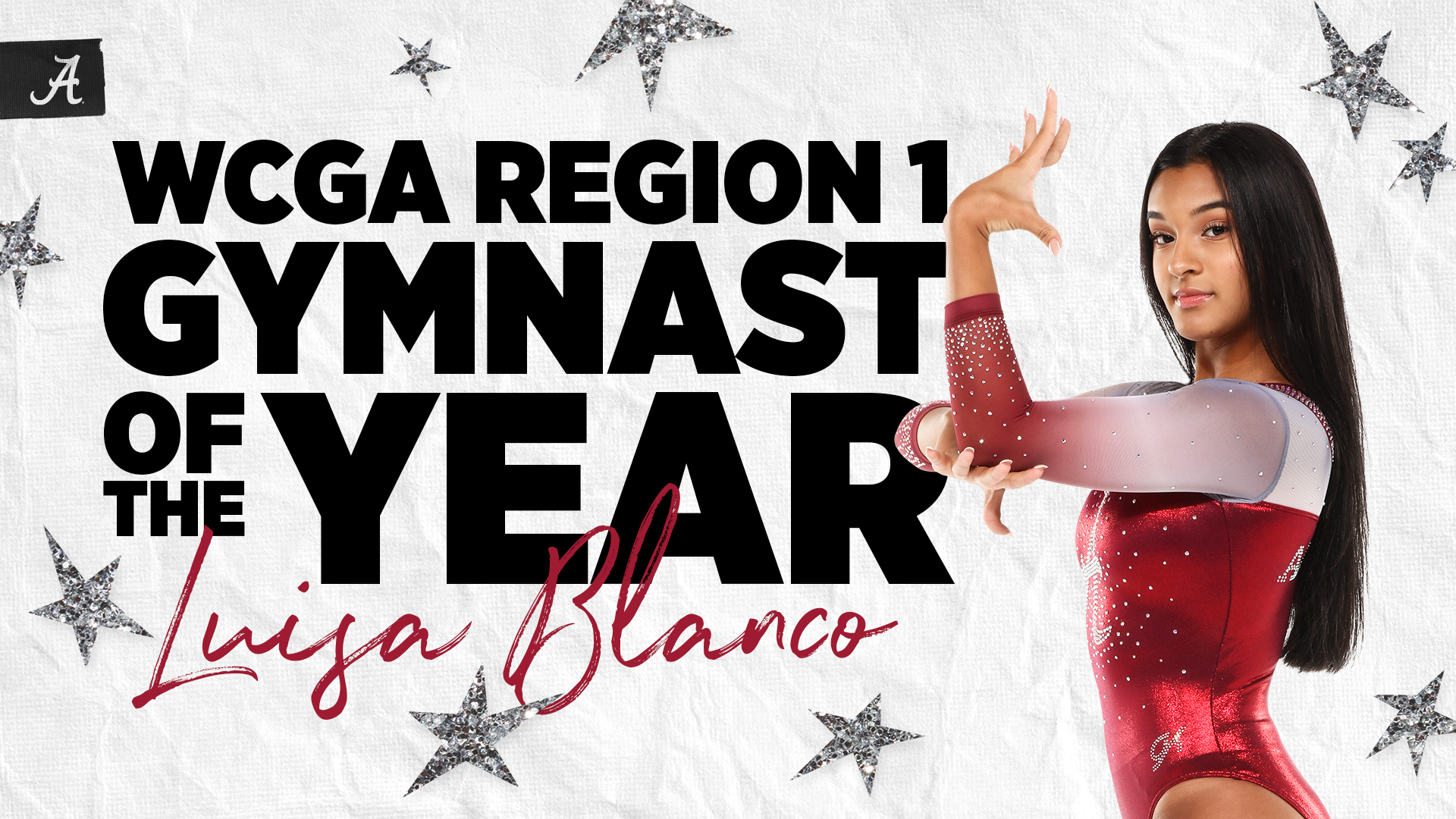 ALABAMA CRIMSON TIDE: As impressive as Utah's string of championship meet appearances is, Alabama's streak is nearly as mind-boggling.
The Crimson Tide will be making its 39th straight appearance at the NCAA meet when things get underway in Fort Worth.
"It's an honor to move on and you never take it for granted," Alabama coach Dana Duckworth said after her team advanced to yet another national meet. "This team has a lot of fight and they're extremely disciplined. This process started back in August and we've had so many moments this season where our ladies have been so mentally tough and gained experience in different environments.
"In the practices to come, we have to be very intentional so that the next time we compete we can continue to get better," the veteran coach added.
Luisa Blanco is the undisputed leader of the Crimson Tide this season. She has won 22 event titles so far this season with more than half of those coming on either beam (7) or all-around (6).
Alabama seems to be peaking at the right time. The 197.575 scored at the regional meet was the third straight score of at least 197.500 this season for the Crimson Tide.
No fewer than three Alabama standouts matched or surpassed their own career-bests at the regional meet.
Shania Adams, who captured the individual title on bars, scored a 9.975 to win the event one night after tallying a 9.950.
Teammate Emily Gaskins also topped her career-best with a 9.925 on floor and tying her previous bests on vault and bars with scores of 9.850 and 9.900, respectively. Her brilliant showing at the regional meet allowed her to set a new career-best with a 39.525 in the all-around.
Griffin James matched her career-high of 9.900 on floor on both days of the regional meet.
Jessie Givens stepped in as an alternate and delivered in a big way for the Crimson Tide in her last outing by scoring a 9.875 on bars.
"I think it's a very crucial position to be an alternate," Givens said. "With the flick of a switch, it can change and you can get put in.
"We talked about competitive greatness this week," she added. "It's about performing your best when your best is need."
She continued with her wisdom by adding: "You never know when the moment's going to come," Givens said. "I just let go and did what I knew how to do."
Tuscaloosa Regional Individual Qualifiers: Kennedy Hambrick, Arkansas (all-around), Angelica Labat, Illinois State (vault), Hannah McCrary, Missouri (floor), Maggie O'Hara, Arkansas (bars), Sydney Schaffer, Missouri (beam).
ATHENS REGIONAL HIGHLIGHTS: Denver's Lynnzee Brown stole the show at the Athens Regional by posting perfect 10s in two events on her way to capturing the all-around title. But in the end it wasn't enough to lift Brown and her Pioneer teammates into the NCAA championship meet.
Florida, despite crowning just one individual champion, won the meet after scoring 197.700 points. The Gators finished .275 points of runner-up Minnesota, which also advanced to the national championship meet. Denver (197.275) and N.C. State (196.150) rounded out the regional field in Athens.
Brown will compete in the national championship as an individual qualifier in the all-around. She won the regional title on bars and floor exercise with a perfect score in both events. She also claimed the title in the all-around at the regional meet with a 39.750.
Brown's teammate, Alexis Vasquez shared the beam title with Florida's Leah Clapper and Minnesota's Lexy Ramler. Mya Hooten (Minnesota) was the regional champion on vault.
Regional Champions
Bars: Lynnzee Brown, Denver (10.000)
Beam: Leah Clapper, Florida; Lexy Ramler, Minnesota & Alexis Vasquez, Denver (9.950)
Floor: Lynnzee Brown, Denver (10.000)
Vault: Mya Hooten, Minnesota (9.950)
All-Around: Lynnzee Brown, Denver (39.750)
FLORIDA GATORS: Utah and Alabama are not the only schools to bring impressive historical credentials into this weekend's national meet.
Florida has its own long tradition of success and this year is no different.
The Gators, winners of three previous team titles, is making its 37th appearance in the national championship meet.
They also come in as the top-ranked team in the nation.
And with good reason.
Florida has posted a top-five national qualifying score in each of the four events. The Gators are currently tied for first with an overall score of 197.944 and are No. 1 on beam (49.656) and floor (49.544). The are fourth on vault (49.488) and fifth on bars with a 49.475.
Florida had seven athletes combine for 13 WCGA All-America regular-season accolades.
Trinity Thomas is the only gymnast in the nation to earn All-America honors in all five areas. Two Gator seniors, Alyssa Baumann (beam, floor) and Megan Skaggs (all-around, bars), both earned multiple All-America awards recently.
Leah Clapper (beam), Ellie Lazzari (beam), Nya Reed (floor) and Savannah Schoenherr (vault) were also recognized the by the WCGA.
MINNESOTA GOLDEN GOPHERS: Minnesota has long been among the nation's programs each year for as long as most gymnastics fans can remember.
Coach Jen Hansen, who now leads the Minnesota program, was among the best to wear the Minnesota colors during her collegiate career (2000-03) before returning to lead the program.
She knows what's at stake and is optimistic as the Gophers and the rest of the field prepare to compete in Fort Worth.
"We're very prepared," said Hansen, who is now in her seventh year at her alma mater. "We felt we were on track to get to nationals last year before our season was shut down."
Now the Gophers get a chance to showcase their talent … and their depth.
"This is by far the most depth we've ever had," the Minnesota coach said. "We have 17 athletes who have competed at some point this season and everyone has a role."
Senior Lexy Ramler fills a key role as the undisputed leader of Hansen's squad this season.
"(Ramler) is arguably the greatest gymnast in program history," Hansen said as the Gophers continued to prepare for the national championship.
And Hansen may not be overstating Ramler's impact during her career in Gold Country.
Ramler recently earned the Big Ten's gymnast of the year honor for the third time her brilliant career. She has scored a 10.000 three times this season, including twice on the balance beam. One of those perfect scores came in a meet against Illinois which allowed Ramler to become the first Gopher to ever record a perfect score in the event at home in Maturi Pavilion.
Ramler also recorded a 10.000 on the vault during the 2021 season.
"Her work ethic has elevated all of us," Ona Loper, another senior standout at Minnesota, said of her teammate.
Loper is expected to make a serious bid for high honors at the national meet, especially on vault where she has recorded a 10.000 twice in her career at Minnesota.
"(Ramler) is the only one on our team with national experience," Hansen said, "but we all have to simply keep doing what we have been doing.
Athens Regional Individual Qualifiers: Lynzee Brown, Denver (all-around). Madi Dagen, Oregon State (vault). Hannah Demers, Central Michigan (bars). Emily Shepard, N.C. State (floor) and Morgan Tong, Central Michigan (beam).
MORGANTOWN REGIONAL HIGHLIGHTS
MORGANTOWN, W.V. – Michigan won with 198.100 and finished ahead of California which tallied 197.750 to also advance to Fort Worth. UCLA and Ohio State also competed in the regional. The Bruins scored a 197.275 to place third in the team standings while the Buckeyes posted a 195.625.
Michigan swept all four event titles with Sierra Brooks leading the way. The talented sophomore claimed the title on beam with a 9.950 and finished tied with teammate Naomi Morrison vault with identical 9.950s. That was enough to lift Brooks to the all-around title at the regional meet.
Gabby Wilson earned a regional title of her own when she tied with Cal's Kyana George for the top spot on floor exercise. Both Wilson and George posted 9.950s.
Event Champions
Bars: Natalie Wojcik, Michigan (9.975)
Beam: Sierra Brooks, Michigan (9.950)
Floor: Kyana George, California & Gabby Wilson, Michigan (9.950)
Vault: Sierra Brooks, Michigan & Naomi Morrison, Michigan (9.950)
All-Around: Sierra Brooks, Michigan (39.750)
MICHIGAN WOLVERINES: It was a weekend like no other for No. 4-ranked Michigan as the Wolverines captured their 13th regional title in school history and setting new school marks along the way at the WVU Coliseum.
The 198.100 scored by the Wolverines tied a program-best score and was the third time this season the Wolverines scored at least 198.000.
Michigan had eclipsed surpassed 198.000 by posting 198.025 in winning a quadrangular meet on March 7 at Ohio State. The host Buckeyes finished second on the day with a 196.000 while Penn State (195.250) and Rutgers (194.800) also finished behind the Wolverines.
The new program mark set in Columbus lasted all of five days.
Michigan surpassed the new program record by scoring a 198.100 in a dual victory over Maryland on March 12 in College Park.
The team total was not the only new school mark established by the Wolverines in Morgantown. Michigan also set a new school-best 49.725 on bars en route to capturing the regional crown.
All five of Michigan's scorers in bars tied or bettered their career-highs in Morgantown to help propel the Wolverines. The 49.725 beat the previous school record of 49.675 set at the regional meet in 2016.
"We are very excited about our postseason so far," longtime Michigan coach Bev Plocki said. "I am incredibly proud of the dedication and commitment each of our athletes have shown to stay the course in a very challenging and uncertain season."
While Brooks and Natalie Wojcik have gained much of the attention for the Wolverines this season the Michigan mentor cautions not to overlook the contributions already made by Abby Heiskell, who tied for second on bars at the regional meet by matching her previous career-best with a 9.950. Wojcik won the event by tying her own career-best of 9.975, while Brooks and Gabby Wilson also posted 9.950s.
"She has continued to make huge strides all season
CALIFORNIA GOLDEN BEARS: There simply was no denying California in its bid to advance to NCAA national championship meet for the in school history.
One day after scoring a in the opening round of the Morgantown Regional Cal came back even stronger and posted a 197.750.
"We are feeling good about our chances as we prepare for the opportunities that are ahead of us," Cal co-coach Liz Howell. "We've had a lot of different contributors throughout the season and have as much of a complete team as we've had in some time."
Complete team? Perhaps.
Steady? Undoubtedly.
Nevaeh DeSouza, a sophomore, continued her spectacular season to help the Golden Bears advance to the national championship meet. DeSouza matched her career-high with a 39.600 in the all-around to . It was the third time this season she has reached that point total.
The talented DeSouza scored a personal-best 9.925 on beam to place second in that event and added 9.90s on bars and vault to aid in her scoring output at the regional meet. She also tallied 9.90 9.875 on floor exercise to give her a second-place finish in a second event.
Andi Li, a freshman, continued her impressive rookie season by placing third in the all-around with a 39.575 to tie her previous top score. Her 9.90 on vault was another career high.
Cal started the final day of the regional tournament in the strongest of fashion. The Bears scored a 49.425 on bars, their best event all season, to set the tone for the rest of the afternoon.
Emi Watterson, the final Cal athlete to compete on bars, posted a 9.95 to finish second in the event. DeSouza and Li posted 9.90s to help the balanced effort.
The point total on bars was the seventh-best scoring output in school history.
And the Cal record book continued to be reworked as the day progressed. By the time all was said and done the Bears scored 49.450 on beam, 49.500 on floor and 49.375 on vault.
The beam score tied for third-best in school history, while the floor exercise is now the fourth-best mark at the school, as was the vault score.
All six Cal vaulters scored at least a 9.850 to showcase the team's incredible balance.
"Our freshmen and sophomores are handling this pressure for the first time in this environment," co-coach Elisabeth Crandall-Howell said. "It speaks volumes to how prepared they are and how much they trust each other.
"Because when you trust your teammates, it takes off of you," Crandall-Howell added. "The weight of the work for everyone is less when everyone is doing their job and I think that's true emotionally as well/"
Morgantown Regional Individual Qualifiers: Chae Campbell, UCLA (all-around), Nia Dennis, UCLA (vault), Margzetta Frazier, UCLA (bars), Hannah Hoyner, Rutgers (beam), Abbey Miner Alder, BYU (floor).
A native of Bismarck, N.D., Ray is a graduate of North Dakota State University where he began studying athletic training and served as a student trainer for several Bison teams including swimming, wrestling and baseball and was a trainer at the 1979 NCAA national track and field championship meet at the University of Illinois. Ray later worked in the sports information office at NDSU. Following his graduation from NDSU he spent five years in the sports information office at Missouri Western State University and one year in the sports information at Georgia Tech. He has nearly 40 years of writing experience as a sports editor at several newspapers and has received numerous awards for his writing over the years. A noted sports historian, Ray is currently an assistant editor at Amateur Wrestling News.