Six players including Chris Reynolds from Charlotte, Tra Barnett from Georgia State, LeVante Bellamy from Western Michigan, Xazavian Valladay from Wyoming, Joey Banks from Buffalo, and Justn Rohrwasser from Marshall have been selected as the College Sports Journal All-Stars for the week ending Oct. 28th, 2019 from the NCAA Division I FBS Group of Five schools.
The honorees are listed here with their achievements and their school, position, class, and hometown.
Chris Reynolds, QB, Charlotte, Mocksville, N.C.
Reynolds set a new Charlotte school record for total offense, threw for the program's most yards against an FBS opponent, had three touchdown passes of over 30 yards, ran for a 29-yard score and engineered a dramatic fourth-quarter comeback in the 49ers' 39-38 victory over North Texas. His 34-yard TD pass to Victor Tucker in the end zone with 18 seconds capped a comeback that saw Charlotte rally from a 14-point fourth quarter deficit. Reynolds finished the day with a school-record 432 yards of total offense with career-bests of 336 passing and 96 rushing. His career-high 336 passing yards are the most by a 49er against an FBS opponent. He is just the second Charlotte player to pass for over 300 yards in a game. His 52-yard TD pass to Tyler Ringwood to start the second half is the 49ers longest of the season. Trailing 35-21 in the 4th quarter, Reynolds engineered three fourth-quarter TD drives and threw TD passes of 31 and 34 yards, including the game-winner in the final 20 seconds.
Tra Barnett, RB, Georgia State, Sr., Elberton, Ga.
Barnett, rushed for 242 yards and two touchdowns and broke Georgia State's single-game, season and career rushing records to lead the Panthers to bowl eligibility with their fourth straight victory, 52-33 over Troy. He became Georgia State's career rushing leader with 1,631 yards, and he took sole possession of the GSU career record with 15 career rushing touchdowns. With 928 yards on the year, Barnett also broke the Georgia State single-season record. Barnett's 242 yards shattered the GSU single-game mark of 201 yards, breaking the record with a 41-yard touchdown run on 4th-and-1 with one minute to play to seal the victory. His outburst helped the Panthers rush for a team-record 390 yards against a Troy defense that entered the game ranked No. 11 in the nation in rushing defense, allowing just 93.3 yards per game. Barnett has topped the 100-yard mark in a GSU-record four straight games and now has a season-record five 100-yard games in 2019 and six in his career, which equals the GSU career mark. He now leads the Sun Belt and ranks ninth in FBS at 116.0 rushing yards per game.
LeVante Bellamy, RB, Western Michigan, Sr., Indianapolis, Ind.
Western Michigan senior running back LeVante Bellamy (Indianapolis, Ind.) rushed for a career-high four touchdowns and 178 yards rushing in a 49-10 win over Bowling Green. Bellamy became the first Bronco with four rushing touchdowns since Jamauri Bogan vs. Bowling Green on Oct. 13, 2018. Bellamy rushed for nine-yard, 36-yard, 75-yard and 18-yard touchdowns. He has scored two or more touchdowns in five of nine games this year, including each of the last three contests. Bellamy has 15 career 100-yard rushing games, including six this season. His 178 yards are the second most in a game in his career, trailing only 213 against Ball State on November 13, 2018.
Xazavian Valladay, RB, Wyoming, So., Matteson, Ill.
Valladay led Wyoming to a 31-3 victory over Mountain West foe Nevada. He racked up 280 all-purpose yards, a career high and the most by a Mountain West player this season. The 280 all-purpose yards are the most by a Cowboy since Brian Hill recorded 302 yards vs. Nevada on Oct. 22, 2016. He rushed the ball 26 times for a career-best 206 yards, registering just the second 200-yard rushing performance in the Conference this season. He also caught two passes for 74 yards, including a 53-yard touchdown on Wyoming's first play from scrimmage.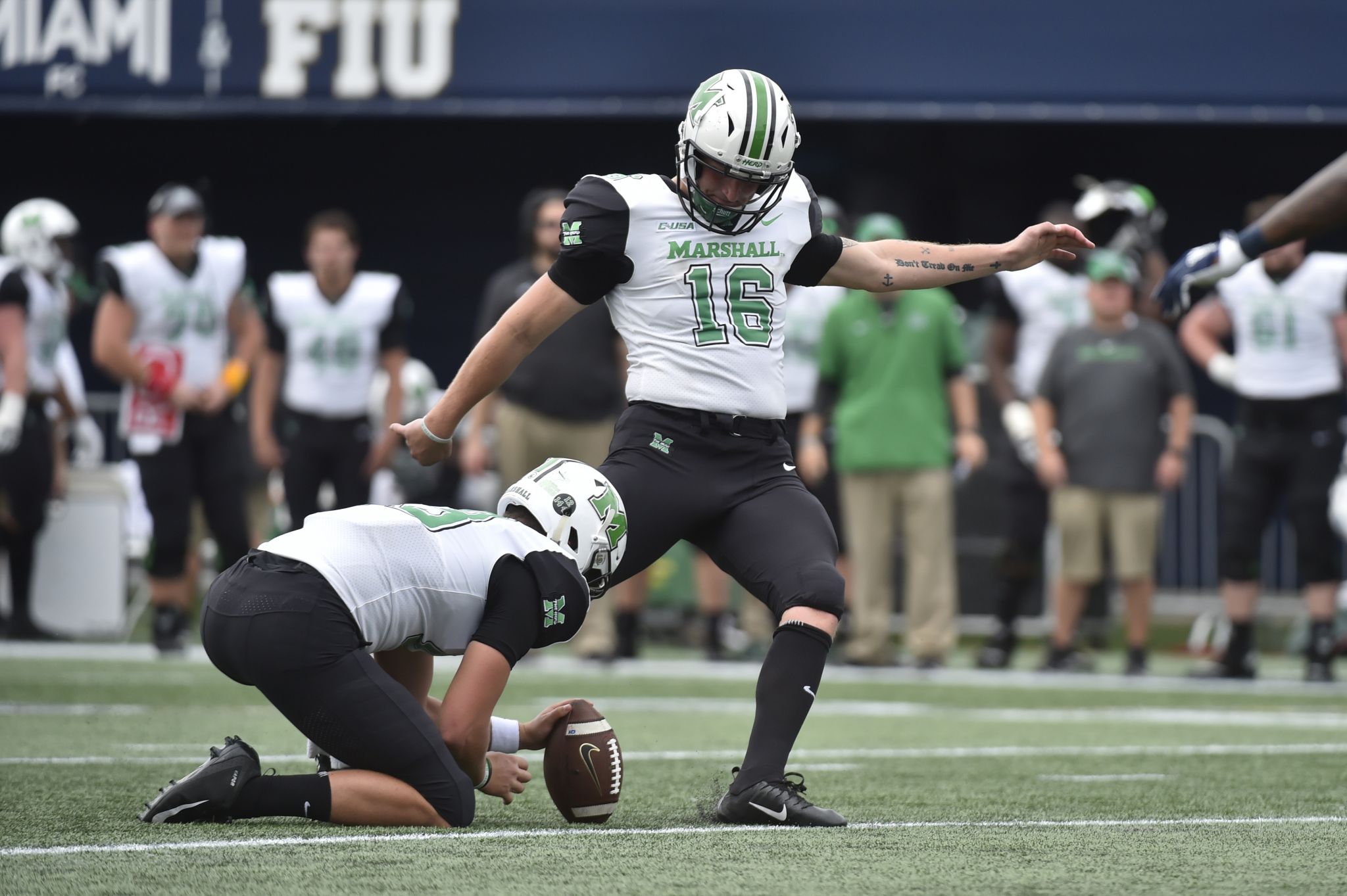 Joey Banks, S, Buffalo, Sr., Sacramento, Calif.
Buffalo senior safety Joey Banks (Sacramento, Calif.) had a game-high 10 tackles, one forced fumble and an interception to lead Buffalo to a 43-20 win over Central Michigan on Saturday. Banks forced a fumble early in the second quarter that teammate Kadofi Wright recovered at the Central Michigan 15-yard line. The Bulls cashed in one play later to take a 17-7 lead. In the fourth quarter, Banks notched his second interception of the season. The Bulls were able to convert that interception into a field goal. Nine of Banks' 10 tackles in the game were solo stops.
Justin Rohrwasser, PK, Marshall, Sr. Clifton Park, N.Y.
Rohrwasser had a huge day for the Thundering Herd, booting four field goals, including a game-winning, career-long 53-yarder as time expired to lift Marshall to a 26-23 win over WKU. During the game, he connected on a (then-) career-long 46 yarder in the second quarter, followed by kicks from 31 and 43 yards prior to the game-winner. He also made two extra points for a 14-point day. His 53-yard field goal is tied for the fourth-longest made kick in school history, and tied for the third-longest made kick in Joan C. Edwards Stadium history. The 53-yarder is the longest in 217 games at Marshall, since Curtis Head made a kick of the same distance against Buffalo in 2002. Rohrwasser tied a school record with those four field goals.
Originally from LaMoure, North Dakota, Kent is a 1996 graduate of North Dakota State University. His prior writing experience is over 15 years having previously worked with D2football.com, I-AA.org, and College Sporting News before coming to College Sports Journal in 2016. His main focus is college football is the Missouri Valley Football Conference within the Division I FCS. And in 2017, he began also to look at the FBS Group of Five conferences of the American Athletic, Conference USA, Mid-American, Mountain West, and Sun Belt.
Reach him at this email or click below: