2018 College Football Team Previews: Wake Forest Demon Deacons
Wake Forest Demon Deacons
Location: Winston-Salem, NC
Coach: Dave Clawson (21-29) 5th Season at Wake Forest
Stadium: BB&T Field at Groves Stadium (Capacity 31,500)
CSJ Projections
8th ACC (6th Atlantic Division)
1st: Massachusetts
35th: FBS
36th: Division I
2017 In a Sentence: Wake Forest had a fairly successful season in 2017, going 4-4 in ACC play and 8-5 overall. The Demon Deacons concluded their season with a 55-52 shootout victory over Texas A&M in the Belk Bowl.
Biggest Shoes to Fill: The Demon Deacons rolled up 465 yards of total offense per game in 2017 led by QB John Wolford at the under center. Wolford threw for 3192 yards with 26 touchdowns and only 6 interceptions. He also added 683 yards rushing with another 10 touchdowns. The Demon Deacons will rely on freshman QB Sam Hartman to fill the huge void that Wolford leaves in the offense.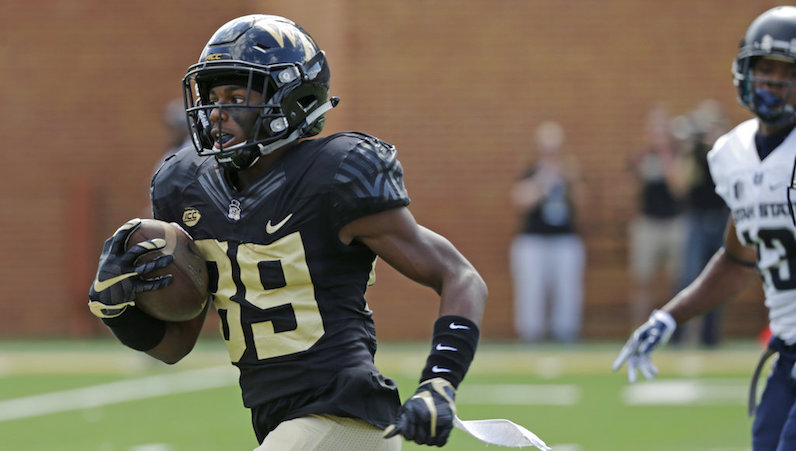 Key Player: For Hartman to have success he will need to lean on diminutive WR Greg Dortch. The 5'9" 170lb rising sophomore receiver led Wake Forest with 53 catches for 722 yards with 9 touchdowns in 2017. Dortch was also the team's primary punt and kick returner so his impact is felt throughout the game. With a natural progression Dortch could be in line for 70 catches and over 1000 yards.
Fearless Prediction: Wake Forest should again have a solid offense that is able to put points on the board. Whether they can make a jump in the ACC will depend on if the defense can keep points off the board. This feels like another quiet .500 ACC season with a successful nonconference record and another nice bowl appearance in late December.
Jamie is a proud 2002 graduate of James Madison University. He's witnessed the growth of the program from no one in the stands in 1998, to the hiring of Mickey Matthews, to the 2004 National Championship, to the 2008 team, to the struggles in the early 2010s, and finally the rebuild under Mike Houston. He also allegedly really enjoys Washington, DC-based Stanley Cup winners.
Reach him at: