Kennesaw State snuck past Wofford with solid team effort, but Weber State is no team to sneak around. The Wildcats had a week to rest and practice while the Owls dealt with Wofford. The Big Sky Conference's automatic qualifier is battle-tested and ready for a big matchup. Weber State has only lost to FBS Nevada and San Diego State both by six points and 6th Seed Montana during the whole season. Along the way, they beat Northern Iowa and North Dakota who made the playoffs and 4th Seed Sacramento State. While Kennesaw State did reach ten wins during the regular season, two of those were against NAIA opponents. To the Owls credit, they did take FBS Kent State to overtime early in the season.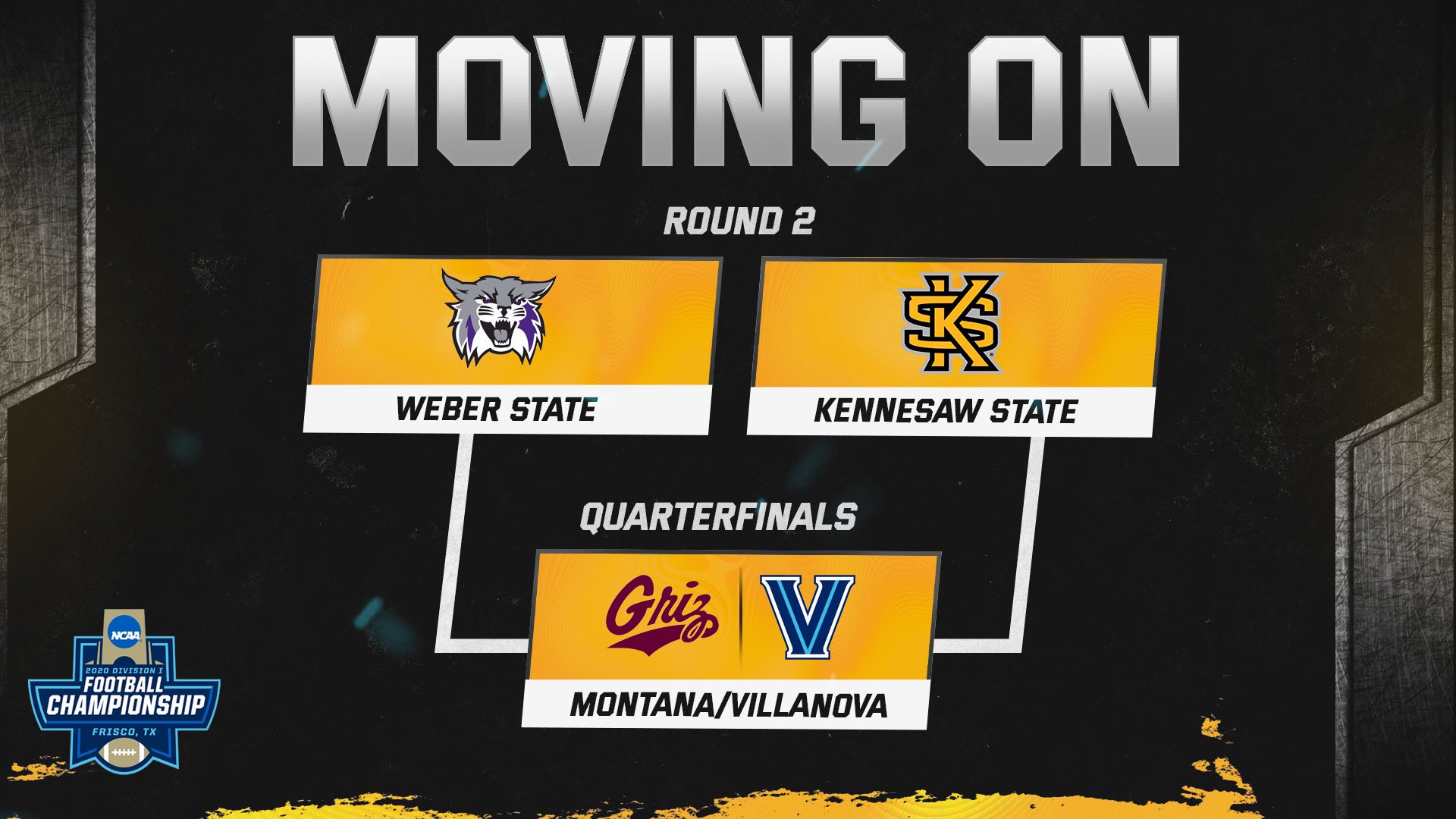 Kennesaw State 11-2 (5-1 Big South)
Kennesaw State comes to the playoffs as the at-large team from the Big South. Monmouth beat Kennesaw State earlier in the year to take over the first position, but Kennesaw State holds first place in the majority of the Big South Conference statistics. The rushing attack of the triple option gives many teams headaches as it can be fatal if executed correctly. Kennesaw State's quarterbacks Tommy Bryant and Daniel David rank 9th and 16th in rushing touchdowns on the year in the FCS. Their running back Bronson Rechsteiner also ranks within the top 50 of the FCS in rushing yards with 870 yards. Collectively, the Owls are the best rushing offense in the entire FCS with 4,000+ yards and 57 touchdowns. Kennesaw State has earned every yard this season diligently and genuinely, but there was some criticism that the Owls played "nobody". While the Owls played their conference schedule like everyone else did and took Kent State to overtime, it is hard to ignore that these stats are a bit padded with two NAIA wins. Due to those two games, the Owls strength of schedule looks rough on paper for this year as Sagarin Ratings has their schedule at 228th toughest. This team should not be overlooked and is getting unfair criticism of not deserving a playoff spot, but an asterisk next to their stats would not be out-of-bounds since NAIA wins are predominantly blowouts.
Key Player: Bryson Armstrong, LB. Why did you put a defensive player as the key player for the best rushing offense in the FCS? Simple answer, Kennesaw's run game is scheme based rather than player based so it is meant to work no matter who is in at that position. It does typically work better when your star players are in at the same time, but this plug-and-play type offense accounts for injuries, fatigue, and to gain a guaranteed or expected amount of yards till they are stopped. This is great for scoring points, but Kennesaw will need to not only score points. Kennesaw needs someone or preferably the whole defense to throw a wrench in Weber's plan long enough to get and defend a lead. Armstrong seems like the most likely candidate to get that disruption started as his stat line is notable. This year Armstrong has 85 tackles, 11.5 tackles for a loss, 3.5 sacks, an interception, two forced fumbles, and a blocked kick. No doubt this guy is flying around the field and will do all he can to keep his team in the playoffs. If Weber wants to win avoiding Armstrong will be a smart thing to do.
Weber State 9-3 (7-1 Big Sky)
Weber State is a battle-tested team that sat at #4 in the FCS for the majority of the season. One of the few constants in the FCS Top 25 outside of NDSU and JMU holding an iron #1 and #2 spots. The Big Sky is one of the toughest conferences to succeed in and top, but the Wildcats have done it despite quarterback issues, less potent offense, and lack of special teams spark. Whether Jake Constantine or Kaden Jenks were in at quarterback the defense or running backs always saved the day. Weber State would be the full package if Jake Constantine could do better than 11 touchdowns to 9 interceptions. Weber State has talented receivers, but often end up being better walls than players as they get put in blocking assignments too often or Constantine cannot deliver accurately thrown balls. Josh Davis has become a household name at Weber State as he continually bails out the offense with his electric moves and determined running. Josh Davis is 26th in the FCS in rushing yards and tied with teammate Kris Jackson at 38th in the FCS with 10 rushing touchdowns this year. Weber's defense has also been a saving grace to them as they have escaped some close games thanks to having the 26th best defense in the FCS.
Key Player: Josh Davis, RB. The whole running back community should be honored in this spotlight, but Davis is their fearless leader who jump-cut his way to 1,018 yards rushing, 10 touchdowns, and 123 receiving yards. The Big Sky knows just how crafty and never give up in style Davis is and Kennesaw will get a taste this Saturday. There are many exciting runners in the FCS, but Davis is just as dangerous as any of them with his quick feet, stutter step, and lightning jump-cuts. Kris Jackson has been a notable teammate of Davis as Jackson has fewer yards, but even touchdowns with Davis. Jackson is a much bigger back which has quickly become the goal line wrecking ball with an athletic, but a thick frame of 5'10" and 235 lbs. This duo will be a must-have when Constantine gets frustrated or time of possession come into play. Weber also has a fantastic defense that limited many Big Sky teams throughout the season, but I chose not to include them as the spotlight since it has been a true team effort on their part to earn that 26th best position for total defense.
Fearless Prediction
The only hesitation I give this game is whether or not Weber will be cooperative and successful on offense. A few slow starts or early mistakes forced the Wildcats to pull off big second halves this season. Kennesaw on paper should be a scary team, but due to my reasoning above on why their stats deserve an asterisk I think Weber will be able to handle them. Paper tigers can still be dangerous when overlooked. If Weber takes Kennesaw as seriously as they should the game will be close in the first half and pull apart in the Wildcats favor in the end. I see Josh Davis being the offensive MVP as he will carry the team on his back as Jake Constantine rises above mediocrity, but not far from it unless he finds big mismatches and Rashid Shaheed deep in the endzone. Kennesaw may seem like a bully early on with beginner's success, but Adam Rodriguez and other seasoned defensive players will find the holes in the scheme soon enough to save the Wildcats scoreboard. This is not Weber's first rodeo with a triple-option team and will not be caught off guard. A battle will happen in Ogden, Utah but Weber State will undoubtedly emerge victoriously.
Weber State 41. Kennesaw State 27
My name is Ben Schleiger and I'm your representative for the Big Sky Conference. I have done work for multiple newspapers and sports blogs including The Johnstown Breeze, The University of Northern Colorado Mirror, and Mile High Maniac. I am a proud alumnus of the University of Northern Colorado with a degree in Psychology and a minor in Political Science. In my free time, I like watching sports, playing video games, and trying new foods.