Austin Peay (10-3) at Sacramento State (9-3)
When: 6 p.m. PST
Where: Sacramento, Calif.
Site: Hornet Stadium
How to Watch: ESPN3
Austin Peay and Sacramento State are both in a position that few pundits imagined at the start of the season: in the second round of the FCS national playoffs. The stakes only get higher for the winner of Saturday's game. Whichever team comes out on the short end has plenty to work with as they head into an offseason full of optimism.
Both teams average more than 429 yards per game on offense, so figure some points to be put on the scoreboard in the Capital City.
Austin Peay Governors
Austin Peay entered the season with a new coach. The "experts" tabbed the Govs to finish fourth in the Ohio Valley Conference.
"What," you say?
All AP did was win the final six games of the regular season to claim the OVC title for the first time since 1977 and advance to the playoffs for the first time ever. The Govs' impressive win last week over Furman gives them plenty of impetus for Round 2.
Key players: JaVaughn Craig continues to carry the Governors from his QB position. The 6-2, 210-pound senior has completed 180 of 318 pass attempts for 2,567 yards and 22 touchdowns for the Govs this season. He has also rushed for 547 yards on 105 yards (5.2 ypc) and eight scores the rank No. 2 on the team in rushing yards.
The leader in that department for Austin Peay is Kentel Williams (6-0, 190), who has carried 145 times for 773 yards (5.3 ypc) and has scored nine touchdowns for the Governors. Ahmann Tanner (6-0, 200) and Prince Momodu (6-0, 204) have combined for 735 additional yards on the ground to provide some depth at the position. Tanner has 403 yards on 107 carries (3.8 ypc) and Momodu has added 332 yards on 70 carries (4.7 ypc). Tanner has scored five touchdowns on the season and Momodu has chipped in with four of his own.
AP also has a pair of quality receivers in speedy DeAngelo Wilson (5-8, 165) and Baniko Harley (6-1, 181), who have been among the top pass catchers in the Ohio Valley Conference all season. Wiilson paces that duo with 1,246 yards on 68 receptions and 12 touchdowns, while Harley has caught 43 passes for 782 yards and six touchdowns.
The Governors have an active defensive unit that figures to give the Hornets fits in this week's contest. Jack McDonald (6-0, 210) leads the way from his linebacker position with 94 (47 solo) tackles, while teammate Juantarius Bryant (5-10, 203) has added 89 (52 solo) stops of his own from his defensive backfield position. Pat Walker (5-10, 210), a linebacker, has also posted 80 (34 solo) tackles this season for the Governors.
Two players who have somehow gone under the radar for most of this season on defensive linemen Josephus Smith (5-9, 825) and Shaun Whittinghill (6-3, 255) who have combined for 29.5 tackles for loss. Smith leads that tandem with 19.5 TFLs.
The Govs allow just 86.5 yards per game on the ground and 213.1 yards per contest through the air. If they post similar numbers this weekend, there is no reason to think the Govs will not advance to the next round.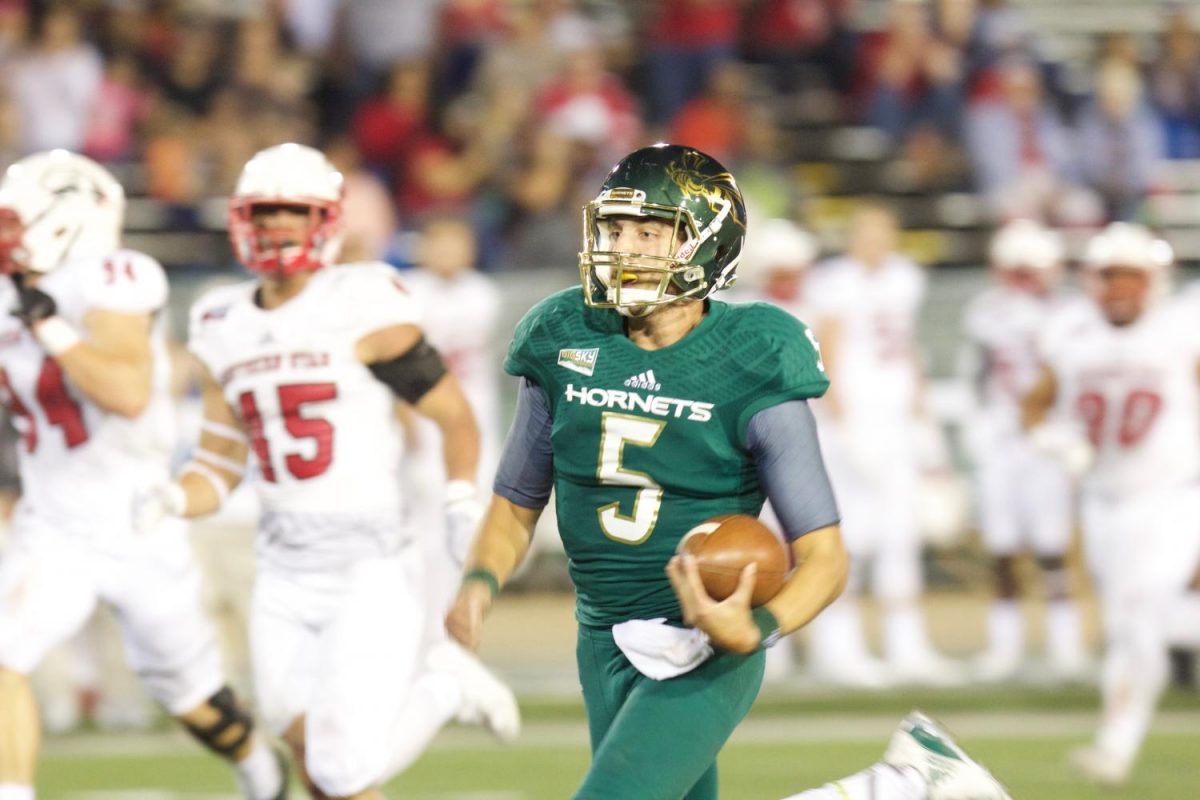 Sacramento State Hornets
The similarities between the Hornets and visiting Governors in almost uncanny.
Like AP, Sac State seemed to be given little chance to be playing at this time of the year after starting the year with a new coach, and a coach who was in his first year at the helm of a collegiate program.
But, like the Govs, the Hornets responded in a big way under new coach Troy Taylor, a former assistant at Eastern Washington (2016) and Utah (2017-18) after a long career as a high school coach.
Key players: The term "quarterback" has long been associated with more than football. It has been applied to virtually every other sport when talking about its leaders, perhaps underscoring just how critical the position is. Lucky for the Hornets they have a player who has proven he can hurt the opposition with his legs and his arm.
Kevin Thomson (6-2, 200), has combined for more than 3,600 yards of total offense this season for Sacramento State. The junior transfer from UNLV, has completed 63 percent (244-397) passes for 2,910 yards and 25 touchdowns and has been intercepted just eight times in the 11 games he has played. He has also rushed 114 times for 532 yards and 10 additional scores for the Hornets.
Elijah Dotson (6-0, 185) is the leader in the backfield for the Hornets. He has gained 738 yards on 150 carries (4.9 ypc) and scored seven times while appearing in all 12 games for Sac State. The rushing production falls off noticeably after Dotson and Thomson.
Pierre Williams and Marshal Martin provide Thomson with a pair of passing targets that can make things happen in the open field. Williams (6-1, 210) has caught 54 passes for 931 yards and seven touchdowns from his wide receiver position this season, while Martin (6-2, 210) has been on the receiving end of 36 passes from Thomson for 514 yards and seven TDs of his own. Martin is a tight end.
The Sacramento State defense is paced by linebacker Marcus Hawkins (5-11, 225) and Marcus Bruce (5-9, 180), a defensive back. Hawkins leads the team in tackles with 72 (39 solo), while Bruce has chipped in with 64 (36 solo) stops of his own. Both have 3.5 sacks to their credit this season.
Prediction: Both teams are proficient at racking up yards when they have the ball. Austin Peay, however, has allowed nearly 200 fewer yards on defense than the Hornets. That's a mighty big gap that wipes away whatever home-field advantage Sacramento State would harbor. Austin Peay 35, Sacramento State 24
A native of Bismarck, N.D., Ray is a graduate of North Dakota State University where he began studying athletic training and served as a student trainer for several Bison teams including swimming, wrestling and baseball and was a trainer at the 1979 NCAA national track and field championship meet at the University of Illinois. Ray later worked in the sports information office at NDSU. Following his graduation from NDSU he spent five years in the sports information office at Missouri Western State University and one year in the sports information at Georgia Tech. He has nearly 40 years of writing experience as a sports editor at several newspapers and has received numerous awards for his writing over the years. A noted sports historian, Ray is currently an assistant editor at Amateur Wrestling News.