CSJ's Predicted Order of Finish
East Division
1. Appalachian State * Overall Champion
2. Georgia Southern
3. Georgia State
4. Troy
5. Coastal Carolina
West Division
1. Louisiana
2. Arkansas State
3. Louisiana-Monroe
4. South Alabama
5. Texas State
2019 Bowl Results
Record: 3-2
Two years ago, the 10-team Sun Belt Conference broke into two divisions. And in each of these prior two seasons the same two divisional winners have emerged in Appalachian State in the East Division and Louisiana in the West Division.
This year looks to be more of the same with those two schools favored again to win their respective divisions.
The Sun Belt has often been considered the lowest ranked conference in all of FBS but with the play of App State and Louisiana, as well as the rest of the conference, this can not be said any longer. Right now, the Sun Belt looks to be better overall than C-USA and the MAC.
The 2019 season was particularly impressive in Sun Belt with Power Five wins in for contests; Appalachian State beat both North Carolina and South Carolina, Georgia State beat Tennessee and Coastal Carolina beat Kansas.
As this shows, the strength of the conference looks to be in the East Division as all of those wins were from schools in that division.
But this year, the West Division does have a chance with Louisiana playing at the Big 12's Iowa State and Arkansas State playing another Big 12 team in Kansas State. Texas State also has the ACC's Boston College.
The East Division also has a chance to get Power Five wins with Coastal Carolina playing at another Big 12 squad in Kansas. COVID 19 cost Appalachian State its chance at a P5 win this year and will play two C-USA squads in Charlotte and Marshall, along with an FCS school in Campbell.
This year with the Big 10 and Pac 12 sidelined this fall due to COVID 19, a Group of Five team might have a change at the College Football Playoff but how this lands for the Sun Belt will likely be how good these squads do in these P5 games. Also, it is likely that the G5 team will have to finish undefeated for a final four spot.
The two front runners of App State and Louisiana will face some tough in-conference foes on their way this year. Arkansas State and Georgia Southern appear to be the next best teams in the league in each respective division and very well could derail these two squads bid for a three-peat as divisional champions.
Top Conference Games of 2020
The top four teams I have selected will not all play each other this year. Arkansas State avoids Georgia Southern, but all other squads will play the others this year. Here are these scheduled games:
Sept. 26—Georgia Southern at Louisiana
Oct. 7—Louisiana at Appalachian State
Oct. 14—Appalachian State at Georgia Southern
Oct. 22—Arkansas State at Appalachian State
Nov. 5—Arkansas State at Louisiana
East Division
5. Coastal Carolina Chanticleers
Head coach: Jamey Chadwell (8-16, third year)
Offensive Coordinator: Newland Issac and Willy Korn
Defensive Coordinator: Chad Staggs
Stadium: Brooks Stadium (20,000)
Location: Conway, SC
2019 Record: 5-7 (2-6)
Five best returning players: RG Trey Carter, RB CJ Marable, DE Tarron Jackson, TE Isaiah Likely, SS Alex Spillum
Jamey Chadwell officially took over for Joe Moglia as Coastal Carolina's head coach a year ago, having already spent a season as interim head men in 2017, while Mogilia was out on medical leave. Moglia returned in 2018 but he gave the job up full time for Chadwell last year. The Chants beat Big 12 Kansas on the way to a 3-1 start and all looked well to getting Coastal' s first bowl bid.
It was not to be as the Chants were snakebitten in close games. Although they beat Troy with a late touchdown, they lost three games within the SBC by a combination of seven-points to just miss being a bowl eligible team with just five victories.
With another year to make this program fully his, Chadwell brings back CJ Marable (a 1,000-yard rusher from a year ago), their top three receiving targets (WR Jaivon Heiligh, TE Isaiah Likely and Marable), and an offensive line with more than 100 career starts, and
It seems Coastal Carolina just needs a find a consistent quarterback. Juniors Fred Payton and Bryce Carpenter basically split snaps last season and saw mixed results. Payton was a more efficient passer but Carpenter was a better running signal caller.
Six starters are back on defense, including on of the SBC's top defensive linemen in DE Tarron Jackson, as well as S Kameron Burton and S Alex Spillum. The return of LB Silas Kelly from injury is a boost to the run defense and a defense that gave-up over 30 points per game last year.
For CCU's schedule, they get another chance at a Power Five win with a trip to the Big 12's Kansas. They also close the season with another out-of-conference game at home against former FCS Big South rival Liberty.
4. Troy Trojans
Head coach: Chip Lindsey (5-7, second year)
Offensive Coordinator: Ryan Pugh
Defensive Coordinator: Brandon Hall
Stadium: ​Veterans Memorial Stadium (30,000)
Location: Troy, AL
2019 Record: 5-7 (3-5)
Five best returning players: LB Carlton Martial, WR Kaylon Geiger, RB DK Billingsley, WR Reggie Todd, DT Will Choloh, Jr.
In coach Chip Lindsey's first season with Troy, he had a lost much of the talent from the 10-win season of 2018 that lead former coach Neal Brown to be hired by the Big 12's West Virginia. The results showed as the Trojans slipped to just a five-win team in 2019 and missed a bowl game for the first time in four years.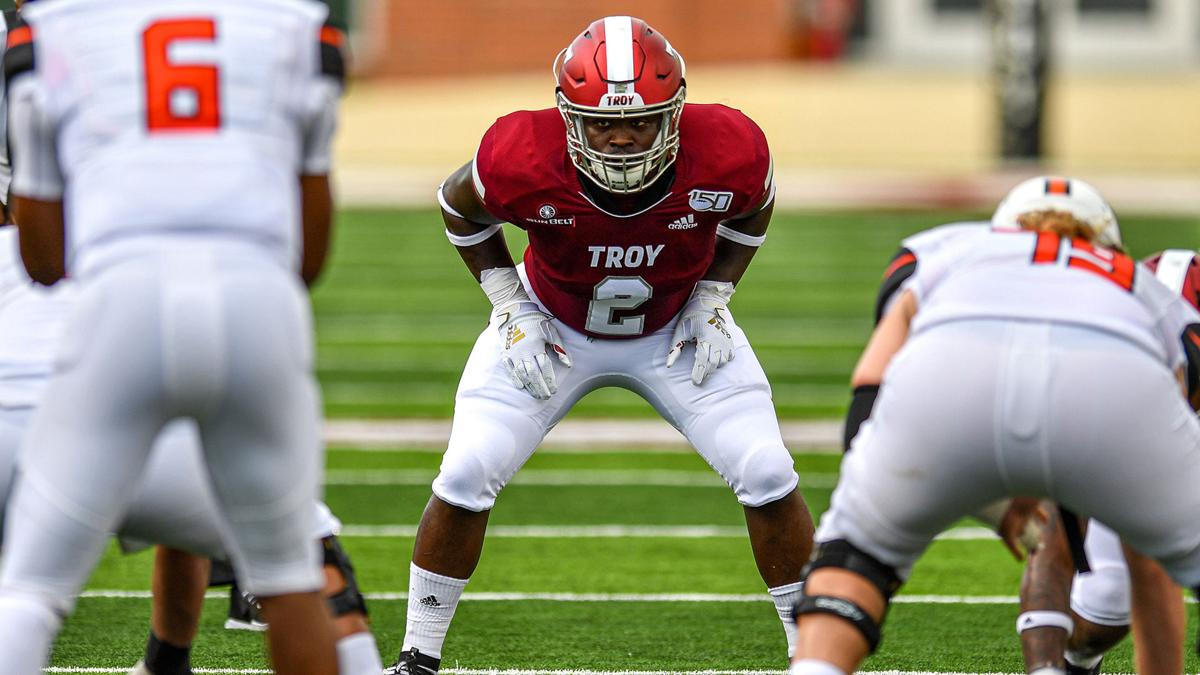 The Troy defense had a number of underclassmen start last year. In fact, three freshmen were among their six leading tacklers (safeties Dell Pettus and Jaquez Dunmore and corner O'shai Fletcher). The leading playmakers in each unit return in NG Will Choloh Jr. (14 TFL, four sacks), MLB Carlton Martial (18.5 TFL), and DB T.J. Harris (4.5 TFLs, six pass breakups) were sophomores last year so the chances of a greater defensive output this year.
The Trojan offense, however, is not so fortunate. Troy losses QB Kaleb Barker, as well as three All-SBC offensive linemen. But Troy does get two back on the offensive line with LT Austin Stidham and C Dylan Bradshaw to lead the group upfront this year.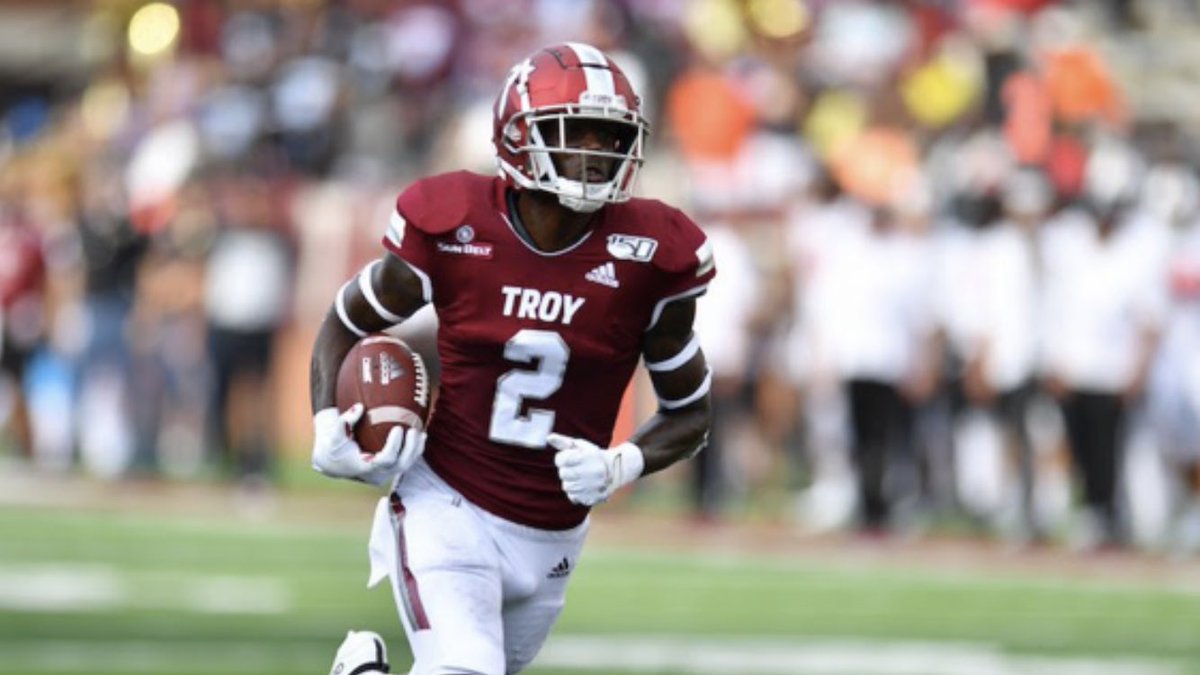 The new quarterback looks to be Barker's backup in Gunnar Watson, Vanderbilt transfer Jacob Free, or JUCO transfer Parker McNeil. The new signal callers will also have most of last year's targets to throw to. Every player from a dynamic receiving corps is scheduled to return, including big-play senior Reggie Todd (17.5 yards per catch) and four other players with at least 25 catches.
The Trojans will have three road games to begin their season and will not be at home until Oct. 8th. This road game stretch to start the season might make or break Troy's bowl bid for this year. Games at Middle Tennessee and BYU in the non-conference and then the SBC opener at South Alabama all on paper look like toss-up kind of games. Getting two wins to start out of this stretch likely will give the momentum to the Trojans they need when tougher, league opponents come later.
3. Georgia State Panthers
Head coach: Shawn Elliott (17-26, fourth year)
Offensive Coordinator: Brad Glenn
Defensive Coordinator: Nate Fuqua
Stadium: ​​​Georgia State Stadium (24,333)
Location: Atlanta, GA
2019 Record: 7-6 (4-4)
Five best returning players: LG Shamarious Gilmore, LB Trajan Stephens-McQueen, NG Dontae Wilson, CB Quavian White, RB Destin Coates
Georgia State scored one of the season's top upsets of 2019 early in the season when the Panthers went to the SEC's Tennessee and basically physically outdueled the Volunteers in a 38-30 win. But that might have been the highlight of the season.
Two weeks after the win in Knoxville, the Panthers lost 57-10 at the MAC's Western Michigan, then suffered a weird 37-34 loss at last place Texas State. They rebounded then yo-yoed back to win four in a row and positioning themselves for their best FBS season ever, but quarterback Dan Ellington tore his ACL in a its game with ULM and proceeded to lose four of its last five including the Arizona Bowl to Wyoming.
It was the third bowl in the last four seasons for the Panthers, however. Getting back to a bowl might be a little tougher this year though.
The top two offensive performers that were very instrumental in the upset at Tennessee in Ellington and RB Tra Barnett are now gone. The rest of the GSU offense is in good shape though, as four starters are back to anchor the offensive line, four of the top five receivers return, and RBs Destin Coates and Seth Paige should fill the void by Barnett.
The new quarterback will be found out in fall camp. Freshman Cornelious Brown gained some playing time last year and will compete with fellow freshmen Kierston Harvey, Mikele Colasurdo, and SEC Vanderbilt transfer Jamil Muhammad for the starting nod.
Georgia State's defense has plenty of room to improve after allowing 36.2 points a game and 6.7 yards a snap—overall ranking of 122nd out of 130 FBS squads. The Panthers do bring back nine starters and add a couple of Power 5 transfers to add more depth and talent. Senior LB Trajan Stephens-McQueen should be the leader this fall on this side of the ball after leading the team a season ago in tackles with 110 tackles in 2019, the second-highest season total in GSU history.
The Georgia State schedule has just one out-of-conference match-up at C-USA's Charlotte. The Panthers in conference schedule has road games as Appalachian State and Arkansas State but is home to Louisiana.
2. Georgia Southern Eagles
Head coach: Chad Lunsford (19-13, third full year)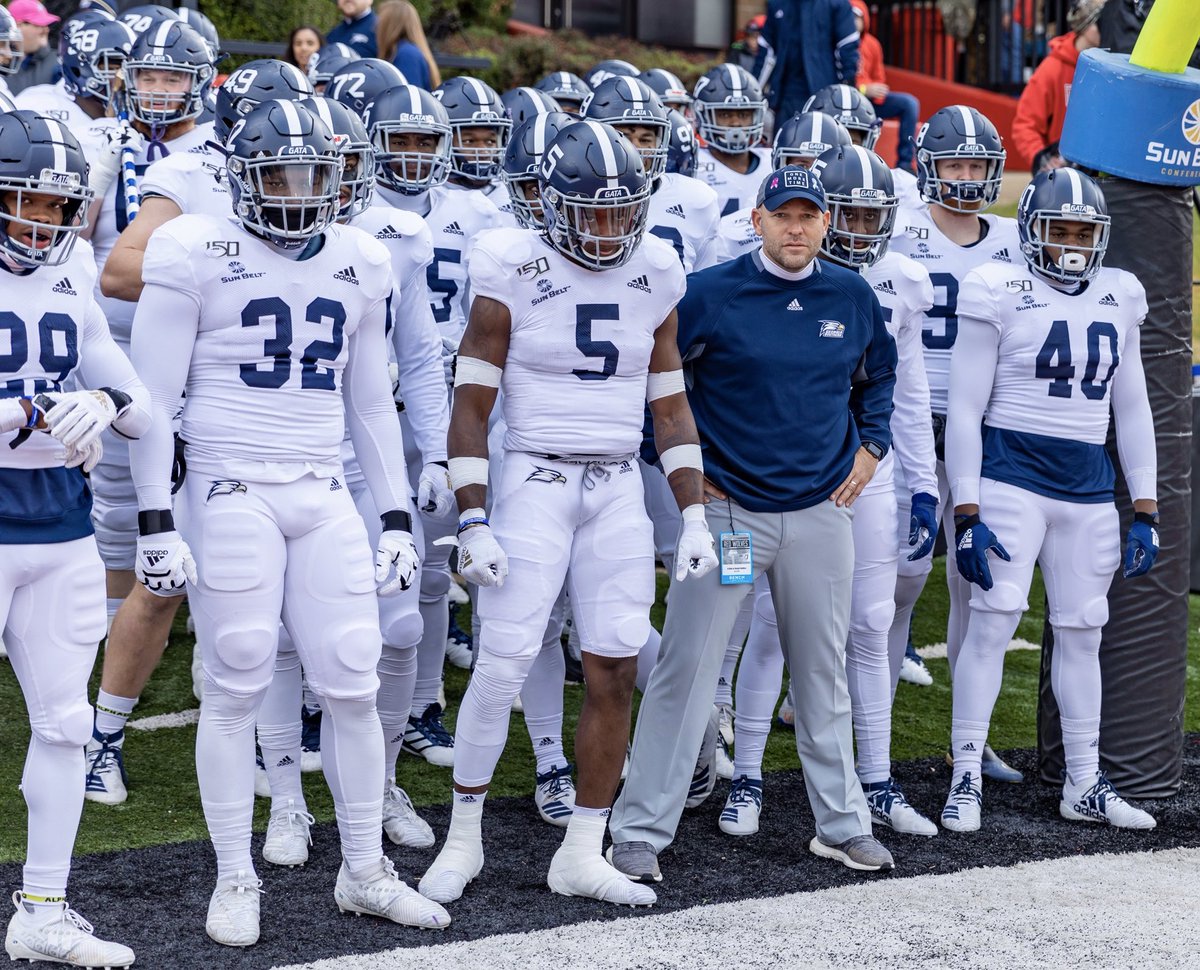 Offensive Coordinator: Bob DeBesse
Defensive Coordinator: Scot Sloan
Stadium: ​​Paulson Stadium (25,000)
Location: Statesboro, GA
2019 Record: 7-6 (5-3)
Five best returning players: QB Shai Werts, RB Wesley Kennedy III, LB Randy Wade Jr., FS Kenderick Duncan Jr., LB Reynard Ellis
Georgia Southern seems to just have Appalachian State's number. The Eagles over the past two years have handed the Mountaineers their only loss within conference play each year, as a healthy Sun Belt Rivalry has blossomed between the two former SoCon schools.
Now, the Eagles just need to be consistent against other foes. Georgia Southern started 2019 off average at best with a 2-3 start that included narrow victories over FCS Maine and SBC mate South Alabama. But the Eagles did win their next three contests, including the one over App State. They did slip again towards the end with two conference losses, as well as in its bowl game against Liberty but the team did finish with seven wins.
This year, QB Shai Werts return to run the patented Eagle option attack. The senior-to-be slipped last year in his overall game. He threw for nearly 200 yards less and rushed for nearly 150 yards less than his 2018 campaign. He will need to get back to the 2018 kind of numbers to have a similar season for the Eagles to have success.
Werts will also have several familiar faces around him as the top five RBs from last year return, including 800-yard gainers J.D. King and Wesley Kennedy III). He will also have six linemen with starting experience in front of him, as well as the top two WRs in both receptions (Malik Murray) and yards per catch (Darion Anderson).
The Eagle defense will be strong with its front seven as 11 of the 15 players to log at least 100 snaps are back this year. LB Reynard Ellis and Randy Wade, Jr. highlight this group as both had over 10 tackles for a loss a year ago. The area that will be the weakest will be the secondary as three starters are gone. S Kenderick Duncan, Jr. will look to be the leader amongst the new group.
The schedule for the Eagles has three-out-of-conference tilts including a first-time match-up at Army, who is coached by prior Georgia Southern coach Jeff Monken. The Eagles in conference schedule has App State coming to Statesboro but must travel to Louisiana.
1. Appalachian State Mountaineers
Head coach: Shawn Clark (1-0, first season)
Offensive Coordinator: Tony Petersen
Defensive Coordinator: Dale Jones
Stadium: Kidd Brewer Stadium (30,000)
Location: Boone, NC
2019 Record: 13-1 (7-1)
Five best returning players: QB Zac Thomas, C Noah Hannon, CB Shaun Jolly, WR Corey Sutton, DT Demetrius Taylor
Since a 1-5 start in Appalachian State's first FBS season of 2014, the Mountaineers have since gone 60-12 overall and 41-5 in Sun Belt play. App State has won or shared four straight conference titles. The problem with winning though at this level is having to replace its coaches. They lost Satterfield to Louisville after 2018, replaced him with Eliah Drinkwitz. They lost Drinkwitz to Missouri after last year. And have replaced him with Shawn Clark.
Clark stays in Boone after being an App State grad and assistnant coach under both Satterfield and Drinkwitz since 2016.
Third year starting quarterback Zac Thomas will again be heading the Mountaineer offense this fall. He gets his top three senior receiving targets back in 2019 lead Thomas Hennigan, Malik Williams and Jalen Virgil. Fellow WR Corey Sutton, the 2018 leading receiver, decided to opt out of the this season due to COVID 19 concerns.
RB Darrynton Evans left after two seasons and over 2,600 rushing yards to take his talents to the NFL with the Tennessee Titans, but the top three behind him in Marcus Williams Jr., Daetrich Harrington, and Raykwon Anderson combined for 1,194 yards at 6.1 per carry so there should be no concerns in running the ball either. Both the running and passing games will be behind a line that returns four starters, all of whom garnered at least honorable mention all-conference honors last year.
Appalachian State's defense held offenses to just 20 points a game in 2019 but lost five starters in the back eight, including LB Akeem Davis-Gaither and FS Desmond Franklin. But all is not lost for the defense as it should be anchored by standouts DT Demetrius Taylor, LB D'Marco Jackson, and CB Shaun Jolly.
App State was scheduled to play at Wisconsin in what was to show the nation how the Mountaineers compete. App State was the first SBC squad to defeat two Power Five teams last year in North Carolina and South Carolina. With COVID-19, the Wisconsin game is off due to its conference of the Big 10 not playing this fall. The Mountaineers could not find a P5 replacement so they will have to settle with Charlotte, Marshall, and FCS Campbell as its out-of-conference schedule. Still an undefeated season by the Mountaineers still could argue for a spot in the College Football Playoff especially if some of its SBC mates can win some of those out-of-conference games.
West Division
5. Texas State Bobcats

Head coach: Jake Spavital (3-9, second year)
Offensive Coordinator: Jacob Peeler
Defensive Coordinator: Archie McDaniel and Zac Spavital
Stadium: ​Bobcat Stadium (30,000)
Location: San Marcos, TX
2019 Record: 3-9 (2-6)
Top Five returning players: RB/WR Caleb Twyford, WR Trevis Graham Jr., CB Jarron Morris, NT Nico Ezidore, RG Tate Heitmeier
The Bobcats made the jump to FBS in 2012 and won a combined 13 games in the 2013 and 2014 seasons. But they've won only 13 games since. Coach Dennis Franchione retired after a 3-9 campaign in 2015, and Everett Withers went just 7-28 over the following three seasons. Withers was let go two years ago and Jake Spavital took over last season and finished a mediocre 3-9 2019 year.
This season, just nine returning starters are back so coach Jake Spavital has much work to do in trying to improve on the three-win total from last year. The former West Virginia offensive coordinator could turn to Memphis transfer Brady McBride over returning starter Tyler Vitt at quarterback to trigger an offense that managed only 18.4 points a game in 2019.
Whichever quarterback wins out, they will have to potential potent wide outs returning as targets in Trevis Graham Jr. and Javen Banks.
The running game looks to improve as well but will only have two starters back upfront on the offensive line to support it.
The Bobcat defense may be in a even worse position despite having some good statistics last year (3rd based in conference against the run). Seven of last season's top eight linebackers and four of six defensive backs are gone.
The Bobcats schedule does not look inviting to see three wins, quite honestly. The four out-of-conference games are hosting SMU and I-35 rival UTSA and Texas State is traveling to Boston College and BYU.
4. South Alabama Jaguars
Head coach: Steve Campbell (5-19, third year)
Offensive Coordinator: Kenny Edenfield
Defensive Coordinator: Greg Stewart
Stadium: Hancock Whitney Stadium (25,000)
Location: Mobile, AL
2019 Record: 2-10 (1-7)
Top Five returning players: WR Jalen Tolbert, C Brian Anderson, WR Kawaan Baker, LB Riley Cole, S Keith Gallmon
With now-former head coach Joey Jones leading the way, South Alabama won at least six games in three of their first five FBS seasons, bowling twice in the process. But they never won more than six, and after a 4-8 campaign in 2017, Jones was replaced by Central Arkansas' Steve Campbell.
So far Campbell has not been much better with just five wins total in his two years thus far in Mobile. But the foundation for change might be coming as Campbell gets more of his recruits on the field.
The first one might be sophomore Desmond Trotter. He ignited the Jaguar offense late last season when he thrived to produce a 151.8 passer rating and improved USA's scoring average from 11.4 points per game over the first seven games against FBS foes to 26 over the last four contests. He developed a good chemistry with his receivers and will look to build upon that this year.
Those wide outs could be big play weapons in Kawaan Baker and Jalen Tolbert. Four starters are also back up front, but there's a significant vacancy at running back with Tra Minter having graduated. But two sophomores in Carlos Davis and Jared Wilson could fill in nicely in the backfield.
The Jag defense should be led by a deep linebacking corps, namely senior Riley Cole (nine tackles for loss, three sacks). However, the Jags must replace two productive defensive ends (Jeffery Whatley and Rocel McWilliams) and their top two cornerbacks (Travis Reed and Jalen Thompson).
The Jags host three swing type games in Texas State, ULM and Georgia State. Wins in those contests and USA will up its win total. USA also hosts two of its non-SBC games against Tulane and UAB but must travel to Southern Miss. Getting two of these games will also go a long ways towards a possible bowl bid.
3. Louisiana-Monroe Warhawks
Head coach: Matt Viator (19-29, fifth year)

Offensive Coordinator: Eman Naghavi
Defensive Coordinator: Mike Collins
Stadium: ​Malone Stadium (27,617)
Location: Monroe, LA
2019 Record: 5-7 (4-4)
Top Five returning players: CB Corey Straughter, DE Kerry Starks, RB Josh Johnson, LB Rashaad Harding, TE Josh Pederson
ULM is coming off a heartbreaking type of season in 2019. The Warhawks are a program that has only been to one bowl game in its history and narrowly missed out last season in becoming eligible. The season started with a missed PAT in overtime to drop a 45-44 decision to the ACC's Florida State. In conference play, they blew a 21-3 lead against Arkansas State, then overcame a 10-point deficit in the same game before falling 48-41. And finally, they lost in the last minute to rival Louisiana to finish with just five wins.
This year, ULM must replace possibly its best offensive player in its history in QB Caleb Evans, who threw for over 9,000 yards in his Warhawk career. Also lost are the top two receivers and four starting offensive linemen from last year's team.
Sophomore QB Colby Suits is the favorite to replace Evans, but JUCO recruit Jeremy Hunt will also be in the hunt. RB Josh Johnson (1,298 yards) is back after a breakout year and likely will look to shoulder more of the offense this year with the losses in much of the other skill positions.
The leading receiver this year just might be TE Josh Pederson, who had entered the NCAA transfer portal but decided to stay with ULM after all. He had 4 3 receptions for 567 yards and a team-high nine touchdowns in 2019.
The ULM defense might be what keeps the Warhawks in most games despite surrendering over 38 points per game last year. CB Corey Straughter is one of the top Group of 5 defenders, and with seven other starters back, the team will look to this side of the ball for improvement.
ULM had its opener with Troy moved to Dec. 5th and that with some other game movements amid the COVID-19 pandemic moved the SBC Championship game back a week or could be two weeks possibly. ULM now starts on the road at Army and later travels to Liberty. It gets UTEP at home and a neutral site versus Louisiana Tech.
2. Arkansas State Red Wolves
Head coach: Blake Anderson (47-30, seventh year)
Offensive Coordinator: Keith Heckendorf
Defensive Coordinator: David Duggan
Stadium: Centennial Bank Stadium (30,964)
Location: Jonesboro, AR
2019 Record: 8-5 (5-3)
Top Five returning players: QB Layne Hatcher, RB Marcel Murray, C Jacob Still, WR Jonathan Adams Jr., QB Logan Bonner
The 2019 season was trying in more than one way for Arkansas State. Just before the season started coach Blake Anderson lost his wife after a long battle with cancer. He took a brief leave of absence following her death but came back in Week 2 and the Red Wolves used that emotion with a blowout win over UNLV. And on the field, the team had to deal with a number of injuries. QB Logan Bonner played just four games and the defense saw almost no starting group the same all year.
Despite all of this, ASU improved on the season. The Red Wolves started just 3-4 but finished 5-1 to end the season, including a bowl victory over Florida International.
Because of the injuries last year, this year's team is stacked with almost every position having at least a starter back. This includes the quarterback position with Bonner returning as is his replacement from last year in Layne Hatcher. Deciding who to start might be the biggest problem for coach Anderson.
Whoever gets the call, he will be without NFL drafted Omar Bayless but Jonathan Adams Jr. (851 yards, 5 TDs) is back, as is fellow senior Brandon Bowling. Plus, every tight end and nearly every running back (including starter Marcel Murray) returns.
The offensive line has eight players that started a game last year with four getting an All-SBC honor in some form so depth should not be a concern this year upfront.
The defense as mentioned also saw several injuries but there is some concern on this side of the ball. This unit gave up over 34 points per game and also lost a couple key players in DE William Bradley-King (Baylor) and CB Nathan Page (FCS Austin Peay) as transfers to other schools. An addition via transfer of Tahj Herring-Wilson from UConn will likely help what was a battered secondary a year ago.
The schedule might help or hurt the Red Wolves especially early as ASU has two tough road games at the AAC champion Memphis and the Big 12's Kansas State to start the season. It then gets FCS in-state rival Central Arkansas and Tulsa at home. Arkansas State also must travel to Louisiana in a game that likely will decide the West Division.
1. Louisiana Ragin' Cajuns
Head coach: Billy Napier (18-10, third year)
Offensive Coordinator: Rob Sale
Defensive Coordinator: Patrick Toney
Stadium: Cajun Field (41,426)
Location: Lafayette, LA
2019 Record: 11-3 (7-1)
Top Five returning players: QB Levi Lewis, RB Elijah Mitchell, WR Jamal Bell, CB Eric Garror, LB Joe Dillon
The Ragin' Cajuns posted the best season in school history last fall with its 11 wins. Louisiana also won their second Sun Belt West Division title in a row and defeated Miami (OH) for the program's first bowl victory since 2014. Now, the only missing piece in coach Billy Napier's successful stay in Lafayette is a Sun Belt title but must get over Appalachian State to do it.
While App State is working with its third head coach in three seasons, Napier returns to UL, as does QB Levi Lewis (3,050 passing yards) and two RBs in Elijah Mitchell and Trey Ragas that combined for 1,967 rushing yards and 27 touchdowns in 2019.
Top receiver Ja'Marcus Bradley must be replaced, but there's talent still there including the other wide out in Jamal Bell. The offensive line is among the best in the conference a year ago and returns most of its key members including OG O'Cyrus Torrence.
The Ragin' Cajun defense showed marked improvement last fall, holding teams to just 19.7 points a contest after allowing 34.2 a game in 2018. This year's team should be headed by a pair of LBs in Joe Dillon and Kris Moncrief, as well as a couple of hard-hitting safeties in Kam Pedescleaux and Bralen Trahan. DT Zi'Yon Hill is the cog in the middle of the line and even ranked fourth on the team in tackles with 53.
The Sun Belt title contest likely will come down on a Wednesday night game on Oct. 7th when the Cajuns visit App State. Louisiana has lost eight games in a row to the Mountaineers so they hope game nine will be the trick to get over the hump.
Elsewhere this year, Louisiana has an opportunity to shock the nation with its season opener at the Big 12's Iowa State. FCS Central Arkansas is the only home non-conference game on the schedule late in the season and also will travel to C-USA UAB in the mid-season as another good measuring stick.
CSJ All-Sun Belt 2020 Preseason Team
Offense
QB – Levi Lewis, Sr. Louisiana
RB – C.J. Marable, Sr. Coastal Carolina
RB – Elijah Mitchell, Sr. Louisiana
AP – Trey Ragas, Sr. Louisiana
WR – Jonathan Adams, Sr. Arkansas State
WR – Kaylon Geiger, Sr. Troy
TE – Josh Pederson, Sr. ULM
OT – Cooper Hodges, Soph. Appalachian State
OG – Shamarius Gilmore, Sr. Georgia State
C – Noah Hannon, Sr. Appalachian State
OG – O'Cyrus Torrence, Soph. Louisiana
OT – Baer Hunter, Sr. Appalachian State
Defense
DE – Tarron Jackson, Sr. Coastal Carolina
DT – Will Choloh, Jr. Troy
DT – Zi'Yon Hill, Jr. Louisiana
DE – Demetrius Taylor, Sr. Appalachian State
LB – Rashad Byrd, Sr. Georgia Southern
LB – Carlton Martial, Jr. Troy
LB – Trajan Stephens-McQueen, Sr. Georgia State
CB – Shaun Jolly, Jr. Appalachian State
S – Kenderick Duncan, Jr. Georgia Southern
S – Antonio Fletcher, Jr. Arkansas State
CB – Corey Straughter, Sr. ULM
Special Teams
PK – Blake Grupe, Jr. Arkansas State
P – Rhys Byrns, Jr. Louisiana
KR – Reggie Todd, Sr. Troy
PR – Thomas Hennigan, Sr. Appalachian State
Sun Belt Players Opting Out of the 2020 Season
The following are players that have decided to not play in the 2020 season due to the COVID-19 pandemic at least at the time of publishing.
Appalachian State
WR Corey Sutton
South Alabama
QB Tylan Morton
ULM
LB Rashaad Harding
Originally from LaMoure, North Dakota, Kent is a 1996 graduate of North Dakota State University. His prior writing experience is over 15 years having previously worked with D2football.com, I-AA.org, and College Sporting News before coming to College Sports Journal in 2016. His main focus is college football is the Missouri Valley Football Conference within the Division I FCS. And in 2017, he began also to look at the FBS Group of Five conferences of the American Athletic, Conference USA, Mid-American, Mountain West, and Sun Belt.
Reach him at this email or click below: