CSJ's Predicted Order of Finish
1. North Dakota State
2. South Dakota State
3. Northern Iowa
4. Illinois State
5. Southern Illinois
6. South Dakota
7. North Dakota
8. Youngstown State
9. Missouri State
10. Western Illinois
Indiana State * (not participating in spring season)
2019 MVFC NCAA Division I FCS Playoff Results
First Round
Nicholls State 24 North Dakota 6 (note: UND was an FCS Independent in 2019)
Illinois State 24 Southeast Missouri State 6
Northern Iowa 17 San Diego 3
Second Round
#1 North Dakota State 37 Nicholls State 13
Illinois State 24 #8 Central Arkansas 14
Northern Iowa 13 #7 South Dakota State 10
Quarterfinals
#1 North Dakota State 9 Illinois State 3
#2 James Madison 17 Northern Iowa 0
Semifinals
#1 North Dakota State 42 #5 Montana State 14
National Championship
#1 North Dakota State 28 #2 James Madison 20
With a canceled 2020 FCS football fall season due to COVID-19 reasons, the sub-division will be playing instead in an unprecedented spring schedule.
The Missouri Valley Football Conference will begin play on the weekend of February 19-21 for an eight-game regular season. The MVFC did see one school in Indiana State opt out of playing this spring and will instead hold standard spring practices in readying itself for a fall 2021 season.
The FCS playoffs was reduced from 24 teams to 16 teams for this spring schedule with 11 automatic bids and five at-large invites. The FCS playoffs will begin with playoff bracket being announced on April 18th and then will play four straight weekends culminating in national title game again being played at Toyota Stadium in Frisco, Texas on Sunday, May 16th.
The MVFC even without Indiana State will stay with ten teams this spring as the league will welcome North Dakota this spring after UND played two seasons as an FCS independent and before that as a member of the Big Sky Conference.
The story of the Missouri Valley Football Conference likely begins like it has really over the last decade with the eight-time national champion North Dakota State. The Bison won the 2019 national title last January over James Madison to give NDSU its eighth national title in nine seasons. It was also NDSU's third straight title and second straight undefeated national title team. NDSU currently holds a 38-game winning streak, which is the longest in FCS history. The 38-game winning streak is the third most amongst all Division I schools. Only Oklahoma, who won 48 games in a row in 1953-57 and Washington's 40 straight wins in 1908-14 are longer steaks.
NDSU was amongst three MVFC teams that did play at least one game last fall and those non-conference games will count towards playoff eligibility. The Bison defeated Central Arkansas and two other MVFC squads also played non-conference games last fall. Southern Illinois also played one game in defeating rival Southeast Missouri State and Missouri State played three games and lost all three to FBS Oklahoma and twice to Central Arkansas.
NDSU looks like the front runner again this spring despite losing its Walter Payton Trophy winning quarterback Trey Lance, who played in that one fall game, as well as 10 other players, including NFL Draft prospect OT Dillion Radunz. That group decided to call it a career for the Bison after that one fall game.
South Dakota State and Northern Iowa look like the toughest completion to unseat the Bison from the MVFC crown. Illinois State and Southern Illinois appear other teams that look like playoff hopefuls.
Top Conference Games, Spring 2021
My top three picks will all play each other, and those three contests will go a long way in determining this spring's MVFC champion and automatic qualifier for the Division I FCS playoff field.
Feb. 19 – South Dakota State at Northern Iowa
Apr. 3 – South Dakota State at North Dakota State
Apr. 10 – North Dakota State at Northern Iowa
Here is the countdown my MVFC teams' predictions:
Indiana State Sycamores
(not playing in Spring 2021)
Coach: Curt Mallory (Fourth Season, 12-22 @ ISU & overall)
Offensive Coordinator: Michael Switzer
Defensive Coordinator: Brad Wilson
Stadium: Memorial Stadium (12,764 capacity)
Location: Terre haute, Indiana
2019 Record: 5-7 (3-5 MVFC)
Indiana State was the lone MVFC squad to decide to not play in the spring 2021 schedule. The result of the Sycamores not playing this spring was the MVFC revamped is schedule so all teams would play starting the weekend of February 19-21 and end the season on April 10th. This would then allow for one make-up week for April 17th should any game get postponed due to COVID-19 or any other reason.
10. Western Illinois Leathernecks
Coach: Jared Elliott (Third Season, 6-17 @ WIU & overall)
Offensive Coordinator: David Rocco
Defensive Coordinator: Cam Clark
Stadium: Hanson Field (16,368 capacity)
Location: Macomb, Illinois
2019 Record: 1-11 (1-7 MVFC)
In 2019, the primary issue for the Leathernecks was its defense. It ranked last in the MVFC both in scoring defense (36.9 points per game) and total defense (470.0 yards per game). The other big issue was on offense in turning the ball over, which WIU did a whopping 31 times.
One of the stars from 2019 was FB Clint Ratkovich but he has left the program and has transferred to FBS Northern Illinois. The All-MVFC first team member in 2018 and 2019 made a name for himself as both a runner and a receiver out of the backfield. He caught 128 passes for 1,204 yards and 10 touchdowns for the Leathernecks in 2019.
The offensive leadership now will need to come from senior QB Connor Sampson. He showed some potential in his junior season or 2019 where he threw for over 2,000 yards.
The lone MVFC spring honoree for the Leathernecks was Adam Fellner, who finished the 2019 season 18th in the FCS and third in the Valley, averaging 42.5 yards per punt.
9. Missouri State Bears

Coach: Bobby Petrino (First Season, 0-3 @ MSU, 119-56 overall (college))
Offensive Coordinator: Nick Petrino
Defensive Coordinator: Ryan Beard
Stadium: Robert W. Plaster Stadium (17,500 capacity)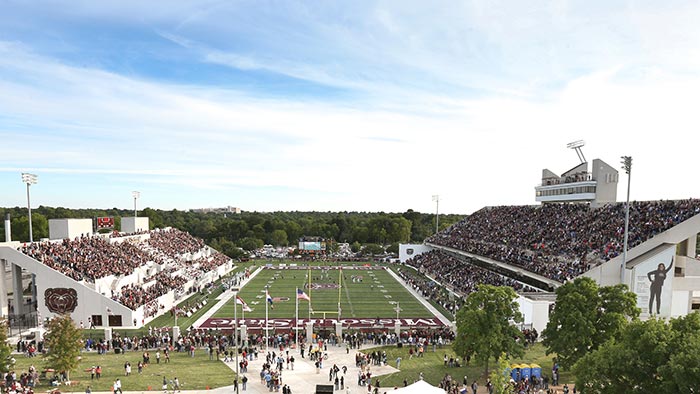 Location: Springfield, Missouri
2019 Record: 1-10 (1-7 MVFC)
Missouri State was the school in the MVFC that played the most games in the fall. New Coach Bobby Petrino's team played three games in the fall. Unfortunately, the Bears lost all three–FBS Oklahoma and twice to Central Arkansas.
The last winning season for the Missouri State was in 2009 (6-5). With Petrino, he brings in a winning culture. In his 14 college seasons, he only has had two losing records over that span with stops all at FBS schools in Louisville, Western Kentucky, and Arkansas.
The new Bear coach will look to rebuild the Bears to a winner and has two stars on either side of the ball to build around.
On offense, junior WR Damoriea Vick led the team with 9 receptions for 95 yards through the first three games from last fall. Last season, he started all 11 games as a sophomore and was the club leader in all-purpose yards (665) while ranking second on the squad in receptions (39) and receiving yardage (422). He also ranked ninth in the MVFC in receptions per game (3.5) a year ago.
On defense, senior CB Zack Sanders, totaled 15 total tackles this past fall with 10 solo stops, 2.5 tackles for loss and a sack. He played in four games in 2019 with a pair of starts after bringing down 49 ball carriers and starting 10 games his sophomore season for the Bears.
Missouri State
| Date | Event | Venue | Match Day |
| --- | --- | --- | --- |
| 2020-09-12 19:00:07September 12, 2020 | Oklahoma 48, Missouri State 0 | Memorial Stadium (Oklahoma) | Norman, OK |
| 2020-09-26 20:00:45September 26, 2020 | Central Arkansas 27, Missouri State 20 | Estes Stadium | Conway, AR |
| 2020-10-17 20:20:09October 17, 2020 | Central Arkansas 33, Missouri State 24 | Plaster Stadium | Springfield, MO |
| 2021-02-27 13:00:16February 27, 2021 | Missouri State 30, Western Illinois 24 | Hanson Field | Macomb, IL |
| 2021-03-06 15:00:37March 6, 2021 | North Dakota State 25, Missouri State 0 | Plaster Stadium | Springfield, MO |
| 2021-03-13 14:00:03March 13, 2021 | Missouri State 27, South Dakota 24 | DakotaDome | Vermillion, SD |
| 2021-03-20 17:00:40March 20, 2021 | Missouri State 13, Northern Iowa 6 | UNI-Dome | Cedar Falls, IA |
| 2021-03-27 15:00:50March 27, 2021 | Missouri State 30, Southern Illinois 27 | Plaster Stadium | Springfield, MO |
| 2021-04-10 15:00:40April 10, 2021 | Missouri State 21, Youngstown State 10 | Plaster Stadium | Springfield, MO |
| 2021-04-24 16:00:44April 24, 2021 | North Dakota 44, Missouri State 10 (FCS Playoffs 1st Round) | Alerus Center | Grand Forks, ND |
8. Youngstown State Penguins
Coach: Doug Phillips (First Season, 0-0 @ YSU & overall)
Offensive Coordinator: Troy Rothenbuhler
Defensive Coordinator: Joe Schaefer
Stadium: Stambaugh Stadium (20,630 capacity)
Location: Youngstown, Ohio
2019 Record: 6-6 (2-6 MVFC)
Another new coach begins his tenure at Youngstown State. Doug Phillips takes over the Penguins after most recently being on the FBS Cincinnati staff. He was previsously on the YSU staff as a graduate assistant in 1991 and 1992.
On the field, he hopes to turnaround the Penguins from recent woes. YSU started the 2019 season at 4-0 before only winning two games in MVFC play the rest of the way in what would be former Coach Bo Pelini's last season before resigning to take a defensive coordinator job with Louisiana State this past fall.
Three YSU players that were named to the preseason MVFC squad will look to be the cornerstones for the team to get back to its winning ways (most recently a national runner-up in 2016 and four national titles in the 1990s).
That group includes OT Dan Becker, RS Jake Coates and DL DeMarko Craig Jr.
Coates is one of the top punt returners in school history and was a second-team All-MVFC in the fall of 2019. He owns the school record with 76 career punt returns and ranks second in yards with 507, highlighted by a school mark of 353 yards in 2019.
Becker has started 21 games at left tackle in his career after recording 12 starts in 2019.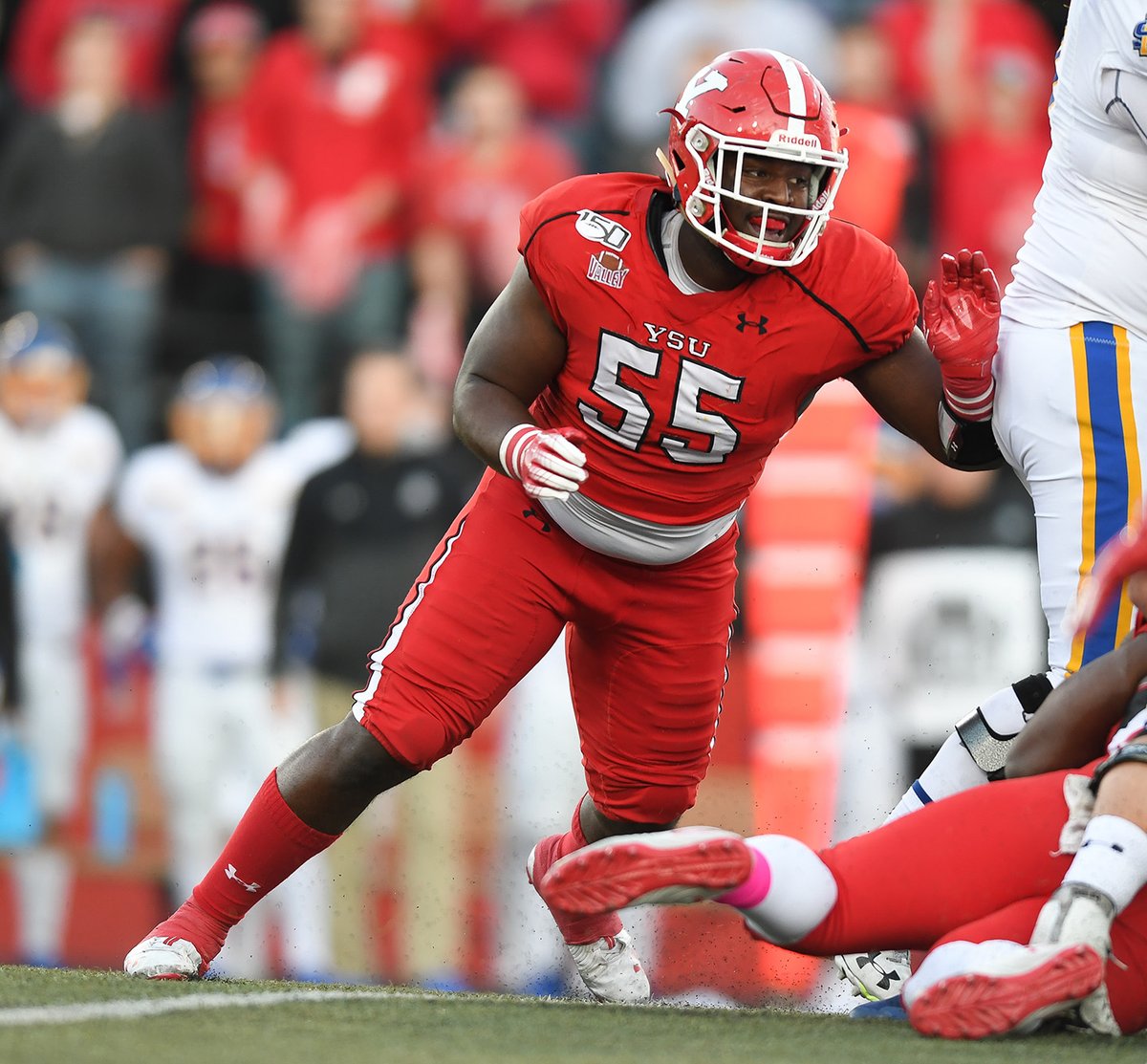 Craig played in 11 contests and started nine games in 2019 at defensive tackle. He had 39 tackles, including 22 solo stops for the season.
7. North Dakota Fighting Hawks
Coach: Bubba Schweigert (Seventh Season, 37-32 @ UND, 59-52 overall)
Offensive Coordinator: Danny Freund
Defensive Coordinator: Brett Holinka
Stadium: Alerus Center (12,283 capacity)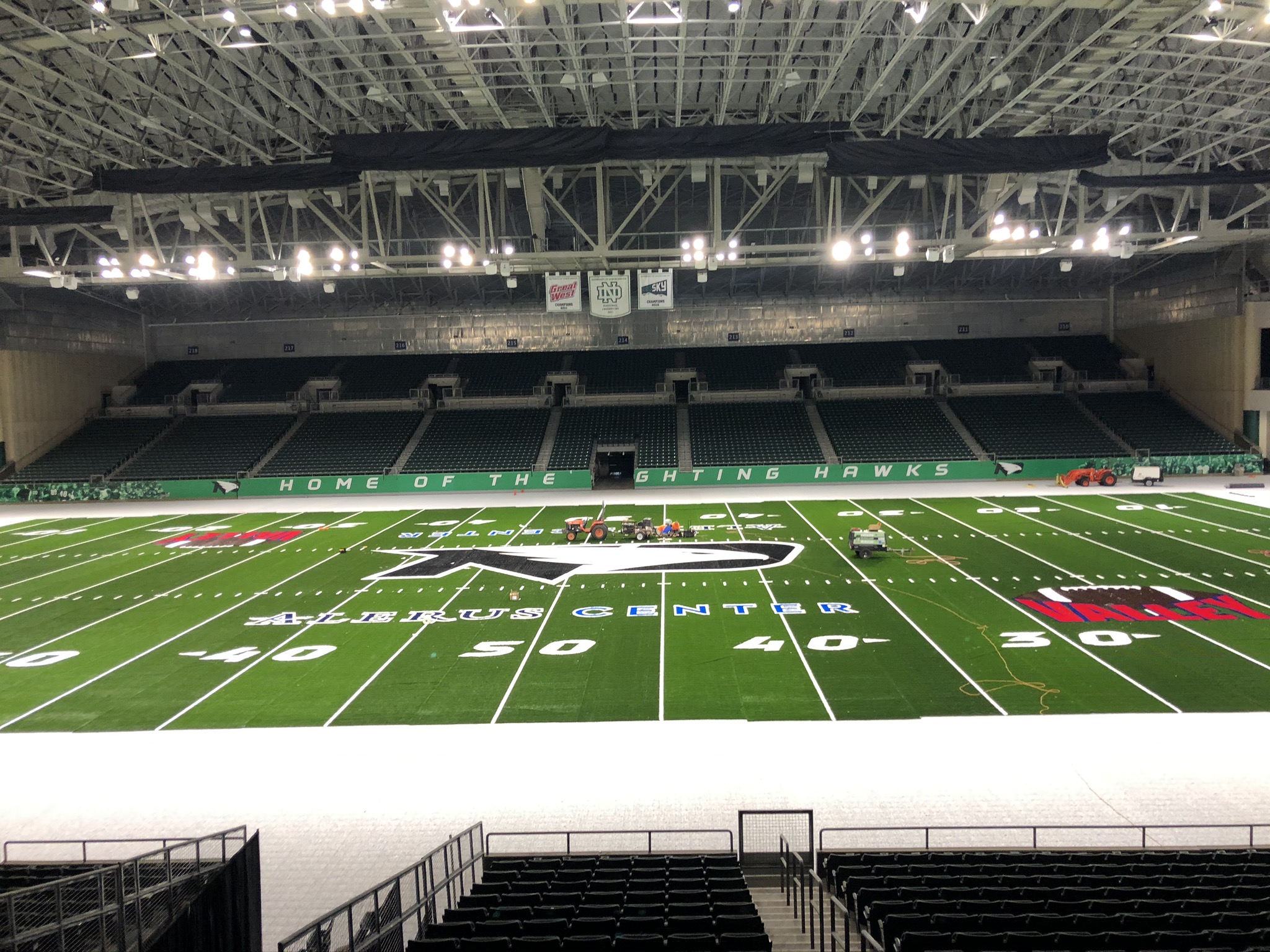 Location: Grand Forks, North Dakota
2019 Record: 7-5 (FCS Independent)
The newest MVFC member is North Dakota after being an Independent for the last two seasons while transitioning from the Big Sky Conference. The Fighting Hawks received a playoff berth in 2019 but fell at Nicholls in the opening round.
UND joins arguably the toughest FCS conference now. Over UND's DI history having moved up from Division II in 2008, the Fighting Hawks record against their new MVFC foes have a 6-7 record against Northern Iowa, North Dakota State, South Dakota, and South Dakota State. Last year, the only MVFC squad UND played was its in-state rival of NDSU and lost 38-7 in the second week of the season.
For this season, UND will hope to build on the playoff team from a year ago in its new league. The defense was strong in 2019 and should be again this team's strength this season. On the offensive side, UND has a lot to replace, including the starting quarterback, top running back and top two receivers.
The defense will be headed by seniors in S Jordan Canady and LB Jaxson Turner. Canady enters the spring 2021 season as the team's returning leading tackler with 87 stops and a team-best 53 solo tackles. Turner had an injury riddled 2019 but still finished sixth on the team with 44 tackles and second with 4.5 sacks.
With many offensive specialists being new, UND does have a strong offensive line to build around. Ryan Tobin will once again anchor upfront for the Fighting Hawks in 2021 that will not see much changed from the year prior, as all five returners have started at least four games in 2019. The senior Tobin has started all but three games over his playing career, making all of those appearances at left guard, and helped the Fighting Hawks surrender only 19 sacks on the season and set multiple passing records last season.
North Dakota
| Date | Event | Venue | Match Day |
| --- | --- | --- | --- |
| 2021-02-20 13:00:42February 20, 2021 | North Dakota 44, Southern Illinois 21 | Alerus Center | Grand Forks, ND |
| 2021-02-27 13:00:04February 27, 2021 | North Dakota 28, South Dakota State 17 | Alerus Center | Grand Forks, ND |
| 2021-03-04 18:00:44March 4, 2021 | North Dakota 21, South Dakota 10 | Alerus Center | Grand Forks, ND |
| 2021-03-13 13:00:31March 13, 2021 | North Dakota 38, Western Illinois 21 | Hanson Field | Macomb, IL |
| 2021-03-20 15:30:36March 20, 2021 | North Dakota State 34, North Dakota 13 | Fargodome | Fargo, ND |
| 2021-04-24 16:00:44April 24, 2021 | North Dakota 44, Missouri State 10 (FCS Playoffs 1st Round) | Alerus Center | Grand Forks, ND |
| 2021-05-02 18:00:51May 2, 2021 | James Madison 34, North Dakota 21 (FCS Playoffs Quarterfinals) | Bridgeforth Stadium | Harrisonburg, VA |
6. South Dakota Coyotes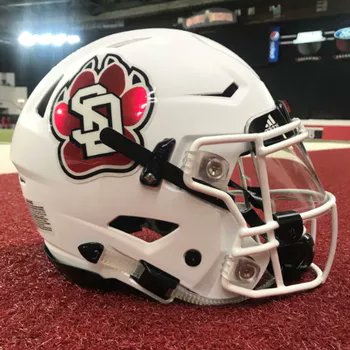 Coach: Bob Nielson (Fifth Season, 21-26 @ USD, 207-106-1 overall)
Offensive Coordinator: Ted Schlafke
Defensive Coordinator: Travis Johansen
Stadium: DakotaDome (9,100 capacity)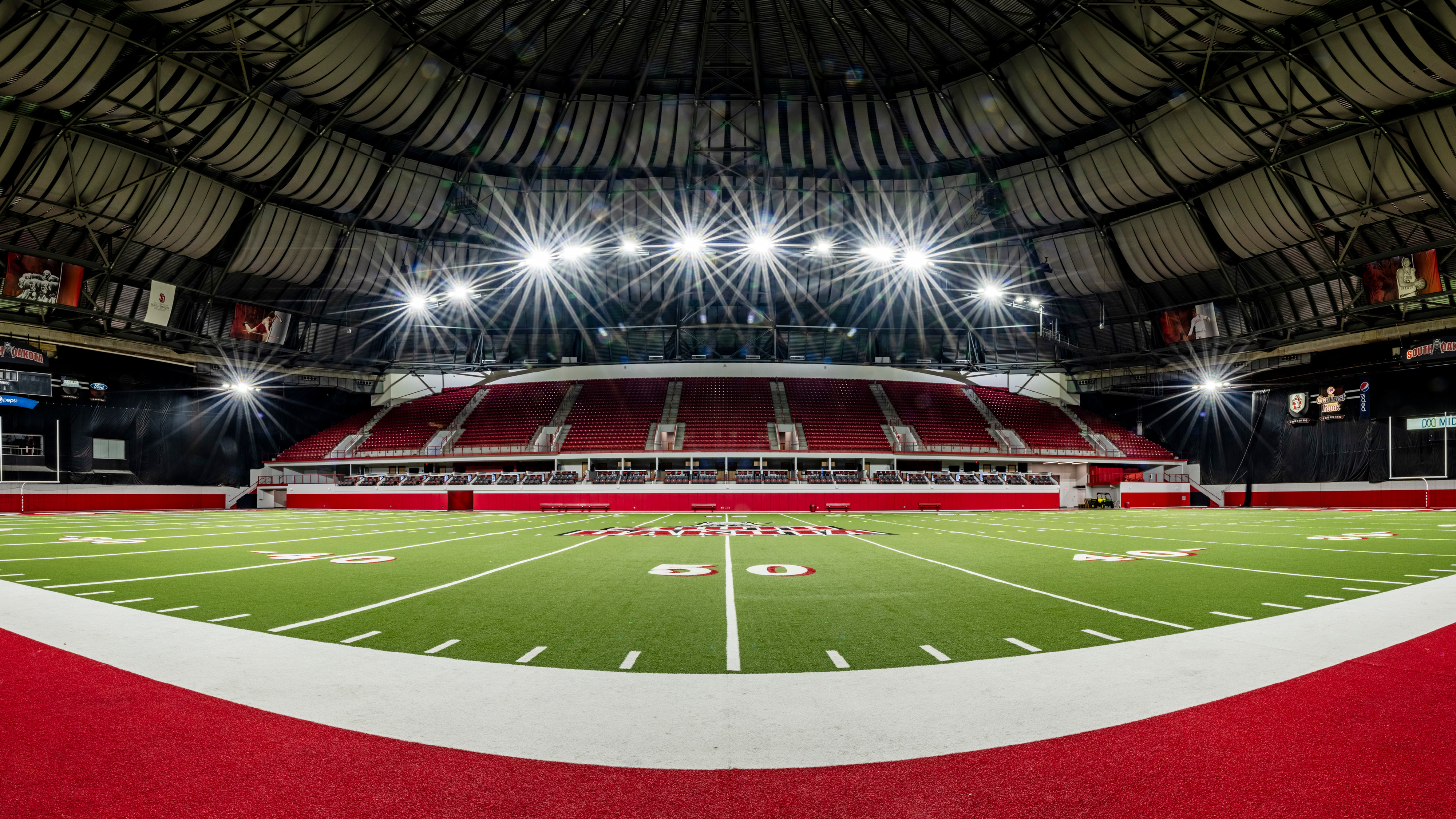 Location: Vermillion, South Dakota
2019 Record: 5-7 (4-4 MVFC)
South Dakota had an up and down season in 2019. The Coyotes started the season with three straight losses but then won three in a row before another three game losing streak. USD then finished winning two of its last three including its finale over rival South Dakota State.
USD will look for more consistency in this spring 2021 season. But Coach Bob Nielson's team will need to do so without QB Austin Simmons, who was lost to graduation. Even now, Coach Nielson has not named the successor for the season opener. The candidates to take over under center include senior Tyler Tsagalis (the most experienced with six games played), juniors Devon Moore and Jakob Parks, redshirt freshman Hayden Ekern, and true freshmen Cole Stenstrom and Carson Camp.
Whomever takes over though, he will have plenty of experience around him. Four offensive players were named to the All-MVFC team (either first team or honorable mention) including RB Kai Henry, TE Brett Samson, OG Mason Scheidegger, and WR Caleb Vander Esch. This full group in part has helped USD lead the Valley in passing three years in a row and had three 300-yard rushing performances in 2019.
On the defensive side, LB Jack Cochrane should again be the team leader. He led the Valley and ranked 43rd nationally in total tackles with 106 last season. He also led USD with two interceptions, two forced fumbles and two fumble recoveries.
5. Southern Illinois Salukis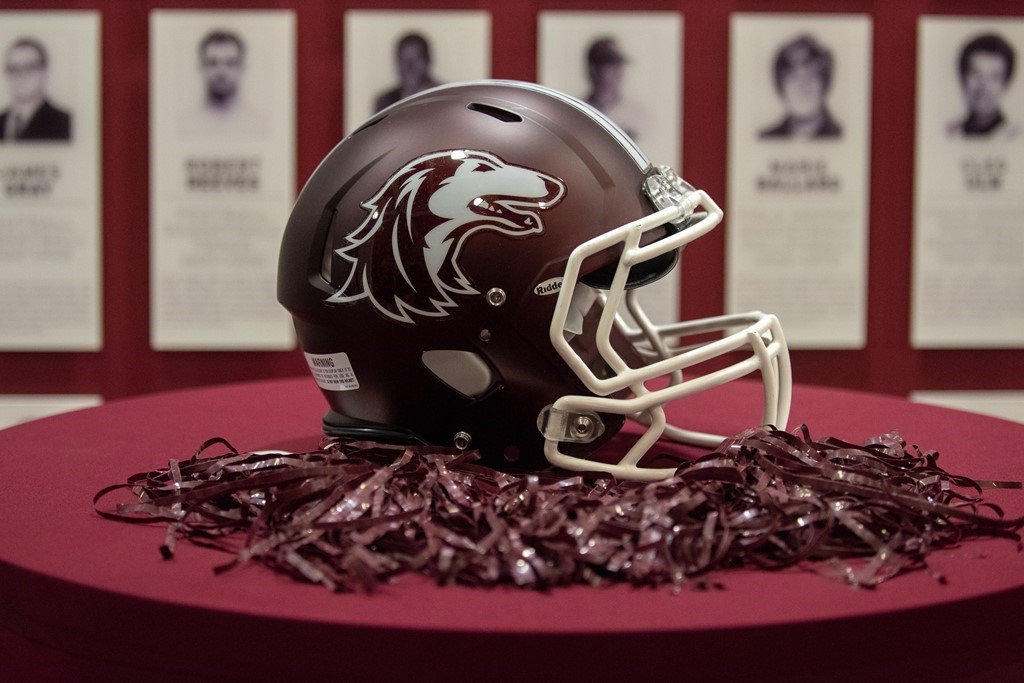 Coach: Nick Hill (Fifth Season, 18-28 @ SIU & overall)
Offensive Coordinator: Blake Rolan
Defensive Coordinator: Jason Petrino
Stadium: Saluki Stadium (15,000 capacity)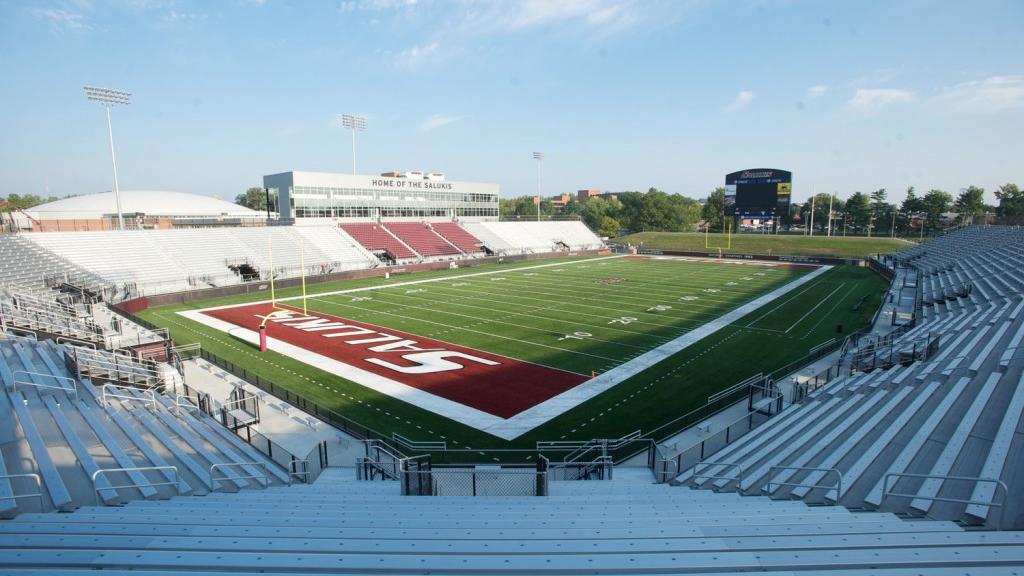 Location: Carbondale, Illinois
2019 Record: 7-5 (5-3 MVFC)
Southern Illinois was the hard luck first team out of the playoff picture in 2019 despite winning five of its last six games with the lone loss coming to eventual national champion NDSU. The Salukis did play one game last fall and won a close contest against rival Southeast Missouri State from the Ohio Valley Conference in late October on a late field goal by K Nico Gualdoni.
SIU hopes to build on that win last fall over a 2019 playoff team and use the 2019 playoff bid snub to get to the postseason for the first time since 2009.
The Salukis return eight starters on offense and six on defense from the 2019 season, plus the return of LB Bryce Notree, who was lost early in the 2019 season and was the leading tackler in 2018.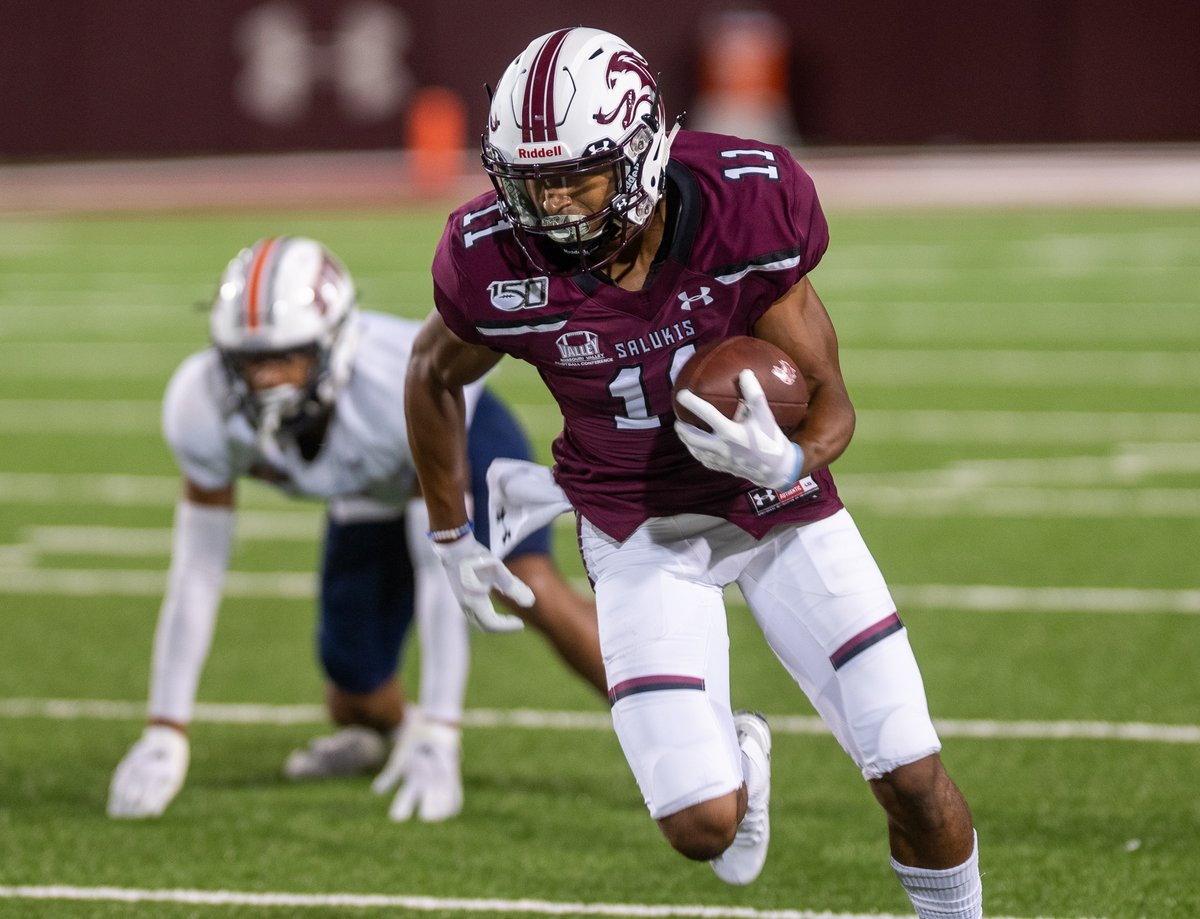 On offense, two specialists in RB Javon Williams Jr. and WR Avante Cox should lead the offensive production around QB Kare Lyles. Williams was third in the voting for the Jerry Rice Award (Top Freshman) and led all freshman with 17 touchdowns in 2019 and was second amongst all freshman in rushing with 1,038 rushing yards. Cox was also a newcomer to the Salukis last season in transferring from FBS Wyoming. The now junior led the team with 47 catches for 617 yards and 5 TDs and also had 21 carries for 212 rushing yards and three more scores.
OG ZeVeyon Furcron will be the anchor upfront and his group helped SIU ranked 12th in the nation in rushing (233.4) and 32nd in total offense (418.6).
On the defensive side, will need to replace NFL drafted Jeremy Chinn now on the Carolina Panthers. But the trio of DE Anthony Knighton, S Qua Brown and LB Makel Calhoun, along with the aforementioned LB Notre should be the key players on this side of the ball to keep the Salukis strong on this side of the ball.
4. Illinois State Redbirds
Coach: Brock Spack (12th Season, 84-50 @ ISU & overall)
Offensive Coordinators: C.J. Irvin & Ghaali Muhammad-Lankford
Defensive Coordinator: Travis Niekamp
Stadium: Hancock Stadium (13,391 capacity)
Location: Normal, Illinois
2019 Record: 10-5 (5-3 MVFC)
The Redbirds used the most of its playoff bid last year to notch two victories in the postseason over Southeast Missouri State and Central Arkansas both on the road and gave #1 seed and MVFC mate NDSU all they could handle in allowing just three field goals but only could muster up on field goal themselves in the Bison's closest game of the year in the quarterfinals.
Illinois State will look a lot different especially on offense this year after the graduation of RB James Robinson, who quickly became the NFL's Jacksonville Jaguars led back this past fall in his rookie season. Gone also is QB Brady Davis, who decided to leave his senior season and prepare for the NFL draft.
But taking over for Brady will be sophomore Bryce Jefferson, who is no stranger to the Redbird line-up. His top receiver should be WR Andrew Edgar, who ranked second on the team with 321 yards on 19 receptions (16.9 yards per catch) and led the team with four touchdown receptions despite missing nearly half the season due to injury.
Jefferson will have returning All-American OT Drew Himmelman to lead a powerful Redbird line that last year averaged 345.8 yards per game of total offense. FB Timothy McCloyn II helped led the way for Robinson and the running game and will try to do it again for what looks like a platoon of Nigel White and Cole Mueller as the lead running backs.
ISU should again be strong on defense with three headliners of DT John Ridgeway, LB Zeke Vandenburgh and CB Charles Woods. This group gave up just 16 points and just over 300 yards per game last season.
Illinois State
| Date | Event | Venue | Match Day |
| --- | --- | --- | --- |
| 2021-02-27 13:00:34February 27, 2021 | South Dakota 27, Illinois State 20 | Hancock Stadium | Normal, IL |
| 2021-03-06 17:00:22March 6, 2021 | Northern Iowa 20, Illinois State 10 | UNI-Dome | Cedar Falls, IA |
| 2021-03-13 15:30:04March 13, 2021 | North Dakota State 21, Illinois State 13 | Fargodome | Fargo, ND |
| 2021-03-20 13:00:41March 20, 2021 | Illinois State 26, Western Illinois 18 | Hancock Stadium | Normal, IL |
3. Northern Iowa Panthers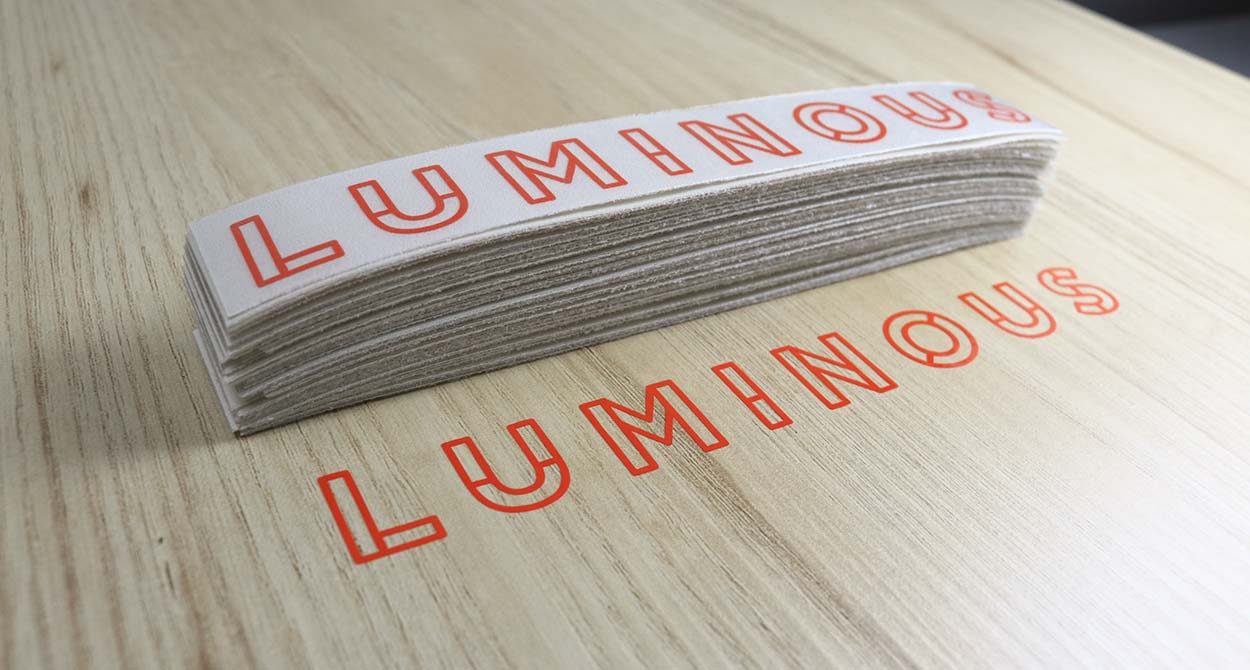 Coach: Mark Farley (20th Season, 159-83 @ UNI & overall)
Offensive Coordinator: Ryan Mahaffey
Defensive Coordinator: Jeremiah Johnson
Stadium: UNI Dome (13,391 capacity)
Location: Cedar Falls, Iowa
2019 Record: 10-5 (6-2 MVFC)
Northern Iowa used the most of its playoff bid in 2019 in first knocking off San Diego in the opening round at home and then defeated MVFC rival South Dakota State on the road in the second round. The Panthers though could not make it three wins in the postseason as UNI fell to eventual national runner-up James Madison in the quarterfinals.
UNI will be without two projected starters this season taken place in the fall of 2020 that also have NFL draft hopes in OT Spencer Brown and DE Elerson Smith.
But even without those two key members, the Panthers still look like a definite MVFC championship caliber team. QB Will McElvain will lead the offense as he was named as the All-MVFC signal caller for this spring season. McElvain threw for 2,778 yards and 20 touchdowns while throwing just seven interceptions in 15 games last year.
He will have his biggest deep threat back in WR Isaiah Weston, who tallied 43 receptions for 1,053 years and 10 touchdowns.
But it might be the defensive side of the ball that will be the main key to the Panthers success. Despite losing Smith on the line, UNI still has trio of headliners on this side of the ball. The team will likely be headed by DT Jared Brinkman, as well as LB Bryce Flater and DB Omar Brown.
Brinkman has been named to a number of all-American teams after recording 83 total tackles, fourth-most on the team with 14.5 tackles for loss and 7.0 sacks. Flater led the Valley in 2019 in total tackles with 143, while Brown tallied 77 tackles and had a team-high six interceptions.
There also could be some new stars on both sides of the ball as UNI used the transfer route to get RB Dom Williams (Kansas), WR Kendon Robinson Jr. (City College of San Francisco), WR Quan Hampton (Kansas), TE Kyle Fourtenbary (Western Kentucky) and offensive lineman Antione Frazier (Kansas) on offense. Defensive backs Benny Sapp III (Minnesota) and Demarcus Governor (Central Michigan) should also bolster an already strong defensive group.
2. South Dakota State Jackrabbits
Coach: John Stiegelmeier (24th Season, 164-105 @ SDSU & overall)
Offensive Coordinator: Jason Eck
Defensive Coordinators: Jimmy Rodgers & Brian Bergstrom
Stadium: Dana J. Dykhouse Stadium (19,340 capacity)
Location: Brookings, South Dakota
2019 Record: 8-5 (5-3 MVFC)
South Dakota State looked every part of the second best team in Division I FCS football through the first seven games of the season. Then SDSU played Dakota Marker rival NDSU and QB J'Bore Gibbs was lost for the season with a knee injury. The Jackrabbits still managed to get into the playoffs as the #7 seed but were ousted by MVFC rival Northern Iowa in that second round.
The Jackrabbits now have a healthy Gibbs under center but will be without his top receiver in Cade Johnson, who decided to forgo the spring season to ready himself for the NFL draft later this spring. WR Jaxon Janke will now look to be the lead back after he made an impact both as a wide receiver and punt returner en route to earning Freshman All-America honors last season. He ranked second on the team with four touchdown receptions and third in both receptions (29) and receiving yards (353).
The Jacks will have a strong running back joining Gibbs in the run game in Pierre Strong, Jr, who has had back-to-back 1,000 yard seasons the last two seasons. The now-junior also had a team high eight scores on the ground a year ago.
OC Wes Genant should be the leader of the group upfront opening the holes for both Gibbs and Strong in what very well could be a more run orientated offense this season for the Jacks.
The strong point for SDSU though looks to be on the defensive side. Three members were named to the preseason spring season all-conference squad that should lead this side of the ball in DE Reece Winkelman, LB Logan Backhaus and CB Don Gardner.
Winkelman tied for the team lead with 6.5 sacks in 2019. Backhaus is the team's top returning tackler after registering 79 tackles in 2019 to rank third on the squad. Gardner had a team-high six pass breakups and also scored two defensive touchdowns — one on his lone interception of the 2019 season and the other on a fumble recovery.
1. North Dakota State Bison
Coach: Matt Entz (Second Season, 17-0 @ NDSU & overall)
Offensive Coordinator: Tyler Roehl
Defensive Coordinator: David Braun
Stadium: Fargodome (18,700 capacity)
Location: Fargo, North Dakota
2019 Record: 16-0 (8-0 MVFC)
It is rare for any program especially at the FCS level to lose two projected Top 40 NFL drafted players and recover to be projected to be the top team again in its conference but that program has been doing this for the last decade in North Dakota State.
The Bison had QB Trey Lance and OT Dillion Radunz for their lone fall game against Central Arkansas but that was both NFL prospect's last game for the Bison.
NDSU will be looking now at QB Zeb Noland to be the next quarterback to lead the team that will see its last three starters drafted by an NFL team. Noland, who was a transfer from FBS Iowa State before last season, did appear in a back-up role last year in completing 9 of 14 passes for 120 yards and a touchdown and did see action in five games in 2018 for Iowa State, including passing for over 300 yards against Oklahoma in a game that season.
Noland will have an exciting WR to find in Christian Watson. who as NDSU's leading receiver with 34 catches for 732 yards and six touchdowns in 2019. Watson ranked third in the MVFC for receiving yards and was second in yards per reception (21.53).
The Bison did also lose top RB Adam Cofield to the transfer route as he went to FBS Western Kentucky last fall but NDSU still should be strong with junior Seth Wilson, who played well in the Central Arkansas game for his first game action since tearing his ACL in March of 2019.
The offensive line will again be strong even without Radunz. Cordell Volson moves from right tackle to take Radunz former spot on left side and should be the leader upfront. The FB spot has always been a key blocking position and NDSU has one of the tops at this poition in Hunter Luepke.
The defense will be without LB Jabril Cox, who was a senior transfer to FBS LSU, and now is also looking to be an NFL draft pick this spring. But the defense again should be similar to its 12.3 points per game average with DT Spencer Waege, LB Jackson Hankey, CB Josh Hayes, and S Michael Tutsie leading the way.
CSJ 2021 Spring Preseason MVFC Players of the Year
Offense
Pierre Strong Jr., RB, South Dakota State, Jr.
Defense
Jared Brinkman, DT, Northern Iowa, Sr.
Special Teams
Jake Coates, RS, Youngstown State, Sr.
Originally from LaMoure, North Dakota, Kent is a 1996 graduate of North Dakota State University. His prior writing experience is over 15 years having previously worked with D2football.com, I-AA.org, and College Sporting News before coming to College Sports Journal in 2016. His main focus is college football is the Missouri Valley Football Conference within the Division I FCS. And in 2017, he began also to look at the FBS Group of Five conferences of the American Athletic, Conference USA, Mid-American, Mountain West, and Sun Belt.
Reach him at this email or click below: