FCS QUARTERFINAL PLAYOFF MATCHUP: EAST TENNESSEE STATE AT NORTH DAKOTA STATE
WHERE: FARGODOME, FARGO, N.D.
WHEN: SATURDAY, DECEMBER 11, 11:00AM CST
TV/STREAMING: ESPN / WATCHESPN
Two conference champions meet in Fargo in this quarterfinal round match-up. East Tennessee State won the Southern Conference title this year and defeated Kennesaw State in the second round of the Division I FCS playoffs as the #7 seed.
The Buccaneers will meet #2 seed North Dakota State, who defeated Southern Illinois in their opening playoff game in the Second round a week ago.
These two teams look similar in offensive philosophies as both would like to establish the run game first as both rank in the Top 10 statically in all of FCS and also like to play a physical brand of football. The defenses of each also like to take to the physical game and both stop the run game well.
This is the first meeting between North Dakota State and East Tennessee State. The teams are scheduled to play a home-and-home series in 2024 (Johnson City) and 2026 (Fargo).
NDSU has won all six previous meetings with Southern Conference opponents Furman (1-0), Georgia
Southern (3-0) and Wofford (2-0).
This is ETSU's first game against a Missouri Valley Football Conference opponent. Below is a statistical comparison between these two squads: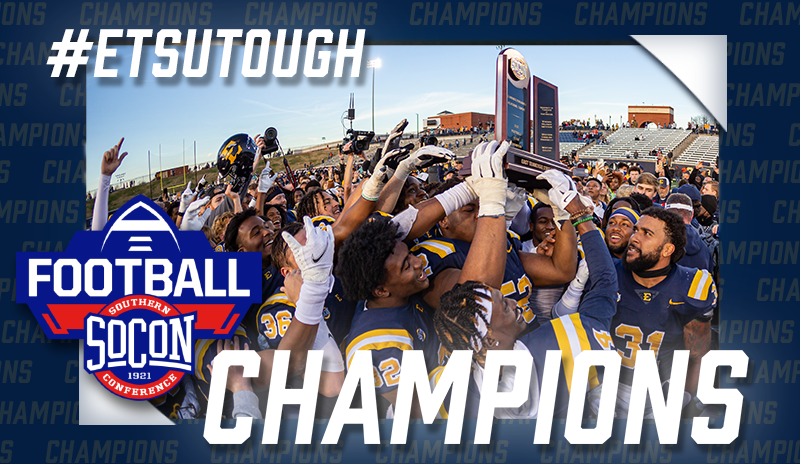 East Tennessee State Buccaneers (11-1, 7-1 SoCon)
LOCATION: Johnson City, Tenn.
HEAD COACH: Randy Sanders (4th Season, 26-16 @ ETSU & Overall)
ETSU had won of possibly the best FCS playoff games last week in the history of this tournament. In that game, the Bucs hosted Kennesaw State and things looked dire with just over five minutes left in the game. KSU had just kicked a field goal to have a 14-point margin (31-17) over the home-standing ETSU squad.
After a touchdown pass from QB Tyler Riddell to WR Will Huzzie cut Kennesaw State's lead to 31-24 with 1:28 left, the Bucs attempted an onside kick. Freshman TE Tim Stayskal made the unlikely recovery, giving ETSU the ball back and what appeared to be a chance to tie.
After TE Nate Adkins made two tough catches, ETSU scored again on a pass to RB Quay Holmes with 35 seconds left to get within one.
Instead of kicking the extra point and settling for overtime, Coach Sanders decided to go for the two-point conversion. Riddell passed to Adkins in the back of the end zone to put the Bucs on top.
The end was a 32-31 playoff victory–the first since the program came back and just the second all-time. ETSU beat Villanova in 1996 in the opening round as its only other FCS playoff win.
The players in that miraculous come back have been much of the team leaders on offense this year. The offense really starts in the running game with Holmes at RB. He was just named a finalist for the Walter Payton Award as one of three that will be awarded the night before the national title game in Frisco, Texas on January 7.
Holmes is ETSU's career rushing leader with 4,229 yards. His 1,518 yards this season are second in the country and the most in a season in school history. He has 17 rushing touchdowns this season. One more would break a tie for the record with George Searcy.
And Holmes is not the only back with production for the Bucs. Fellow RB Jacob Saylors has run for 985 and 10 touchdowns in his back-up role. Saylors is also very capable in the kick return game after averaging over 30 yards on kick returns this season.
The passing game is headed by QB Riddell. He has 19 touchdown passes but has just under 198 yards per game on average so with those numbers it shows ETSU's ability to run the ball but when they get into the redzone Riddell has been able pass for the scores. He has just four interceptions on the season and is part of the fifth best FCS squad in turnover margin.
The defense for Buccaneers allow 22.3 points per game which ranks 28th in the FCS. They bend but don't break and as shown in the turnover margin are opportunistic in taking the ball away from their opponent. ETSU has 24 turnovers on the season which would average exactly two per game.
Key Player: RB Quay Holmes
Getting named as a Walter Payton Award finalist will lead to some notoriety by the NDSU defense. The Bison defense is very strong against the run game so I expect the Bison to try to stop Holmes and his backfield mate Jacob Saylors as their first priority and try to force ETSU into passing.
But ETSU needs to use Holmes early to try to maintain the time of possession as I believe the best way for the Bucs to win this road game will be to keep the ball in their possession and to get first downs slowly and to be on schedule with third and short plays. If Holmes can do this, ETSU should be able to stay in the game.
NORTH DAKOTA STATE BISON (11-1, 7-1 MVFC)
LOCATION: Fargo, N.D.
HEAD COACH: Matt Entz (3rd Season, 34-4 @ NDSU & Overall)
NDSU played fellow MVFC foe Southern Illinois in its first playoff game last week and took a rather easy 38-7 win over the Salukis. The Bison rushed for 389 as a team with RB TaMerik Williams leading the way with 112 yards and two touchdowns. Back-up QB Quincy Patterson came in for some key plays and also finished the game under center and rushed for 84 yards and a score.
Starting QB Cam Miller only threw the ball for nine completions and just 88 yards but also added 61 yards on the ground and two scores.
NDSU's 62 rushing attempts and 23 first downs rushing were both Bison FCS playoff records in the game.
The Bison defense was dominant in giving up just 281 total yards to SIU and also picked up three sacks and an interception in the win.
Miller has been the signal caller after coming in for an injured Patterson now five games ago against Missouri State where he led the team back from behind to get the win over the Bears. He played this past spring also after coming in for the starter late in the regular season and improved to a 2-1 record in the playoffs as the starter.
Williams has emerged as the top RB for the Bison after being in a back-up role to begin the season. He leads the team with 605 yards and ten touchdowns on the ground.
A big reason NDSU was running the ball so much last week was it was without top WR Christian Watson. He is nursing a hamstring injury and his status likely will not be known for this week's game until just before kickoff. Watson is NDSU's top passing threat and leads the team with 740 receiving yards and seven scores.
Another short game receiving threat is out in TE Noah Gindorff is out for the rest of the season most likely as he is having surgery this week on what appeared in the win last week over SIU an ankle injury. That injury is not as significant as NDSU has another top TE in Josh Babicz, who is second on the team with three receiving touchdowns to fill that gap.
The Bison defense has been the main reason for NDSU winning the MVFC crown again this year after missing the title in the spring season for the first time in over a decade. The Bison have yielded just 262.3 yards per game and just 11.7 points per game to rank both in the Top Five nationally.
Key Player: RB TaMerik Williams
Williams, who transferred to the Bison from FBS SMU, has shown a burst and possibly not playing so much in the earlier part of the season, has shown the big play ability. He has rushed for over 300 yards in his last three games. He also has scored twice in each of the last three games as well.
With the uncertainty of the Bison passing game with a couple of key injuries, NDSU will again be leaning on Williams and the rest of this running mates for NDSU to move the ball as the key to NDSU winning this game.
Fearless Predictions:
Kent: Playing in the Fargodome for an opposing team can be a daunting task. The playoffs have proven that first time opponents (like ETSU is doing this week) coming to this environment can be very challenging. If ETSU is to stay in this game, the Bucs will need to take the crowd noise out early with a couple of early drives and to get a some points on the board early.
This though is not what we have seen from ETSU this season. They have had several fourth quarter comebacks as was witnessed in their playoff win last week. I think NDSU goes up early and will be too much for ETSU to overcome with any fourth quarter magic. I like the Bison with a rather easy victory in this one. North Dakota State 31, East Tennessee State 14.
Ray: The Fargodome. The Noise. The green helmets. It's all going to be too much for a new visitor to the Northern Plains to overcome. North Dakota State 52, East Tennessee State 7.
Jamie: ETSU is going to have to use short throws and play above their normal on defense to stay in this one. I don't see it happening. The Bison are rolling and will continue to do so. North Dakota State 34, East Tennessee State 10.
Chuck: I will be rooting extremely hard for ETSU, but it's awfully tough for a first-time team based on the run to win (or score) in the Fargodome. Hope they prove me very, very wrong. North Dakota State 23, East Tennessee State 0.
Originally from LaMoure, North Dakota, Kent is a 1996 graduate of North Dakota State University. His prior writing experience is over 15 years having previously worked with D2football.com, I-AA.org, and College Sporting News before coming to College Sports Journal in 2016. His main focus is college football is the Missouri Valley Football Conference within the Division I FCS. And in 2017, he began also to look at the FBS Group of Five conferences of the American Athletic, Conference USA, Mid-American, Mountain West, and Sun Belt.
Reach him at this email or click below: