2021 Division I FCS Playoff Second Round Preview: South Dakota State at #4 Sacramento State
FCS SECOND ROUND PLAYOFF MATCHUP: SOUTH DAKOTA STATE AT SACRAMENTO STATE
WHERE: HORNET STADIUM, SACRAMENTO, CALIF.
WHEN: SATURDAY, DECEMBER 4, 6:00PM PST
TV/STREAMING: ESPN+
A first time match-up will take place in Sacramento in the Division I FCS Second Round when South Dakota State visits Sacramento State.
Sacramento State was the Big Sky Conference champions with an unblemished conference mark to garner the #4 overall seed in this year's tournament.
South Dakota State beat Sac State's Causeway Classic rival UC Davis at home last week 56-24 in a FCS first round game that was competitive at the half but the Jacks blew it open in the second half. Six interceptions by the SDSU defense was a give reason for the easy win.
SDSU finished tied for third in the MVFC standings after the Jacks won the league this past spring and made it to the FCS title game where they lost to Sam Houston.
Sacramento State and South Dakota State had two common opponents in 2021. Both teams lost to Northern Iowa and
both have wins over UC Davis.
Here is a statstical comparison between the two teams and as can be seen both statistically are fairly even: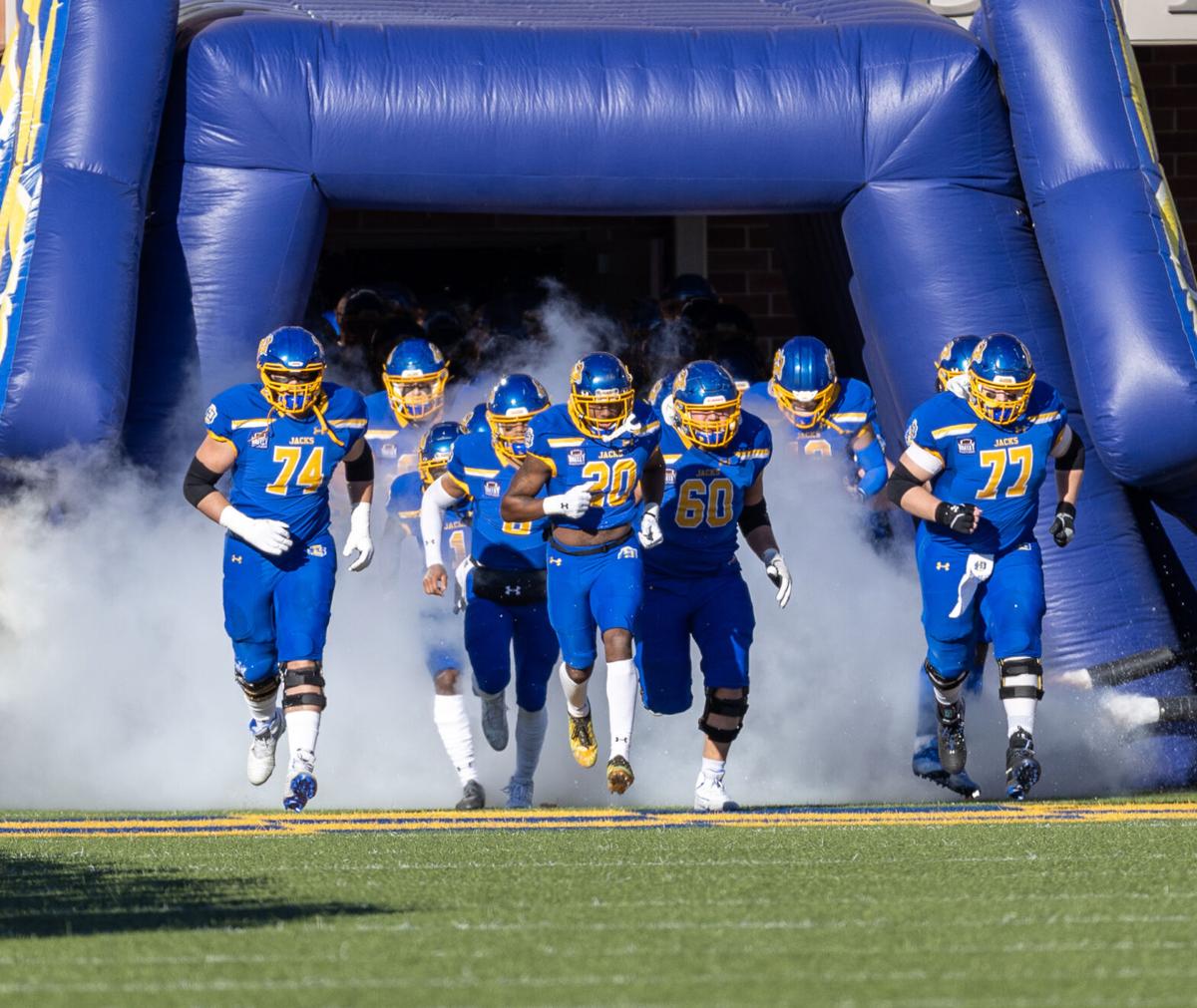 SOUTH DAKOTA STATE JACKRABBITS (9-3, 5-3 MVFC)
Coach: John Stiegelmeier – 25th Year at SDSU – 25 Years Total as a Head Coach
Record at South Dakota State: 183-110
Overall Record: 183-110
Missouri Valley Football Championships: 2
The Jackrabbits picked off six passes, scored three defensive touchdowns and rushed for 433 yards in a 56-24 win last week over UC Davis. The game was competitive at halftime with SDSU holding a 28-17 advantage. SDSU put the game out of reach with 28-unanswered points to start the second half.
SDSU had a season-high 446 rushing yards (Isiah Davis and Pierre Strong combined for 402). Those two are the main running tandem behind QB Chris Oladokun, who has 2,429 passing yards (220.8 ypg). He is completing 63.3% of his passes and collecting 20 touchdown passes and five interceptions this season.
The main receiving targets are the Janke twins (Jadon and Jaxon), who have combined for 85 receptions, 1,370 yards and ten touchdowns. Jaxon has 876 of those yards (19th in FCS), but Jadon leads in touchdowns at seven (37th in FCS).
SDSU also has two talented TEs in Tucker Kraft and Zach Heins. Those two have combined for 69 catches for 795 yards and 12 touchdowns.
On defense, SDSU is led by LB Adam Bock who has a team high 100 tackles (32nd in FCS). DT Caleb Sanders has a team high 6.5 sacks as another defensive headliner.
Key Player: QB Chris Oladokun
Oladokun was not needed to a headliner in the opening round win over UC Davis. But after rushing for over 400 yards, I believe the Sac State defense will be looking to stop the running game so Oladokun may have to use his arm more for the Jackrabbits to win this game.
He has shown he can do this this season at times but on the road with SDSU's win at FBS Colorado State being one of the major ones so he will need to do it again I believe for SDSU to move on.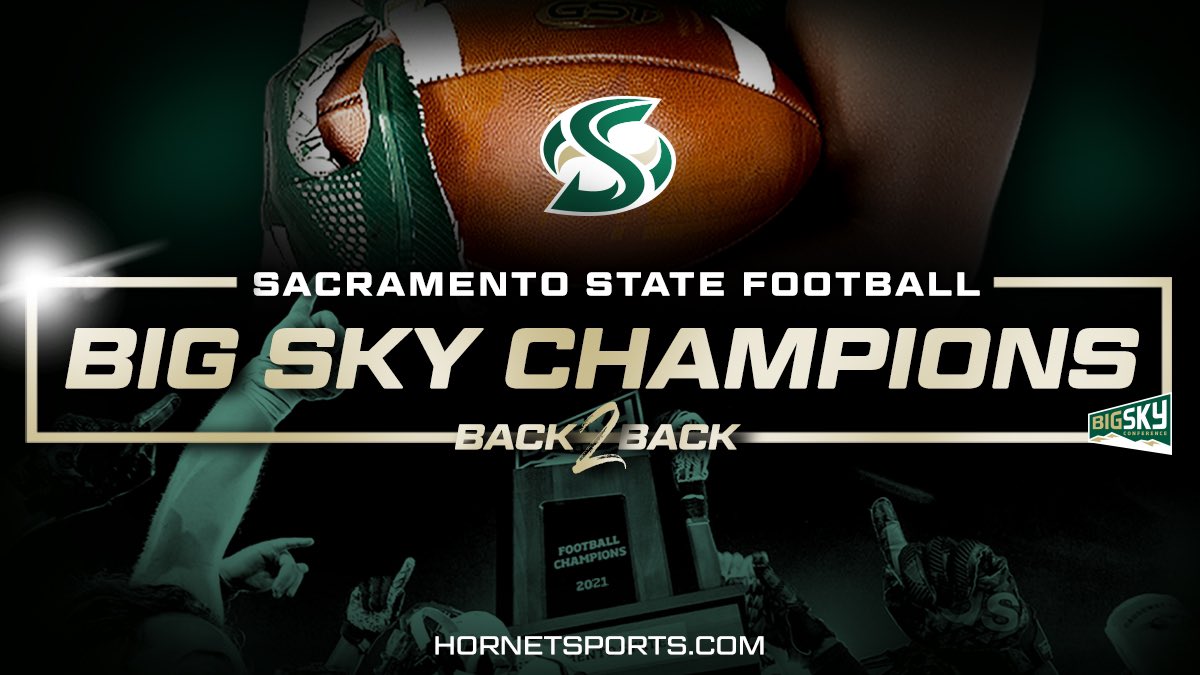 SACRAMENTO STATE HORNETS (9-2, 8-0 BSC)
Coach: Troy Taylor – 3rd Year at Sac State – 3 Years Total as a Head Coach
Record at Sacramento State: 18-6
Overall Record: 18-6
Big Sky Conference Championships: 2
Sacramento State closed the regular season with a 27-7 win at UC Davis in the Causeway Classic and that win tied the longest winning streak in program history with eight consecutive victories.
The Hornets finished the season with just two losses and both were away from Big Sky Conference play. The Hornets fell to MVFC Northern Iowa at home, as well as FBS California on the road for the two losses.
The Hornets use a two quarterback system with the passing mainly handled by Jake Dunniway and the running handled by Asher O'Hara. Dunniway has thrown for 2,245 yards (204.1 ypg) and 11 touchdowns, while O'Hara carried the ball 155 times for a team-high 656 yards (59.6 per game), with nine touchdowns.
RB Cameron Skattebo is the leading running back with 497 yards (71.0 per game) and six touchdowns this season. He, also caught 10 passes for 106 yards (15.1 per game) and another touchdown.
WR Pierre Williams' 664 receiving yards (83.0 yards per game) lead all receivers on the team. He's collected 43 receptions and two touchdowns. Fellow WR Marshel Martin has put together a 590-yard season so far (59.0 receiving yards per game) with six touchdowns, reeling in 47 passes.
The Hornet defense has been one of the best in the Big Sky and are second ranked in rush defense in their conference so this will be a key against a strong running game of SDSU.
Key Players: QBs Asher O'Hara and Jake Dunniway
Playing two quarterbacks by most programs around equal time in a game for most programs means you really don't have a top guy. But for Sacramento State Dunniway and O'Hara have made it work to get the Hornets a Big Sky title.
But against a strong SDSU defense, it will be interesting to see how this works. UC Davis, who SDSU just beat, tried a similar system and the Jackrabbits were able to pretty well shut it down especially with the turnovers it got.
The QB duo for the Hornets will need to avoid the turnover bug and whichever signal caller gets the better drives early in the game might be one the Hornets should stick with for the later part of the game.
Fearless Forecast:
Sacramento State was a seed in the 2019 season and that team fell at home to Austin Peay. Several players from the team are still on this 2021 team. Sacramento State benefited from a rather easy BSC schedule (avoided Eastern Washington and Montana State) but the Hornets still had wins over Montana and UC Davis this year so it is not like it was a complete easy slate.
But I look at what MVFC Northern Iowa was able to do to this team and think SDSU can use that script to get a road victory. This game will be closer than some think I believe but the Jackrabbits are just too strong for the Hornets. South Dakota State 38 Sacramento State 31
Originally from LaMoure, North Dakota, Kent is a 1996 graduate of North Dakota State University. His prior writing experience is over 15 years having previously worked with D2football.com, I-AA.org, and College Sporting News before coming to College Sports Journal in 2016. His main focus is college football is the Missouri Valley Football Conference within the Division I FCS. And in 2017, he began also to look at the FBS Group of Five conferences of the American Athletic, Conference USA, Mid-American, Mountain West, and Sun Belt.
Reach him at this email or click below: