FCS SECOND ROUND PLAYOFF MATCHUP: SOUTHERN ILLINOIS AT NORTH DAKOTA STATE
WHERE: FARGODOME, FARGO, N.D.
WHEN: SATURDAY, DECEMBER 4, 2:30PM CST
TV/STREAMING: ESPN+
Southern Illinois advanced the first round last week by defeating Missouri Valley Football Conference mate South Dakota on the road. The reward for the Salukis is to face another MVFC foe on the road in #2 seeded North Dakota State.
Southern Illinois is the team that knocked off NDSU in the spring to snap the Bison 39 game winning streak. That win spring-boarded the Salukis to the playoffs this past spring and SIU road the momentum again for another playoff berth this fall. Here are some highlights from that spring game below:
NDSU in the spring did not capture at least a share of the MVFC title for the first time in ten seasons. That changed this fall as the Bison seemed to right the ship to win its 10th MVFC in 11 years.
The Bison will be playing another MVFC team in the playoffs for the eighth time in their history. NDSU has won all prior seven meetings with all coming at home with the exception of the 2014 national title game against Illinois State.
This is the first time though that NDSU and SIU will meet in the postseason.
SIU is playing its third game against a MVFC opponent in the playoffs and actually this will be its third in a row against a conference mate. The Salukis are 1-1 in their history against their own conference with all games coming on the road. SIU lost at South Dakota State this past spring in the quarterfinal round and as mentioned defeated South Dakota last week.
Overall, NDSU holds a 9-4 record all-time against SIU and is 5-0 inside the Fargodome against the Salukis.
Here is a statistical comparison below between the two teams, along with how they rank in each category in the entire Division I FCS: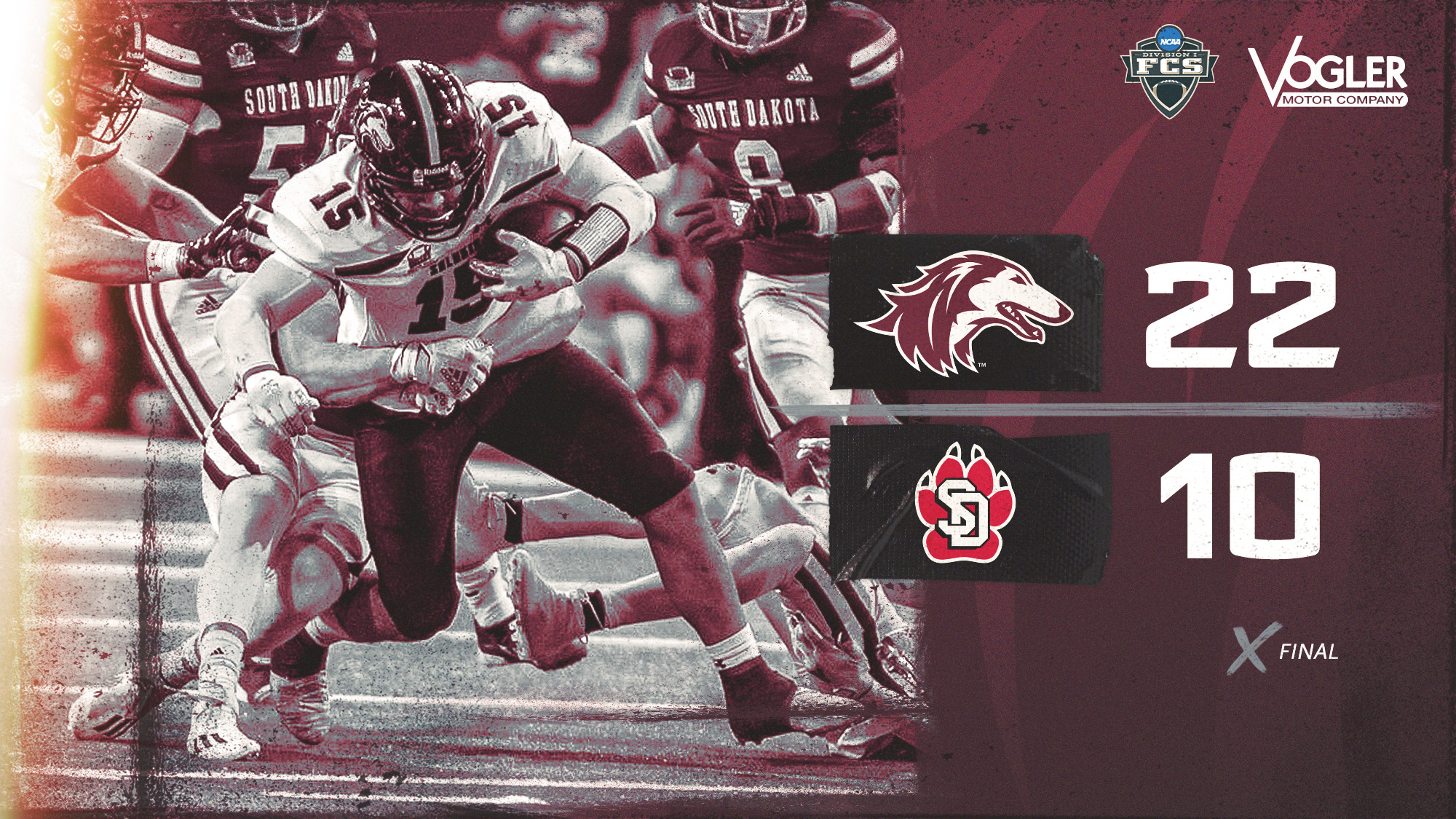 SOUTHERN ILLINOIS SALUKIS (8-4, 5-3 MVFC)
Coach: Nick Hill – 6th Year at SIU – 6 Years Total as a Head Coach
Record at Southern Illinois: 31-36
Overall Record: 31-36
MVFC Championships: 0
SIU kind of limped into the playoffs in losing three of its last four regular season games including a 38-18 setback at home to Youngstown State in the regular season finale. The Salukis, however, started 6-0 against FCS opponents (lone loss was at FBS Kansas State). SIU biggest win on the season was at South Dakota State early in the MVFC slate.
Last week, though the Salukis seemed to get in a grove at South Dakota. QB Nic Baker completed 21 of 30 passes in his first FCS playoff game for 210 yards and one touchdown. He was not intercepted but the SIU defense forced four turnovers of the Coyotes to help with the win. The Salukis also controlled the ground game with 174 yards rushing to get the 22-10 road victory.
Baker had a MVFC-best 25 TD passes this season. He has a variety of weapons around him including RB Javon Williams Jr., who heads a trio of backs with between 395-475 yards rushing.
The receiving leader is WR Landon Lenoir, who has 56 catches for 830 yards and 9 TDs. And is joined by WR Avante Cox, who was an All-American and All-MVFC First Team receiver this spring. He is averaging 17.6 yards per reception in 2021 and 13.9 yards per reception in his Saluki career.
Defensively, the Salukis have 12 interceptions and recovered 11 fumbles in the regular season (and go four more turnovers in their first round game) so they are very opportunistic. LB Bryce Notree leads the team in tackles and has 4.0 sacks and an interception. S Qua Brown has 72 tackles and an INT as the leader in the secondary.
KEY PLAYER: QB NIC BAKER
SIU has lost three of its last four games and the Saluki offense has not really clicked like it did in the first part of the season. Overall, Baker ranked third in the MVFC in passing, averaging 256.0 yards per game during the regular season. Baker threw for 2,816 yards and 25 touchdowns with 11 interceptions in the regular season.
A key for Baker and SIU will be converting third downs. The Salukis rank 22nd nationally in first downs on offense this season, but their third-down performance over the past four games has been an issue. SIU has only a 24% success rate (12-for-51) on third downs over the last month. This is a key area that will have change in this playoff game if SIU hopes to move on.
NORTH DAKOTA STATE BISON (10-1, 7-1 MVFC)
Coach: Matt Entz – 3rd Year at NDSU – 3 Years Total as a Head Coach
Record at NDSU: 33-4
Overall Record: 33-4
MVFC Championships: 2
The Bison enter this game with just a single loss at South Dakota State in winning the MVFC title this year. The title earned the Bison the #2 seed for this years playoffs.
The quarterback spot was one that was missing in the spring play. QB Cam Miller was the quarterback for the Bison when they played in the playoffs this spring as a true freshmen. Miller and the offense looked lost at times this past spring and could not convert many of its key third downs.
Miller saw transfer Quincy Patterson start this season but Miller came in during the Missouri State game–NDSU's sixth game of the season after Patterson was ineffective and Miller has started since. Over the four plus games, Miller has produced 942 passing yards (104.7 ypg) and is completing 73.9% of his passes and tossing 11 touchdown passes and just two interceptions. He looks more poised then he did in the spring but will see as the playoff start if he can produce when needed.
RB TaMerik Williams has emerged as the leading ball carrier this season. The FBS SMU transfer carried the ball 75 times for a team-high 496 yards (49.6 per game), with eight touchdowns this year. Overall, the NDSU running game is averaging an astounding 271 yards per game.
The leading Bison wide out is Christian Watson after gaining 739 receiving yards (67.2 yards per game). He has 39 receptions with seven touchdowns and can also be a threat as was seen in the playoffs last year on kick returns.
The NDSU defense is back to its normal standard this year and a big reason the Bison are a top seed in this year's postseason. NDSU's defense has yielded just 262.3 yards per game and surrendered just 12.1 points per game.
Key Player: QB Cam Miller
Miller as mentioned before has been more poised than he did this spring. I would expect SIU and any other playoff opponent to stack the box to try to stop the NDSU running game. This means that Miller will have to do it with his arm at times.
The key for NDSU will be if Miller can handle the pressure in the playoffs like his quarterback predecessors of Brock Jensen, Carson Wentz, Easton Stick, and Trey Lance. All were able to win (with one exception) at home in the playoffs. NDSU will have the luxury of hosting throughout the playoffs again but the play of Miller will likely be how the Bison move on.
Fearless Forecast:
This is a revenge type of game for NDSU. The Bison team that played SIU last spring is not the same squad that has another season behind it. The Salukis will need to cause some turnovers and likely have some early momentum to turn the Fargodome crowd off its normal playoff noise level.
Honestly, I did not think SIU would beat South Dakota last week on the road but they proved me wrong. But NDSU is a different animal that what the Salukis saw last week.
NDSU has not lost in 35 times it has had a bye week including both regular season and the playoffs. The streak includes 19 home games, eight road games and eight national championship games. Make it 36 times as I like the Bison to roll in this game. North Dakota State 38 Southern Illinois 17
Originally from LaMoure, North Dakota, Kent is a 1996 graduate of North Dakota State University. His prior writing experience is over 15 years having previously worked with D2football.com, I-AA.org, and College Sporting News before coming to College Sports Journal in 2016. His main focus is college football is the Missouri Valley Football Conference within the Division I FCS. And in 2017, he began also to look at the FBS Group of Five conferences of the American Athletic, Conference USA, Mid-American, Mountain West, and Sun Belt.
Reach him at this email or click below: