CSJ Predicted Order of Finish: 3rd
Coach: Bubba Schweigert (Eighth Season, 42-34 @ UND, 64-54 overall)
Offensive Coordinator: Danny Freund
Defensive Coordinator: Brett Holinka
Stadium: Alerus Center (12,283 capacity)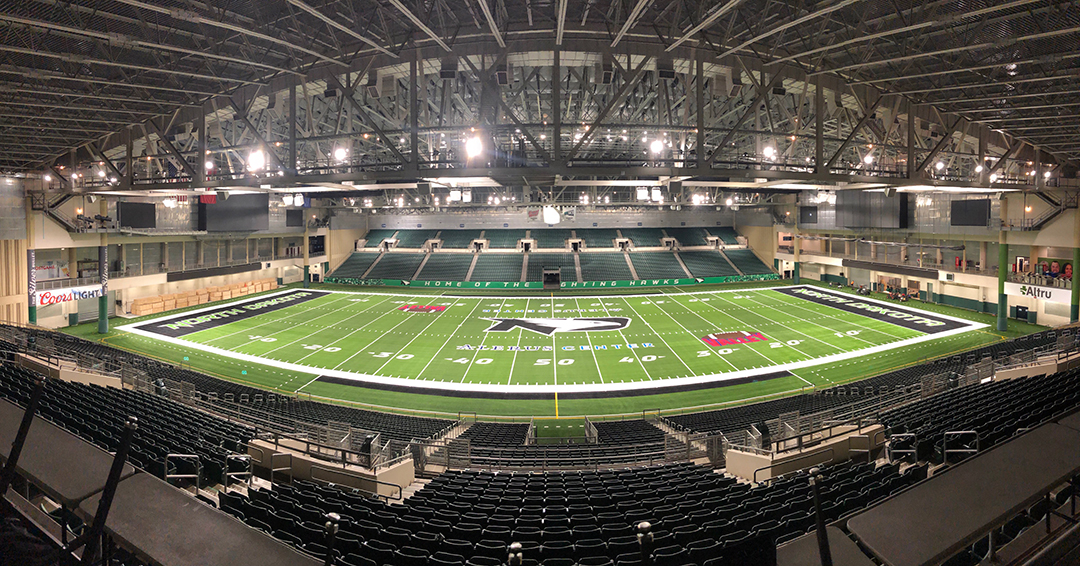 Location: Grand Forks, North Dakota
2021 Spring Record: 5-2 (4-1 MVFC)
The newest MVFC member is North Dakota had a very successful first season in the MVFC this past spring in being a tri-champion. The Fighting Hawks won their first ever DI playoff game over MVFC mate Missouri State before falling to FCS power James Madison in the quarterfinals.
North Dakota ranked 26th in the FCS in total offense, averaging 6.11 yards per play, scoring 26 offensive touchdowns, and averaging 395.1 yards per game. They did it with a good combination of the run and pass games but at times were inconsistent. QB Tommy Schuster completed (65% of his pass while throwing for 1,428 yards and 10 touchdowns, averaging 204 yards per game. RB Otis Weah led the team in rushing, going for 735 yards and nine touchdowns and had a very capable backup in Luke Skokna, who tallied 387 yards on the ground and four touchdowns.
The main receiving threats for UND are back this fall in WRs Garett Maag and Marcus Preston. Magg had 525 yards with two touchdowns, while Preston had 112 yards. A third wideout to in Adam Zavalney, who went for 99 yards and three touchdowns, has big play potential.
The defense has been a staple of the Coach Schweigert regime but UND did not fair as well on defense this past spring. Overall, the Fighting Hawks ranked 50th in total defense in the FCS, allowing 361 yards per game, 21 points per game, 5.39 yards per play, and 18 touchdowns in their first MVFC campaign. North Dakota ranked 63rd in third down defense as opponents converted 40 of 96 attempted third downs (41.7%). One thing that the defense did do well was forcing turnovers as the Fighting Hawks had 15 total turnovers in their seven games in the spring.
Those defensive numbers will need to improve and not be so reliant on turnovers to stay in the top of the standings in the MVFC. The defense should be led by LB Devon Krzanowski, who led the team in tackles by a significant margin with 51 total tackles and also had three sacks, an interception and two fumble recoveries. His LB teammate in Noah Larson also returns after posting 38 tackles (14 solo, 24 assist), 6 tackles for loss, three sacks, and a fumble recovery.
The secondary should be headed by safeties Evan Holm and Jordan Canady. Holm returned from an injury-plagued 2019 campaign season to lead the Fighting Hawks in pass breakups with seven this past spring, while Canady added 24 tackles and two two interceptions.
North Dakota
| Home | Time/Results | Away | Venue | Match Day | TV/Streaming | Highlights |
| --- | --- | --- | --- | --- | --- | --- |
| North Dakota | 35 - 14 | Idaho State | Holt Arena | Pocatello, ID | - | - |
| North Dakota | 24 - 48 | Utah State | Maverik Stadium | Logan, UT | - | - |
| Drake | 17:00:005:00 pm | North Dakota | Alerus Center | Grand Forks, ND | - | - |
| North Dakota State | 15:00:003:00 pm | North Dakota | Alerus Center | Grand Forks, ND | - | - |
| North Dakota | 15:00:003:00 pm | South Dakota | DakotaDome | Vermillion, SD | - | - |
| North Dakota | 15:00:003:00 pm | Southern Illinois | Saluki Stadium | Carbondale, IL | - | - |
| Western Illinois | 15:00:003:00 pm | North Dakota | Alerus Center | Grand Forks, ND | - | - |
| North Dakota | 15:00:003:00 pm | Missouri State | Plaster Stadium | Springfield, MO | - | - |
| Youngstown State | 13:00:001:00 pm | North Dakota | Alerus Center | Grand Forks, ND | - | - |
| Illinois State | 15:00:003:00 pm | North Dakota | Alerus Center | Grand Forks, ND | - | - |
| North Dakota | 15:00:003:00 pm | South Dakota State | Dykhouse Stadium | Brookings, SD | - | - |
Originally from LaMoure, North Dakota, Kent is a 1996 graduate of North Dakota State University. His prior writing experience is over 15 years having previously worked with D2football.com, I-AA.org, and College Sporting News before coming to College Sports Journal in 2016. His main focus is college football is the Missouri Valley Football Conference within the Division I FCS. And in 2017, he began also to look at the FBS Group of Five conferences of the American Athletic, Conference USA, Mid-American, Mountain West, and Sun Belt.
Reach him at this email or click below: