CSJ's Predicted Order of Finish
MVFC Predicted Order of Finish and Links to Full Team Previews:
11. Indiana State Sycamores
10. Western Illinois Leathernecks
9. Youngstown State Penguins
8. South Dakota Coyotes
7. Illinois State Redbirds
6. Missouri State Bears
5. Southern Illinois Salukis
4. Northern Iowa Panthers
3. North Dakota Fighting Hawks
2. South Dakota State Jackrabbits
1. North Dakota State Bison
2021 Spring MVFC NCAA Division I FCS Playoff Results
First Round
#1 South Dakota State 31 Holy Cross 3
Southern Illinois 34 Weber State 31
North Dakota 44 Missouri State 10
North Dakota State 42 Eastern Washington 20
Quarterfinals
#1 South Dakota State 31 Southern Illinois 26
#3 James Madison 34 North Dakota 21
#2 Sam Houston State 24 North Dakota State 20
Semifinals
#1 South Dakota State 33 Delaware 3
National Championship
#2 Sam Houston State 23 #1 South Dakota State 21
With a canceled 2020 FCS football fall season due to COVID-19 reasons, the sub-division instead played a spring 2021 schedule with the national title game taking place again in Frisco, Texas this past May 16th.
The Missouri Valley Football Conference, like the remainder of the FCS, will look to get things back to a normal fall schedule this fall.
The MVFC in the spring began without Indiana State and played with the other ten teams. The spring schedule welcomed North Dakota after UND played two seasons as an FCS independent and before that as a member of the Big Sky Conference. The MVFC slate will have all 11 teams this fall.
While the MVFC started with ten teams this past spring, it did not finish with all ten. Illinois State, Western Illinois, and Youngstown State, along with South Dakota by default, all decided to end their seasons early after getting off to starts that would not allow them to finish in playoff contention.
But the MVFC did get five bids to the spring FCS playoffs with South Dakota State receiving the #1 overall seed in the reduced 16 team field. Four teams would move on to the quarterfinals but only South Dakota State would move to the semifinals, where the Jackrabbits went all the way to the national championship game. SDSU lost the title game to Sam Houston State but the appearance was the league's tenth year in a row with at least one team from the league having a squad in the title contest.
The story of the Missouri Valley Football Conference this spring changed with South Dakota State taking the reigns away from North Dakota State, who had won at least a share of the MVFC crown the prior ten seasons. The Jackrabbits used their MVFC title to get to the national title game but one big injury in the championship game was true freshman QB Mark Gronowski. He will be lost for the 2021 fall slate due the serious knew injury he sustained in that May game.
SDSU though did get a grad transfer in Chris Oladokun to play this fall in Gronowski's absence. Oladokun will compete with 2019 starter J'Bore Gibbs and the back-up Keaton Heide, who actually came in for the Jacks after Gibbs was hurt in 2019 and in the national title game this past May.
SDSU will have North Dakota State seemingly as is toughest contender for the 2021 fall MVFC title. The Bison had a bit of a down spring in losing twice in the regular season and again in the playoffs. It was the first time NDSU had three losses in a season since 2010, which was the first year NDSU made the FCS playoffs in their history. The biggest question mark for the Bison in the spring was at quarterback. The Bison lost Trey Lance early as he decided to enter the NFL draft, where he was the first round pick and #3 overall selection for the San Francisco 49ers.
The Bison had senior Zeb Noland starting after he backed up Lance in 2019 but the same NDSU quarterback play was simply not there and Noland was benched for true freshman Cam Miller, who played throughout the playoffs. Miller performed well at times but without much experience, the offense stalled much of the time. The Bison will also get a transfer signal caller in Quincy Patterson, who actually was with the team this spring but had to sit out due to playing at FBS Virginia Tech last fall. The rest of the team is solid and look for Patterson to put up
Besides NDSU, North Dakota and Northern Iowa look like the toughest completion to unseat the Jackrabbits from the MVFC crown. Missouri State and Southern Illinois appear other teams that look like playoff hopefuls again this fall.
Top Conference Games, Fall 2021
There are a number of key games within league play. Below are nine that I feel will be key ones in determining the MVFC champion, as well as who from the league will get into the postseason.
Oct. 2 – North Dakota State at North Dakota
Oct. 9 – Northern Iowa at North Dakota State
Oct. 9 – Southern Illinois at South Dakota State
Oct. 16 – North Dakota at Southern Illinois
Oct. 23 – Northern Iowa at South Dakota State
Oct. 30 – Southern Illinois at Northern Iowa
Nov. 6 – North Dakota State at South Dakota State (Dakota Marker)
Nov. 13 – Northern Iowa at Missouri State
Nov. 20 – North Dakota at South Dakota State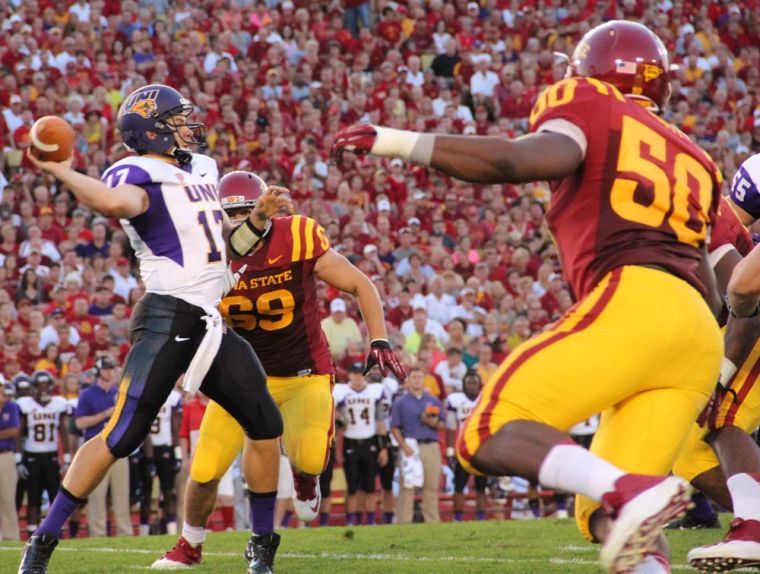 FBS Games, Fall 2021
Here is the list of all the FBS games for the MVFC this fall. All MVFC teams with the exception of North Dakota State will each play one FBS opponent.
Sept. 2 – Western Illinois at Ball State
Sept. 3 – South Dakota State at Colorado State
Sept. 4 – Northern Iowa at Iowa State
Sept. 4 – Missouri State at Oklahoma State
Sept. 10 – North Dakota at Utah State
Sept. 11 – Indiana State at Northwestern
Sept. 11 – Youngstown State at Michigan State
Sept. 11 – Illinois State at Western Michigan
Sept. 11 – Southern Illinois at Kansas State
CSJ 2021 Fall Preseason MVFC Players of the Year
Offense
Pierre Strong Jr., RB, South Dakota State, Sr.
Defense
Jared Brinkman, DT, Northern Iowa, Gr.
Special Teams
Christian Watson, RS, North Dakota State, Sr.
2021 Full Fall Missouri Valley Football Preseason Team
FIRST TEAM
QB Tommy Schuster, R-So., North Dakota
RB Pierre Strong Jr., Jr., South Dakota State
RBOtis Weah, R-Jr., North Dakota
FB Hunter Luepke, Jr., North Dakota State
TE Zach Heins, So., South Dakota State
WR Avante Cox, Jr., Southern Illinois
WR Dennis Houston, Sr., Western Illinois
WR Christian Watson, Sr., North Dakota State
OL ZeVeyon Furcron, Sr., Southern Illinois
OL Garret Greenfield, So., South Dakota St.
OL Cody Mauch, Sr., North Dakota State
OL Cordell Volson, Sr., North Dakota State
OL Matt Waletzko, Sr., North Dakota

DL Jordan Berner, Sr., Southern Illinois
DL Jared Brinkman, Gr., UNI
DL Caleb Sanders, Jr., South Dakota State
DL Spencer Waege, Sr., North Dakota State
LB Logan Backhaus, Sr., South Dakota State
LB Spencer Cuvelier, Sr., UNI
LB Grant Dixon, Youngstown State, Sr.
LB James Kaczor, Sr., North Dakota State
DB Montrae Braswell, So., Missouri State
DB Qua Brown, Sr., Southern Illinois
DB James Ceasar, Sr., Southern Illinois
DB Don Gardner, Sr., South Dakota State
DB Michael Tutsie, Sr., North Dakota State
P Brady Schutt, Sr., South Dakota
PK Matthew Cook, Jr., UNI
LS Dalton Godfrey, Jr., South Dakota
AP Javon Williams Jr., So., Southern Illinois
RS Christian Watson, Sr., North Dakota State
SECOND TEAM
QB Stone Labanowitz, Sr., Southern Illinois
RB Isaiah Davis, Fr., South Dakota State
RB Jaleel McLaughlin, Sr., Youngstown State
FB Jason Garrett, Jr., Southern Illinois
TE Noah Gindorff, Sr., North Dakota State
WR Jaxon Janke, So., South Dakota State
WR Tony Tate, Sr., Western Illinois
WR Caleb Vander Esch, Sr., South Dakota
OL Landon Bebee, Jr., Missouri State
OL Dan Becker, Youngstown State, Sr.
Wes Genant, Sr., South Dakota State
OL Mason McCormick, So., South Dakota St.
OL Trevor Penning, Sr., UNI
DL Kevin Ellis, Sr., Missouri State
DL Eric Johnson, Sr., Missouri State
DL Anthony Knighton, Sr., Southern Illinois
DL Eli Mostaert, So., North Dakota State
LB Devon Krzanowski, Sr., North Dakota
LB Brock Mogensen, So., South Dakota
LB Bryson Strong, Jr., Southern Illinois
LB Tylar Wiltz, Sr., Missouri State
DB Omar Brown, Jr., UNI
DB Austin Evans, Gr., UNI
DB Evan Holm, 5th Year, North Dakota
DB Zaire Jones, Sr., Youngstown State
DB Kyriq McDonald, Sr., Missouri State
P Jack Colquhoun, Sr., Southern Illinois
PK Jose Pizano, Jr., Missouri State
LS Bradey Sorenson, Sr., South Dakota State
AP Deion McShane, Sr., UNI
RS Tony Tate, Sr., Western Illinois
HONORABLE MENTION
QB Will McElvain, Jr., UNI
QB Connor Sampson, Sr., Western Illinois
RB Tyler Hoosman, Sr., UNI
FB Tim McCloyn, Sr., Illinois State
TE Josh Babicz, Sr., North Dakota State
WR Dante Hendrix, R-Jr., Indiana State
WR Isaiah Weston, Sr., UNI
OL Isaiah Edwards, R-Sr., Indiana State
OL Mason Scheidegger, Sr., South Dakota
OL William Waddell, Sr., Western Illinois
DL James Jackson, Sr., Youngstown State
DL Jacob Matthew, Sr., South Dakota
DL Inoke Moala, R-Sr., Indiana State
DL Reece Winkelman, Jr., South Dakota St.
LB Jack Cochrane, Sr., South Dakota
LB Jaxson Turner, 5th Year, North Dakota
DB Jordan Canady, 5th Year, North Dakota
DB Myles Harden, Fr., South Dakota
DB Benny Sapp III, Sr., UNI
P Adam Fellner, Sr., Western Illinois
PK Nico Gualdoni, Sr., Southern Illinois
LS Dan Heilbron, Jr., Southern Illinois
AP Christian Turner, Sr., Youngstown State
RS Luke Skokna, Jr., North Dakota
Total picks, includes honorable mentions, by school:
Illinois State – 1; Indiana State – 4; Missouri State – 7; North Dakota – 8; North Dakota State – 10 (Christian Watson a duplicate honoree) UNI – 11; South Dakota – 8; South Dakota State – 12; Southern Illinois – 13; Western Illinois – 5 (Tony Tate a duplicate honoree) Youngstown State – 6
Originally from LaMoure, North Dakota, Kent is a 1996 graduate of North Dakota State University. His prior writing experience is over 15 years having previously worked with D2football.com, I-AA.org, and College Sporting News before coming to College Sports Journal in 2016. His main focus is college football is the Missouri Valley Football Conference within the Division I FCS. And in 2017, he began also to look at the FBS Group of Five conferences of the American Athletic, Conference USA, Mid-American, Mountain West, and Sun Belt.
Reach him at this email or click below: