CSJ Predicted Order of Finish: 9th
Coach: Doug Phillips (Second Season, 1-6 @ YSU & overall)
Offensive Coordinator: Troy Rothenbuhler
Defensive Coordinator: Joe Schaefer
Stadium: Stambaugh Stadium (20,630 capacity)
Location: Youngstown, Ohio
2021 Spring Record: 1-6 (1-6 MVFC)
Coach Doug Phillips took over the Penguins this past spring season after most recently being on the staff of FBS Cincinnati. He was previously on the YSU staff as a graduate assistant in 1991 and 1992.
On the field, the Penguins were not much better than before Phillips arrived. The only Penguin win came at home on March 20 in a 28-10 over South Dakota. The average loss was 10.5 points in the six Penguins' losses.
Redshirt freshman quarterback Mark Waid looks to rebound from an injury late in the abridged season that kept him out of the final games of the season. He performed well in six games, completing 63.9 percent on 97 attempts for 527 total yards. Junior Joe Craycraft filled in as the quarterback in three total games on the season, going 21-for-44, throwing for 176 total yards and one touchdown with no interceptions.
Junior Jaleel McLaughlin was the lead back for the Penguins and averaged 5.2 yards per carry on 134 rushing attempts while scoring five touchdowns. He started in the final five games of the season and earned All-Missouri Valley second-team honors. Tight end Jake Benio and wide receiver Natavious Payne, both sophomores, look to return next season after tying with senior Andrew Ogletree for the team high of 12 total catches on the year. Payne averaged just 20.1 yards per game while Benio averaged just 12.6 yards per game.
The offense was run heavy, averaging 166.7 rushing yards and 100.4 passing yards per game. The Penguins scored 15.4 points per game.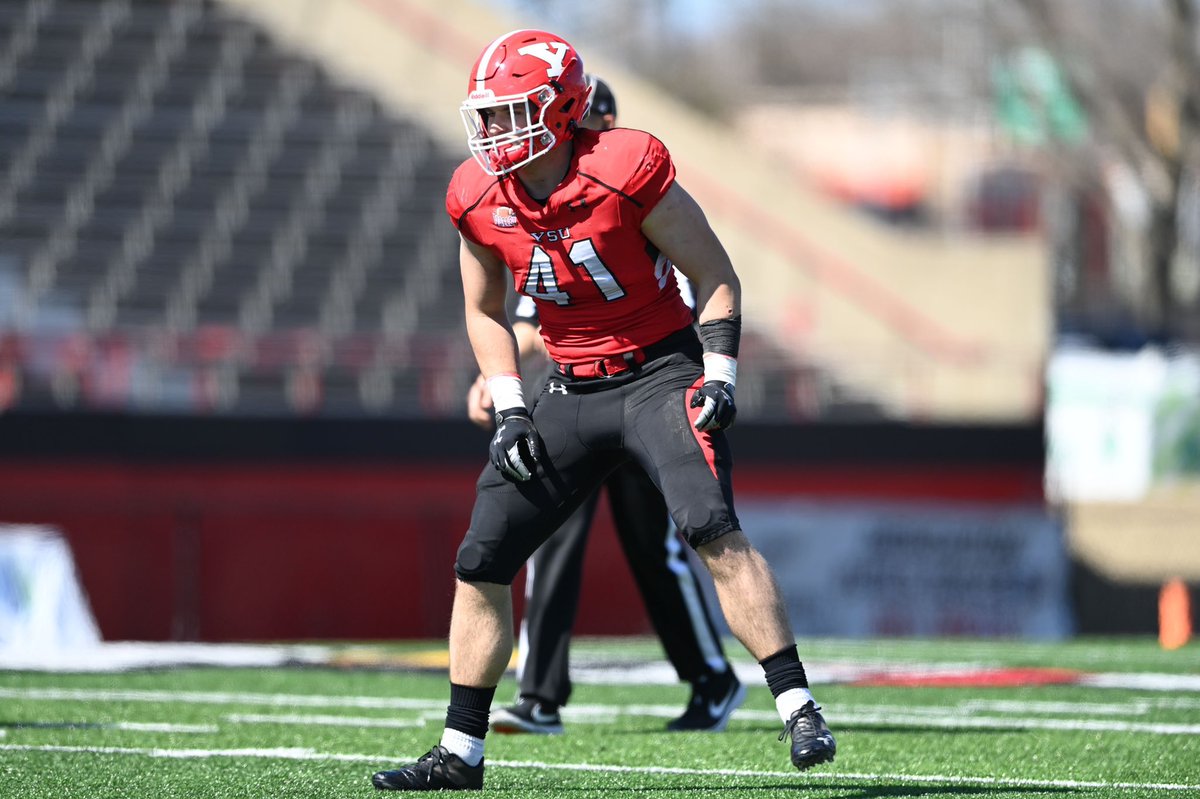 Senior and All-Missouri Valley first-team linebacker Grant Dixon, who led the team in total tackles with 55, will be the leader again this fall. However, he should be joined by sophomore linebacker Griffin Hoak after ranking second in total tackles for the team with 46. Also back will be freshman and All-Missouri Valley honorable-mention cornerback Keyon Martin who tallied 24 total tackles, 19 solo tackles, and one interception on the season.
The defense gave up an average of 312.1 yards and 21.9 points per game. The yardage was relatively balanced with 163.7 coming through the air and 148.4 on the ground.
Both sides of the ball will need to improve for YSU to jump in the MVFC standings this year.
Youngstown State
| Home | Time/Results | Away | Venue | Match Day | TV/Streaming | Highlights |
| --- | --- | --- | --- | --- | --- | --- |
| Incarnate Word | 41 - 44 | Youngstown State | Stambaugh Stadium | Youngstown, OH | - | - |
| Youngstown State | 14 - 42 | Michigan State | Spartan Stadium | East Lansing, MI | - | - |
| Western Illinois | 18:00:006:00 pm | Youngstown State | Stambaugh Stadium | Youngstown, OH | - | - |
| Youngstown State | 17:00:005:00 pm | Northern Iowa | UNI-Dome | Cedar Falls, IA | - | - |
| Missouri State | 14:00:002:00 pm | Youngstown State | Stambaugh Stadium | Youngstown, OH | - | - |
| Youngstown State | 13:00:001:00 pm | Indiana State | Memorial Stadium (Indiana State) | Terre Haute, IN | - | - |
| South Dakota State | 14:00:002:00 pm | Youngstown State | Stambaugh Stadium | Youngstown, OH | - | - |
| Youngstown State | 13:00:001:00 pm | North Dakota | Alerus Center | Grand Forks, ND | - | - |
| North Dakota State | 12:00:0012:00 pm | Youngstown State | Stambaugh Stadium | Youngstown, OH | - | - |
| Youngstown State | 13:00:001:00 pm | Southern Illinois | Saluki Stadium | Carbondale, IL | - | - |
Originally from LaMoure, North Dakota, Kent is a 1996 graduate of North Dakota State University. His prior writing experience is over 15 years having previously worked with D2football.com, I-AA.org, and College Sporting News before coming to College Sports Journal in 2016. His main focus is college football is the Missouri Valley Football Conference within the Division I FCS. And in 2017, he began also to look at the FBS Group of Five conferences of the American Athletic, Conference USA, Mid-American, Mountain West, and Sun Belt.
Reach him at this email or click below: