CSJ Predicted Order of Finish: 7th
Coach: Brock Spack (14th Season, 85-53 @ ISU & overall)
Offensive Coordinators: C.J. Irvin & Ghaali Muhammad-Lankford
Defensive Coordinator: Travis Niekamp
Stadium: Hancock Stadium (13,391 capacity)
Location: Normal, Illinois
2021 Spring Record: 1-3 (1-3 MVFC)
The Redbirds were a rebuilding team this past spring after advancing to the FCS quarterfinals in 2019. Illinois State lost its first three contests before defeating Western Illinois in what would be their last game of the spring. Illinois State after that win then shut down their season due to safety concerns related to the COVID-19 pandemic.
Bryce Jefferson holds down the No. 1 quarterback spot entering fall camp. Jefferson finished the 2019 season on the field as then-starter Brady Davis suffered a knee injury late in the regular season. Jefferson completed 54 of 109 passes for 640 yards, three touchdowns and six interceptions this spring.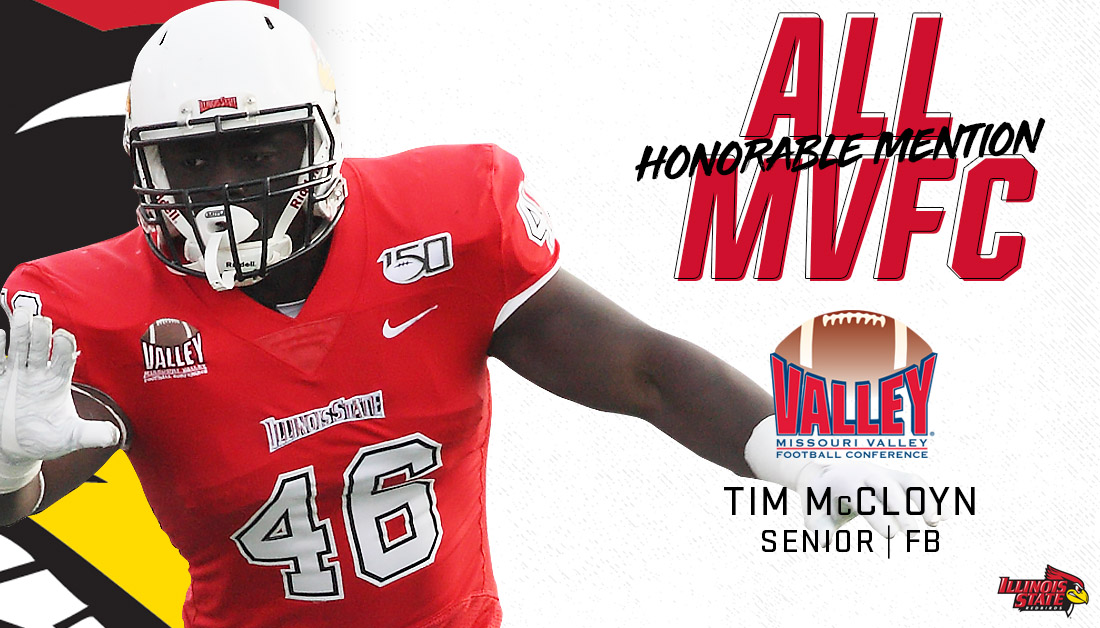 Behind Jefferson, is a group of young RBs in Pha'leak Brown (271 rushing yards in the spring) and Nigel White (230).
Whomever is carrying the ball though should be helped by FB Tim McCloyn, who has starting fullback for the past three seasons. McCloyn has played a huge role for the Redbirds' success as he helped pave the way in the '18 and '19 seasons for former Redbirds running back and NFL Rookie of the Year Finalist, James Robinson. In the shortened 2021 spring season, McCloyn started all four games and recorded four carries, including his first career touchdown.
The receiving corps will be without without leaders Andrew Edgar and Taylor Grimes, who transferred to Incarnate Word. Edgar caught 44 passes in 2018 but has been hampered by various injuries since and has decided to call it a career. That group will though see the return of Eric Rogers from injury and the arrival of FBS Notre Dame transfer Micah Jones.
On the defensive side, the Redbirds lost two starters via transfer in nose tackle John Ridgeway to Arkansas and cornerback Charles Woods to West Virginia. But the team did get a transfere themselves at nose tackle in Noah Hickcox from FBS Minnesota.
The linebackers might have the most depth on the team with Zeke Vandenburgh and Brandon Simon on the outsides and Shanon Reid and Kenton Wilhoit on the inside.
Illinois State
| Home | Time/Results | Away | Venue | Match Day | TV/Streaming | Highlights |
| --- | --- | --- | --- | --- | --- | --- |
| Butler | 7 - 49 | Illinois State | Hancock Stadium | Normal, IL | - | - |
| Illinois State | 0 - 28 | Western Michigan | Waldo Stadium | Kalamazoo, MI | - | - |
| Illinois State | 19:00:007:00 pm | Eastern Illinois | O'Brien Field | Charleston, IL | - | - |
| Illinois State | 15:00:003:00 pm | Southern Illinois | Saluki Stadium | Carbondale, IL | - | - |
| Missouri State | 14:00:002:00 pm | Illinois State | Hancock Stadium | Normal, IL | - | - |
| North Dakota State | 15:00:003:00 pm | Illinois State | Hancock Stadium | Normal, IL | - | - |
| Illinois State | 14:00:002:00 pm | South Dakota | DakotaDome | Vermillion, SD | - | - |
| Illinois State | 16:00:004:00 pm | Western Illinois | Hanson Field | Macomb, IL | - | - |
| Northern Iowa | 13:00:001:00 pm | Illinois State | Hancock Stadium | Normal, IL | - | - |
| Illinois State | 15:00:003:00 pm | North Dakota | Alerus Center | Grand Forks, ND | - | - |
| Indiana State | 13:00:001:00 pm | Illinois State | Hancock Stadium | Normal, IL | - | - |
Originally from LaMoure, North Dakota, Kent is a 1996 graduate of North Dakota State University. His prior writing experience is over 15 years having previously worked with D2football.com, I-AA.org, and College Sporting News before coming to College Sports Journal in 2016. His main focus is college football is the Missouri Valley Football Conference within the Division I FCS. And in 2017, he began also to look at the FBS Group of Five conferences of the American Athletic, Conference USA, Mid-American, Mountain West, and Sun Belt.
Reach him at this email or click below: