CSJ Predicted Order of Finish: 1st
Coach: Matt Entz (Third Season, 24-3 @ NDSU & overall)
Offensive Coordinator: Tyler Roehl
Defensive Coordinator: David Braun
Stadium: Fargodome (18,700 capacity)
Location: Fargo, North Dakota
2021 Spring Record: 7-3 (5-2 MVFC)
The NDSU 2021 spring season was the worst team from the Fargo school in the last decade. The Bison still went to the quarterfinal round of the FCS playoffs but fell at eventual national champion Sam Houston in that round after NDSU defeated Eastern Washington in the first round. Most FCS schools would love to have a quarterfinal playoff type team but when you have won eight national titles in the last decade, this is a down season and this was a team that played 15 true freshmen and 16 redshirt freshmen this spring. Those 31 freshmen accounted for nearly a quarter of the total offensive, defensive and special teams snaps and now are a season into their careers battle tested.
The only other year that NDSU lost earlier over this past decade was the other season they did not win the national title in 2016. NDSU rebounded the next season to win the national title. That same kind of feel is here for the Bison this season.
But to get back at the national championship caliber level, NDSU needs to find a quarterback to get back close to its standard. This was the biggest issues last year on a team that has had its last three prior starting signal callers (Carson Wentz, Easton Stick, & Trey Lance) get NFL drafted.
This year, FBS Virginia Tech transfer Quincy Patterson will battle with last year's starter Cam Miller, who was one of those true freshman that played throughout the late season and the playoffs. Patterson will have three years of eligibility left and has shown he can compete at the FBS level with Virginia Tech. While he completed just 7 of 10 passes for 93 yards and two touchdowns in a backup role in the 2020 season. He also rushed 15 times for 67 yards and one score. But in his freshman season, he started versus Notre Dame in his first career start where he completed nine passes for a career-best 139 yards with an eight-yard TD and also ran for 77 yards.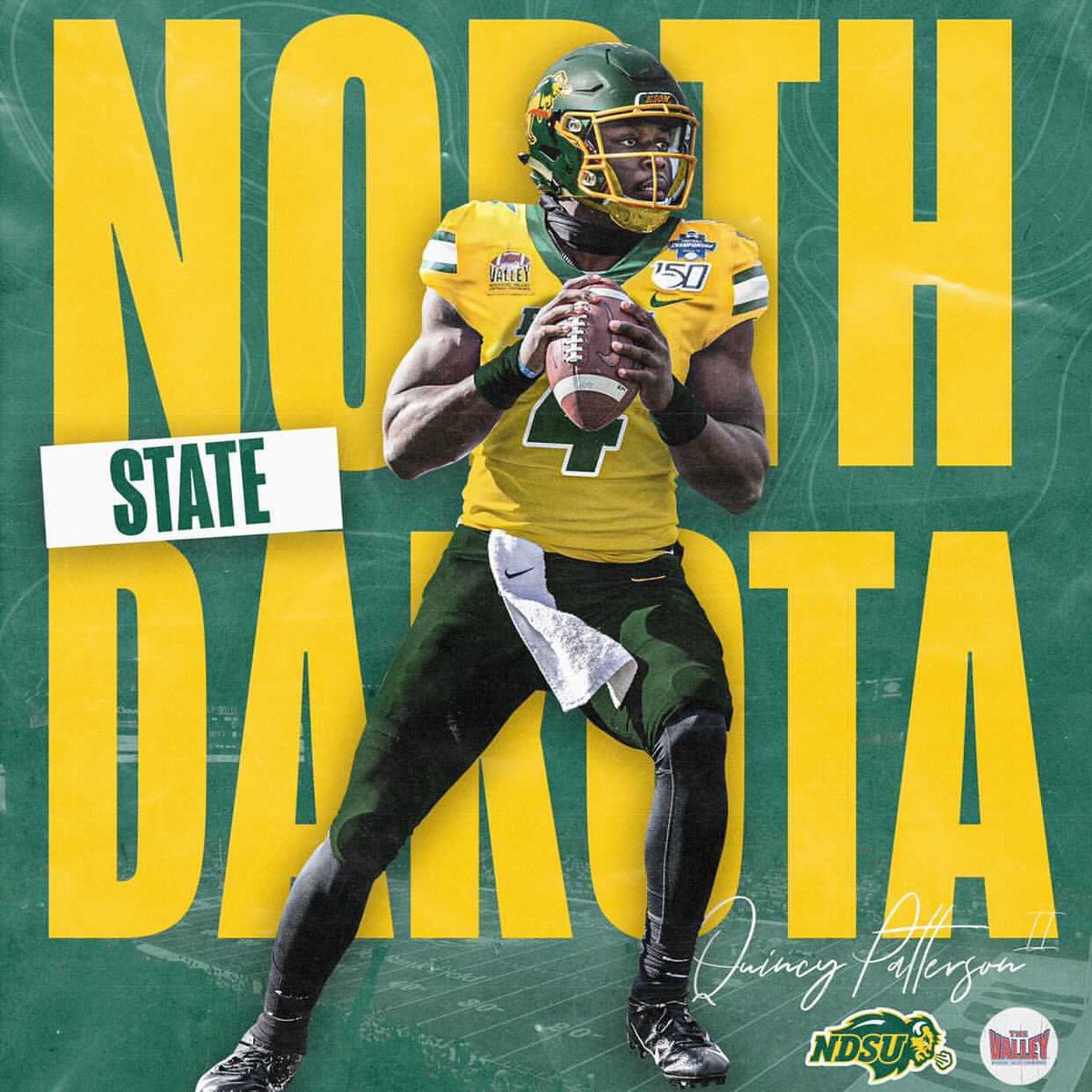 Whichever quarterback starts, he will have an exciting WR to find in Christian Watson. who led the Bison with 896 all-purpose yards and made a team-high 19 receptions for 442 yards and one touchdown in 10 games last year. He also averaged 33.8 yards per kickoff return including a 100-yard TD at Northern Iowa and a 94-yard TD at Sam Houston. His receiving mate Phoenix Sproles is also back after being out the spring season to injury. He was the team's second leading receiver in 2019 with 33 receptions for 541 yards and two touchdowns.
The Bison running game will be headed by FB Hunter Loeke, who finished the spring second on the team in rushing with 84 carries for 458 yards averaging 5.5 yards per carry despite missing the first four games of the spring slate. He also led the Bison with seven total touchdowns.
The offensive line will again be strong with OTs Cordell Volson and Cody Mauch, who were All MVFC performers, leading the group.
The defense will have a trio of All-MVFC members in DE Spencer Waege, LBs James Kaczor and James Kaczor leading the group. NDSU was like past teams in giving up just 19 points and just over 300 yard per game. This group should be able to be even better this fall.
North Dakota State
| Date | Event | Time | Venue | Match Day | TV/Streaming |
| --- | --- | --- | --- | --- | --- |
| 2021-09-04 15:30:00September 4, 2021 | North Dakota State 28, Albany 6 | 15:30:003:30 pm | Fargodome | Fargo, ND | - |
| 2021-09-11 15:30:00September 11, 2021 | North Dakota State 64, Valparaiso 0 | 15:30:003:30 pm | Fargodome | Fargo, ND | - |
| 2021-09-18 18:00:00September 18, 2021 | North Dakota State at Towson | 18:00:006:00 pm | Johnny Unitas Stadium | Towson, MD | - |
| 2021-10-02 15:00:00October 2, 2021 | North Dakota State at North Dakota | 15:00:003:00 pm | Alerus Center | Grand Forks, ND | - |
| 2021-10-09 14:00:00October 9, 2021 | Northern Iowa at North Dakota State | 14:00:002:00 pm | Fargodome | Fargo, ND | - |
| 2021-10-16 15:00:00October 16, 2021 | North Dakota State at Illinois State | 15:00:003:00 pm | Hancock Stadium | Normal, IL | - |
| 2021-10-23 15:30:00October 23, 2021 | Missouri State at North Dakota State | 15:30:003:30 pm | Fargodome | Fargo, ND | - |
| 2021-10-30 15:30:00October 30, 2021 | Indiana State at North Dakota State | 15:30:003:30 pm | Fargodome | Fargo, ND | - |
| 2021-11-06 15:00:00November 6, 2021 | North Dakota State at South Dakota State (Dakota Marker) | 15:00:003:00 pm | Dykhouse Stadium | Brookings, SD | - |
| 2021-11-13 12:00:00November 13, 2021 | North Dakota State at Youngstown State | 12:00:0012:00 pm | Stambaugh Stadium | Youngstown, OH | - |
| 2021-11-20 15:30:00November 20, 2021 | South Dakota at North Dakota State | 15:30:003:30 pm | Fargodome | Fargo, ND | - |
Originally from LaMoure, North Dakota, Kent is a 1996 graduate of North Dakota State University. His prior writing experience is over 15 years having previously worked with D2football.com, I-AA.org, and College Sporting News before coming to College Sports Journal in 2016. His main focus is college football is the Missouri Valley Football Conference within the Division I FCS. And in 2017, he began also to look at the FBS Group of Five conferences of the American Athletic, Conference USA, Mid-American, Mountain West, and Sun Belt.
Reach him at this email or click below: