App State Rebounds From First-Half Woes To Beat Belmont-Abbey In Exhibition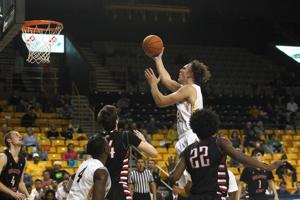 By David Coulson
Executive Editor
College Sports Journal
BOONE, N.C. —There were some moments of trepidation for the Appalachian State men's basketball team in its season-opening exhibition game against Belmont-Abbey at the Holmes Convocation Center on Tuesday night, particularly when the Mountaineers fell behind 28-27 at halftime and still carried nothing more than a narrow lead into the early minutes of the second half.
But patience prevailed as the Mountaineers pulled way for an 80-60 victory in their first tune-up for the 2015-16 season against a Division II opponent that was just 2-26 last season and is best known as the place where Basketball Hall-of-Famer Al McGuire got his head coaching start from 1957-64 before moving to Marquette.
Forward Griffin Kinney sparked the with 17 points on perfect 7-of-7 shooting from the field and 10 rebounds, while guard Frank Eaves hit a pair of key three-pointers on the way to 14 points.
"We came out and the expectation is we're supposed to beat this team by a lot, so we came out trying to throw a 50-point haymaker," said Eaves. "I think that's what made us come out tight today. As the game went on, we started playing as we practiced and things opened up. It was good to get that first one."
Appalachian could have jaunted to a comfortable first-half advantage against the smaller Crusaders, but the Mountaineers missed 12-of-14 free throws in the first half and finished 14-of-34 for the game.
"That's unacceptable," Eaves said of the results from the charity stripe.
Kinney agreed.
"It's definitely something that will be addressed."
With Belmont-Abbey guard Nick Hough scoring 13 of his game-high 18 points in the first half, the Crusaders played scrappy basketball to take their two-point, first-half lead, after trailing 23-13 following Bennett Holley's lay-in at the 6:45 mark.
Drexler Clark added 13 points and Markel Pollard contributed 10 for Belmont-Abbey.
Before App State coach Jim Fox even made it to the locker room at the intermission, Mountaineer players were making the mental and emotional adjustments to set things right.
"Our strength coach told me they were already on each other," said Fox. "I didn't have to go in there and go crazy. I just had to build confidence."
Getting back to Fox's system in the second half provided the Mountaineers will all they needed to engineer the somewhat comfortable win.
"What happened was guys got away from the system, and what happened is guys — I don't think they took anybody lightly — they were nervous," Fox said. "What happens when you're nervous is you play fast, and you do things that just go outside the box, and we don't need to do that."
With the Mountaineers settling back into form, Fox was able to get 18 players into the game on what should be a deep roster this season.
"This was our first test," said Fox, who led ASU to a 12-17 campaign in 2014-15. "Guys are going to be pushed for playing time. That's a great thing to have and that's something we didn't have last season."
The Mountaineers will play a scrimmage this weekend before getting into their official season on Nov. 14 against Jacksonville in a 2 p.m. contest at the Holmes Convocation Center.