Arkansas State Outlasts Appalachian State In First-Place Sun Belt Showdown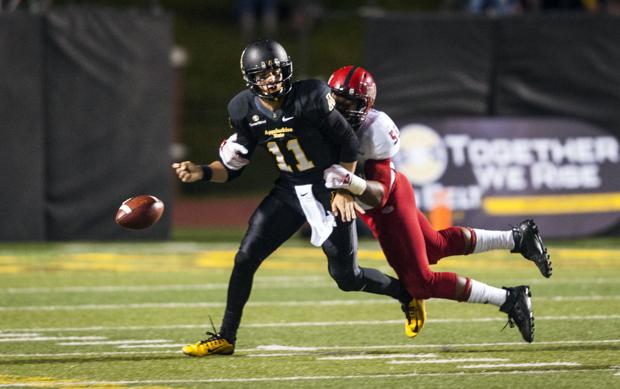 By David Coulson
Executive Editor
College Sports Journal
BOONE, N.C. — Appalachian State kept Arkansas State on life support with three critical turnovers in the first half and the Red Wolves resurrected themselves in the second half to stun the Mountaineers 40-27 in a first-place, Sun Belt Conference showdown at Kidd Brewer Stadium.
With a crowd of 18,721 watching the game in person and an ESPNU television audience tuning in as well, App State dominated the first half with a 305-125 advantage in total offense.
But fumbles by running back Marcus Cox and quarterback Taylor Lamb were turned into 14 quick points by Arkansas State to tie the game twice after the Mountaineers had forged leads.
"Starting the game, we spotted them 14 points and you can't do that against a good team," Lamb said. "We didn't get it going after halftime. We just were not clicking too much in the second half."
In a battle between two undefeated Sun Belt squads, Arkansas State (6-3 overall, 5-0 in league) took sole possession of first place with the victory. Appalachian (7-2, 4-1) had its 10-game Sun Belt and six-game overall winning streak snapped and lost for just the second time in 15 games.
"We didn't play particularly great, I don't think in the first half," App State coach Scott Satterfield said. "Three turnovers and we still had the lead. We didn't slow them down in the second half."
Appalachian marched down the field on its opening drive to score in just five plays. Lamb's 12-yard pass to Malachi Jones, who stretched the ball over the pylon made it 7-0 barely two minutes into the contest.
But Cox fumbled on the Mountaineers' next possession and one play later, Arkansas State quarterback Fredi Knighten (14-of-25 passing for 208 yards, 14 carries for 69 yards rushing) hit Tres Houston on an eight-yard slant to knot the score.
Lamb threw a second TD aerial with 6:04 remaining in the first period, hitting a wide-open tight end Barrett Burns after a play fake for 29 yards and a 14-7 edge.
The seven-play drive was kept alive when Bentlee Critcher threw a perfect strike to Malachi Jones on a fake punt for 36 yards and a first down.
But again, Appalachian's generosity pulled the Red Wolves back even.
A protection breakdown led to Lamb being clobbered on the blindside by linebacker Xavier Woodson-Luster, causing a fumble that Chris Stone scooped up on the run and returned 19 yards for another Arkansas State touchdown.
Lamb (22-of-34 passing for 321 yards and four touchdowns) burned the Red Wolves' secondary again in the first minute of the second quarter with his beautiful, 24-yard spiral to Dante Jones in the end zone making it 21-14.
It was Dante Jones' first career touchdown.
But Appalachian missed on opportunities to pull further ahead and Arkansas State cut the lead to 21-17 with the first of four J.D. Houston field goals from 25 yards out with 4:50 left before the intermission.
The Mountaineers had a chance to get into Zach Matics' field goal range at the end of the first half,
but a Lamb pass with the Mountaineers at their own 40 was picked off by cornerback Rocky Hayes along the sideline at the Red Wolves' 37 to kill the drive.
Coming off a triple-overtime victory against Troy just five days earlier, Appalachian saw its gas tank hit empty in the second half as Arkansas State shredded the Mountaineer defense for 293 yards and 17 points in the third period.
"I think (Arkansas State) fatigued the defense," Red Wolves' coach Blake Anderson said. "We got better as the third and fourth quarters went on. We really got the run game going against a very good defense."
Knighten broke contain for a 26-yard scamper to get the Red Wolves into scoring range after the second-half kickoff and Johnston White rumbled 26 more yards on the next play to score the touchdown that gave Arkansas State its first lead at 24-21.
"It was amazing, the way we battled back in the second half," said Knighten, the Sun Belt's all-conference quarterback. "We knew after halftime we were going to push the tempo button to get them tired."
The Red Wolves' leading rusher, Michael Gordon (17 carries, 136 yards rushing) had been ineffective in the first half with seven carries for 12 yards, but he took advantage of a defensive bust for 73 yards and a TD at the 10:17 mark as Arkansas State grabbed the momentum of the game with a 31-21 lead.
From there, Appalachian State's continued ineffectiveness on offense allowed Arkansas State to grind down the clock with three more scoring drives. J.D. Houston finished all three with field goals of 32, 26 and 23 yards as the Red Wolves expanded their advantage to 40-21 with 6:21 remaining.
The Mountaineers awoke from their offensive slumber with 3:32 on the clock as Montez McGuire pulled down an acrobatic catch on Lamb's pass in the end zone for 27 yards and one final touchdown to make it a 13-point game.
But a two-point conversion pass failed and Arkansas State's Tyler Trosin recovered a well-designed onside kick when Matics faked a kickoff and McElfresh booted it up the middle.
The Red Wolves ran out the clock from there.
Arkansas State finished with 517 yards of total offense, 309 of it on the ground. Appalachian had nearly as much offense, with 465 yards, but only 108 yards came on the ground and those three turnovers proved fatal.
"We rely on the run," said Satterfield. "The running game is huge for us and we lean on it. We couldn't get that running game going and then we put ourselves in bad predicaments."
The Mountaineers will get nine days off before their next game on Nov. 14 at Idaho, giving a tired and beat-up squad some time to regroup.
"We're still 4-1," said Satterfield. "Anything can happen. There is a lot of football to be played in the next month."