The two most western conferences and arguably the top two FCS team will highlight this week's top match-up.
In total, this season will see six such Big Sky vs. MVFC matchups.
NDSU and UNI both play Eastern Washington, UNI plays Montana, South Dakota state squares off against Cal Poly, Western Illinois will tussle with Northern Arizona, and South Dakota will play Weber State and old North Central Conference rival North Dakota.
This Saturday, these two conferences will meet in four of these six meetings with six squads ranked in all the FCS polls. These games will include Eastern Washington at North Dakota State, Montana at Northern Iowa, Northern Arizona at Western Illinois, and Weber State at South Dakota.
Eastern Washington and Northern Iowa were two of the four FCS teams to knock off FBS programs in the first full week of the season.
North Dakota State, following an overtime victory over Charleston Southern on August 27, had a bye this past weekend. Eastern Washington scored a 45-42 win at the PAC-12's Washington State. Senior wide receiver Cooper Kupp became the all-time FCS leader in touchdown receptions with 59.
Saturday's clash in Fargo is the first time EWU and NDSU will meet since EWU beat the Bison in Cheney in overtime 38-31 in the 2010 quarterfinals. The Eagles went on to win its only FCS title and the last champion since NDSU's five year current run of titles.
Of the FCS playoff games, this loss at Cheney was not only the first but only DI postseason loss in NDSU's history.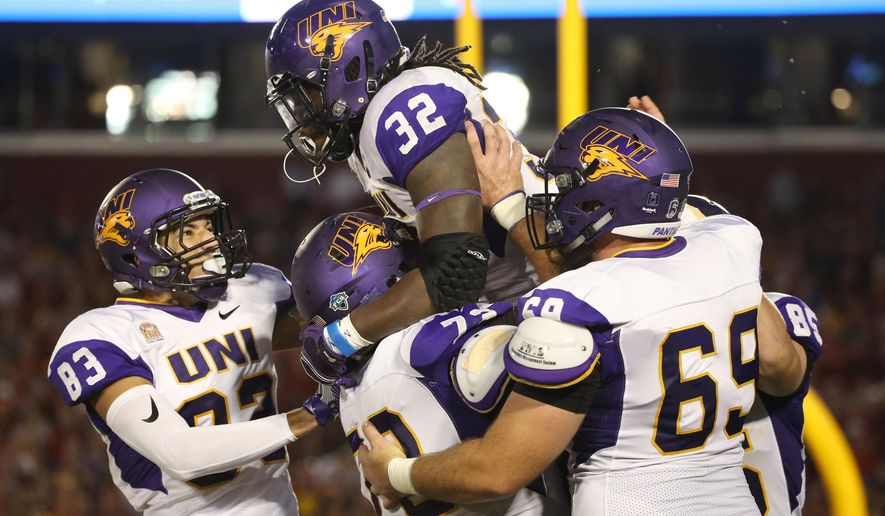 Northern Iowa beat the Big 12's Iowa State 25-20 to begin its season. The Panthers have never beaten Montana in five all-time meetings – the last three in the playoffs. Montana is coming off a 41-31 victory over Saint Francis.
UNI and Montana last meet in the 2011 quarterfinals–a 48-10 Grizzly victory.
Northern Arizona lost its opener to at the PAC-12's Arizona State 44-13. NAU had super sophomore Case Cookus throw for 369 passing yards and a touchdown in the loss. Western Illinois is coming off a key FCS victory—defeating in-state rival Eastern Illinois of the Ohio Valley 38-21.
NAU and WIU have only met one prior time—in 1967 in Flagstaff. NAU came away with the 34-0 victory.
The least hyped Big Sky – Missouri Valley clash sees two unranked schools meet. Weber State visits South Dakota but even though there is no rankings involved, it another game that will likely be a close contest.
How did these two conferences fare against each other in the past?
Missouri Valley schools have an all-time record of 46-29 against schools from the Big Sky Conference, but it has been particularly lopsided in the past two seasons, with the MVFC going a combined 17-3 against the Big Sky.
Of the eight teams featured this weekend, the following are each of its records against the other conference a year ago:
MVFC
NDSU: 3-1 (three wins at home, loss to begin last season at Montana)
UNI: (3-0, with two of the wins on the road including Portland State in the playoffs)
WIU: (0-0, last played a BSC team in 2006—win at Northern Colorado)
USD: (1-0, defeated UC Davis at home)
BSC
Montana: (2-1, loss was in the playoffs at NDSU)
EWU: (0-1, loss at UNI)
NAU: (0-0, last played a MVFC team in 2014—loss at USD)
WSU: (0-1, loss at NDSU)
What are my thoughts on these match-ups?
Like many fans, I think these games are great to pit top competition against each other not only from a competitiveness but also later in the playoff selection process. I know there will be the argument that playing such a tough schedule hurts a team's chances at the playoffs.
But I don't buy that.
"I know this – the Big Sky is probably the most challenging league besides ours in FCS football," UNI Coach Farley said in the weekly press call this week. "It is a great interleague challenge, but it also will determine a lot of things when it comes to December because this is a measuring stick for those looking at the Big Sky vs. the Missouri Valley."
As was seen last year when Western Illinois made the playoff with a 6-5 regular season record, playing a tough schedule can and I believe should be rewarded.
I think this is an example that awarding a team that may have one more loss than other teams—remember there were a number of 7-4 teams that missed out last year—that the playoff committee decided to award.
Just because your team has 7 DI wins, I don't think that team should beat out a team that has a schedule like these eight teams that play this week have. Six wins over this types of schedule should trump seven wins teams with a mediocre schedule.
I hope this type of reward continues and will reward the fans in competitive games to begin the season.
We all want to continue to see these types of games. We don't really want to see DII teams or teams from non-scholarship teams play in the early season.
I say thank you to these Big Sky and Missouri Valley administrators for taking this initiative. This is something the rest of the FCS conferences can take note on how to schedule.
***************
Eastern Washington (1-0) @ North Dakota State (1-0), Saturday, 3:30 EDT
As mentioned already, these two teams play for just the second time in their history. The first was definitely a memorable game—the 38-31 overtime Eagles victory.
King Frazier ran for a 25-yard touchdown on the first play of overtime and Jaylaan Wimbush broke up a fourth-and-9 pass in the end zone to seal North Dakota State's 24-17 win over Charleston Southern in the third annual FCS Kickoff game on ESPN two weeks ago. NDSU took its first lead 17-10 early in the fourth quarter when Easton Stick hit RJ Urzendowski on a 47-yard touchdown pass. CSU missed a 51-yard game-winning field goal attempt at the end of regulation.
The Eagles offense, with five first-time starters, rolled up 606 total yards – 17th-most in school history in the 45-42 win at Washington State. They included 474 passing and 77 rushing by sophomore quarterback Gage Gubrud. He had five TD passes and ran for a game-clinching 30-yard score to give him a school record 551 yards of total offense. The previous record was 518 set by Vernon Adams Jr. against the Beavers in the 49-46 victory over 25th-ranked OSU.
The Bison are 49-4 at home since 2010 and have won 52-of-53 non-conference games inside the Fargodome with a current streak of 43 in a row since a 2003 loss to UC Davis. NDSU is 72-5 overall since 2011. North Dakota State is 8-3 against NCAA Football Bowl Division opponents, including a five-game winning streak they will take to Iowa on Sept. 17.
I think the defense of NDSU will hold down but not completely shut down the EWU offense. This is the key match-up. I think Eagle wide receiver Cooper Kupp will get some yards but NDSU will down the prolific EWU offense enough to pull this game out in the end.
I like NDSU by a touchdown to get revenge from its only DI playoff loss.
North Dakota State 38 Eastern Washington 31
***************
Northern Arizona (0-1) @ Western Illinois (1-0), Saturday, 4:00 EDT
This game pairs the Lumberjacks and Western Illinois against each other for only the second time in each school's history. NAU will play a MVFC team for the first time since 2014. The Lumberjacks have played both South Dakota and South Dakota State in the last five seasons.
The Lumberjacks are 7-10 all-time versus teams from the MVFC. Head Coach Jerome Souers is 1-4 versus teams from the MVFC.
WIU is 233-117-7 all-time at Hanson Field. In 2015, the Leathernecks went 4-1. WIU has won its last 10 non-conference games at home dating back to 2013. The Leathernecks are 32-4 against non-conference teams since 1999.
Last week, Western Illinois topped Eastern Illinois 38-21 in its season opener. The Leathernecks put up 347 yards of total offense, 238 coming from the rushing game.
Steve McShane led the charge with 207 yards and a pair of touchdowns. WIU ran in four touchdowns, while quarterback Sean McGuire found Tony Harper for the lone two-yard passing touchdown. McGuire finished the game 13 of 28 with 109 passing yards.
In the loss to Arizona State, the Lumberjacks held the Sun Devils to seven points in the first quarter. At the half, NAU trailed 10-3, despite managing to control the clock most of the half.
NAU made the game interesting in the fourth quarter when Cookus sailed the ball through the air to Elijah Marks, who broke off a few defenders and made his way 87 yards down the field for the score.
The touchdown propelled Marks into the 100-yard territory, besting his previous career-high of 96 yards. Marks tallied 174 yards on the night, while fellow wide out Emmanuel Butler notched 118 yards.
By the end of the game, ASU scored three straight touchdowns to seal the season opening win, 44-13.
Similar to the NDSU-EWU matchup, this is a ground offense versus a passing offense. The defenses will need to gear to stop these offenses. Of the defenses, I think the WIU group is stronger.
I like the Leathernecks by 10.
Western Illinois 41 Northern Arizona 31
*************************
Montana (1-0) @ Northern Iowa (1-0), Saturday, 5:00 EDT
These two programs are two of the historically top programs in all of the FCS. The two schools have met five prior times with Montana winning all previous games. All prior games were in Missoula with the exception of one prior game was in Cedar Falls. The only meeting in the UNI-Dome was in 1987, where the Griz won 33-18.
UNI faced off against the Grizzlies in the FCS quarterfinals in 2011, falling 48-10.
The Grizzlies opened this season at home with a 41-31 win over Saint Francis. The Grizzlies are under the direction of second-year head coach, Bob Stitt, who led Montana to an 8-5 season in 2015 and a playoff berth. The Grizzlies bring a young, but talented squad to Cedar Falls
Like the Griz, the Panthers return a young squad with eight newcomers getting their first start last Saturday, as compared to Montana who had 12 newcomers get their first start against Saint Francis. The Panthers had nine true or redshirt freshmen make an appearance against Iowa State. The Griz had 14 redshirt freshmen make an appearance against SFU.
UNI opened the season with the FBS upset of in-state rival Iowa State 25-20. J'Veyon Browning's 1-yard touchdown run with 2:49 left in the fourth quarter put the Panthers ahead for good. His bolt came six plays after Charles Brown intercepted a Joel Lanning pass and returned it to the Cyclones' 36-yard line. Jared Farley ended the game with another interception.
Senior defensive end Karter Schult had a game-high three tackles for loss against Iowa State, giving him a total of 35 in his career. He posted a Panther school record 23.0 tackles for loss in 2015, along with 15.0 sacks that ranked him second all-time at UNI.
The Panther offense is led by versatile senior quarterback Aaron Bailey, who was the leading rusher for the Panthers running for 1,334 yards last season.
The Grizzlies are headed by quarterback Brady Gunderson, who leads a wide open offense that likes to run plays fast under Coach Bob Stitt.
I think both teams will be able to move the ball in this game but with the home field and a slightly better defense, I like UNI to win by a field goal.
Northern Iowa 38 Montana 35
Originally from LaMoure, North Dakota, Kent is a 1996 graduate of North Dakota State University. His prior writing experience is over 15 years having previously worked with D2football.com, I-AA.org, and College Sporting News before coming to College Sports Journal in 2016. His main focus is college football is the Missouri Valley Football Conference within the Division I FCS. And in 2017, he began also to look at the FBS Group of Five conferences of the American Athletic, Conference USA, Mid-American, Mountain West, and Sun Belt.
Reach him at this email or click below: