Black History Month: Simon Roberts Helped Pave Way for African-American Success in Wrestling
Long before Black History Month was officially recognized in the United States, Simon Roberts made a name for himself and began to kick in doors that were previously closed to African-Americans in the sport of wrestling.
Roberts, in 1954, became the first Black wrestler to capture an Iowa high school state championship when he won the 133-pound championship while competing at Davenport High School.
Three years later, he added to his legacy when he became the first African-American to win an NCAA championship (147 pounds) as a member of the Iowa Hawkeyes. He would also win a Big 10 Championship the following year as well, another trailblazing first.
Under the leadership of Dave McCuskey, he helped his team to an eighth-place finish in the team standings with 27 points. (Oklahoma won the championship that season with 73 points and host Pittsburgh placed second with 66 points in the tournament.)
"Any talk about the influence that Blacks have had on our sport has to begin with Simon Roberts," said Bobby Douglas, whose own influence on the sport is immeasurable. "(Roberts) was the first Black to win a state high school championship in Iowa and one of the first, if not the first, in the nation to accomplish that feat."
Douglas recalls Roberts' hometown of Davenport was, like many other cities across the nation, a racially divided city at the time, and his success on the mat as a schoolboy, and later, at Iowa, provides more than enough to earn him a spot in the National Wrestling Hall of Fame and Museum.
"(Roberts) has made such a huge contribution to wrestling and it's unfortunate he's not in the hall of fame," said Douglas, a former NCAA champion himself while wrestling at Oklahoma State, "For some reason, that I cannot figure out, he is not in the hall of fame … hell, he should have been the first Black selected to the hall of fame.
Roberts is a member of the Glen Brand Hall of Fame at the Dan Gable International Wrestling Institute & Museum, which is a branch of the National Wrestling Hall of Fame, but still hasn't been inducted to the main hall of fame in Stillwater, Oklahoma.
"Eventually (Roberts) will be recognized for his contributions and take his rightful place in the hall of fame," former Iowa coach Dan Gable said, " … and the sooner the better."
Gable said part of the reason Roberts is absent from the sports' shrine in Stillwater comes in the fact that wrestling, unlike more popular sports in America, like baseball and football, lags in honoring the pioneers who paved the way for others to follow.
"We're making headway … and I think Simon Roberts will be in the hall of fame," Gable said. "His name means quite a bit in our sport and at the University of Iowa.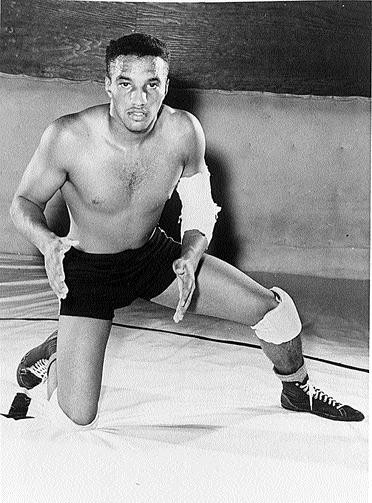 A Trailblazing Career
Roberts' name was on the ballot for possible induction recently, but missed out on being voted in by the Veteran's Committee. That group is comprised of former athletes and coaches, along with members of the media, who are all over 50 years of age.
Roberts placed third in the Big Ten tournament in 1956 and finished second in the conference tournament just weeks before his history-making achievement in 1957 when he defeated Iowa State's Ron Gray in the championship final. Gray would go on to win the national title each of the next two seasons and was voted the outstanding wrestler at the 1959 NCAA tournament in Iowa City, Iowa.
Roberts capped his collegiate career with a Big Ten championship in 1958 and ended his Iowa career with a 62-8-4 record. Combining his high school mark of 43-6-3, the wrestling legend was 105-14-7 on the mat. He was inducted into the Iowa Wrestling Hall of Fame in 1988.
Roberts added to his legacy following his graduation from Iowa. He spent four years as coach at Alleman High School in Rock Island, Ill., just a stone's throw across the Mississippi River from Roberts' hometown of Davenport.
"Alleman was a small Catholic high school and we had some measure of success," said Roberts, who will turn 80 later this year and lives in Kansas City, Mo.
Roberts led his team to a sectional championship and a district title during his time at the school and went head-to-head several times against Rock Island High School, which was coached by former Olympic champion Bill Smith.
"The championships Simon Roberts won are just the tip of the spear when it comes to the contributions he made to wrestling," Douglas added. "He showed that wrestling is a way to develop and educate young people and that is the greatest thing any sport can do.
"You will never find a more caring and gentle man than Simon Roberts," Douglas added. "He is what American wrestling is all about. He was not only a great wrestler, he is a great ambassador for the sport and because of his tireless work over the years he kept countless young people out of prison and out of the criminal justice system by giving them the opportunity to wrestle."
More Black Trailblazers
Douglas, who guided Arizona State to the NCAA team title in 1988, also praised several other prominent black athletes who left their mark in wrestling.
Art Baker and Jim Nance both won NCAA titles for Syracuse before that school dropped its mat program following the 2001 season, despite being among one of the top programs in the nation for many seasons. Baker claimed the 191-pound national title in 1959, just two years after Roberts made history, while Nance, who later went on to a standout career in football with the Boston Patriots of the National Football League, was the 1965 heavyweight national champion.
Joe James and Curley Culp also drew praise from Douglas for their contributions to the sport. James won the 1964 national crown one year before Nance while competing for Oklahoma and Culp won a national heavyweight championship of his own in 1967 while competing at Arizona State, where he also starred on the football field in addition to winning four Western Athletic Conference titles as a Sun Devil.
"If a guy was ever as poor as I was growing up, it was Curley Culp," said Douglas, who grew up in Ohio before eventually finding his way to stardom at Oklahoma State. "He is a gentle giant and a class act in so many ways."
Douglas tried to recruit a young high school wrestler in Ohio to compete at Arizona State. The recruiting pitch failed miserably as Archie Griffin chose to stay at home in the Buckeye State and compete in football at Ohio State.
"Hell, he was going football all the way," Douglas said of Griffin, who remains the only person to win the prestigious Heisman Trophy more than once.
Douglas also pointed to the formation of a number of clubs formed throughout Chicago more than three decades ago as another turning point for the sport of wrestling. Those clubs, which were funded in part through the office of then-mayor Richard J. Daly, offered opportunities to become involved in wrestling and helped curb the gang problem in Chicago, according to Douglas. Daly was the head of Chicago for more than two decades (1955-76) before dying while in office in 1976.
One of the products of the Mayor Daly Club was Rudy Williams, who went on to become the first African-American to claim a Greco-Roman national championship and the first black to compete on the Greco-Roman world team, according to Douglas. James was also a product of the club in the Windy City.
Wrestling Legends
Douglas easily reeled off the names of a number of other African-Americans who have left indelible marks in wrestling – Veryl Long, Jason Smith and Carl Adams.
Long won the 147-pound national championship in 1965 as a key member of the Harold Nichols-coached Iowa State sqaud and Smith was one of ISU's best wrestlers during what is arguably the most prosperous period in the storied Cyclone wrestling program. He captured a pair of national crowns at 167 in 1969 and 1970 and helped Iowa State win the team title each season. He earned all-America honors three times while in a Cyclone singlet. He placed third as the national tournament as a sophomore, just months after claiming the championship at the prestigious Midlands Tournament.
Long, an Ankeny, Iowa native, finished 21-1-1 in his final collegiate season, including a Big 8 championship prior to defeating Iowa's Phil Henning in the national championship bout and helping the Cyclones to their third NCAA title in six seasons. He finihsed 44-5-5 as a collegian and capped his career with seven individual titles, including the world college title in Turkey in 1968.
Adams, meanwhile, won back-to-back national titles (1971-72) at 158 pounds while competing for Iowa State.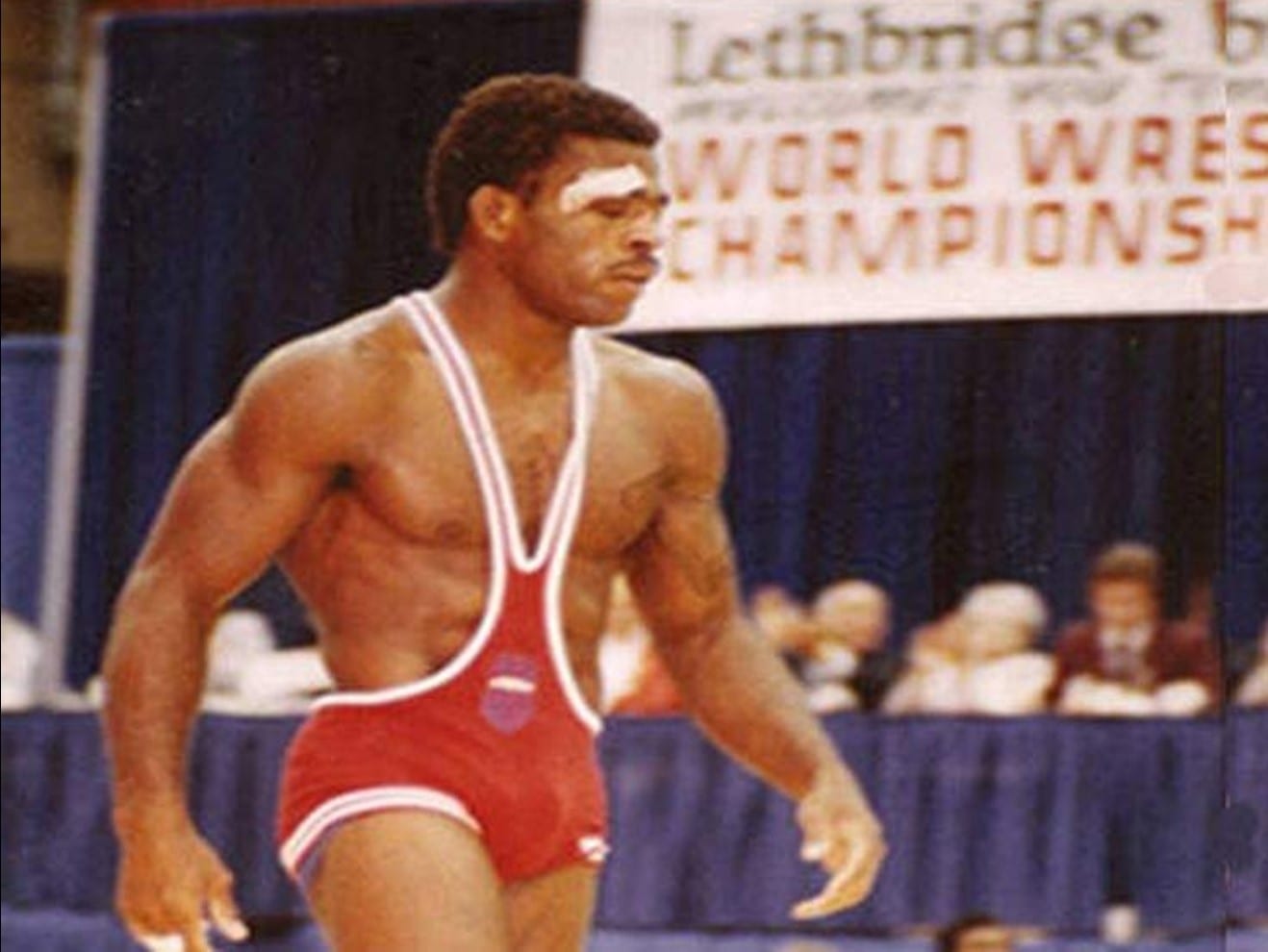 Lee Kemp also made his mark in the sport as a wrestler and as a coach and remains one of the sports' great ambassadors.
"Amateur Wrestling News was the only publication that existed when I was starting out in wrestling," said Kemp, who grew up outside of Cleveland and did not begin wrestling until his freshman year in high school. "I remember people like Carl Adams and if anyone, it was Jarrett Hubbard who impacted me the most as a youngster. There was a picture of him in the magazine that showed him with his arm raised in victory … and I thought it was the greatest thing to see. It really motivated me to become the best I could become."
Hubbard won a pair of 150-pound national titles (1976-77) while at Michigan.
"Before we can be something we have to see it first," said Kemp, who had a mediocre season as a sophomore in high school by posting an 11-8-3 record that season, also pointed to Tom Borrell and Shawn Garel as being influential in his develop as one of the greats in American wrestling history.
Garel, a two-time state high school champion in Ohio, went on win the national title at 118 pounds in 1975 while wrestling at Oklahoma.
Kemp, who won a pair of state titles of his own while in high school in Chardon, Ohio, just outside of Cleveland, said Borrell did not wrestle, but proved that Black men in America can be very successful.
Borrell founded Borrell Communications, a leading communications firm that provides advertising and marketing services that target multicultural, urban and youth markets. He launched that company, which recognized the unique qualities of Blacks, in 1971 and led it until 2004. Today, he is one of the nation's foremost motivational speakers.
Kemp won three straight national championships (1976-78) at 158 pounds while competing at Wisconsin for then-coach Duane Kleven. An NCAA finalist each of his four seasons as a Badger, Kemp compiled a 143-6-1 record while in college. He made the U.S. Olympic team in 1980, but was unable to compete because of America's boycott of the Games in Moscow. At 21 years of age he became the youngest American to ever win a world championship and finished with three world titles in his career, the first American to ever reach that mark.
But, it was in 1975 that Kemp earned one of the most memorable victories when he defeated Gable and handing the legendary matman a rare loss in his own storied career.
Gable, won never lost a match as a high school standout and tasted defeat just once while at Iowa State, was considering an attempt to make the Olympic team for a second time in 1976. In November of 1975 Gable entered the field at the Northern Open on the Wisconsin campus and would eventually come face-to-face with Kemp, who fought off a late flurry to edge Gable 7-6 to win the tournament title.
Dr. Byron Tucker also left his mark on the sport of wrestling and has gone on to become a beacon of inspiration to many since leaving Oklahoma after winning the NCAA championship in 2000 when he finished the season 34-0 with seven falls. After obtaining his degree from OU, Tucker received post-doctorate scholarships to both Michigan and Harvard and is now a successful dentist in Tulsa, specializing in endodontics. During his time with the Sooners Tucker amassed a 109-27 overall record.
Another former Sooner, Treyon Ware, also left an indelible imprint in the sport. A two-time national champion (2003, 2005), Ware finished his illustrious career with the Sooners by earning all-America honors each of his four seasons at Oklahoma and claiming one Big 12 Conference championship, that coming at 141 pounds in 2003 and earning most outstanding wrestler accolades at the league tournament that season.
Chris Campbell, who starred at Iowa State, is another black he made a significant contribution to wrestling. He won back-to-back national championship in 1976-77.
Douglas said it's important to look at African-American contributions to wrestling.
"Unless you share and tell your history, you are going to be history," Douglas said. "Seeing [Black] people being successful can only serve as a motivator. "Everybody knows who Jackie Robinson was and everyone knows who Joe Lewis was. It is important for youngsters to find a hero and to emulate them and to dream."
Douglas also praised the recent exploits of Jordan Burroughs as being critical to Black involvement in wrestling.
"Few young Black people know who Jordan Burroughs is," Douglas said, "and more people should be aware of him. His success on and off the mat is going to only serve as a great recruiting tool … and it's important that we push diversity in our sport."
Douglas is not alone in singing the praises of Burroughs.
"There are many, many things that make (Burroughs) a shining example of what can be accomplished," said Mark Manning, who coached Burroughs during his brilliant career at Nebraska. "It all starts with his character. He is always working to make the person better.
"The impressive thing about Jordan Burroughs is that he is always trying to improve," added Manning, who saw Burroughs win three Big 12 championships while with the Huskers.
After a rough start to his collegiate when he finished with a 16-13 overall record, Burroughs won his first conference crown in 2008 while competing at 149 pounds and being chosen as the most outstanding wrestler of the Big 12 tournament that same season. He added championships at 157 pounds (2009) and 165 pounds in 2011. He captured national championships in 2009 and again in 2011. He earned the Hodge Trophy following his senior season at Nebraska.
"I think (Burroughs) is the greatest American wrestler," said former Oklahoma coach Jack Spates. "There are two ways to measure greatness. One is to look at the total body of work … and he has done that. The other thing, and the thing I think of when I think of Jordan Burroughs is that at any single point in time, he could have beaten anyone in the history of wrestling. He has such a lethal attack."
Burroughs does not hesitate in taking the rein as the sports' current torchbearer.
"Any time I can be a representative of wrestling is something I will gladly accept," said Burroughs. "Wrestling is such a great sport and has afforded me the opportunity to grow as an individual and enjoy some great successes. I do not see anyone considering me an ambassador to the sport as anything racial. I see it as an opportunity to inspire others."
"Diversity is going to save wrestling in America and throughout the world," Douglas said, "and I want America to know what wrestling has done throughout the world. "Amateur Wrestling News has consistently been one of the best tools we have that has helped keep wrestling alive."
A native of Bismarck, N.D., Ray is a graduate of North Dakota State University where he began studying athletic training and served as a student trainer for several Bison teams including swimming, wrestling and baseball and was a trainer at the 1979 NCAA national track and field championship meet at the University of Illinois. Ray later worked in the sports information office at NDSU. Following his graduation from NDSU he spent five years in the sports information office at Missouri Western State University and one year in the sports information at Georgia Tech. He has nearly 40 years of writing experience as a sports editor at several newspapers and has received numerous awards for his writing over the years. A noted sports historian, Ray is currently an assistant editor at Amateur Wrestling News.