BETHLEHEM, PA – When Lehigh (1-8, 1-3 Patriot League) faces off against Colgate (3-6, 2-2 Patriot League) this weekend at Murray Goodman Stadium, there will be stakes. The Mountain Hawks will try to get a Senior Day win for a senior class that has only enjoyed four wins at home during their time in South Bethlehem, while Colgate will be looking to finish the season strong, establishing themselves as possible dark-horse contender for next year.
But the game, which will likely be played in front of family, friends and well-wishers, won't have the same stakes as many of the Lehigh/Colgate games of the last twenty years.
The Mountain Hawks and Raiders have always have had a little-r rivalry over the last fifty years. Even before they decided to shack up together in the Patriot League, both schools. high-academic schools who had a passion for football, played each other often. A hall-of-fame coach, Fred Dunlap, coached at both schools to great success. (One of the reasons Colgate hired the former Colgate player away was that he beat his alma mater.)
But it was the 2000s when true 'Hate the Gate' sentiment started to form between the two schools. The reason? The stakes got higher.
My recollection is that the term 'Hate the Gate' spring up sometime in the late aughts, coming up in a pregame press conference in a year when Lehigh was struggling. Even though it was a rebuilding year for Lehigh and they weren't doing well, the sentiment burned within to knock Colgate out of the Patriot League title chase.
And the rivalry blossomed, and the attendance at Lehigh/Colgate games were some of the best of the league that didn't involve Lehigh/Lafayette – because of the stakes.
The tagline of many of those Lehigh/Colgate games was that the winner of that game very, very often went on to win the Patriot League and go to the FCS Playoffs. Usually one team or the other, and often both, were nationally ranked. And fans showed up for those games.
One of the first games I covered for the old College Sporting News was a Lehigh/Colgate game in 2004, a battle of nationally-ranked teams that lived up to the billing, a 21-14 win that came down to a late goal line stand. Almost 14,000 fans packed Murray Goodman stadium to watch No. 18 Colgate take on No. 12 Lehigh, and I called it a little-r "rivalry". It wasn't Lehigh/Lafayette, but it was damned close.
Just look at this snippet from The Morning Call quoting then-head coach Pete Lembo. Winston Churchill quotes? Exhilarating win? I was there, and can tell you for sure it wasn't an exaggeration. Many of those Lehigh/Colgate games in the aughts had a genuine playoff, championship game feel to them, and they were big games that caught the attention of people nationally.
There was a lot to it, too, even beyond the national rankings and playoff stakes.
Both Lehigh and Colgate are similar in DNA, academically-oriented and Ivy-adjacent, the only real difference between them and the Ivy League being that they could compete for a true FCS National Championship. The Ivies, for all their advantages and prestige, simply didn't seem to want to make the effort, or break their own esoteric philosophies and rules, to give their kids a chance at a national championship.
Foootball-wise, too, Colgate, coached by Dick Biddle, recruited huge offensive linemen and had developed a run-heavy RPO game, emphasizing old-school football on the ground, while generations of Lehigh fans knew about "Air Lehigh" with a series of head coaches and assistants that focused on lighter, high-probability precision passing. It was always a contrast of styles, one that always made for an entertaining game, because they were high-executing teams. Even a Lehigh team hovering at .500 had some skills to make things scary for Colgate with a quick-strike offense. Even a Colgate team out of the running had the sort of ball-control offense that can ground a Lehigh offense.
If we see any hint of that this weekend on the field, it will only be in ghost whispers.
Lehigh's once-vaunted offense and Colgate's once-fearsome rushing attack has been grounded, currently ranking 91st out of 123 Division I schools in passing offense. In fact both teams rank 107th and 111th respectively in total offense, averaging under 300 yards combined rushing and passing.
What happened?
Since Colgate's historic 2018 team, which famously upset James Madison at home in the FCS Playoffs, the Raiders have looked like a promising team at times, but haven't been able to achieve a winning record since. Certainly COVID, NIL and loosened college transfer rules haven't helped, but they can't be the only explanation. Colgate's slide into sub-.500 territory mirrors Lehigh's, who in 2018 were 3-8 and haven't sniffed .500 since.
As a result, this weekend's Lehigh/Colgate game won't be for the Patriot League Championship, won't be packed with over 12,000 fans, and won't even feature the same type of dynamic football older Lehigh football fans have grown accustomed to.
It just doesn't have that same "hate" that permeated the lowercase "r" rivalry the past twenty years.
That's not to say that it's not important – all Lehigh fans should be rooting to send out the seniors with a win at home, especially considered what they've experienced in their time here – but it's worth remembering that not all that long ago, these games were a big deal, even nationally.
If the Patriot League is to survive in the long term, they're going to have to have these games mean something again.
LFN's Drink of the Week
To celebrate Colgate's trip to Stanford this year, I decided to go with a drink this week called the Golden Gate, which is simple but a nice mixed drink. You can find the recipe here.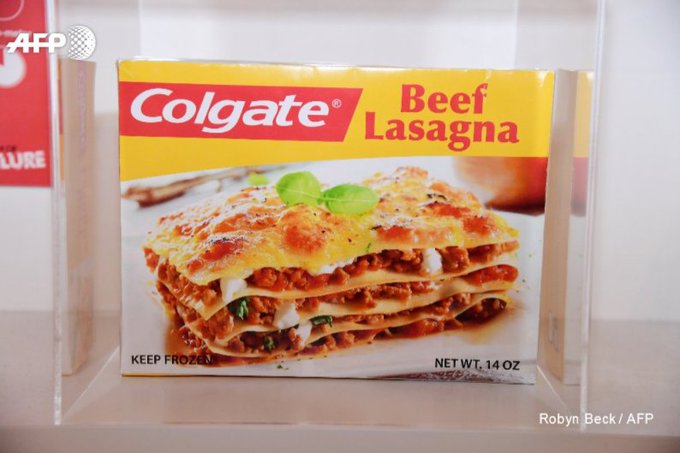 LFN's Tailgate Dish of the Week
Once again I'm going to venture off script on one of the strangest brand stories in history – that of
Colgate Beef Lasagna
. Scrubbed from the Colgate-Palmolive history books, apparently the Colgate line of frozen dinners was a persistent thought in the brains of the executives at Colgate – and is held up in the "Museum of Failure" in Sweden as an epic branding fail (with documentary evidence that Colgate Beef Lasagna was indeed a real thing and not photoshop).
(If you want an actual tasty beef lasagna to try at home, you can try this one instead.)
Game Notes And Injury Report
The game notes show DE Trevor Harris still not back on the depth chart this week, with junior DT Ben Murphy again starting and DT Dean Colton again switching to Harris' sport at DE. Harris appeared for a few plays last week but didn't play extensively. It looks like this will also be the case this week.
It also looks like Lehigh is going to line up in a more classic 3-4 formation, with DB Spencer Roof at outside LB, than before. The Mountain Hawks had been lining up in a 3-3-5 on defense most of this year, but this week it looks like it's going to look more like a multiple 3-4. It's going to be something to watch this week.
Scouting Colgate
As ever, Colgate's offense is nothing Lehigh fans haven't seen before. Though it was since-graduated QB Grant Breneman that torched Lehigh's defense last year in a 30-3 drubbing, this season QB Michael Brescia (622 net rushing yards, 1,077 passing yards, 14 total TDs) is the guy running the run-heavy RPO offense this season under head coach Stan Dakotsy. Last week against Lafayette, Brescia was the Raiders' leading rusher, netting 45 yards, with 2 passing touchdowns, but the Leopards managed to truly bottle up the Raider running game in general, yielding a net of 124 yards.
The Raiders have a wide variety of rushing options, like RB Max Hurleman (372 yards) and RB Jadeon Henry (368 yards, 2 TDs), but also WR Garrett Oakey (26 rushing yards, 363 yards passing) gets used a lot in jet sweeps and short passing situations. But overall, especially lately, the Raiders have struggled on offense. It could be that the first team that manages to put together any sort of offense against two tough defenses will win this game.
It's no doubt, too, that Colgate's opportunisitic defense has kept them in games even when the offense has struggled. FS Mikey Jarmolowich has really stood out for the Raiders, who had 10 tackles, 9 solo and a blocked kick last week vs. Lafayette. On the season he leads Colgate in solo tackles (52) and also has 2 interceptions on the year.
LFN's Keys to the Game
Keep Their Plays Short. In order to win senior day, the defense has to keep from losing their cool. They need to keep the run of play in front of them, because Colgate will be using a lot of RPO and working the short- and medium- passing game. They need to make sure 5 yard catches don't become 10-15 yard gains, and they will have a chance.
Throw It At The Sticks, Not Before Them. Beating Colgate will mean getting the right yardage in chunks, and not making first downs harder than they have to be, either by penalties or by plays. That means third down throws need to be at the sticks or just beyond, not throwing it five yards short and expecting the receiver to make 6 yards to get a first down.
Show Out At Goodman. Lehigh should play this game loose. Why not? It's the last home game for the seniors, and a chance to go into the offseason with something positive. Take some chances and ball out. Have some fun with it.
Fearless Prediction
I don't know if this pick is more of a hope than a realistic one, but all I know is I really want this senior class to finish their time here at Lehigh with a win at home. All good things for Lehigh have to start somewhere – why not now, this weekend?
Lehigh 21, Colgate 16