Rather than do a Top 25 this year, I thought I would rank all 65 schools that make up the Group of Five FBS leagues as we head into what we all hope is a more normal 2021college football season without the COVID-19 cancelations or postponements like the 2020 season had.
As a reminder, the Group of Five references the five conferences of the American Athletic Conference (AAC), Conference USA, Mid-American Conference (MAC), Mountain West Conference (MWC), and the Sun Belt Conference (SBC). It also includes the FBS independent schools outside of Notre Dame.
The name Group of Five (G5) may not be around for much longer though. This G5 term that has been around even before the current four-team playoff structure but with this summer's announcement of a playoff expansion for the FBS side of taking the top six top ranked conference champions from the ten FBS leagues, the Group of Five term may be going away as the divide between the Power Five conference and the Group of Five goes away. The expansion would be to a 12-team playoff with the six automatic bids to those best ranked champions with six at-large teams selected.
The actual way this new 12-team playoff would be conducted would have four first round games to then get to the quarterfinals. The discussion right now would be the first round games would be at the higher seeded team's home field, while the quarterfinals and semifinals would be at one of the New Year's Six Bowl games (Cotton, Fiesta, Rose, Peach, Orange, and Sugar Bowls) on a rotating basis. And the championship game would be at another neutral site like the playoffs currently are constructed.
This new playoff structure would give at least one current so classified Group of Five school the berth in this new postseason structure. In fact, last year two G5 schools would have been included as both Cincinnati (AAC champion) and Coastal Carolina (Sun Belt champion) were ranked within the top six conference champions. The other four conference champions were Alabama (SEC), Clemson (ACC), Ohio State (Big 10), and Oklahoma (Big 12), still with one classified Power Five league in the Pac 12 being left out. The other stipulation is the four top ranked conference champions would be the top four seeds. If this arrangement was in place last year, Cincinnati would have hosted Georgia, while Coastal Carolina would have traveled to Notre Dame amongst the two current G5 schools in the field. The playoff seeds would have been as follows with the asterisk next to the six conference champions :
1. Alabama* (11-0)
2. Clemson* (10-1)
3. Ohio State* (6-0)
4. Oklahoma* (8-2)
5. Notre Dame (10-1)
6. Texas A&M (8-1)
7. Florida (8-3)
8. Cincinnati* (9-0)
9. Georgia (7-2)
10. Iowa State (8-3)
11. Indiana (6-1)
12. Coastal Carolina* (11-0)
Using the Football Playoff Rankings from last year, the playoff bracket would have been as follows: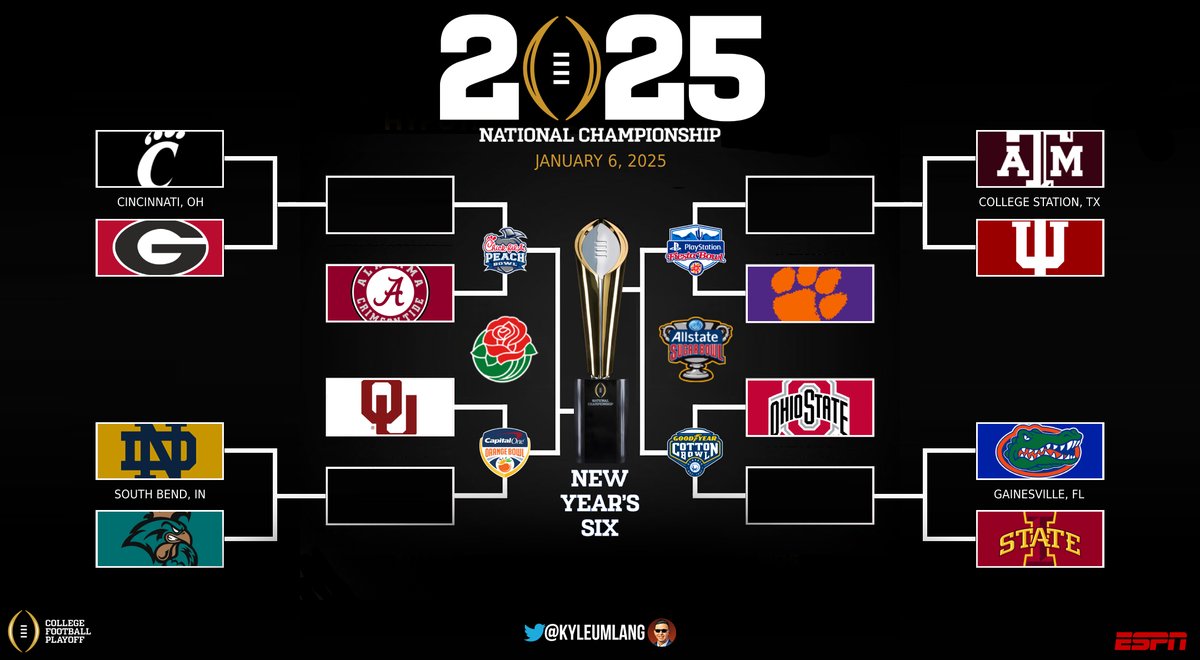 The 2025 (for the 2024 regular season) designation above is when the ESPN contract expires so this is some projected the timing for the new playoff structure should occur at least by then. However, there is discussions that this new structure could be in place before then with further discussions on when this would happen taking place later this year.
But the 2021 season will be just as it was last year with the Group of Five top ranked team getting a New Year's Six bowl bid (unless they are somehow ranked in the Top Four teams to be in the playoff, which is highly unlikely given the history thus far with the College Football Playoff structure).
As shown in the rankings above, Cincinnati was the top ranked G5 team in 2020 and played Georgia in the Peach Bowl. The Bearcats led most of the game before losing on a last minute long field goal by Georgia in that game, along with a safety to lose by three 24-21.
Cincinnati is the favorite again this season to be the top ranked G5 team again. The Bearcats also will get two teams that would have been in the projected Top 12 playoff from a year ago on their schedule with visits to Indiana and Notre Dame so Cincinnati will be testing themselves in their out-of-conference games. The Bearcats also get UCF and Tulsa in AAC play at home this year as what I feel might be their biggest challenges within conference play. Cincinnati also avoids Houston altogether in the regular season– a Cougar team I think will make a rebound this year to become contenders in the AAC this year.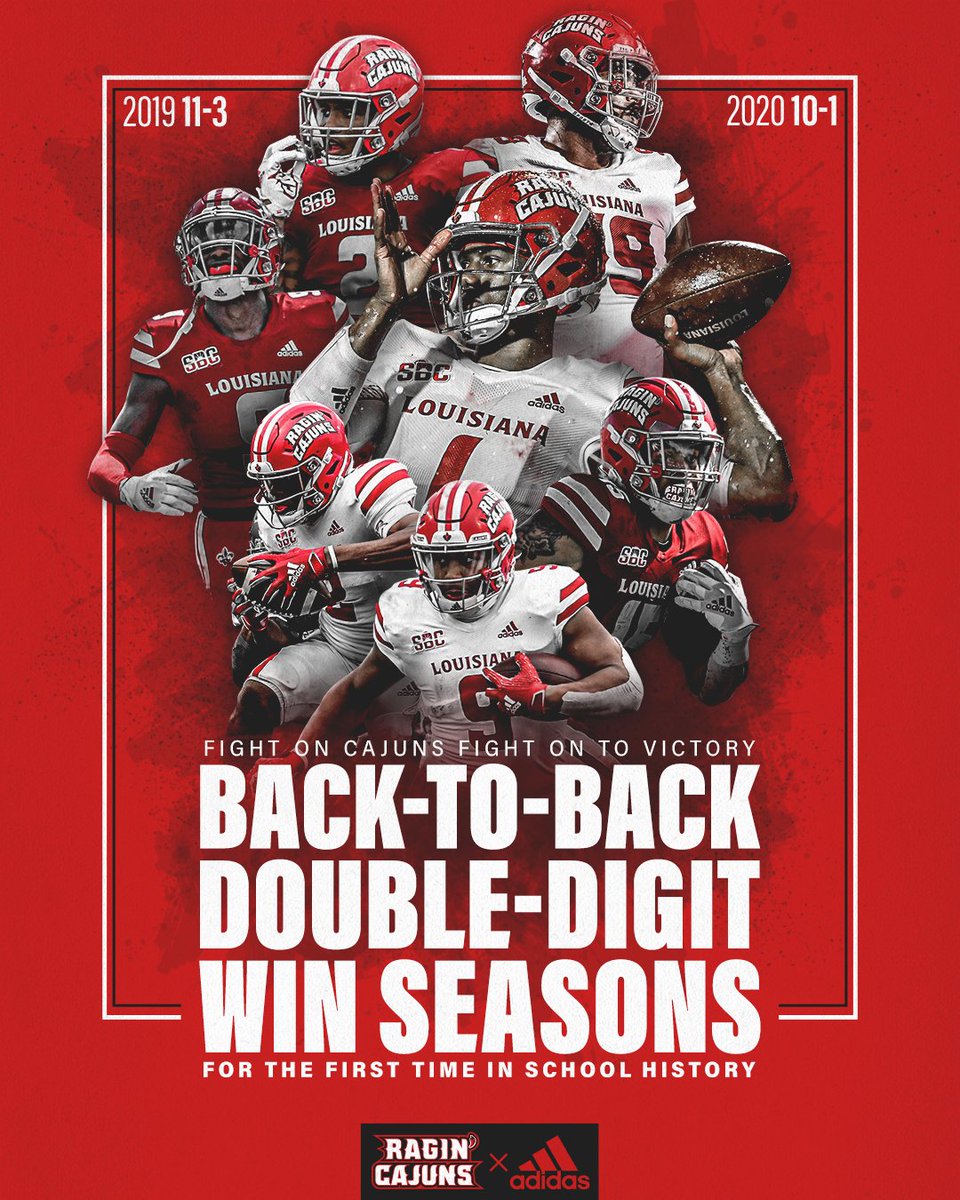 Two Sun Belt teams in Louisiana and Coastal Carolina look like the biggest challenges to Cincinnati outside of those in the AAC to make the claim for the New Year's Six bid. Those two teams were designated co-champions actually after their Sun Belt championship game was canceled due to COVID-19 protocols last year. Coastal Carolina though defeated Louisiana in the regular season and also defeated BYU in a game scheduled the week of the game to end the regular season like Cincinnati undefeated. Louisiana had this as their lone loss last year but started the season with a win at what also would have been a Top 12 team in Iowa State.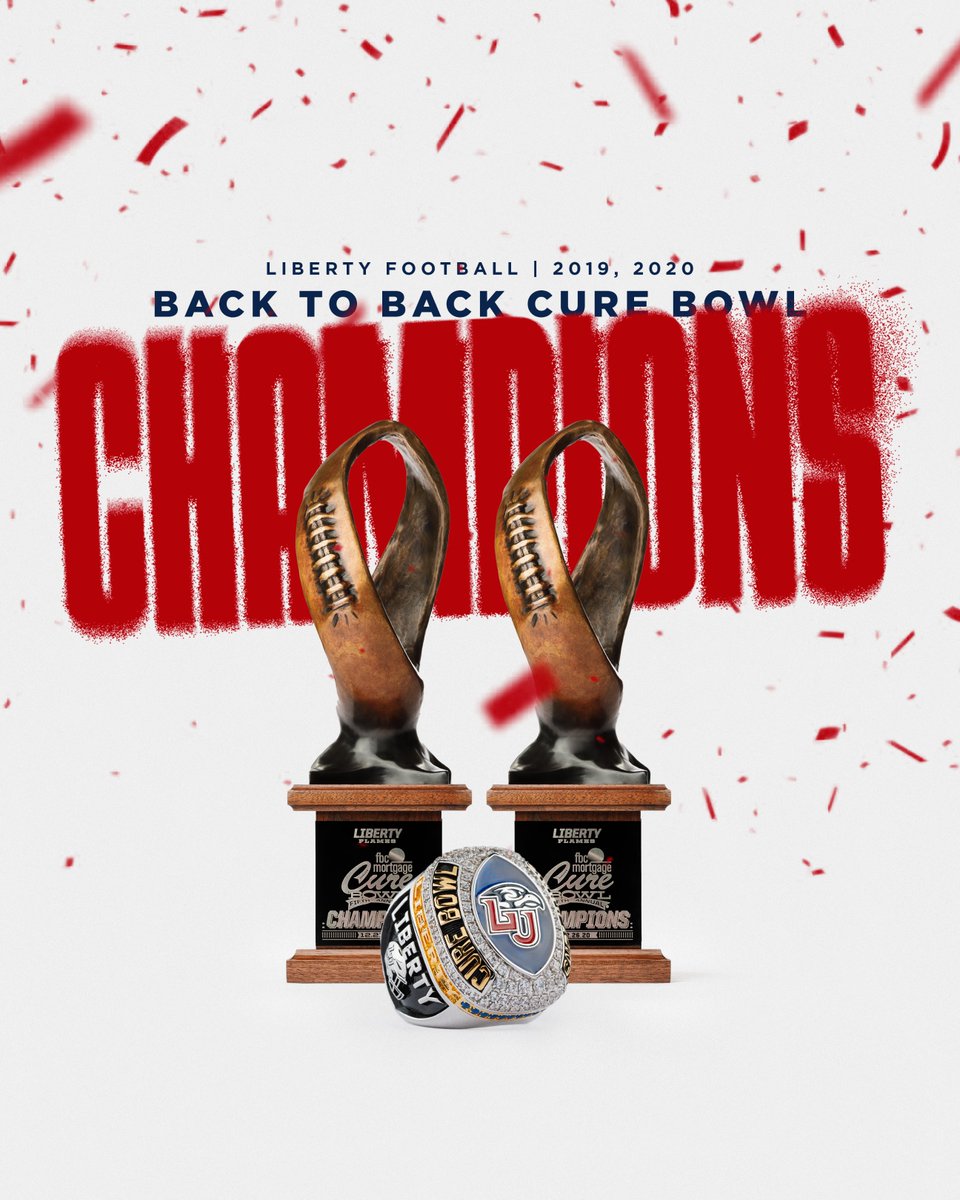 Liberty almost had an undefeated 2020 season and actually knocked Coastal from the undefeated ranks last year in the Cure Bowl in an exciting overtime victory. Liberty had been slated to play Coastal in the regular season but COVID-19 caused them to cancel (and instead Coastal played BYU) but got the match-up in the bowl season instead. The Flames lone lose was at North Carolina State on a last second field goal after defeating two other ACC teams in Syracuse and Virginia Tech. Liberty gets two Power Five teams on the road again this year with another visit to Syracuse and another to the SEC's Mississippi (which is their Coach Hugh Freeze's old school prior to coming to Lynchburg), along with a home contest against Louisiana.
Elsewhere, Boise State and Nevada look like the class of the Mountain West even though San Jose State broke through last year as the surprise MWC champions. The Broncos get a give test to start the season with a road test at UCF to begin the season and also host Oklahoma State and travel to BYU as its toughest out-of-conference contests. The Broncos also host Nevada as the two team's top in-conference game. The Wolfpack also have two Power Five road contests at California and Kansas State to start their season before the game with Boise State.
San Jose State looks to repeat as champions in the MWC and will have a big test at Southern Cal in its second game of their year which could tell us a lot how the Spartans might fare this season. SJSU avoids Boise State on the schedule but will travel to Nevada late in the schedule in a game that might show MWC West Division supremacy.
BYU had its lone loss to Coastal Carolina last year and will need to replace first round NFL pick Zack Wilson at quarterback. The Cougars will also face a tough schedule with seven Power Five schools on the schedule this year after not getting any Power Five contests a year ago due to most conferences going to conference games only. But a big core of the team is back this fall so BYU should also should not drop off too much.
Appalachian State, who had been the class of the Sun Belt before the emergence of Coastal Carolina in the Sun Belt East Division last year, should again be a force with its game and will get to host Coastal this season so could have a say in the rankings this year too.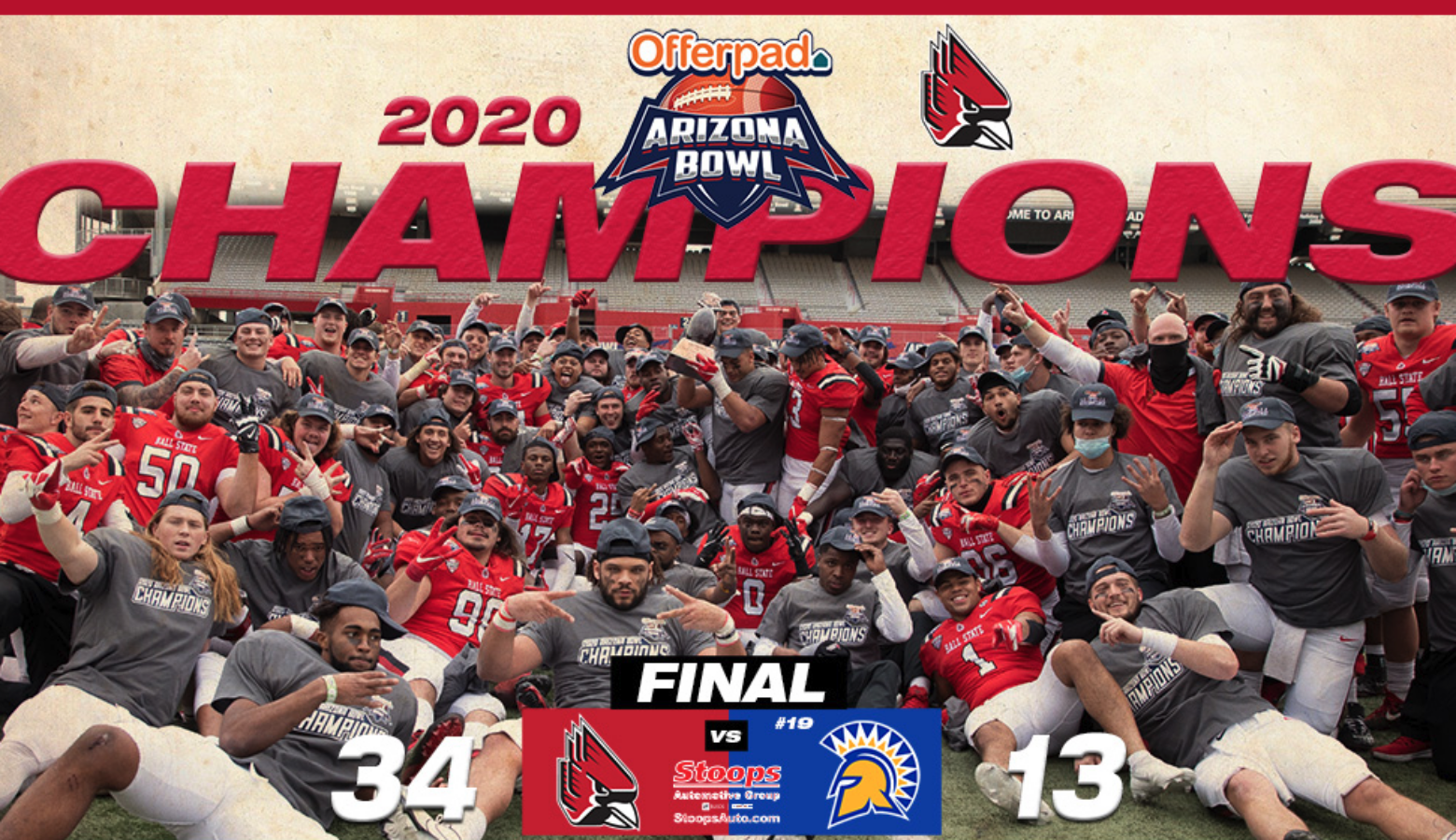 I will say based on the play from last year that while Cincinnati is the favorite this year that we could see some surprises along the way in the Group of Five rankings. Just as Coastal Carolina was picked to be last in their Sun Belt East Division along with San Jose State (MWC) and Ball State (MAC), we could see some surprise teams winning their conferences after being preseason selected lower also by most preseason prognostications.
In any event, the following is my preseason rankings I have for all 65 Group of Five teams for 2021:
| | | |
| --- | --- | --- |
| Rank | School | Conference |
| 1 | Cincinnati | AAC |
| 2 | Louisiana | Sun Belt |
| 3 | Coastal Carolina | Sun Belt |
| 4 | Central Florida | AAC |
| 5 | Boise State | MWC |
| 6 | Liberty | Indep. |
| 7 | Nevada | MWC |
| 8 | BYU | Indep. |
| 9 | San Jose State | MWC |
| 10 | Appalachian State | Sun Belt |
| 11 | Houston | AAC |
| 12 | Tulsa | AAC |
| 13 | SMU | AAC |
| 14 | Tulane | AAC |
| 15 | UAB | Conf. USA |
| 16 | UTSA | Conf. USA |
| 17 | Fresno State | MWC |
| 18 | Memphis | AAC |
| 19 | Buffalo | MAC |
| 20 | Army West Point | Indep. |
| 21 | Toledo | MAC |
| 22 | Wyoming | MWC |
| 23 | Ball State | MAC |
| 24 | Air Force | MWC |
| 25 | Marshall | Conf. USA |
| 26 | East Carolina | AAC |
| 27 | Navy | AAC |
| 28 | San Diego State | MWC |
| 29 | Western Michigan | MAC |
| 30 | Florida Atlantic | Conf. USA |
| 31 | Georgia State | Sun Belt |
| 32 | Hawai'i | MWC |
| 33 | Western Kentucky | Conf. USA |
| 34 | Ohio | MAC |
| 35 | Kent State | MAC |
| 36 | South Florida | AAC |
| 37 | Louisiana Tech | Conf. USA |
| 38 | Colorado State | MWC |
| 39 | Charlotte | Conf. USA |
| 40 | Central Michigan | MAC |
| 41 | Miami (Ohio) | MAC |
| 42 | Troy | Sun Belt |
| 43 | Georgia Southern | Sun Belt |
| 44 | Arkansas State | Sun Belt |
| 45 | Southern Miss | Conf. USA |
| 46 | New Mexico | MWC |
| 47 | Eastern Michigan | MAC |
| 48 | North Texas | Conf. USA |
| 49 | Rice | Conf. USA |
| 50 | Texas State | Sun Belt |
| 51 | Utah State | MWC |
| 52 | Middle Tennessee State | Conf. USA |
| 53 | Temple | AAC |
| 54 | South Alabama | Sun Belt |
| 55 | UNLV | MWC |
| 56 | Florida International | Conf. USA |
| 57 | Northern Illinois | MAC |
| 58 | UTEP | Conf. USA |
| 59 | Old Dominion | Conf. USA |
| 60 | Akron | MAC |
| 61 | Connecticut | Indep. |
| 62 | Louisiana-Monroe | Sun Belt |
| 63 | Bowling Green | MAC |
| 64 | Massachusetts | Indep. |
| 65 | New Mexico State | Indep. |
Originally from LaMoure, North Dakota, Kent is a 1996 graduate of North Dakota State University. His prior writing experience is over 15 years having previously worked with D2football.com, I-AA.org, and College Sporting News before coming to College Sports Journal in 2016. His main focus is college football is the Missouri Valley Football Conference within the Division I FCS. And in 2017, he began also to look at the FBS Group of Five conferences of the American Athletic, Conference USA, Mid-American, Mountain West, and Sun Belt.
Reach him at this email or click below: