Five players including Caleb Evans from ULM, Jeffery Wilson from North Texas, Thomas Sirk from East Carolina, Shamad Lomax from New Mexico State, and Emilio Nadelman from USF have been selected as the College Sports Journal All-Stars for the week ending September 24th, 2017 from the NCAA Division I FBS Group of Five schools.
The honorees are listed here with their achievements and their school, position, class, and hometown.
Caleb Evans, Louisiana-Monroe, QB, So., Mansfield, Tex.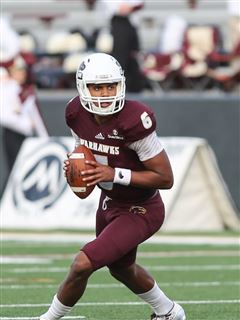 Caleb Evans accounted for a career-best 472 total yards and six touchdowns to lead ULM to a 56-50 double-overtime win at Louisiana in the Sun Belt opener for both teams. Evans also set career highs for completions (28), passing yards (343), carries (16), rushing yards (129), rushing TDs (tied school single-game record with 5) and TDs responsible for (6). He scored on TD runs of 7, 38, 7, 5 and 6 yards. The win also snapped ULM's three-game losing streak against the Ragin' Cajuns.