Five players including Troy Pelletier from Lehigh, Case Cookus from Northern Arizona, Sam Straub from Southern Illinois, Michael Murphy from Columbia, and Lorran Fonseca from Nicholls have been selected as the College Sports Journal All-Stars for the week ending Oct. 15th, 2017 from the NCAA Division I FCS schools.
The honorees are listed here with their achievements and their school, position, class, and hometown.
Troy Pelletier, Lehigh, WR, Sr., Deerfield, New Hampshire
Pelletier broke his own Patriot League single-game record with 16 receptions and tied the League's single-game touchdown reception record with four to go along with 197 receiving yards in Lehigh's 54-35 victory over Georgetown on Saturday. Three of Pelletier's touchdowns came in a decisive second quarter for the Mountain Hawks. The senior wide receiver tied the Patriot League career touchdown reception record, catching his 34th touchdown pass of his career in the quarter. Pelletier also had a pass breakup on the last play of the first half.
Case Cookus, Northern Arizona, QB, R-So., Thousand Oaks, Calif.
Cookus led NAU to its fourth straight win with a 42-20 road win at Portland State. The sophomore completed 23-of-39 passes for 347 yards and a long of 51 yards. Cookus tossed four touchdown passes to four different receivers. He surpassed 6,000 career passing yards with a seven-yard toss to Hunter Burton in the second quarter. Cookus helped NAU score 28 unanswered points in the second half to improve to 3-0 in Big Sky play.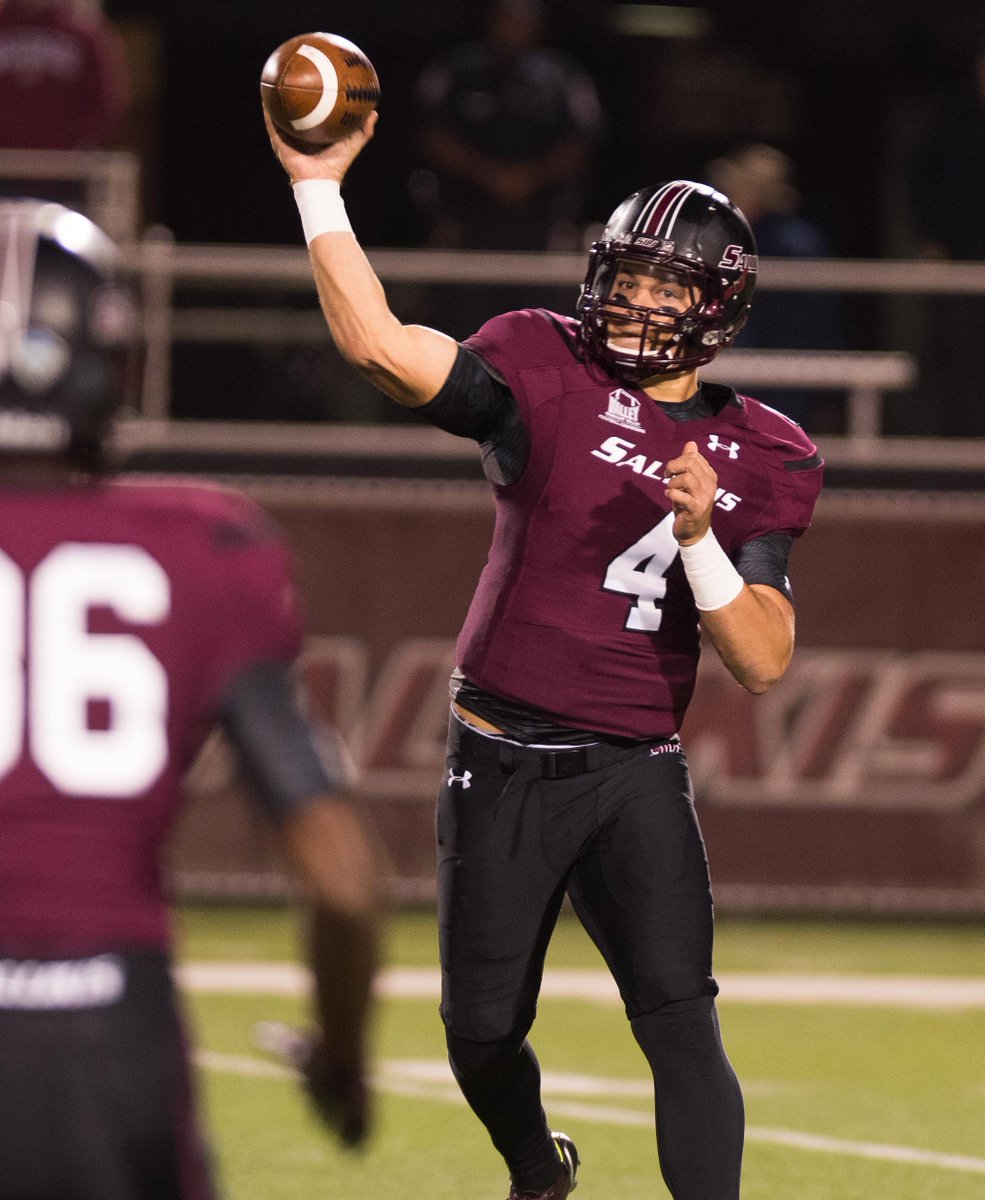 Sam Straub, Southern Illinois, QB, Jr., Ames, Iowa
Straub threw for 368 yards and four touchdowns in SIU's 42-7 win over No. 15 Illinois State on Saturday. Straub went 22-for-34 (65 percent) in the game without turning the ball over. His 368 yards were 10th-most in school history, and he became the first player in program history with three career games of 4+ touchdown passes.
Michael Murphy, Columbia, LB, So., 200, Tampa, Florida
Murphy made his presence felt against Penn on Saturday, setting career-highs in tackles (12), tackles for loss (4.5) and fumble recoveries (two). He also recorded a sack in the come-from-behind win. Murphy was no stranger to Ivy League fotball growing up, as his father Jeff played for Penn from 1978-80.
Lorran Fonseca, Nicholls, PK, Jr., Hercules, California
Fonseca set the Colonels' single-game field goal record with a perfect 5-for-5 day in their 29-20 win over Abilene Christian. The Wildcat defense allowed just one touchdown, but Fonseca delivered every time to keep the Colonels ahead. After ACU scored a touchdown in the fourth to make the score 26-20, Fonseca booted his longest field goal of the game, a 44-yarder, to make it a two-possession game. The field goal also broke Adam Diel's record of four, set in 1996.
Originally from LaMoure, North Dakota, Kent is a 1996 graduate of North Dakota State University. His prior writing experience is over 15 years having previously worked with D2football.com, I-AA.org, and College Sporting News before coming to College Sports Journal in 2016. His main focus is college football is the Missouri Valley Football Conference within the Division I FCS. And in 2017, he began also to look at the FBS Group of Five conferences of the American Athletic, Conference USA, Mid-American, Mountain West, and Sun Belt.
Reach him at this email or click below: