Five players including Caylin Newton from Howard, Cardon Johnson from James Madison, Jeremiah Briscoe from Sam Houston State, Chris Collins from Tennessee State, and Nick Bisceglia from Robert Morris have been selected as the College Sports Journal All-Stars for the week ending September 3rd, 2017 from the NCAA Division I FCS schools.
The honorees are listed here with their achievements and their school, class, position, and hometown.
Caylin Newton (Howard, QB, Fr., Atlanta, Ga.)
Newton, the younger brother of the NFL's Cam Newton, showed his duel-threat quarterback abilities as he rushed for 190 yards while throwing for 140 yards. The freshman also accounted for three touchdowns (two rushing and one passing) in defeating FBS UNLV 43-40—arguably the biggest upset in college football history.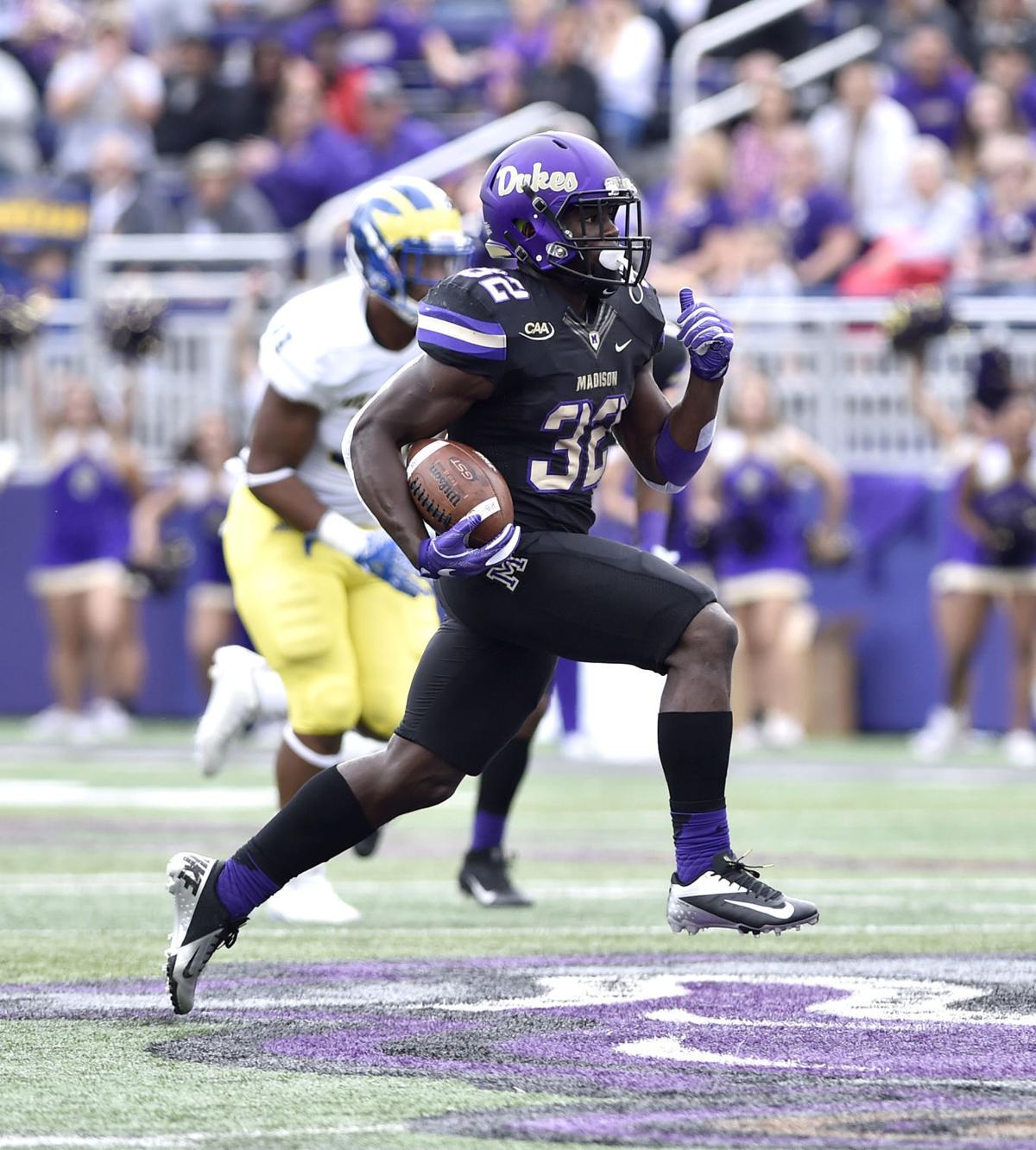 Cardon Johnson (James Madison, Sr., RB, Newport News, Va.)
Johnson rushed for a career-high 265 yards and two touchdowns on just 17 carries (15.6 ypc) in James Madison's 34-14 victory at FBS East Carolina. In his first game back from an Achilles injury, the senior broke scoring runs of 85 and 80 yards as the Dukes beat an FBS foe for the second time in three years. Johnson's rushing total was the second-highest in school history.
Jeremiah Briscoe (Sam Houston State, Sr., QB, Houston, Tex.)
The reigning Walter Payton Award winner picked up where he left off in 2016 with a stellar 2017 debut. Briscoe accounted for five touchdowns, including four passing, as the Bearkats picked up their first ever season-opening win over a ranked opponent with a 48-34 win over No. 7 Richmond. He connected with seven different receivers on 20 completions, throwing for 411 yards in what was his sixth game of 400 yards passing in his career. He also added his second career rushing touchdown, breaking free for a 41-yard score on the first play of the second quarter.
Chris Collins (Tennessee State, LB, Sr., Fairburn, Ga.)
Collins recorded 12 tackles (9 solo), had three tackles-for-loss, a sack and forced a fumble as Tennessee State scored its first-ever victory over a FBS opponent in topping Georgia State 17-10. With GSU driving on the opening series of the game, Collins knocked the ball loose two yards behind the scrimmage, allowing TSU to recover the ball on its own 25-yard line. In the third quarter the senior stopped a Georgia State runner at the four-yard line on fourth and goal to give TSU possession of the ball. Overall the Tennessee State defense allowed the FBS opponent just 273 yards of total offense for the game.
Nick Bisceglia (Robert Morris, K, Fr., New Kensington, Pa.)
Bisceglia's collegiate career started off with a miss on a 44-yard attempt, but he would redeem himself later. The rookie was called upon with four seconds left in regulation to hit a 26-yard attempt that completed a come-from-behind victory over Dayton. Bisceglia accounted for seven of the team's 13 points, connecting on a 28-yard attempt late in the first half and also converting his only point-after attempt of the game in the 13-10 victory.
Originally from LaMoure, North Dakota, Kent is a 1996 graduate of North Dakota State University. His prior writing experience is over 15 years having previously worked with D2football.com, I-AA.org, and College Sporting News before coming to College Sports Journal in 2016. His main focus is college football is the Missouri Valley Football Conference within the Division I FCS. And in 2017, he began also to look at the FBS Group of Five conferences of the American Athletic, Conference USA, Mid-American, Mountain West, and Sun Belt.
Reach him at this email or click below: