North Dakota State and Colgate were the first two teams to officially punch their ticket to the FCS playoffs this year, winning the Missouri Valley and Patriot Conferences, respectively.
The rest of the playoff picture was muddied up by losses by James Madison, Towson and Wofford.
With two weeks of play left before selection Sunday, teams know they have no choice but to win games. That sets up a big weekend of FCS play, headlined by the UC Davis matchup with Eastern Washington.
1. North Dakota State (9-0 overall, 6-0 MVFC)
Last Week: Beat Youngstown State 17-7
This Week: at Missouri State
North Dakota State struggled against Youngstown State, but still wound up doing what great teams do: find a way to win. THe Bison got a 4th quarter touchdown and field goal to provide the final margin and remain unbeaten. With the win, the Bison clinched the MVFC automatic bid to the playoffs. This week they travel to Missouri State who is much improved, but still not in North Dakota State's weight class.
2. Kennesaw State (8-1, 4-0 Big South)
Last Week: Beat Campbell 49-0
This Week: At Monmouth
Kennesaw State easily blew out Campbell last week. The Owls were shown as the #5 team in the initial committee ranking where they have been 2 or 3 in most polls. The Owls took their frustration out on the Camels, scoring 42 points in the second and third quarter. Chandler Burks threw for one touchdown and ran for four more to continue outpacing anything the opponents can throw at them. This week, the Owls take on their toughest conference test when they travel to face an underrated Monmouth program that made the playoffs last year.
3. UC Davis (8-1, 6-0 Big Sky)
Last Week: beat Northern Arizona 42-20
This Week: at Eastern Washington
UC Davis' offense continued to put up points at will in their win over Northern Arizona. The Aggies have put up at least 40 points in every game they have played this season except their loss at FBS Stanford. Quarterback Jake Maier should be in the discussion for the Payton award at season's end. The Aggies have their biggest game of the season this week when they travel to Eastern Washington. A win all but guarantees the Aggies the 2 seed in the FCS playoffs.
4. South Dakota State (6-2 overall, 4-2 MVFC)
Last Week: beat Missouri State 59-7
This week at Southern Illinois
South Dakota State used a 31 point second quarter to easily defeat Missouri State last week. Taryn Christion threw four touchdown passes, two of them to Cade Johnson, in the win. The Jackrabbits came up big as well, holding the Beats to just 183 yards of total offense. This week the Jacks head to Southern Illinois to take on the Salukis in a game they should win easily, even if it becomes and offensive shootout.
5. Weber State (7-2, 5-1 Big Sky)
Last Week: beat Sacramento State 26-14
This Week: at Southern Utah
Weber State is not outpacing teams this season, but they continue to do enough to win games. The Wildcats have a stout defense and it showed in their twelve point win against Sacramento State last week, shutting out the Hornets until midway through the third quarter when they were already up 19-0. This week Weber State travels to play a struggling Southern Utah team, but never discount your rival.
6. Eastern Washington (7-2, 5-1 Big Sky)
Last Week: Beat Northern Colorado 48-13
This week: vs. UC Davis
Eastern Washington won its first game since finding out that Gage Gubrud's college career was over, easily handling Northern Colorado. Eric Barriere has played very well since Gubrud went down and the Eagles really haven't missed a beat. Barriere will have to be sharp this week when UC Davis brings its explosive offense to the Inferno in Cheney. This game will be for a seed in the playoffs and is the unquestioned FCS Game of the Week
7. Princeton (8-0, 5-0 Ivy)
Last Week: Beat Dartmouth 14-9
This Week: at Yale
Princeton got a test this week from Dartmouth. Like you would expect from Ivy Leaguers, the Tigers aced the test behind a go ahead touchdown from John Lovett with 6:30 remaining in the game. It is unfortunate that the Tigers will not be in the FCS playoffs; there is no doubt they could cause some noise. They will have to settle for going for an unbeaten season. This week the Tigers are at Yale before finishing their season at home against Penn.
8. Elon (6-2, 4-1 CAA)
Last Week: beat Rhode Island 24-21
This Week: vs. Towson
Elon picked up a huge conference win last week over Rhode Island behind freshman running back Jaylen Thomas's 222 rushing yards. Thomas has filled in admirably for Malcolm Summers since he went down following the win at James Madison. The Phoenix only threw the ball 8 times in the entire game against Rhode Island in securing the win. The Phoenix still have an outside shot at the CAA automatic bid by winning out, but would need some outside help. This week the Phoenix close the home portion of their schedule with Towson.
9. James Madison (6-3 overall, 4-2 CAA)
Last Week: lost to New Hampshire 35-21
This week: vs. Rhode Island
James Madison's offense made mistakes on their first two possessions and was never able to recover in an ugly loss to New Hampshire. The Dukes struggled to hold on to the ball, turning it over six times and only rushing for 64 yards on the day. Any hopes the Dukes had of a playoff seed probably evaporated in the loss. JMU doesn't have time to sulk as Rhode Island comes to town this week fighting for their own playoff lives.
10. Jacksonville State (7-2, 6-1 OVC)
Last Week: beat UT Martin 21-14
This Week: at Tennessee State
Jacksonville State needed a minute touchdown pass from Zerrick Cooper to Jamari Hester to beat UT Martin. The Gamecocks need to find an extra gear before the playoffs or they will find themselves at home with another early exit. This week they take on Tennessee State in their last OVC game of the season. With their lack of strength of schedule, this is a must win game for the Gamecocks.
11. Delaware (7-2, 5-1 CAA)
Last Week: beat Albany 21-16
This Week: at Stony Brook
Delaware had to get a last minute touchdown to beat Albany last week. The win puts the Blue Hens in the driver seat for the CAA title. Two more wins also probably puts Delaware in the seeds for the playoffs and a potential second round matchup with James Madison. Delaware travels to Stony Brook this week in what should be a defensive battle.
12. Colgate (8-0, 5-0 Patriot)
Last Week: beat Fordham 41-0
This Week: at Lehigh
Ho-hum. Another week, another Colgate dominating shutout, this time over Fordham. The shutout streak has a great chance to continue this week against a down and out Lehigh team. The Raiders keep piling up the points, and keeping the opponents off the scoreboard. Have they been impressive enough to secure a playoff seed? Time will tell.
13. Stony Brook (6-3, 4-2 CAA)
Last Week: OFF
This Week: vs. Delaware
Stony Brook may have seen their playoff stock drop without even playing a game last week. The Seawolves are a bubble team in the middle of the CAA standings. They can ill afford another loss. They can enhance their resume if they can beat Delaware at home this weekend.
14. Wofford (6-3, 5-2 Southern)
Last Week: lost to Samford 35-20
This Week: at Western Carolina
Wofford could not solve Devlin Hodges and Kelvin McKnight, falling to Samford in a tough game this weekend. The Terriers could only muster 3.8 yards per carry against a Bulldog team that struggled early, but is coming on strong late in the season. Wofford will not be able to find itself as a seed in the playoffs, but should still comfortably make the playoffs. It would help the Terriers to get back on track this week by beating Western Carolina.
15. Maine (6-3, 5-1 CAA)
Last Week: beat Towson 35-28
This Week: at Richmond
Maine put itself in the driver's seat for the CAA title with a win over Towson last week. The Black Bears got a huge performance from Ramon Jefferson who ran for 121 yards on just 14 carries and three touchdowns, including the winning score with 6:29 left in the game. Two more wins for Maine could find them seeded in the playoffs. This week the Black Bears travel to Richmond where they need a better fate than the last time they played in Virginia in a loss to William & Mary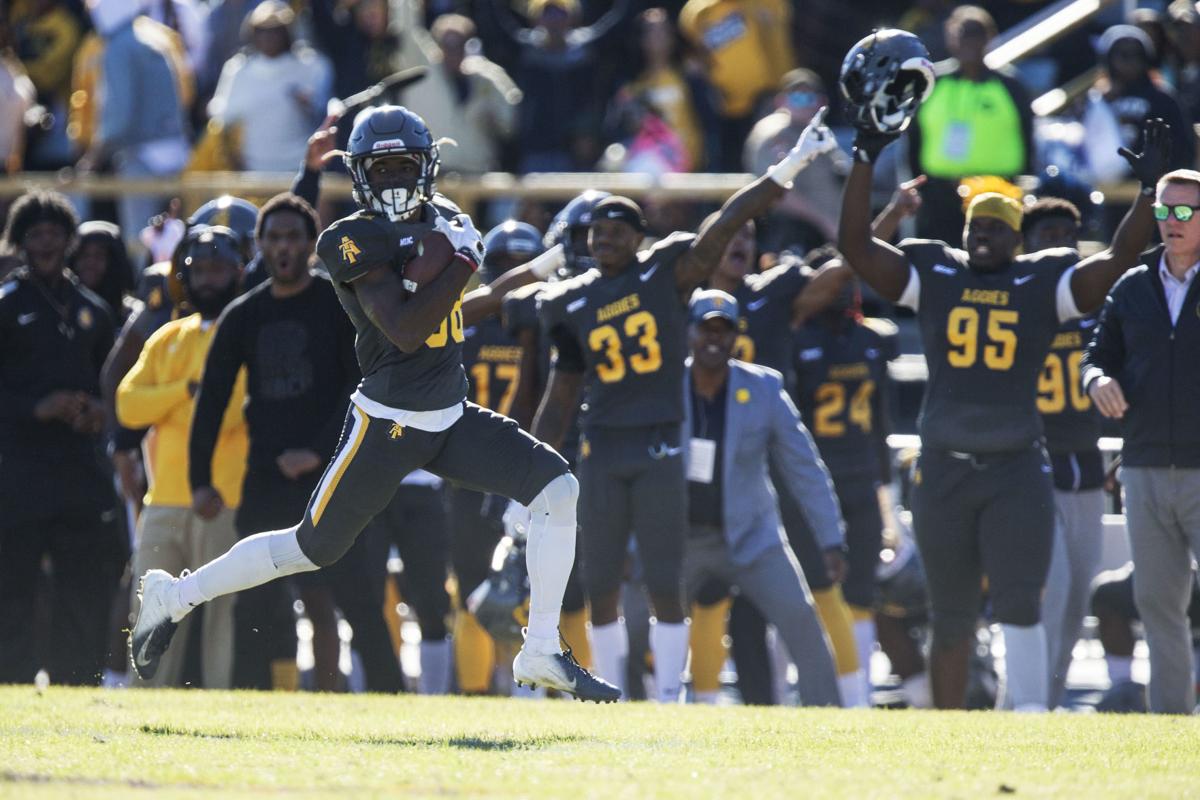 16. North Carolina A&T (6-2, 3-2 MEAC)
Last Week: beat Norfolk State 37-20
This Week: at Savannah State
North Carolina A&T is still alive for a spot in the Celebration Bowl with Florida A&M falling last week. Even if A&M makes wins the MEAC, the Aggies may still find themselves in postseason play if they win their last two games.
17. Dartmouth (7-1, 4-1 Ivy)
Last Week: lost to Princeton 14-9
This Week: at Cornell
Dartmouth led their game late in the fourth quarter against Princeton, only to see the Tigers score a touchdown to send the Big Green to a loss. The Big Green held Princeton to its lowest totals of the year, but the Tigers also did the same to Dartmouth. This week, Dartmouth travels to Cornell where they should be able to get back into the win column.
18. Towson (6-3, 4-2 CAA)
Last Week: Lost to Maine 35-28
This Week: at Elon
Towson lost its second straight game last week, this time to Maine. The Tigers still look like a playoff team but can ill afford another loss. It will be tough as their last two games are at Elon and home against James Madison. The Tigers could be anywhere from the 8 seed, to home entirely in the playoffs.
19. East Tennessee State (8-2, 6-1 Southern)
Last Week: Beat Mercer 21-18
This Week: OFF
East Tennessee State moved one step closer to the SoCon championship last week with a win over Mercer. The Buccaneers get this week off before facing their biggest test of the season when they host Devlin Hodges and the rest of the Samford offense. The Buccaneers have clinched at least a share of the Southern Conference title, but will need to beat Samford to secure the automatic bid and guarantee them a playoff berth.
20. Idaho State (6-3, 5-1 Big Sky)
Last Week: beat Portland State 48-45
This Week: at Cal Poly
Idaho State won an entertaining game against an improved Portland State team last week. Tanner Guellar threw for 344 yards, ran for 78 and accounted for five touchdowns in the victory. The Bengals are in the thick of the playoff race and will definitely be in the field if they win their last two games. This week should be an easy win for the Bengals before they close out their season with a home date against Weber State
21. Southeast Missouri State (7-2, 5-1 OVC)
Last Week: beat Tennessee State 38-21
This Week: at Murray State
Southeast Missouri State continued its march to a playoff berth in an easy win over Tennessee State. The Redhawks control their own playoff destiny and will win the OVC with two more wins this season. The biggest test remaining is this week against Murray State. The Redhawks should easily beat Eastern Illinois in the last game of the season, but they have to take care of business this week.
22. Northern Iowa (5-4, 4-2 MVFC)
Last Week: beat Illinois State 26-16
This Week: at Youngstown State
Northern Iowa has been quite inconsistent this year, not only from week to week, but from quarter to quarter. The Panthers hung with North Dakota State for three quarters before allowing 28 fourth quarter points. They beat South Dakota State and Illinois State, but fell to Western Illinois in between. The Panthers have to win their next two games to make the playoffs. With the quality of their wins, 7-4 should get them in. But they cannot falter, starting this week at Youngstown State.
23. Nicholls State (6-3, 5-2 Southland)
Last Week: beat Houston Baptist 41-20
This Week: vs Stephen F Austin
Nicholls State rattled off three straight wins before inexplicably losing to Abilene Christian three weeks ago. The straight wins in the last two weeks now puts them right in the thick of the Southland race. THe Colonels have to win their last two games and hope McNeese falters at least once to win the conference. The Southland is looking more and more like a 1 bid league, but the Colonels can get to 8-3 to give the committee something to think about. This week they host Stephen F Austin before hosting Southeast Louisiana to close out the season.
24. McNeese State (6-3, 5-2 Southland)
Last Week: lost to Southeast Louisiana 23-6
This Week: at Northwestern State
McNeese State followed up its big win over Central Arkansas with an underwhelming loss to Southeast Louisiana. The Cowboys could not generate any offense in the game accumulating only 21 yards rushing and 187 total yards. McNeese has gone from a playoff lock to a team that has to win the automatic bid to make the playoffs. Their inconsistent play may wind up costing them in the end. The Cowboys travel to Northwestern State this weekend hoping to get back on track.
25. Indiana State (5-4, 3-3 OVC)
Last Week: beat South Dakota 51-48 (3OT)
This Week: vs. Illinois State
Indiana State for a three yard touchdown pass from Dante Hendrix to Ryan Boyle in the third overtime to help the Sycamores defeat South Dakota in a high scoring contest. The Sycamores are .500 in the Missouri Valley conference and, if they win their last two games, could find themselves in the playoffs. TO do that, they have to beat Illinois State this week and Western Illinois next week on the road.
Others receiving votes: Illinois State, Samford, Monmouth
Jamie is a proud 2002 graduate of James Madison University. He's witnessed the growth of the program from no one in the stands in 1998, to the hiring of Mickey Matthews, to the 2004 National Championship, to the 2008 team, to the struggles in the early 2010s, and finally the rebuild under Mike Houston. He also allegedly really enjoys Washington, DC-based Stanley Cup winners.
Reach him at: