When Ohio Valley Conference officials were forced to scramble to develop a schedule for the 2021 spring season, they appeared to have the foresight to build in a safeguard in the event of inclement weather in the region each spring.
They unlikely thought the measure would play such a vital role so early in the season.
Three games that were scheduled for the opening weekend were postponed because of a massive winter storm that hit much of the nation. Now, two weeks later those three contests are set to be played.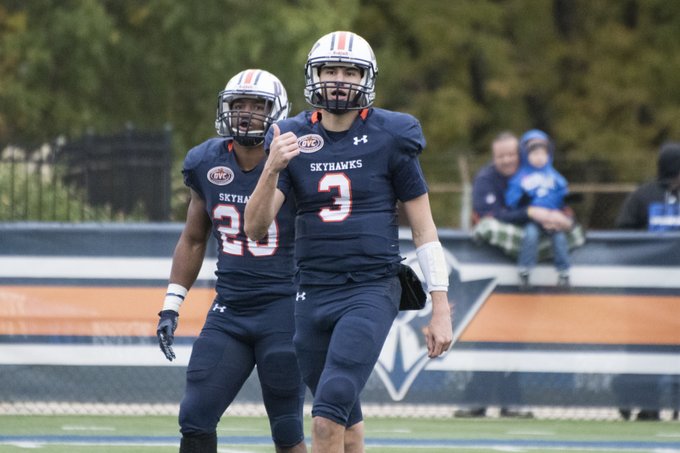 Eastern Illinois (0-1 OVC/0-1 Overall) at UT Martin (0-1 OVC/0-1 Overall)
TV: ESPN+ (subscription required)
Radio: Panther Radio Network: Hit Mix 88.9 FM, WSVZ 98.3 FM, WHOW 1520 AM & WMKR 94.3 FM (Eastern Illinois.
1410 AM/100.5 FM (UT Martin)
Overview: This matchup, originally scheduled for Feb. 21, features a pair of the top teams in the Ohio Valley Conference over the past decade. Since the start of the 2008 season the two teams rank third and fourth in OVC wins. UT Martin has won 69 games against OVC foes, while Eastern Illinois has emerged victorious 65 times during that span.
This will be the 26th meeting between the two schools since 1995. EIU leads the series 15-10, but the Skyhawks have won seven of the last 10 meetings.
UT Martin won the last meeting between the two teams with a 27-18 win over the Panthers on Oct. 19, 2019 in Martin. A win by the Skyhawks would give them their first back-to-back wins in the series since winning in 2016 and 2017.
Last Week: Eastern Illinois learned it still has some growing to do to return to the upper echelon of the Ohio Valley Conference, a league it once owned. The Panthers dropped its season opener 47-7 in Charleston to Southeast Missouri State.
Kendi Young scored on a 72-yard touchdown run in the second quarter to etch his name in the EIU record book. With the run he became the 21st player in school history to score from at least 79 yards out in a game. Young finished with 88 yards on 11 carries in the loss to the Redhawks.
Matt Judd (6-2, 185, RS, Fr., WR/KR), a transfer from the University of Illinois, returned five kicks for 112 yards (22.4 ypr) for the Panthers. He currently ranks No. 17 in the nation in return kick return average.
UT Martin fell in its season opener 14-10 on the road at Murray State. The game endured a two-hour weather delay before being completed.
Dresser Winn scored on a one-yard run for the Skyhawks and teammate Tyler Larco pitched in on the scoring with a 34-yard field goal, but it wasn't enough to pull out the victory.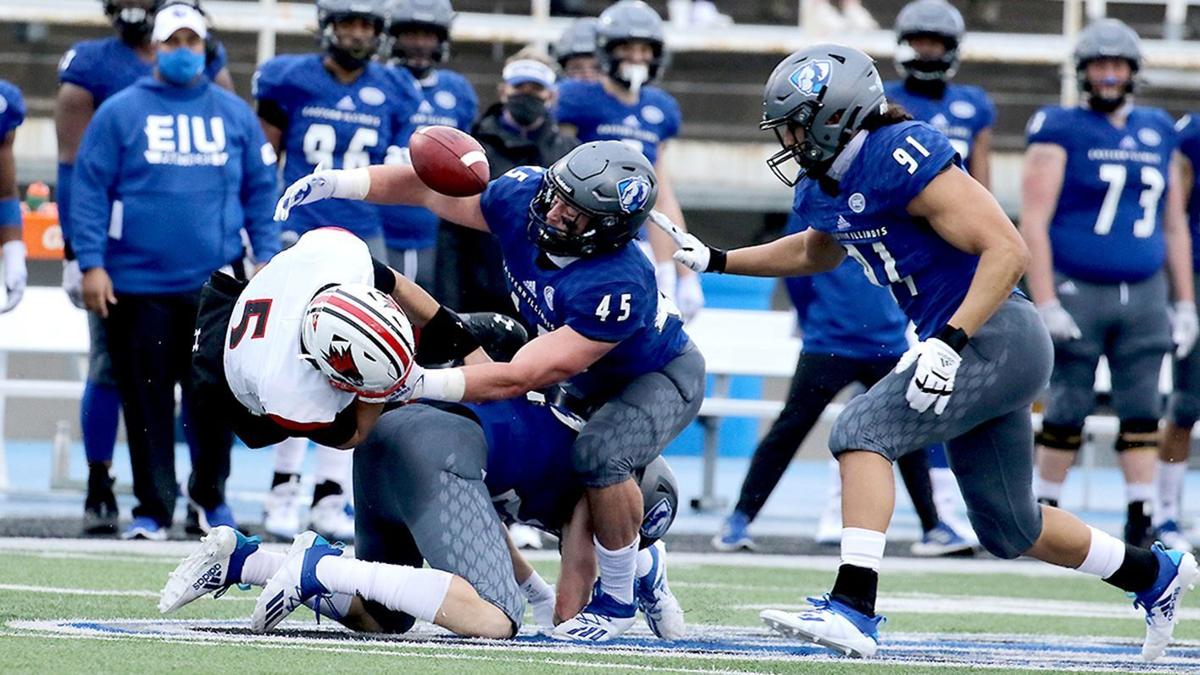 EASTERN ILLINOIS: Thanks in large part to his long run in the season opener, Kendi Young (5-11, 185, Fr., RB) leads the Eastern Illinois rushing attack. He finished with 88 yards on 11 carries (8.0 ypc) in the loss to the Redhawks last week.
Jaelin Benefield (5-10, 160, So. RB) carried six times for 17 yards (2.8 ypc) in the loss.
Harry Woodberry (6-2, 195, RS Sr. QB) completed just 10 of 26 passes for 101 yards on the day against SEMO. He was intercepted twice. Backup signal caller Otto Kuhns (6-3, 205, Fr.) saw brief action in the season opener and completed three of 12 passes for 70 yards. He had one of his passes intercepted.
DeWayne Cooks (6-2, 155, RS So., WR) led all Panther receivers with 62 yards on five catches on the afternoon.
Ray Crittenden (6-1, 205, RS, Sr., LB) and Anthony Shockey (6-1, 210, Fr., LB) led the Panthers on defense with nine tackles in the opener. Crittenden had six unassisted tackles and added 1.5 tackles for loss. Shockey, meanwhile, recorded four solo stops, including two TFLs.
Jason Johnson (6-2, 200, Fr., LB), another linebacker, and Jordan Vincent (5-10, 185, Fr., SS) had similar days. They both finished with seven total tackles (4 solo) tackles for the Panthers. JJ Ross (6-2, 195, So., CB), a freshman All-American last season for the Panthers, tallied five solo tackles, two pass breakups and a fumble recovery against the Redhawks. Ross ranks fourth in the NCAA in passes defended already this season.
UT MARTIN: The Skyhawks should benefit from a varied offense attack with three standouts leading the way at each of the skill positions.
Quarterback John Bachus (6-2, 215, RS, So.) completed 13 of 26 passes for 81 yards in the season opener against Murray State. A pair of his passes were picked off by the Racers.
Peyton Logan (5-8, 190, Sr, RB) gained 91 yards on 15 carries (6.1 ypc) versus MSU last week. Colton Dowell (6-3, 215, RS., Jr.) led the UTM receivers with seven catches for 61 yards on the day.
The UTM defense gave up 328 yards of offense to the Racers, including 176 yards on the ground and 152 yards through the air.
Those numbers need to improve beginning Sunday if the Skyhawks hope to figure into the OVC race this season.
Deven Sims (6-2, 200, RS, Jr. S) and John Ford (6-3, 230, RS, Jr.), a linebacker, both recorded seven total tackles on defense for Martin. JaQuez Akins (5-9, 185, Sr., S), Jay Woods (5-9, 185, graduate, DB) and Austin Pickett (6-1, 270, RS, Sr.) all added six total tackles of their own in the season curtain lifter.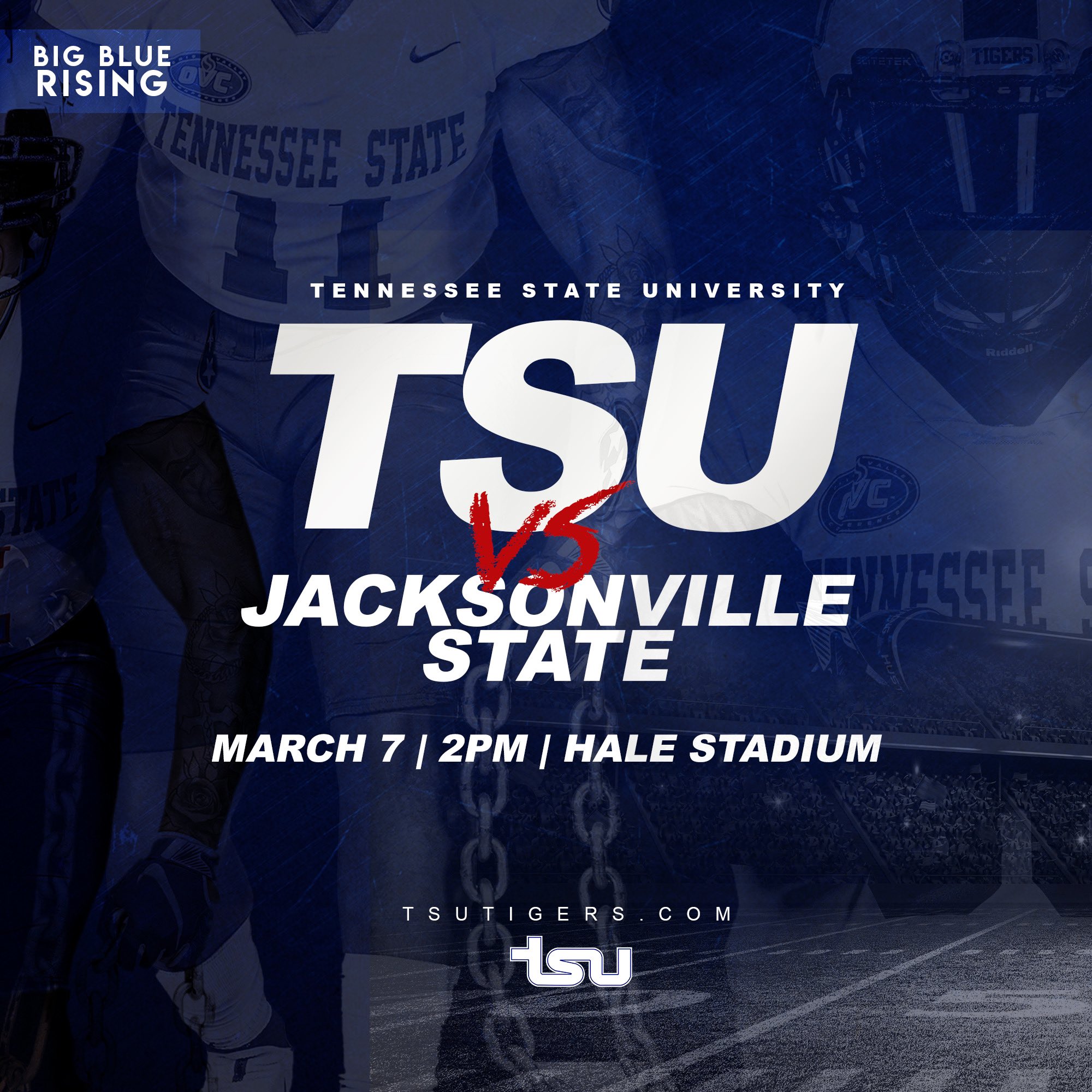 Jacksonville State (1-0 OVC/4-1 Overall) at Tennessee State (0-1 OVC/0-1 Overall)
TV: ESPN+ (subscription required)
Radio: JSU Radio Network (Jacksonville State
Big Blue Network (Tennessee State)
Overview: Jacksonville State and Tennessee State will meet for the 15th time in the history of the series dating back to 2003 when the Gamecocks joined the Ohio Valley Conference.
Jacksonville State has won all six previous games in the series that have been played in Music City. The Gamecocks also hold a 6-2 advantage at home.
JSU won the first meeting between the two school 34-7 TSU's first triumph in the series did not come until 2006 when the Tigers won 38-31. Tennessee State's only other win against the Gamecocks came in 2013 in a 31-15 at Burgess-Snow Field.
Last Week: Jacksonville State scored the first 14 points of the game and its defense took advantage of five Tennessee Tech turnovers on the way to a 27-10 win over the Golden Eagles Feb. 28 at Burgess-Snow Field.
It was the fourth straight win for the Gamecocks who played four games last fall and are playing their final season in the Ohio Valley Conference. The school recently announced it will move to the ASUN beginning this fall.
Uriah West ran for 106 yards and one touchdown to lead JSU on offense against the Golden Eagles. Zion Webb and Pat Jackson chipped in with 70 and 62 yards, respectively, for the victors.
Webb, the team's quarterback, completed 12 of his 19 passes for 125 yards in his first career start.
The Gamecocks, who have now women eight of the last nine meetings between the two teams, enjoyed a 399-227 advantage in total offense in the contest.
Tennessee State, meanwhile, found the going rough in its season opener as Austin Peay ran out to a 20-0 lead just eight minutes into the game and then held off a spirited Tiger rally to escape with a 27-20 win.
Backup quarterback Isaiah Green came into the game in the fourth quarter to spark the TSU offense by completing 10 of 18 passes for 173 yards and one touchdown.
Vincent Perry and Cam Wyche combined for seven catches and 135 yards against the Govs. Perry led the way with four receptions for 60 yards and Wyche chipped in with three catches for a team-high 75 yards in the game.
Devon Starling came off the bench to pace the Tiges with 55 rushing yards on 15 carries in the game.
The slow start by the Tigers allowed APSU to outgain TSU 332-182 in total offense on the day.
Nyle Love paced the Tigers with 12 tackles (6 solo) against the Govs. Justin Brown and Davoan Hawkins each added seven total tackles in the game.
Jacksonville State: Uriah West (6-0, 225, Jr., RB) and Josh Samuel (5-11, 215, RS, Jr., RB) lead the way on offense for the Gamecocks this season.
West, who rushed for more than 100 yards for the second straight game in the win over TTU last weekend, has amassed 304 yards on 57 carries this season (5.3 ypc) and has one touchdown to his credit. Samuel, meanwhile, has added 288 yards on 59 carries (4.9 ypc) and three TDs.
Zion Webb (6-0, 200, RS, Jr., QB) has stepped in for injured standout Zerrick Cooper and has played admirably in relief. Webb has completed 25 of 37 passes in four games for 240 yards and one touchdown.
Trae Barry (6-7, 245, Sr.) has proven to be one of the top tight ends in the nation this season. He leads all JSU receivers with 17 catches for 265 yards (15.6 ypc) this season. His teammate, Dave Russell (6-0, 203, RS, So.) is right behind with 16 receptions for 202 yards (12.6 ypc) and one touchdown.
Tennessee State: Six players saw the first starting assignments of their career in the opener against Austin Peay. A total of 25 players saw the field for the first time in their TSU careers last weekend.6-5, 230, RS
Deveon Bryant (6-5, 230, RS, So., QB), along with wide receivers Cam Wych (6-0, 190, Jr.) and Vincent Perry (6-0, 180, RS, Sr.) were among those making the first starts for the Tigers.
Sean McMoore (6-0, 290, graduate) and Robert Lacy (6-3, 340, Jr.), both offensive linemen, also drew starting assignments against the Govs.
Shawn McColly (5-11, 220, RS, Jr., RB) earned his first start after playing in nine contests in each of the last two seasons for the Tigers.
Curt McDonald (5-10, 190, Jr., DB), Davoan Hawkins (6-3, 280, RS, So., DL) and Tadarrius Patterson (6-2, 250, RS, Jr., LB/DE) all started on defense for the first time in the Tiger career.
How that group of new starters and the backups continue to develop and mesh could go a long way in determining the success of the Tigers in a new season.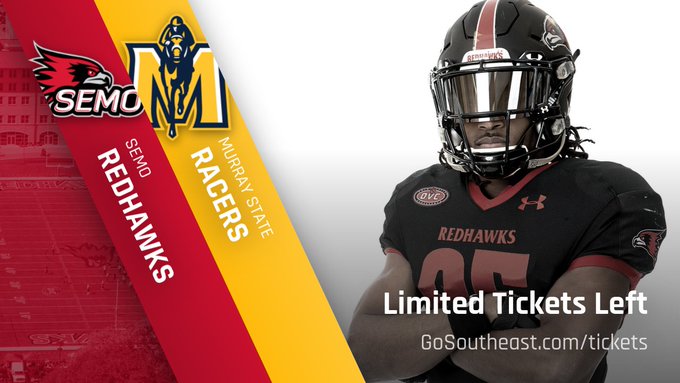 Murray State (1-0 OVC/1-0 Overall) at Southeast Missouri State (1-1 OVC/1-1 Overall)
TV: ESPN+ (subscription required)
Radio: Real Rock 99.3 FM (SE Missouri)
Overview: Sunday's game marks the 55th meeting between the two schools since the rivalry began. Murray State hold a 40-13-1 advantage in the previous 54 contests. Nine of SEMO's 13 wins in the series have come at Houck Field.
The Redhawks have won four of the last five meetings against the Racers.
This will be the home opener for Southeast Missouri and the Redhawks are 18-11 all-time in home openers in their Division 1 era. Head coach Tom Matukewicz is 4-2 in such game with SEMO, which has won each of the last two home openers.
Last Week: It took some big plays, and an extended period of time, but the Dean Hood Era got on a positive note as Murray State defeated UT Martin 14-10 Feb. 28 to give new head coach Dean Hood a win in his first game at the home of the Racers.
Murray State forced three UTM turnovers in the game and both teams had to endure a weather delay of more than two hours before the issue was settled on the scoreboard.
The Racers finished with 176 yards on the ground and 152 via the air to rack up 328 yards of total offense against the Skyhawks. The MSU defense, in addition to forcing the three turnovers, limited UT Martin to just 213 yards of total offense in the game.
After seeing its spring season opener postponed because of heavy sleet and ice in the boothill area of southeast Missouri the Redhawks had an easy time in defeating Eastern Illinois on Feb. 28 in Charleston.
The 47 points scored were the most by the Redhawks in 28 meetings with the Panthers. The scoring output was also the most by SEMO in an OVC road game since scoring 56 points on Oct. 27, 2018 at UT Martin.
The SEMO defense forced EIU into four turnovers, including three interceptions, and stopped the Panther offense five times on fourth down conversion attempts. The Redhawks limited the hosts to just 114 yards of total offense in the first half of the game.
Johnny King made a splash in his first year with the Redhawks as he caught seven passes for 115 yards and one touchdown against the Panthers. He also caught a TD pass in SEMO's loss to Southern Illinois in the only game of the fall season that the Salukis won on a late field goal.
Quarterback Andrew Bunch, a transfer from Nebraska, made his first OVC start against the Panthers and ended the day with 302 yards passing after completing 23 of his 37 tosses. Included in his completion total were five passes of at least 25 yards.
Murray State: Quarterback Preston Rice (6-2, 227, RS, Jr.) is operating the MSU offense efficiently so far this season. He has completed nine of 22 passes for 155 yards and one touchdown. He has added 52 rushing yards on 11 carries (4.3 ypc) after the season opener.
Damonta Witherspoon (5-10, 2-6, Fr., RB) leads the Racers with 89 rushing yards on 14 carries (6.4 ypc) while DeQuan Dallas (5-10, 175, SR., WR) leads the receivers with two receptions for 111 yards and one TD.
The Racer defense is being led by Alec Long (5-11, 218, RS, So., LB), Tay Carothers (6-1, 231, RS, Sr., LB) and Don Parker (6-1, 173, Sr., S) so far this season. Long and Carothers both recorded six total tackles in the win over Martin and all of Carothers' stops were of the solo variety. Parker, meanwhile, had five total (4 solo) tackles, including two tackles for loss and one of those was a sack of the Skyhawk quarterback.
Southeast Missouri: Andrew Bunch (6-1, 215, RS, Sr.) continued his impressive debut at quarterback with the Redhawks. He has already completed 29 of 52 passes for 355 yards and two touchdowns for SEMO.
Bunch leads the OVC in passing average (177.5 ypg) and total offense (243.0 ypg) through two games so far.
The SEMO backfield appears to be in great hands, or feet, if you will. Zion Custis (5-8, 190, Jr., RB) and Geno Hess (5-8, 209, RS, So.) both scored two touchdowns in the win over Eastern Illinois to kick off the spring season.
Custis has rushed 30 times in the two games this season for 96 yards and two TDs. He needs just 51 yards against the Racers to surpass 2,000 all-purpose yards in his SEMO career. He has already amassed 1,121 yards rushing yards, 57 receiving yards and 771 kick return yards.
Hess, meanwhile, lead the team in rushing with 169 yards on 27 carries (6.3 ypc) through two games. He leads the OVC in scoring at 9.0 points per game and tops the league in touchdowns with three.
Johnny King (6-4, 180, Jr. WR) leads the Redhawks this season with nine catches for 149 yards and a pair of touchdowns. He ranks fourth in the conference in receiving yards (74.5 ypg) and is fifth in receptions with 4.5 catches per contest. He is a transfer from Northeastern Oklahoma A&M.
All of the numbers racked up so far by the Redhawks have helped them to the top of several statistical categories in the OVC. They lead the league in scoring offense (32.0 ppg), total offense (404.0 ypg), rushing offense (214.0 ypg) and punt return average (7.8 ypr).
The SEMO defense is solid and already have five players who have proven steady in their performances this season.
Linebackers Mike Matthews (6-1, 236, So.) and Brandon Mincey (6-0, 242, Jr.) lead the team with 10 and nine total tacklers through two games. Three other players, Lawrence Johnson (6-0 194, Jr., DB), Bryant Pirtle (6-2, 227, graduate, LB) and Bydarrius Knighten (6-0, 197, Sr., DB), all have eight total tackles already this season. Matthew and Johnson have both intercepted one pass.
A native of Bismarck, N.D., Ray is a graduate of North Dakota State University where he began studying athletic training and served as a student trainer for several Bison teams including swimming, wrestling and baseball and was a trainer at the 1979 NCAA national track and field championship meet at the University of Illinois. Ray later worked in the sports information office at NDSU. Following his graduation from NDSU he spent five years in the sports information office at Missouri Western State University and one year in the sports information at Georgia Tech. He has nearly 40 years of writing experience as a sports editor at several newspapers and has received numerous awards for his writing over the years. A noted sports historian, Ray is currently an assistant editor at Amateur Wrestling News.